April 5, 1964 NASCAR Atlanta 500 at Atlanta Motor Speedway. Dave MacDonald drove Mercury #17 for the Bill Stroppe Racing Team.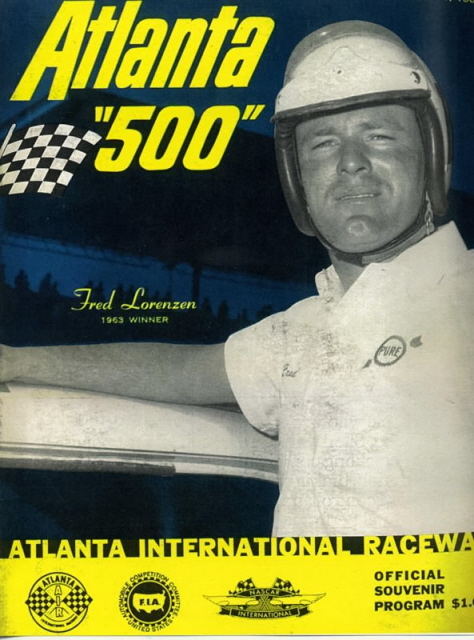 Atlanta track layout in 1964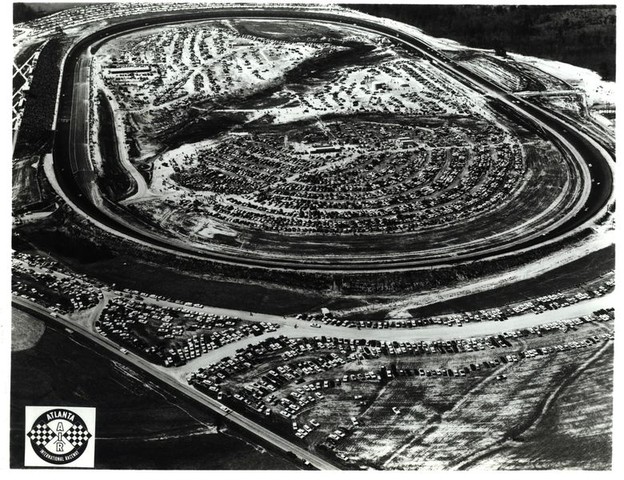 Despite only competing in 4 NASCAR races prior to the Atlanta 500, Dave MacDonald still held 8th place in the NASCAR driver
standings. Dave was still under contract with Shelby and running a full USRRC / FIA schedule in various types of Shelby Cobras.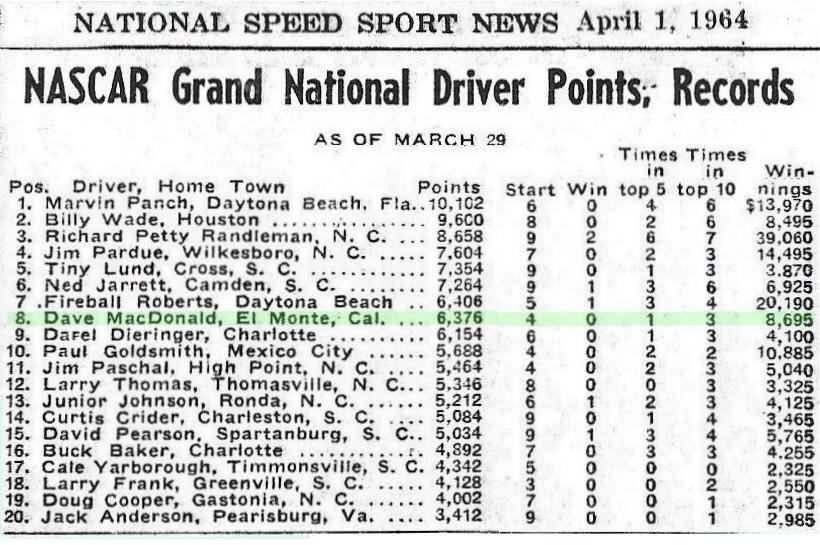 Start of the race with Lorenzen & Foyt in row 1 and Goldsmith & Roberts in row 2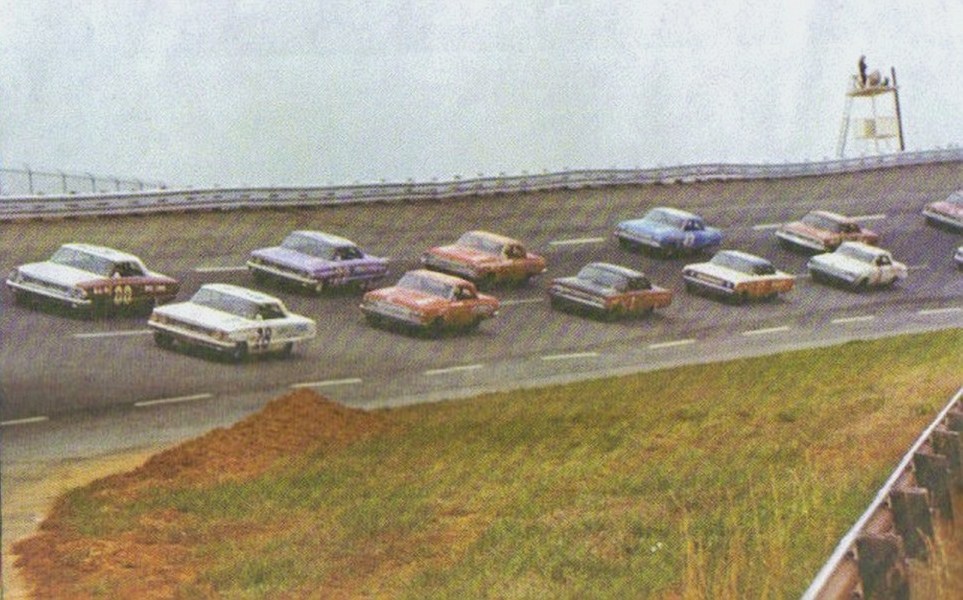 Lap 7 and Marvin Panch in the famous Wood Bros #21 car leads Dave MacDonald on the high banks of Atlanta. Note: The #21 car is
the same car Dave drove to a 2nd place finish at the November '63 Golden State 400 at Riverside. Photo Bill Brannon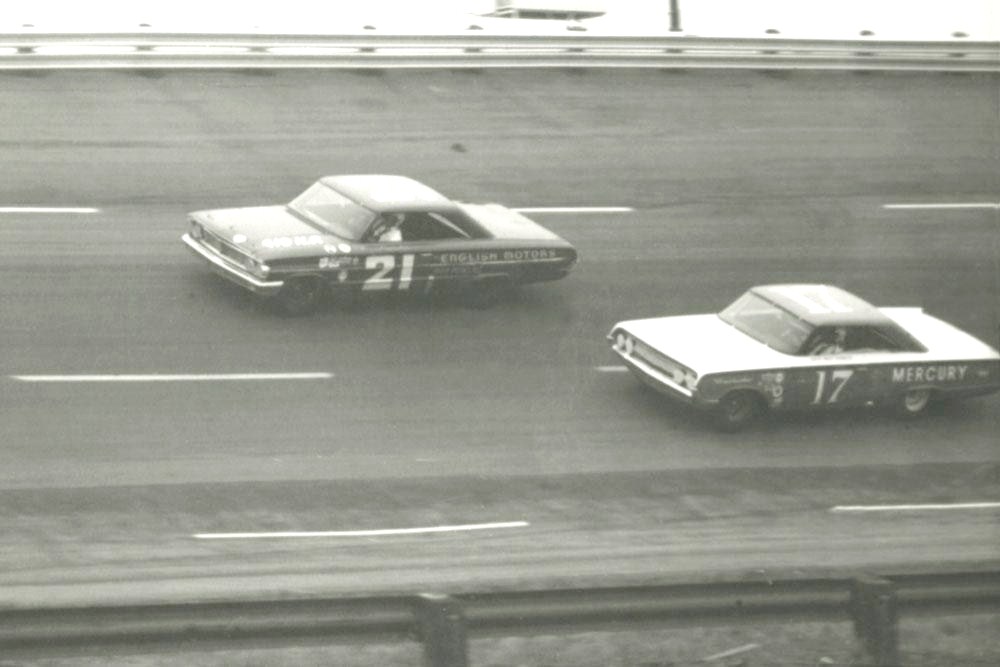 Paul Goldsmith led the first 55 laps until crashing. Freddy Lorenzen goes under the spinning stocker to take the lead. Goldsmith was ok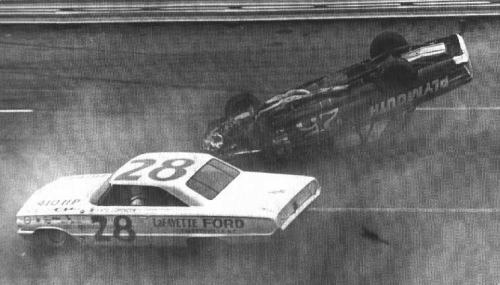 Lap 60 and Dave MacDonald running 6th and preparing to move on NASCAR great Tiny Lund. Photo Bill Brannon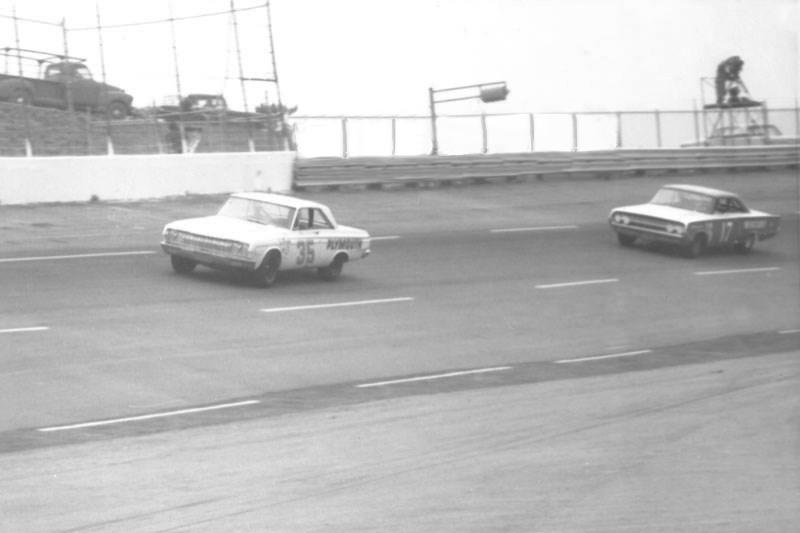 Dave MacDonald and Ned Jarrett enter the pits on lap 91. Photo Bill Brannon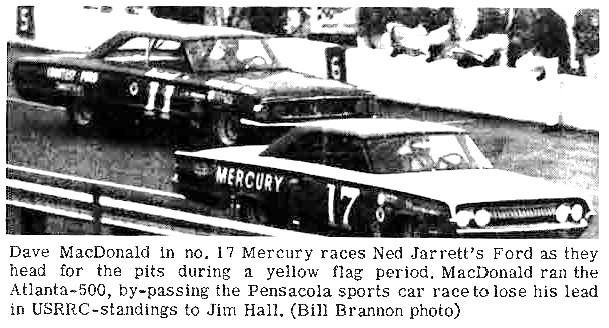 On lap 108 David Pearson & Fireball Roberts get into it. Both drivers are OK but forced from the race. Photo Kirk Wooster & Don Hunter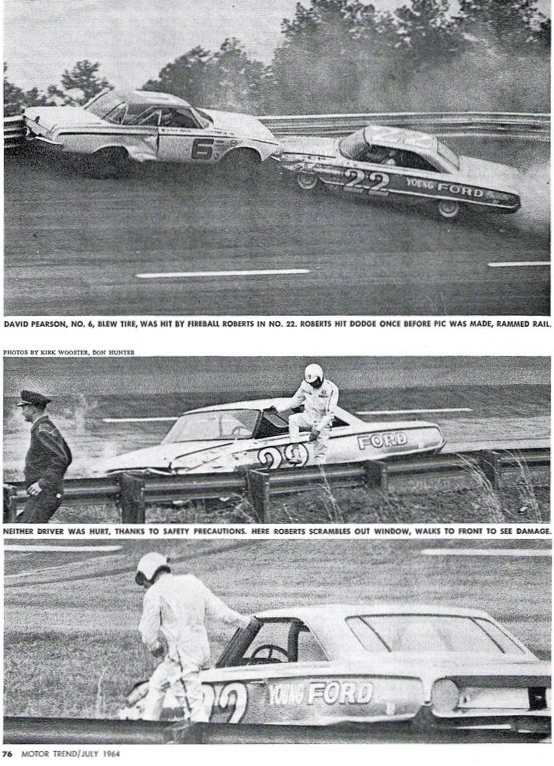 Lap 115 and Rex White and Tiny Lund on the banks of Atlanta Speedway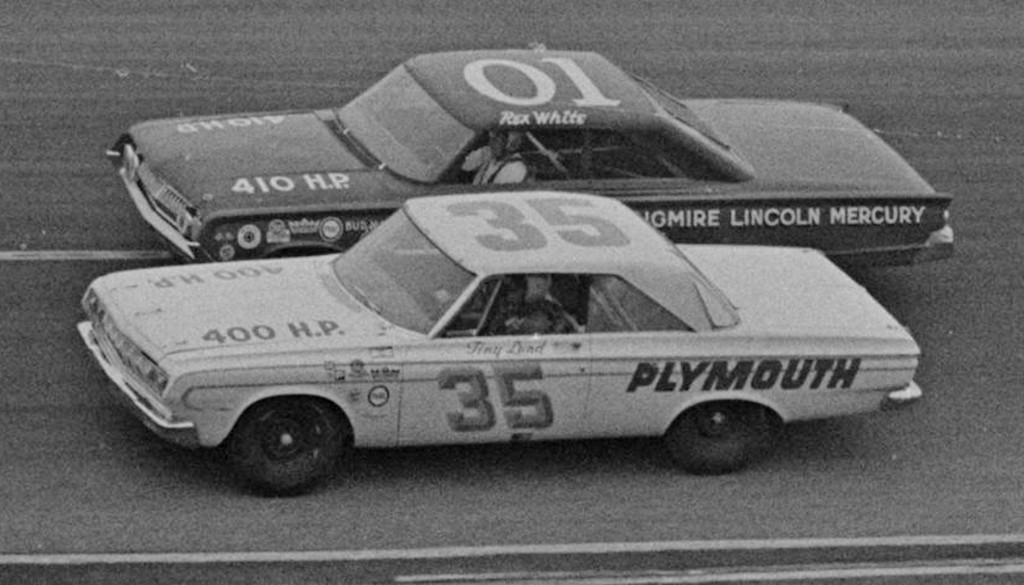 Hard charging Dave MacDonald and his 410 HP Mercury are running 5th here on lap 150.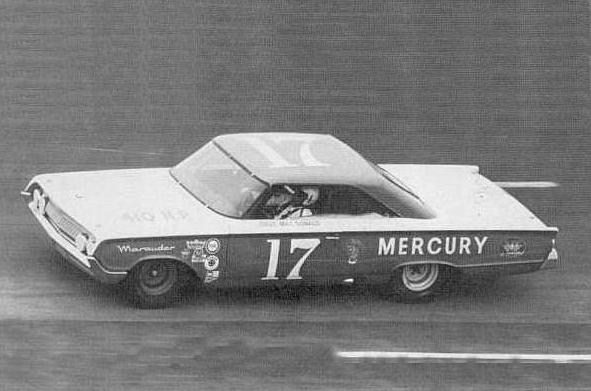 However on lap 151 a dejected Dave MacDonald pulls his Merc into the pits with a blown engine. Dave would finish 16th. Teammates
Jim McElreath, Darel Dieringer and Parnelli Jones finished 15th, 31st and 37th respectively. Photo Bill Brannon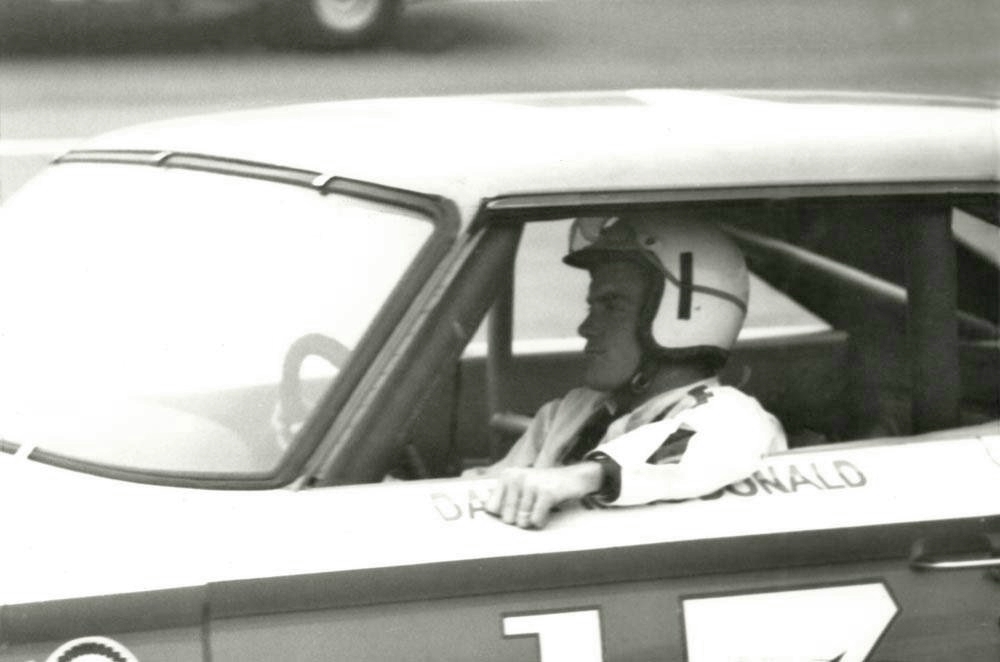 Indy 500 superstar AJ Foyt has his Banjo Mathews Ford running 8th on lap 220. Photo Ron Phelps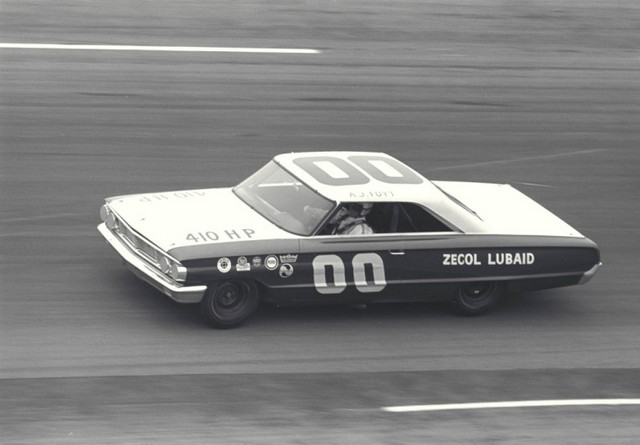 Bobby Isaac ahead of Freddy Lorenzen late in the race but Lorenzen would overtake Isaac and go on to win. Issac finished 2nd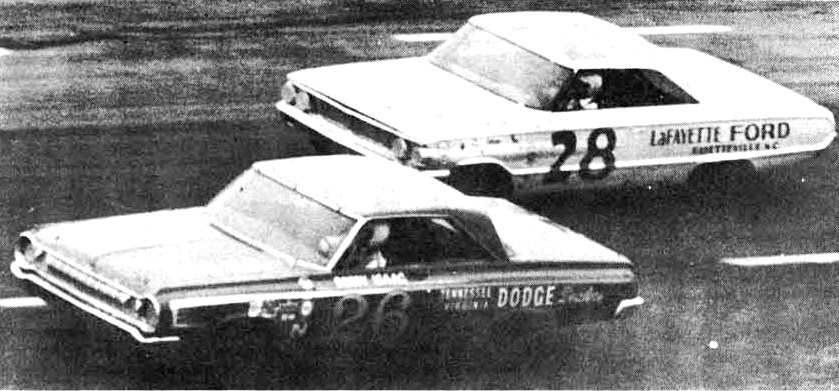 Winner Freddy Lorenzen (center) pocketed the $18,000 winners check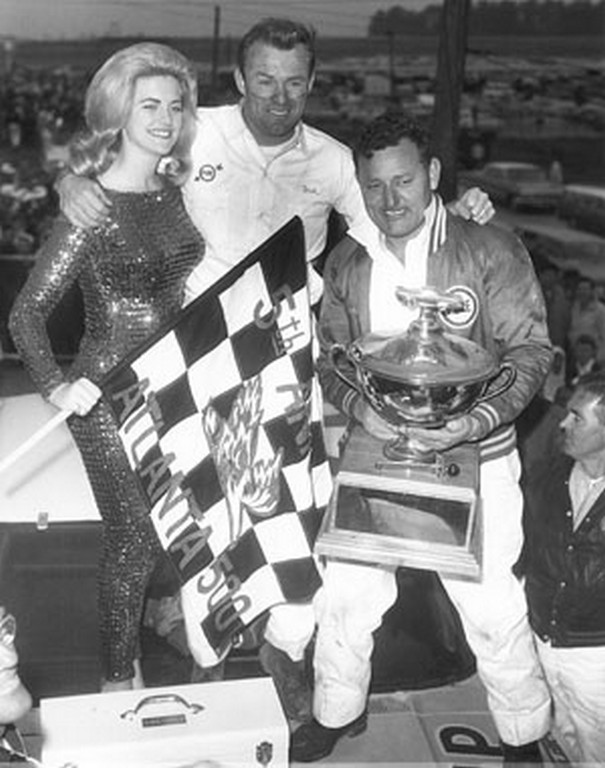 Race results for the 1964 Atlanta 500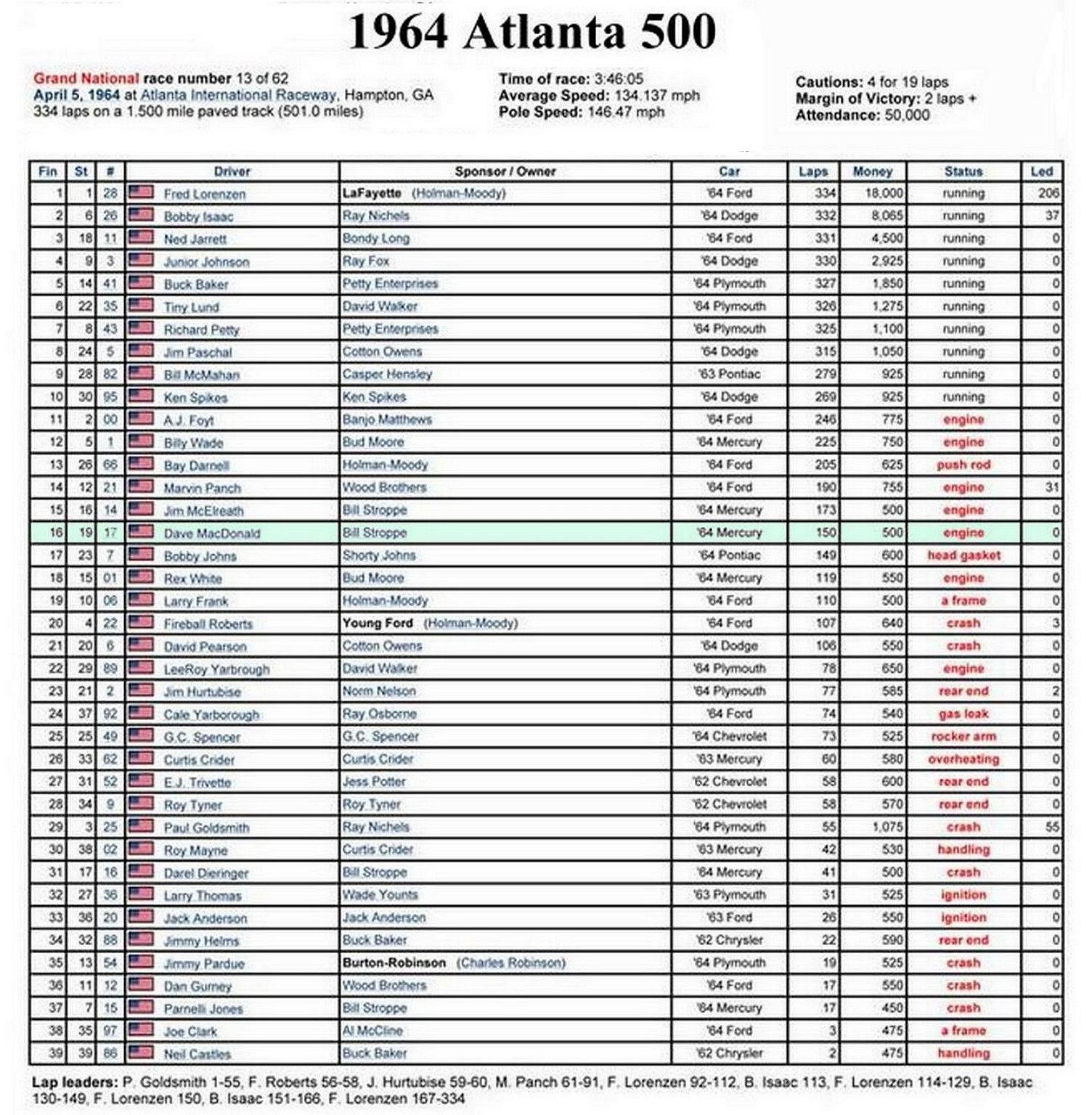 News articles recapping the 1964 NASCAR Atlanta 500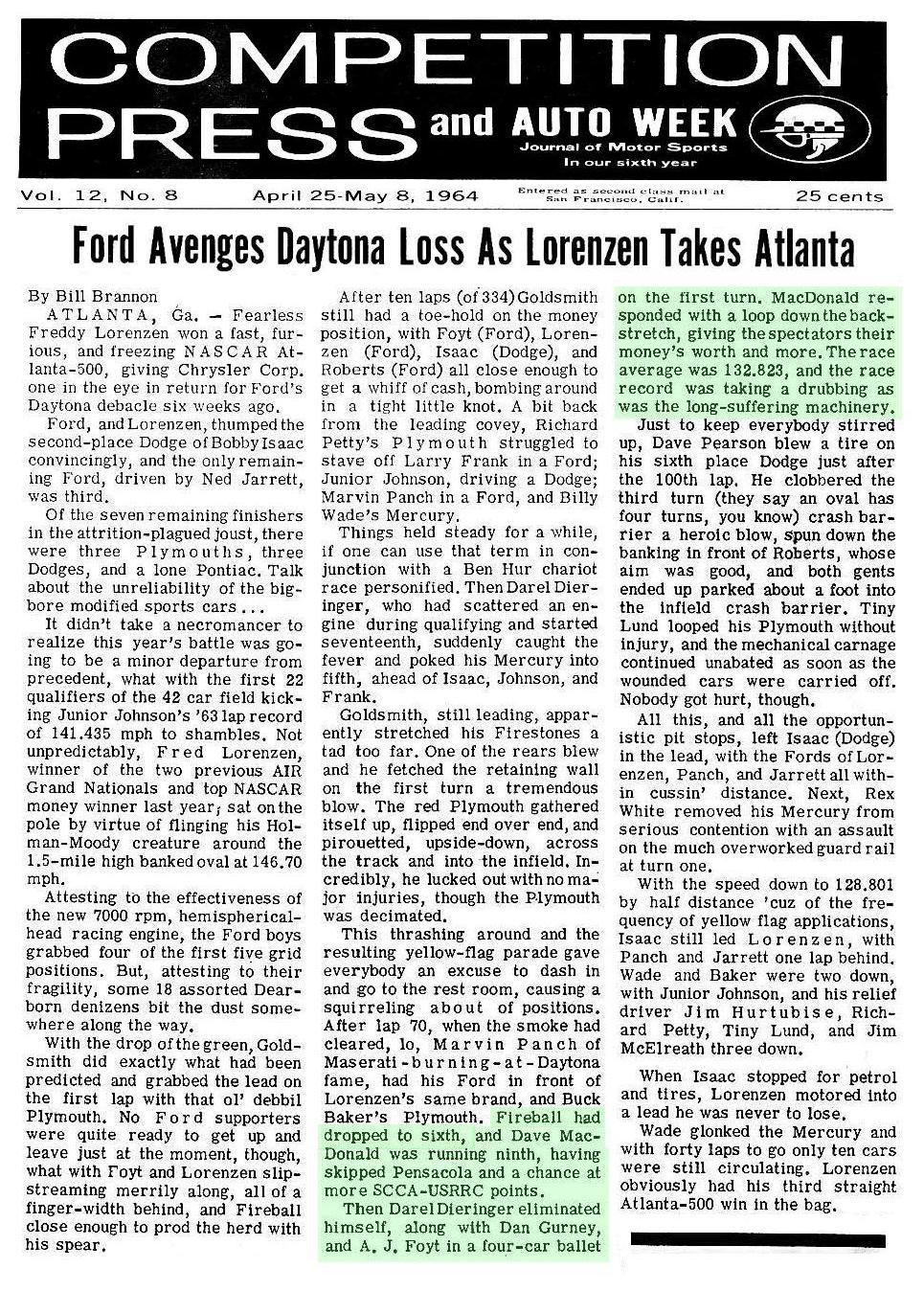 Motor Trend Magazine July 64 issue with a recap of the 1964 Atlana 500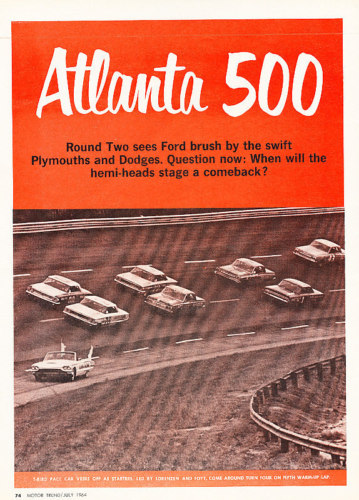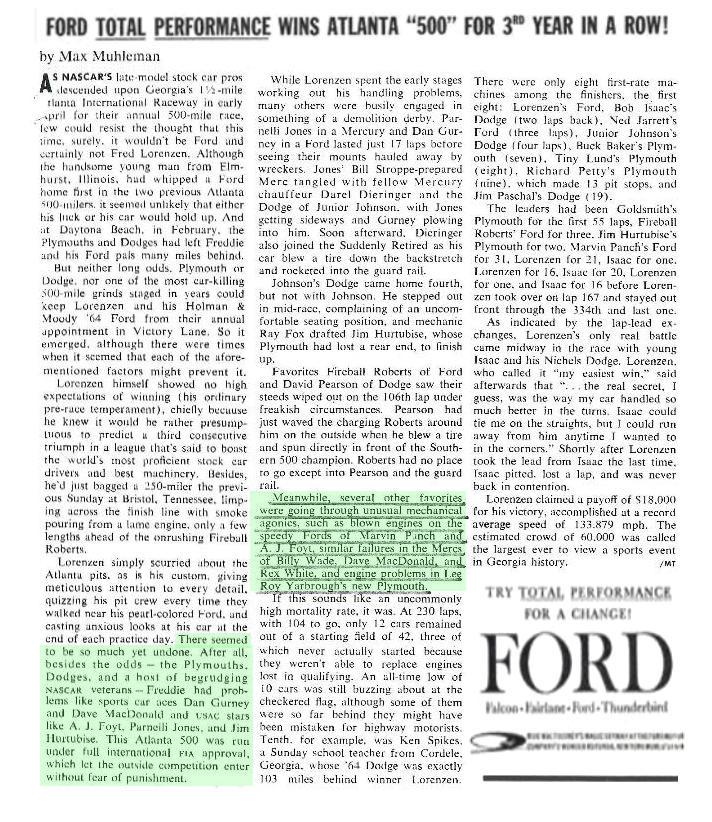 One of Dave MacDonald's paychecks for running the 1964 NASCAR Atlanta 500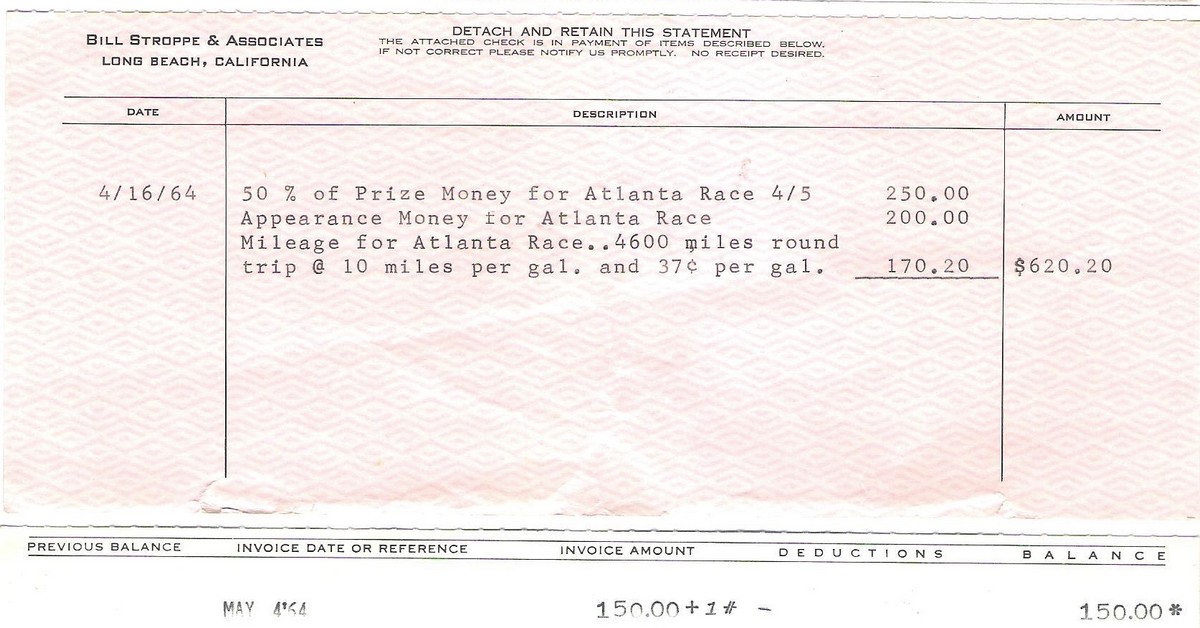 Beautiful artwork by Bill Rankin shows Dave's remarkable versility. #17 Mercury is car Dave drove in the Atlanta 500 & Daytona 500.