The historic Cobra Daytona Coupe - Legendary auto racer/designer Carroll Shelby discusses how Peter Brock, Phil Remington,
Ken Miles, Dave MacDonald and John Ohlsen helped bring Pete's vision to reality in less than 4 months and built CSX2287.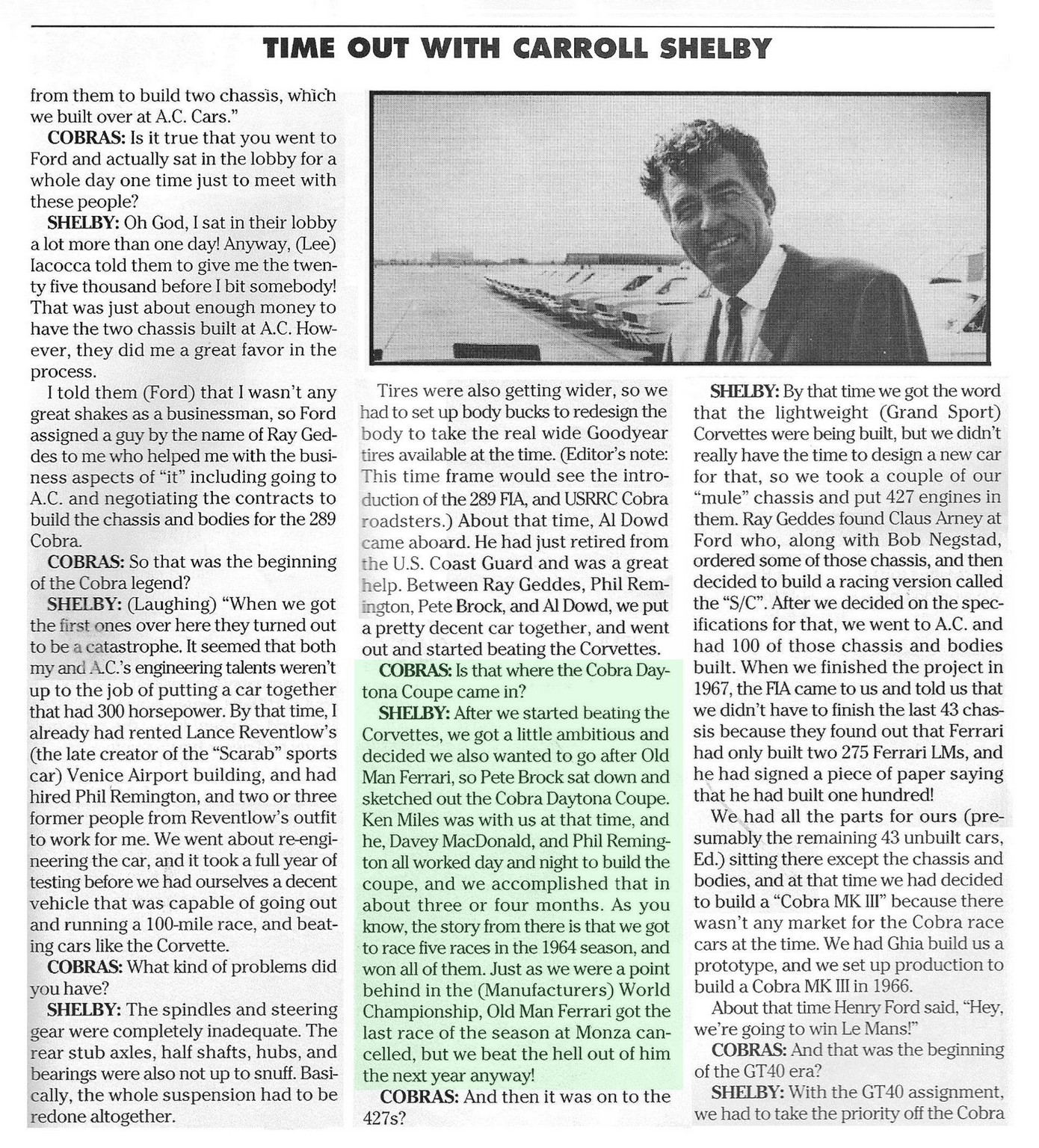 It all started when Carroll Shelby decided to go after Old Man Ferrari's vice grip on international racing and take the World Champ-
ionship from them. Peter Brock told Carroll they'd have a better chance at doing that if they had a more aerodynamic body that could
run with the Ferraris on the long straights in Europe.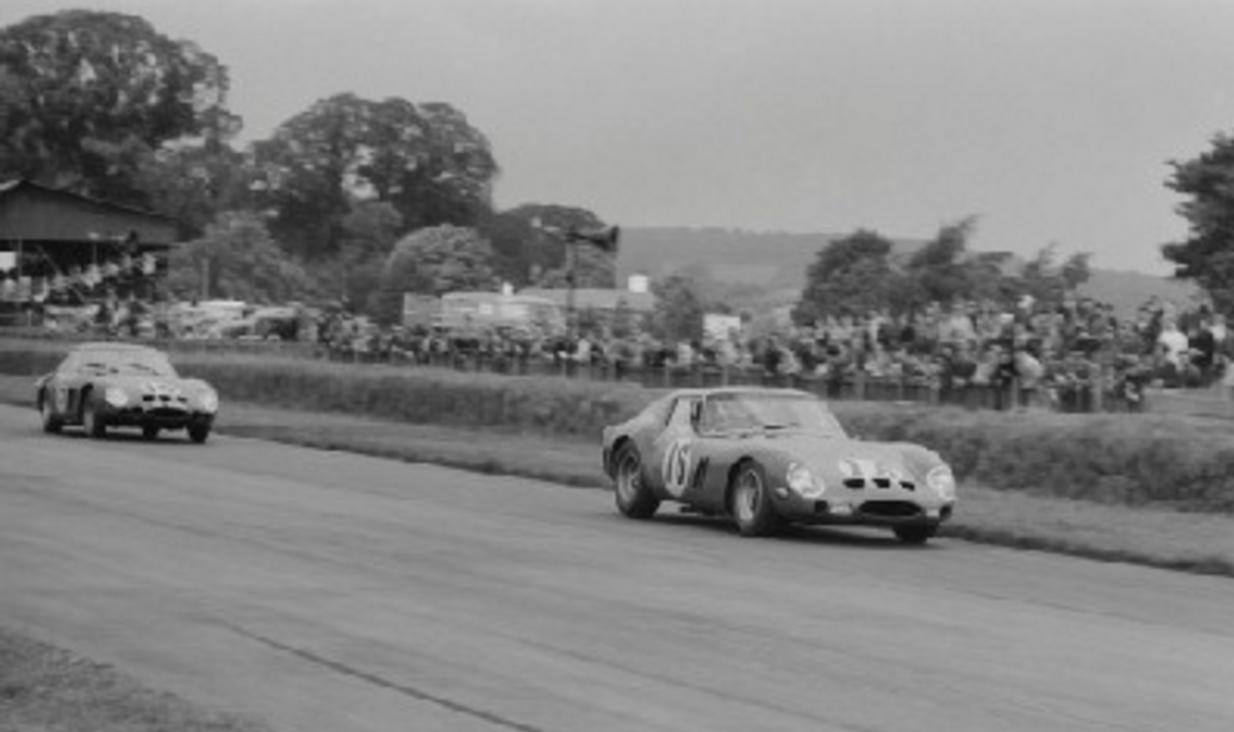 The first international race with Grand Touring points was scheduled for Feb '64 - just 4 months away - and their goal was to be there.
First problem was they didn't have a budget for a new chassis. Carroll told Peter to start working on the design and he'd find a way to
get the money for a new chassis. In the meantime start building the car on top of the battered and bent CSX2014 chassis - the Cobra
Skip Hudson had wrecked at Daytona months earlier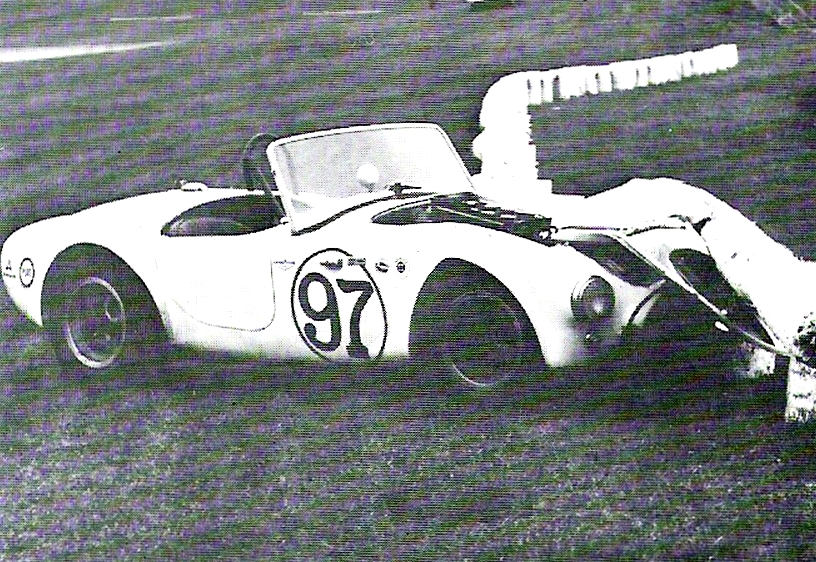 So Peter sketched it out and the team went to work laying body bucks on top of CSX2014. [Dave Friedman / THF]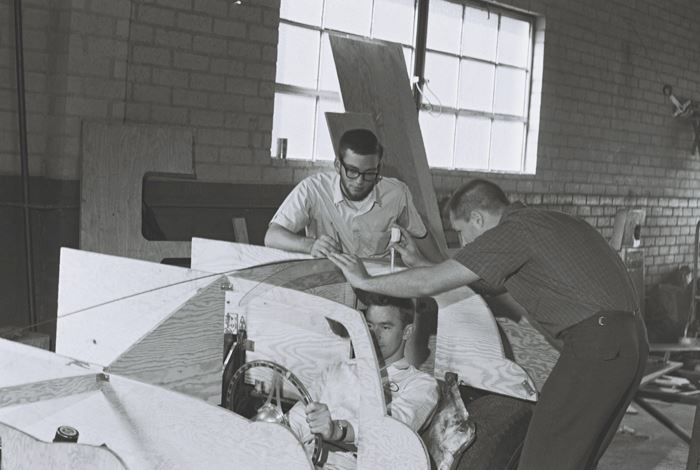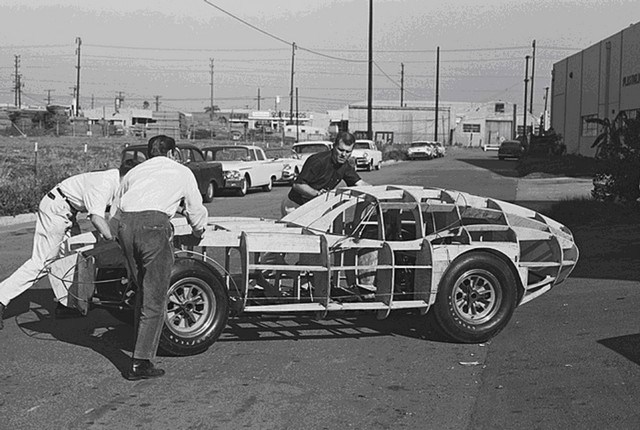 Photo Dave Friedman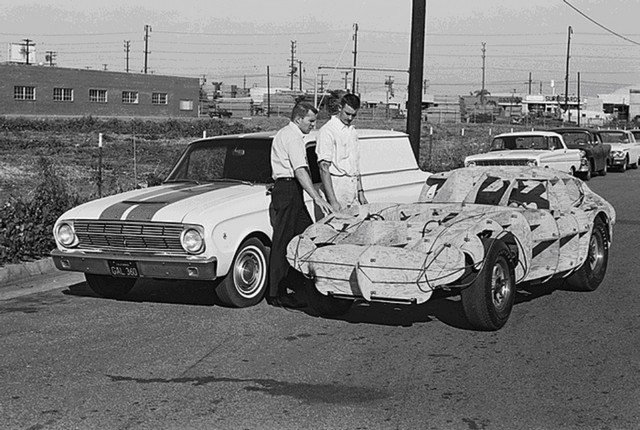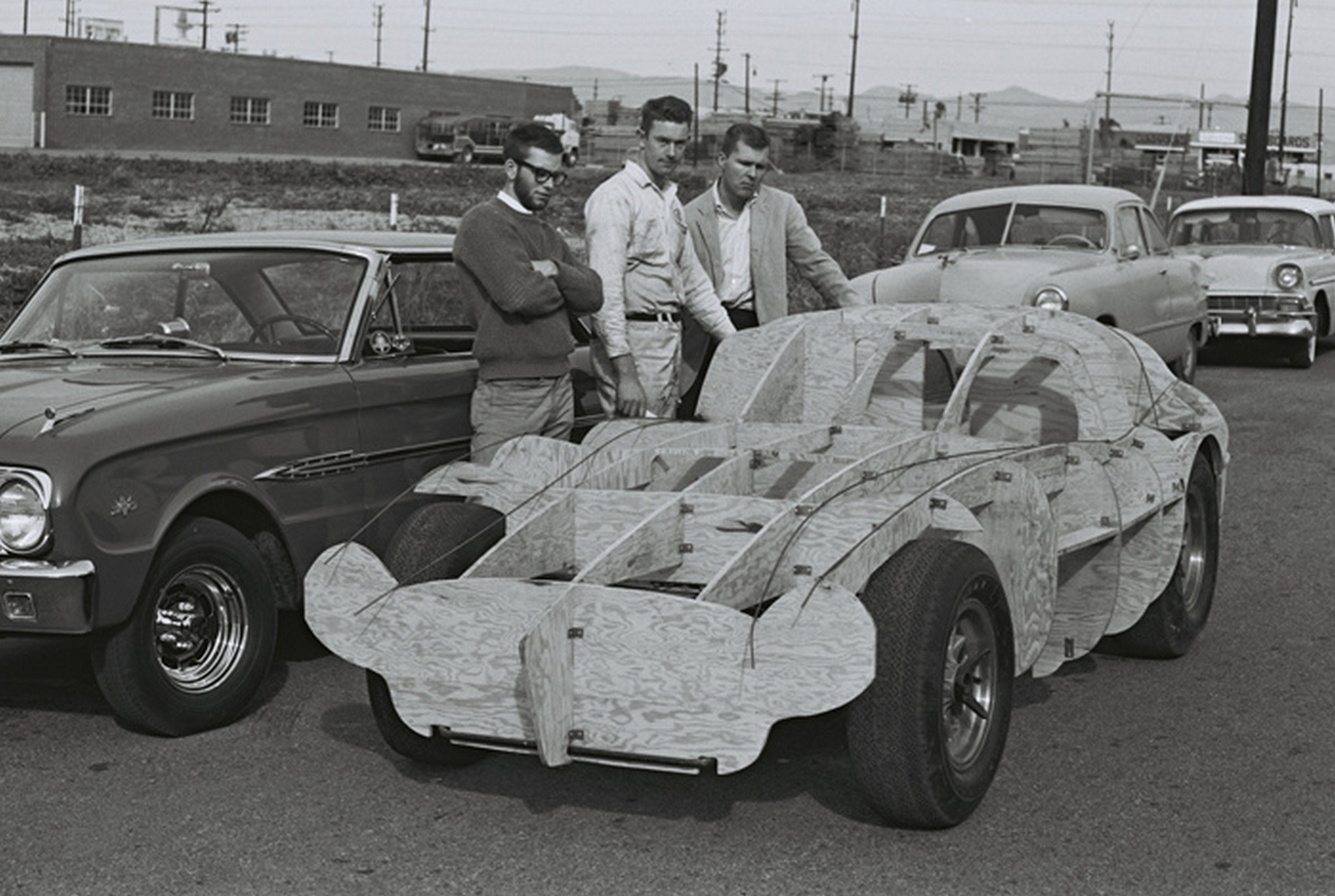 Bucked CSX2014 was then sent to Cal Metal Shaping to begin fabricating aluminum body panels to skin the new Coupe. (Dave Friedman)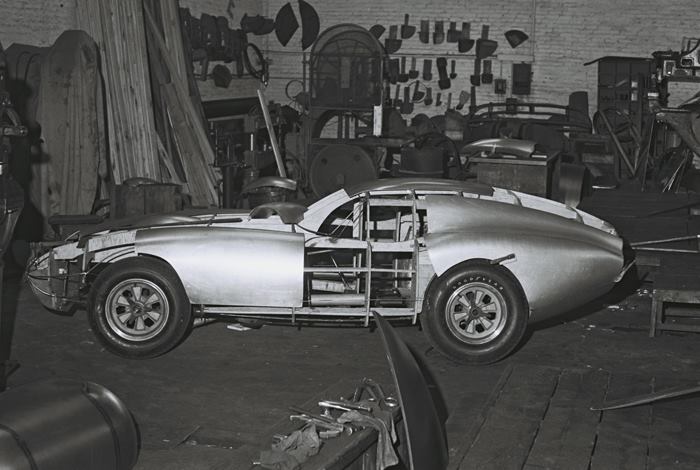 Peter Brock with a watchful eye ensuring everything is going exactly the way it should. Photo Dave Friedman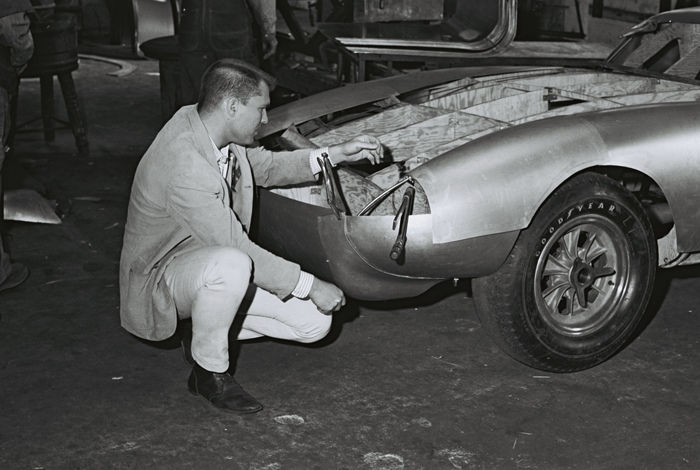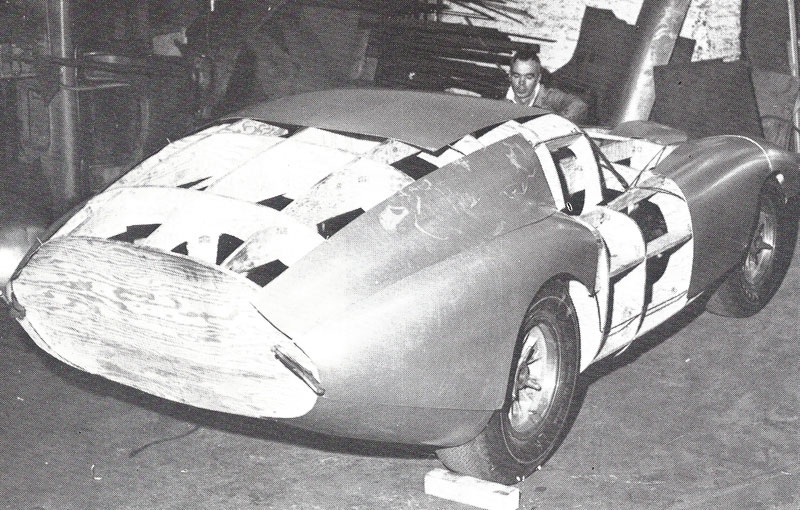 Panels on the car and it's back at SAI's speed shop in Venice to continue the build. Photo Dave Friedman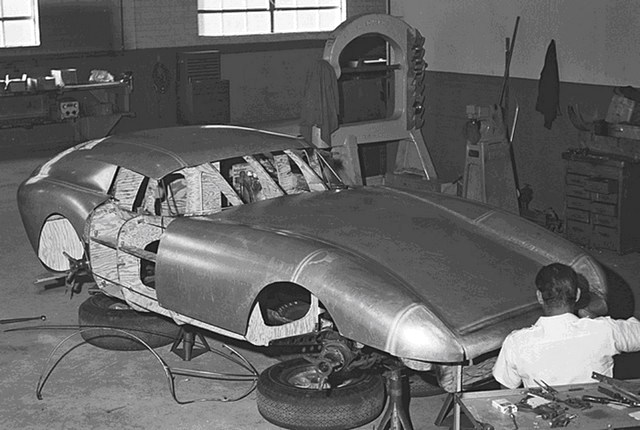 Photo Dave Friedman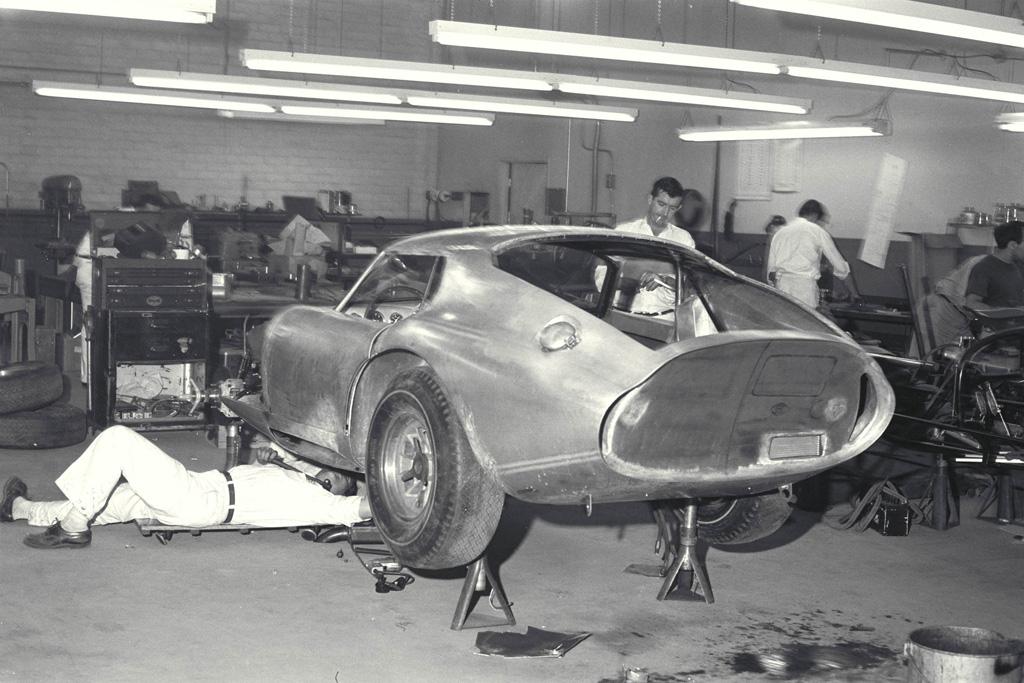 Smooth talking Carroll Shelby of course found the money and soon two new chassis' arrived from England - CSX2286 and CSX2287.
The team used 2287 and began installing the powerplant. Poster on wall shows Dave in King Cobra at '63 LA Times GP. Poster was
advertising the '64 Dodger Stadium races. Photo Dave Friedman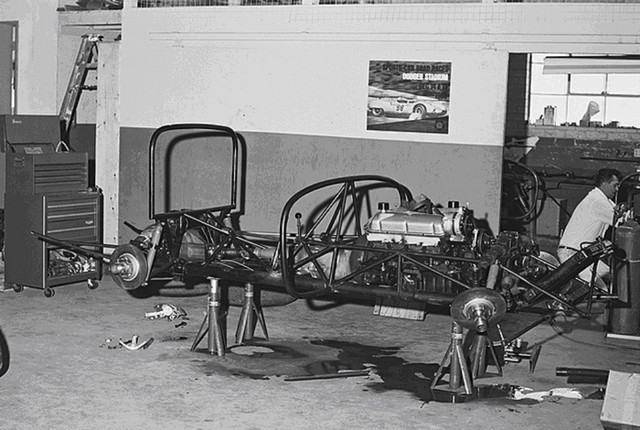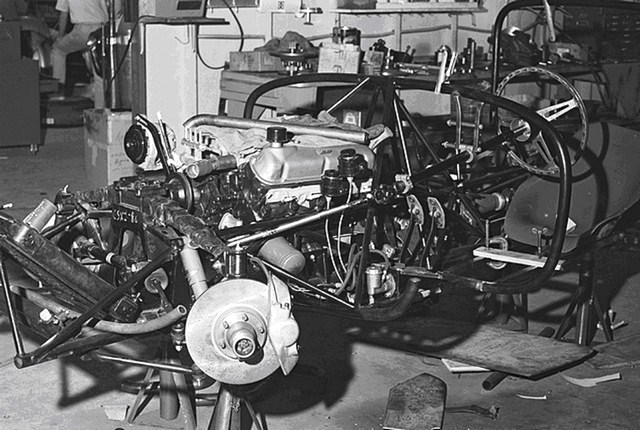 Ken Miles, Carroll Shelby & Peter Brock stratigize. Photo Dave Friedman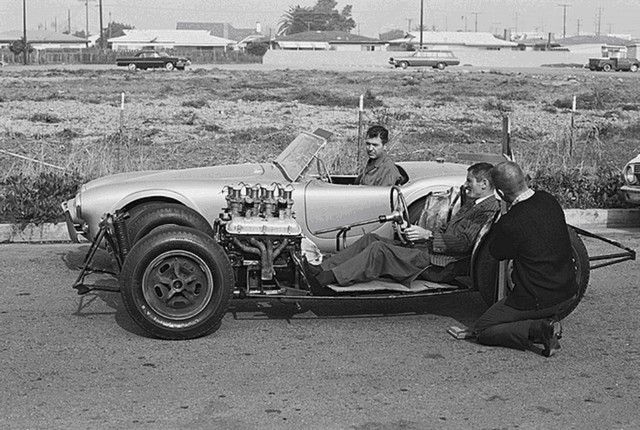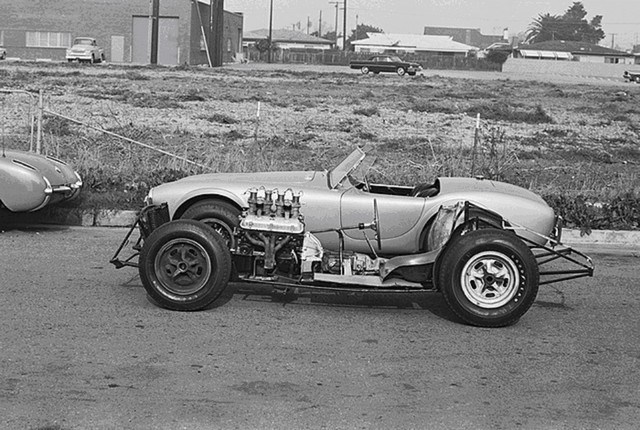 Peter Brock, Dave MacDonald & Ken Miles in mock fitting for 2287's cockpit. A total of six Shelby Cobra Daytona Coupes were
built and CSX2287 was the only one built entirely in the United States. Photo Dave Friedman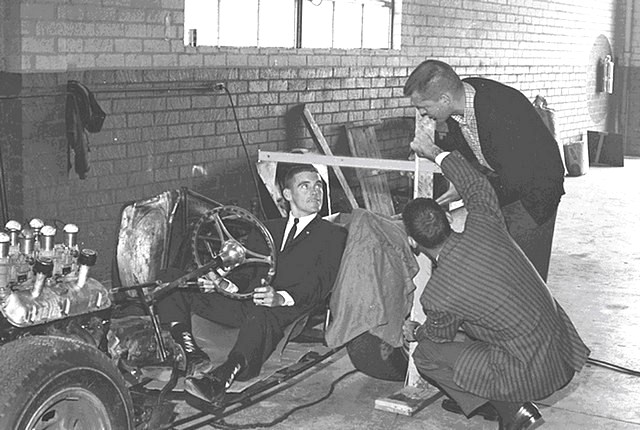 Photo Dave Friedman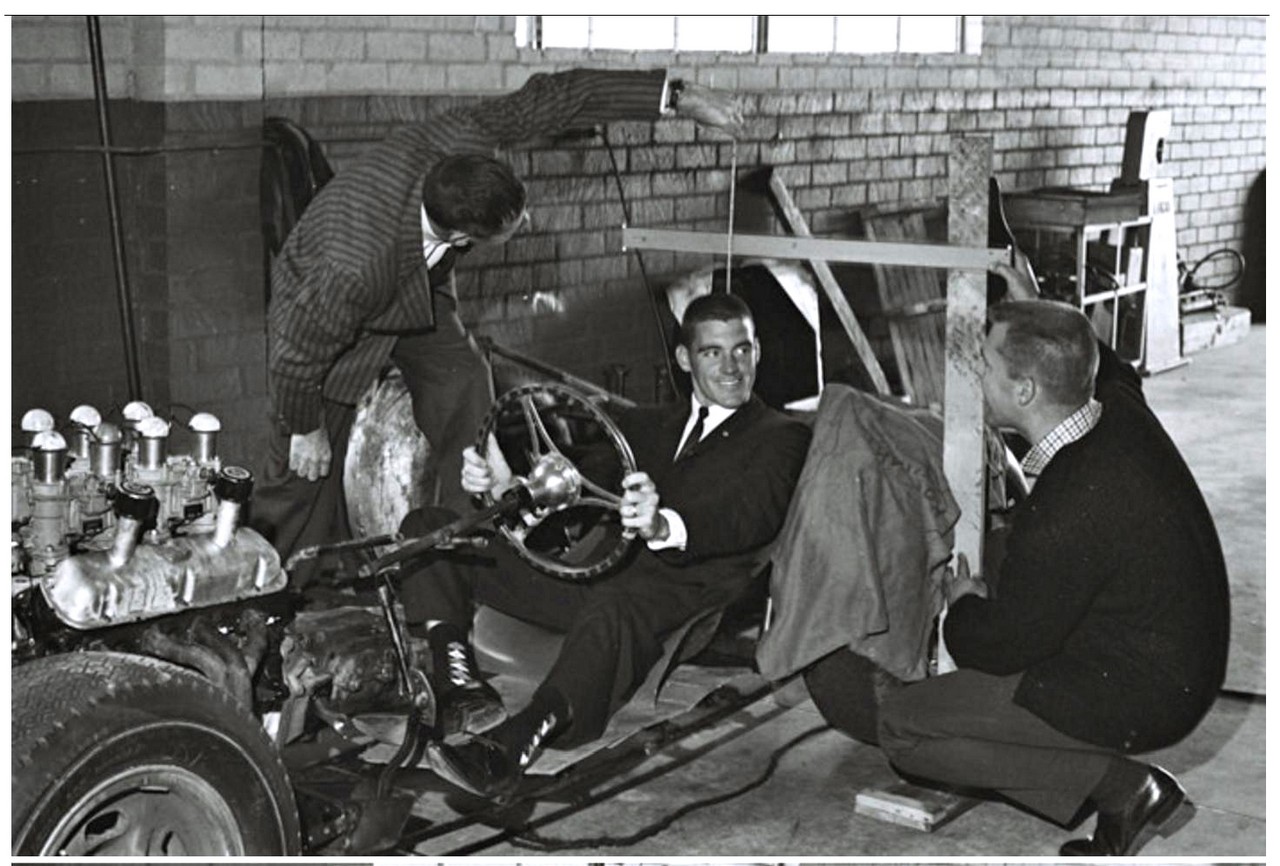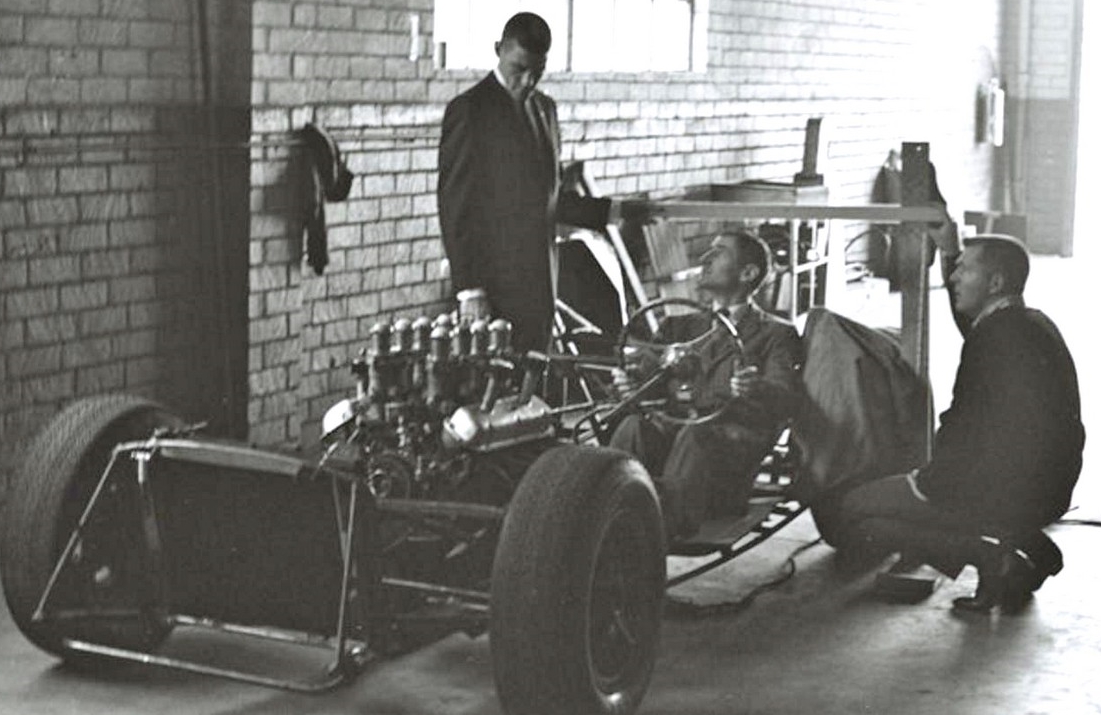 Photo Dave Friedman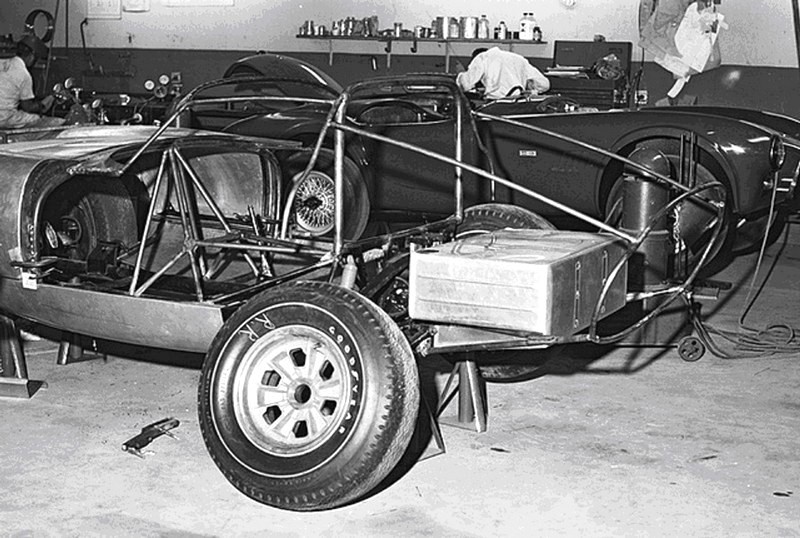 Photo Dave Friedman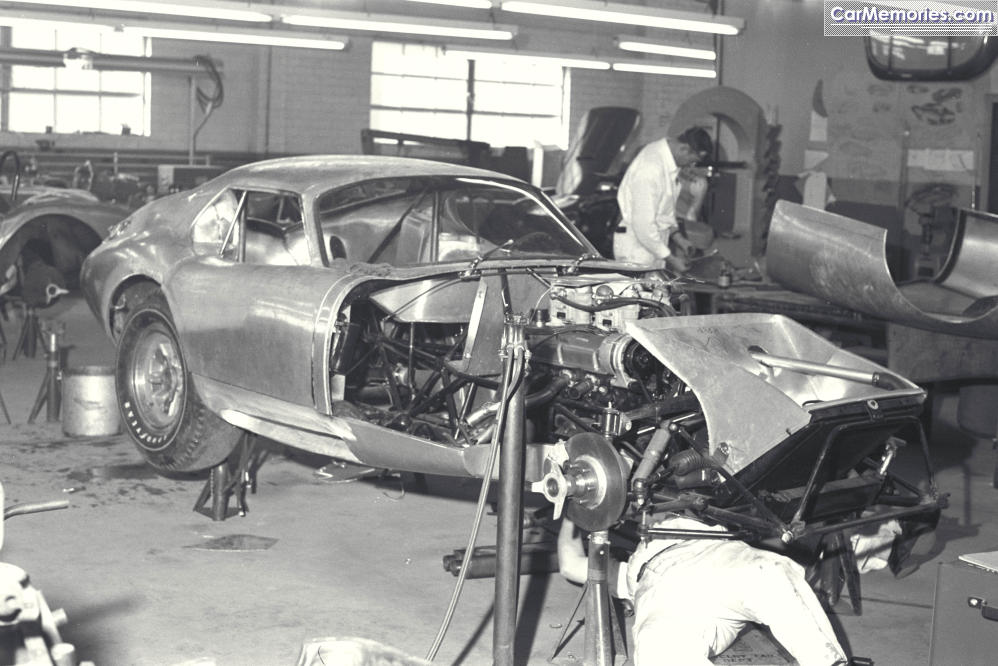 Photo Dave Friedman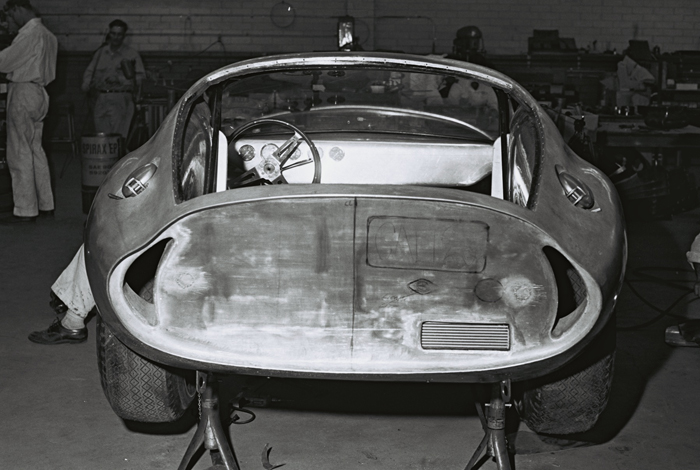 Photo Dave Friedman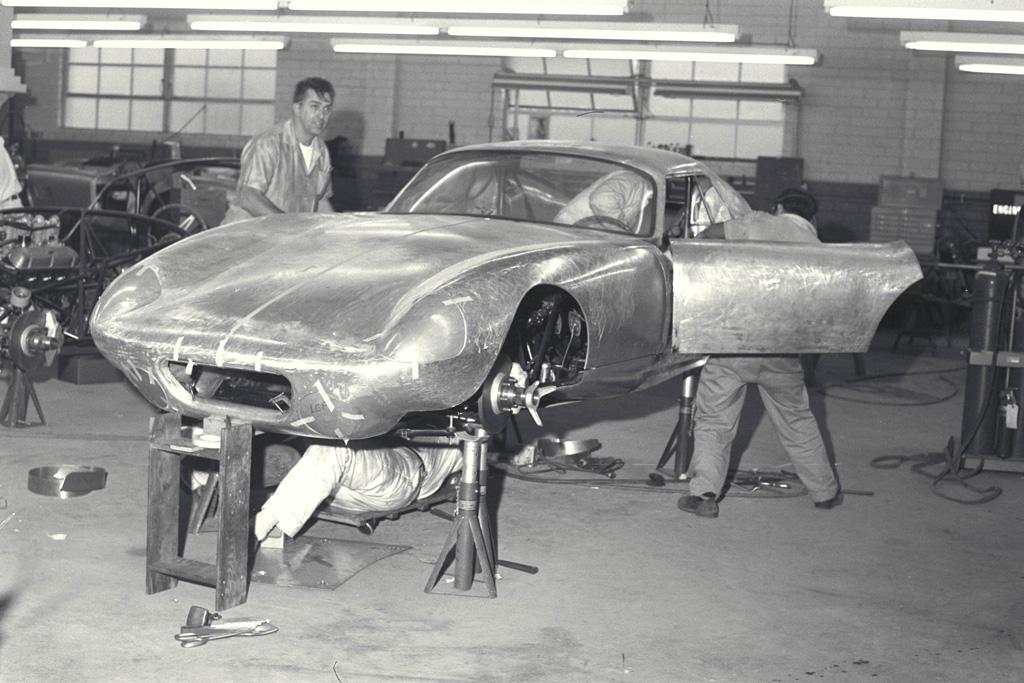 Photo Dave Friedman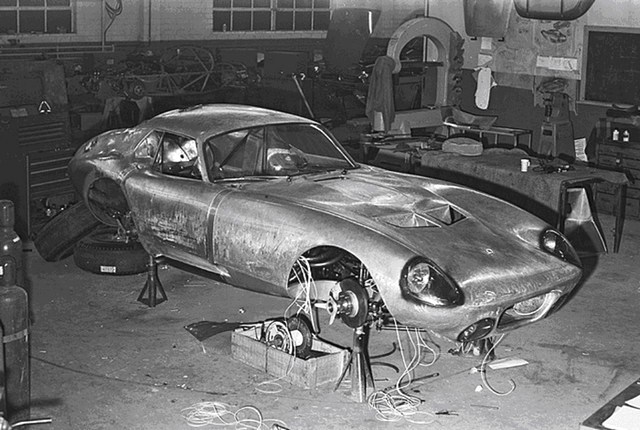 With chassis CSX2287 nearing completion Peter Brock remembers the still bucked CSX2014 going to Italy. That was the last
time he saw it and thinks it may have ultimately been scrapped.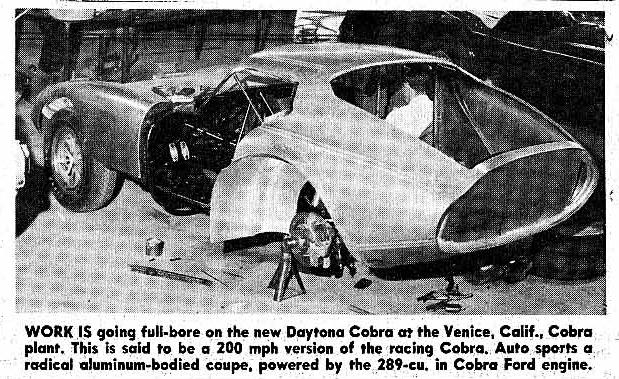 Feb 1, 1964 at Riverside Raceway - Shelby sends Daytona Cobra Coupe CSX2287 out to Riverside for its initial shakedown.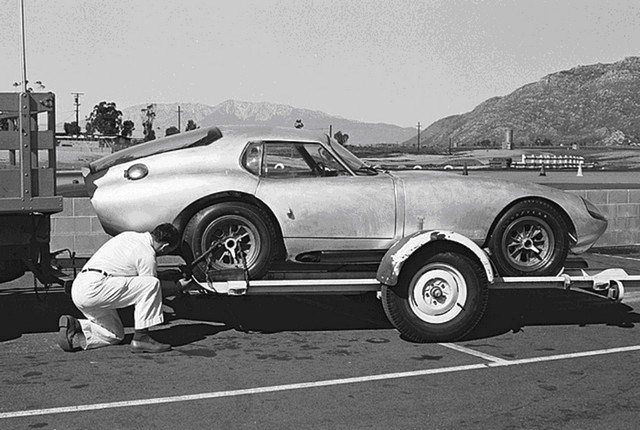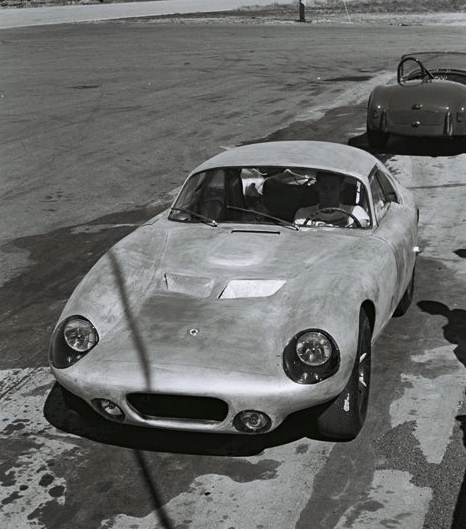 Photo Dave Friedman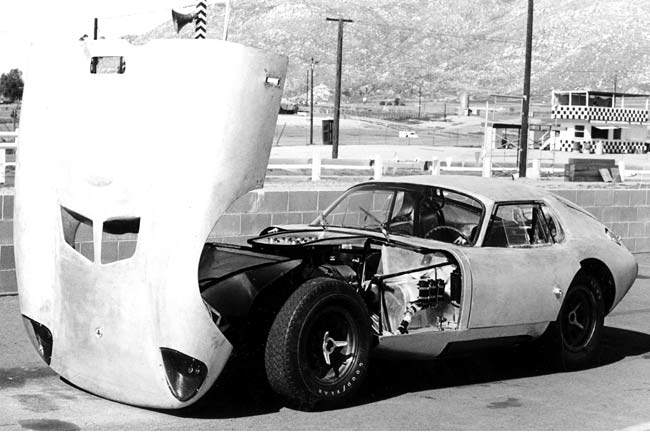 Photo Dave Friedman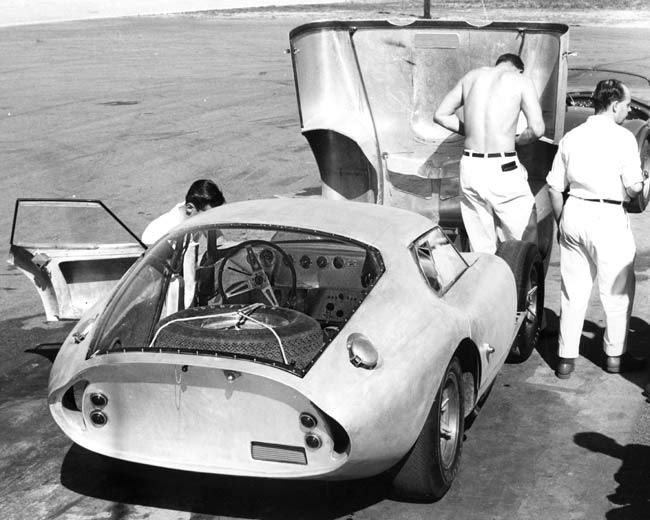 The crew makes last minute adjustments before Ken Miles puts CSX2287 on the track. Photo Dave Friedman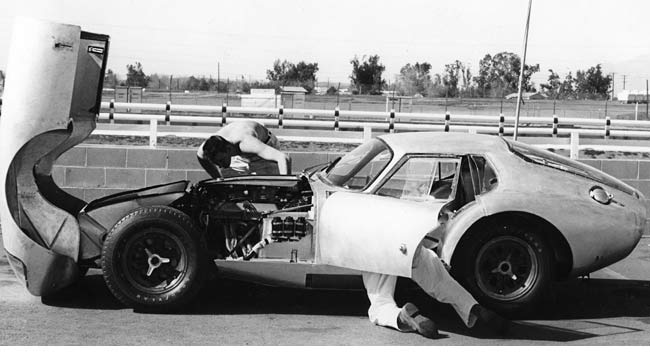 There were understandably a few bugs in the initial shakedown but the Coupe was considerably faster than both the 289 Roadster
and King Cobra. Below: Ken Miles registers 180mph on Riverside's back straight ... success! Photo Dave Friedman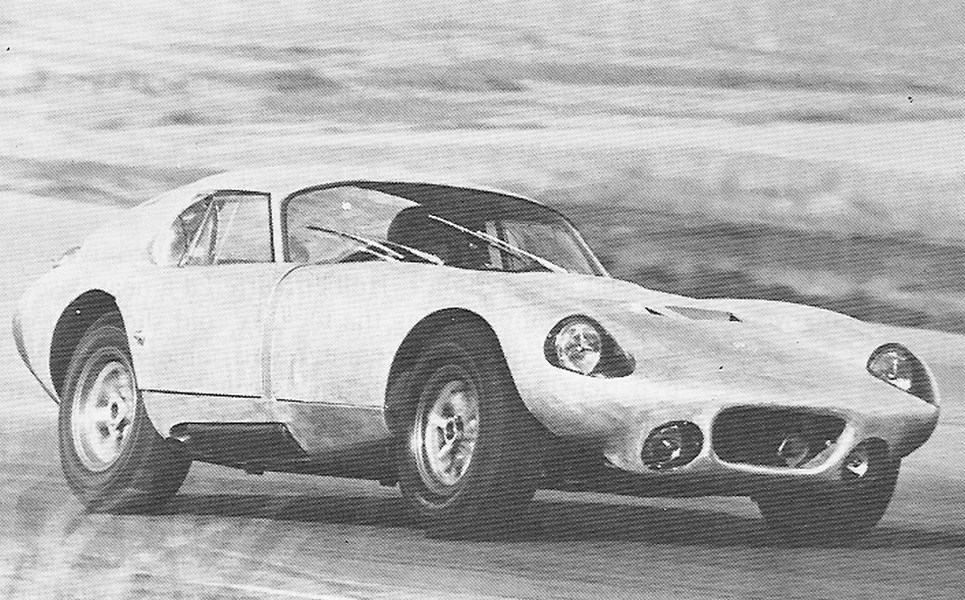 Cobra CSX2287 was brought back to the Princeton Ave shop for final adjustments and then given a fresh coat of paint for its debut
race on February 16, 1964 - the Daytona Continental 2000km at Daytona International Speedway. Incidently, this is why the new
Cobra was dubbed the "Daytona" Coupe. With so little development time the crew wasn't sure if the new Coupe ready to battle
against Ferrari. Nonetheless, a happy Pete Brock poses near his baby. Photo Dave Friedman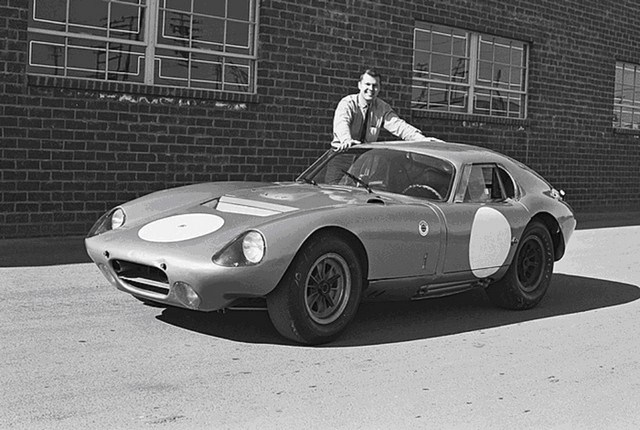 CSX2287 loaded behind the Shelby American truck and off to the airport. Photo Dave Friedman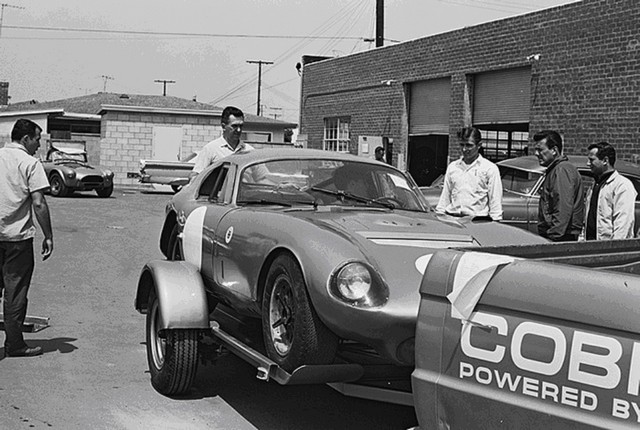 Dave MacDonald & Bob Holbert at Daytona with #14 freshly painted on CSX2287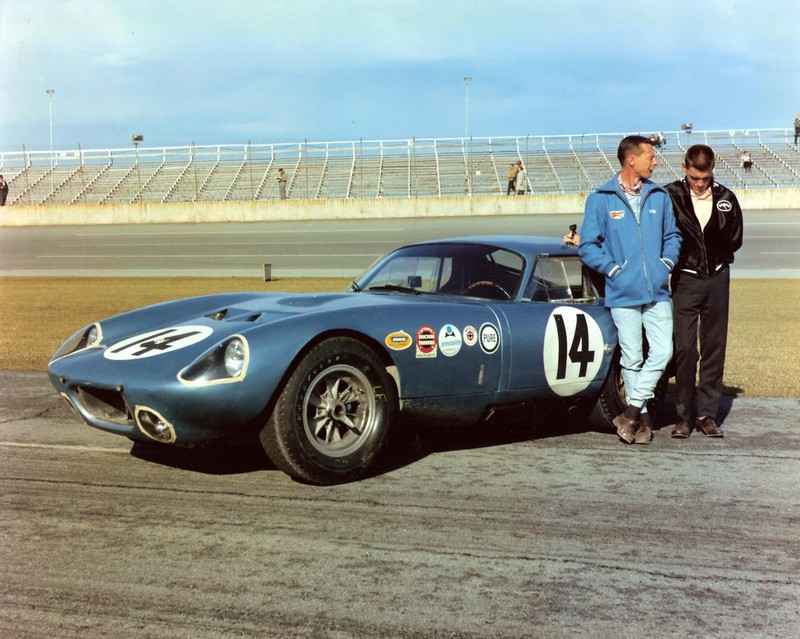 Dave MacDonald sets a new Daytona track record with an avg speed of 106.490mph and qualifies CSX2287 in the pole position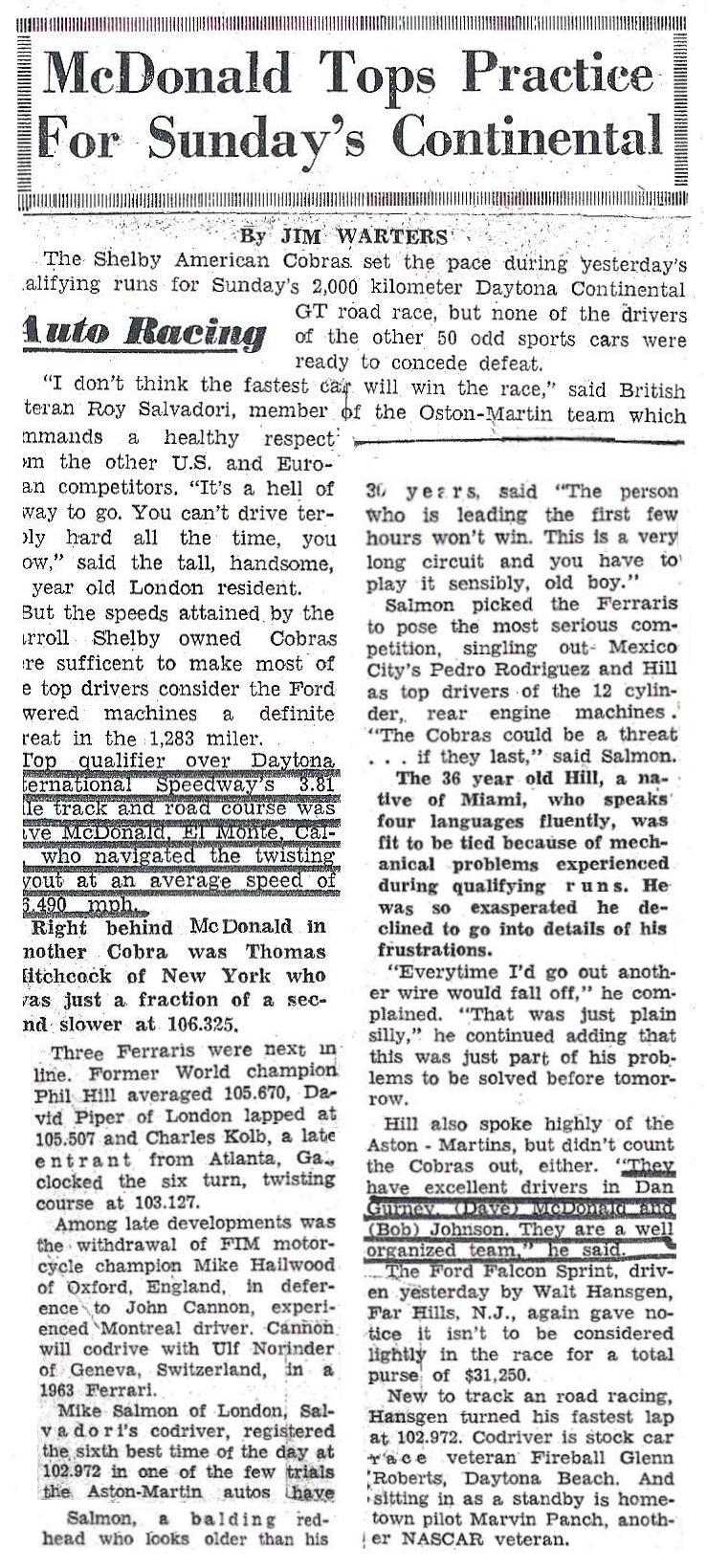 Dave MacDonald & Bob Holbert co-drove CSX2287 in the Daytona Continental 2000km and after 796 miles of racing they had
built a 4 1/2 lap lead on the field when Bob brought the car in on lap 209 for rear end adjustments. While Holbert briefs Mac-
Donald and the crew Shelby ordered the car refueled. Gas then spills underneath and suddenly the car is engulfed in flames. A
disappointing finish but they were pleased with how the car performed and looked forward to Sebring.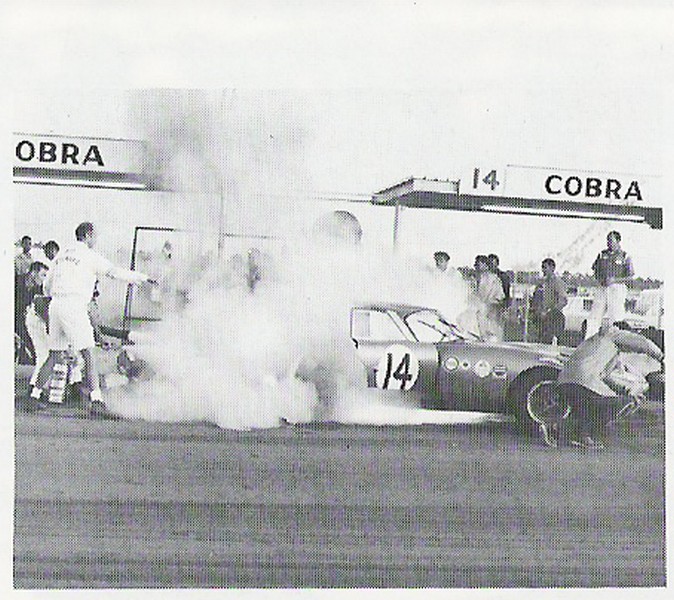 Before leaving Daytona the crew washed & detailed CSX2287 for a photo shoot. The fire looked worse than it was and the car
cleaned up nicely. Carroll Shelby, Dave MacDonald and Bob Holbert pose for photos with Cobra Daytona Coupe CSX2287.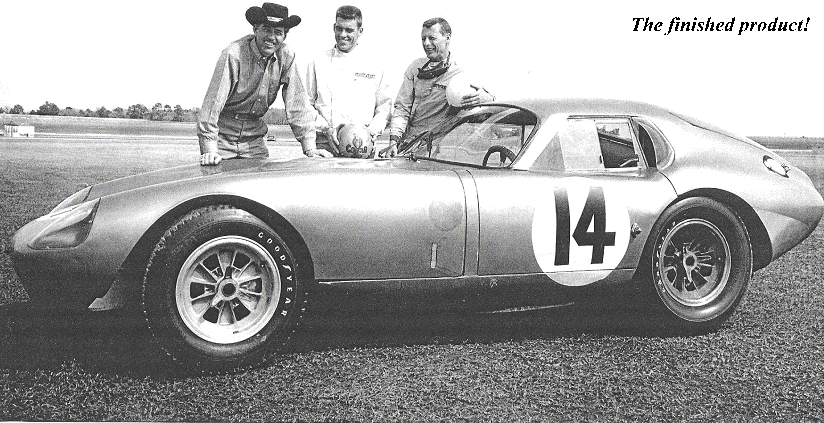 More from the photo shoot. Photo Dave Friedman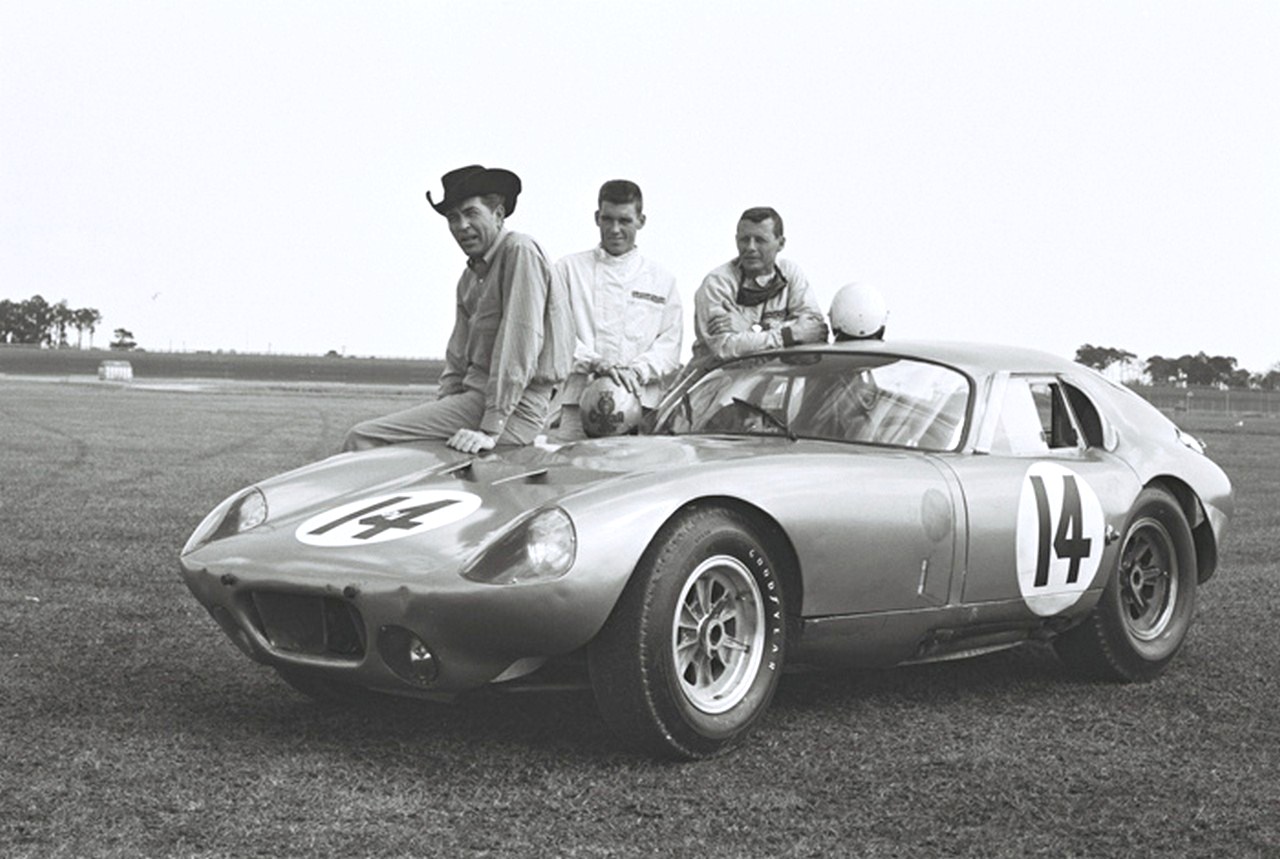 Photo Dave Friedman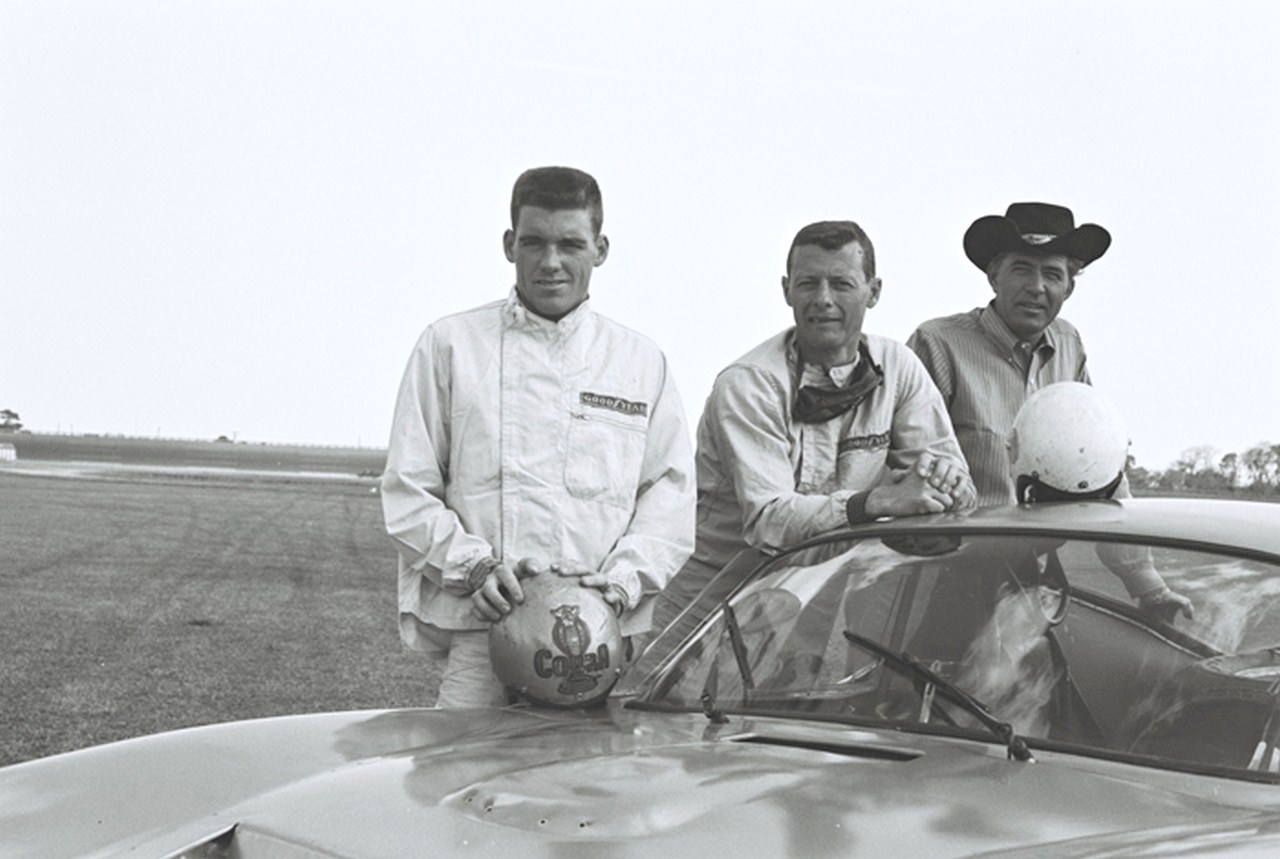 Photo Dave Friedman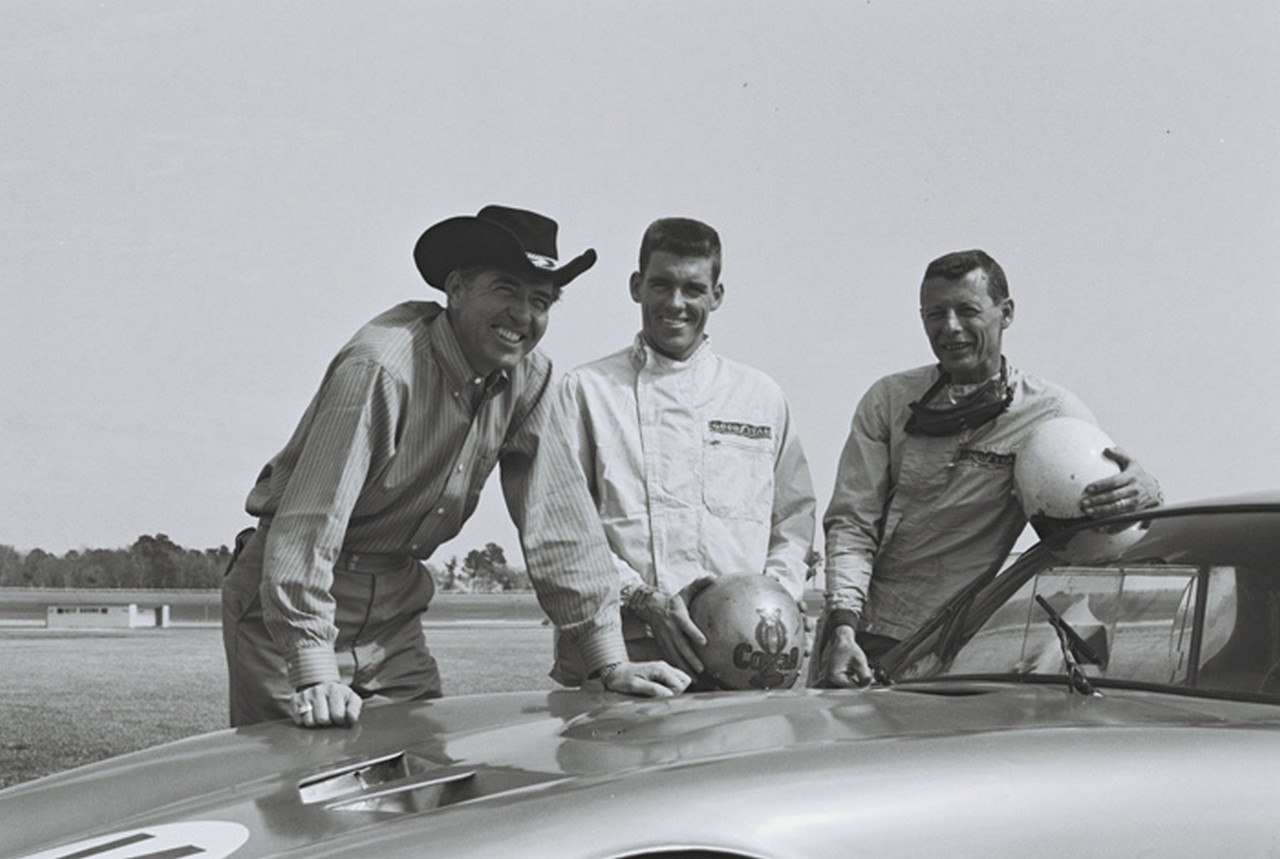 Now back in California after the Daytona Continental 2000 Shelby sends CSX2287 back out to Riverside for some much needed
development time before the next race in the 12hrs of Sebring endurance event. Ken Miles, Phil Hill and Peter Brock put the Coupe
on the track. (Brock in white helmet was no slouch behind the wheel and won many races in the 60's). Photo Dave Friedman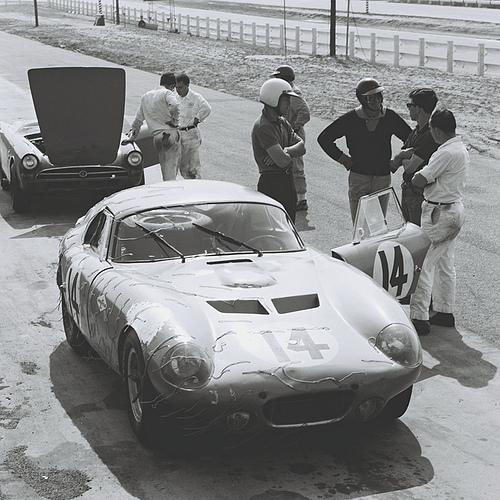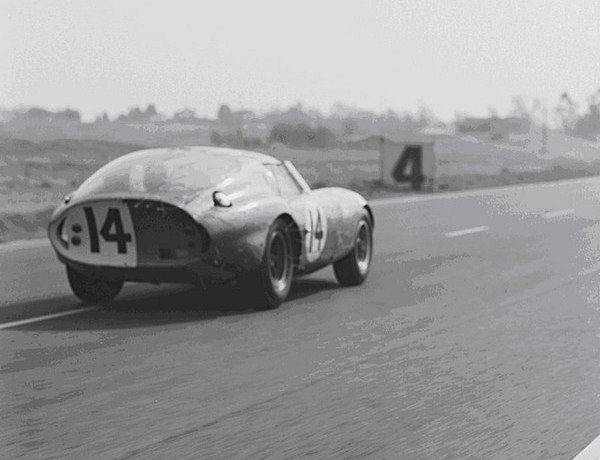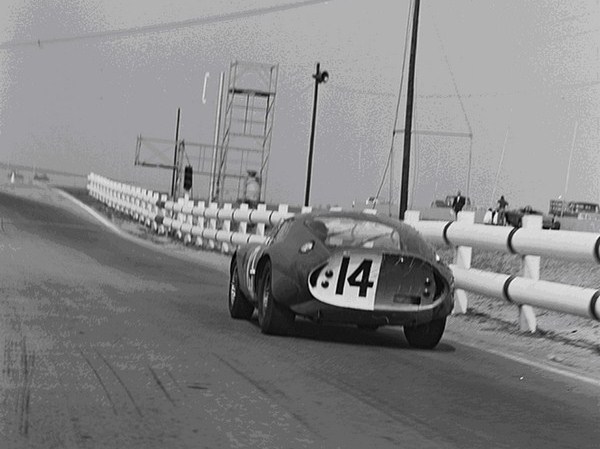 Ken Miles in dark helmet and Phil Hill on the far right feel the Coupe is dialed in and ready for Ferrari at Sebring on March 21.
Photo Dave Friedman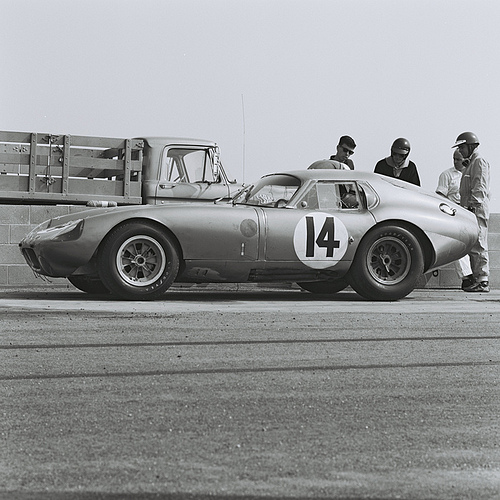 Dave MacDonald in an afternoon shift during the 12hrs of Sebring. Cobra Daytona Coupe CSX2287 was running strong.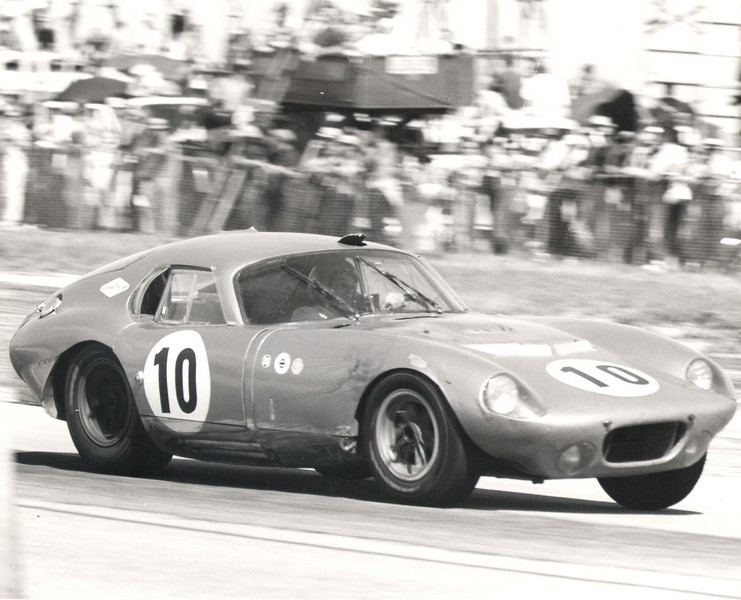 MacDonald and co-pilot Bob Holbert scored the all important GT Class win (4th overall behind three Ferrari Prototype cars) here
at Sebring. This was the historic first-ever win for the Daytona Coupe! Photo Dave Friedman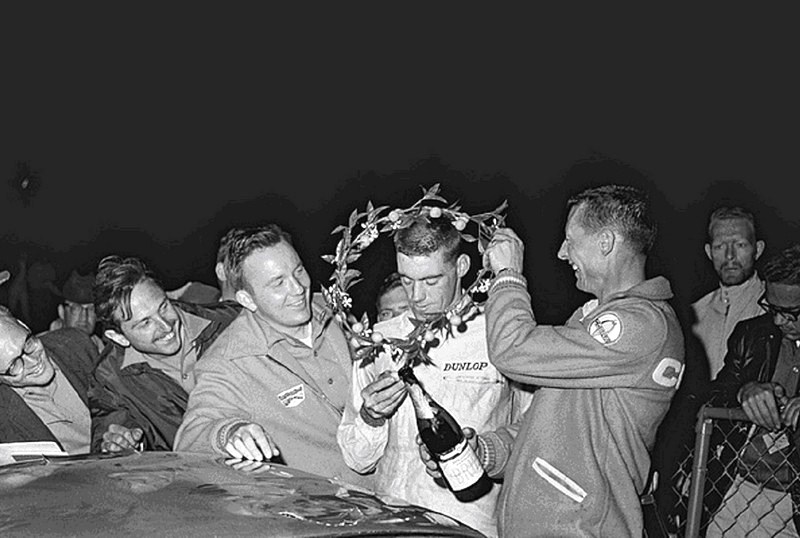 Dave MacDonald and Mike Parkes congratulate each other on their big wins. Parkes teamed with Umberto Maglioli for the overall
win in a Ferrari Prototype 275. Photo Dave Friedman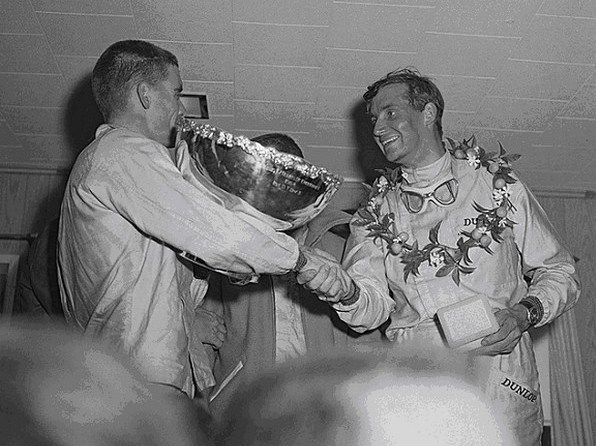 Here's another pic from that same Daytona photo op and it was later used for this cover of 1993 Vintage Motorsport Magazine