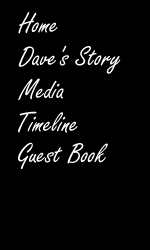 One of the brightest lights to burst forth during the glory days of racing, Dave MacDonald began his career in 1956 running stock Corvettes on the dragstrips of Southern California. By the end of 1959 he'd racked up nearly 100 trophies and six standing start speed records in 1/4 & 1/2 mile speed trials, his Corvette was declared "Fastest Car in the West". In 1960 Dave decided to test his driving skills on the road racing circuit and entered his '57 Corvette in the SCCA sanctioned races at Willow Springs Raceway in February. He finished 4th in Saturday's preliminary race and then won Sunday's main event! Dave's road racing career was in motion and between 1960 and 1964 he scored 52 first place finishes - all but one coming in variations of America's two most iconic sports cars, the Chevrolet Corvette and the Shelby Ford Cobra. He was victorious at Willow Springs, Riverside, Stockton, Del Mar, Tucson, Cotati, Pomona, Dodger Stadium, Reno, Palm Springs, Santa Barbara, Hanford, Augusta, Phoenix, Elkhart Lake, Kent, Sebring and Laguna Seca; and he not only coaxed and cajoled his cars across the line first; he got them there in record-breaking times. Dave MacDonald's impact on racing history is significant and racing fans would be hard-pressed to find a driver who better embodied the passion and determination of American racing in that era. Composed, soft-spoken, a gentleman on the track and off, Dave MacDonald was nonetheless a fearless competitor; he was quick out of the gate and loved to please the roaring crowds.

Growing up in car crazy Southern California Dave had long been fascinated with fast cars and he took it to a new level when he purchased his first Corvette - a new Gypsy Red 1955 model. He bought the car from the Arcadia California Chevrolet dealership where he worked as a car mechanic and immediately began entering local drag racing events in Southern California. Dave scored win after win in his Corvette and was so thoroughly dominating the Southern California drag racing scene that local Corvette dealer Don Steves offered a road racing contract for the 1960 season. Don figured Dave's smooth, quick-shifting skills would translate well on a demanding road racing circuit and offered $50 a race plus winnings, Dave eager to further his racing career quickly accepted. In January 1960 Dave purchased a tired old 1957 Corvette in preparation for the jump to the road racing circuit. After race prepping and painting he towed it out to Rosamond California for the February 13-14 weekend races at Willow Springs Raceway. The race field was loaded with top-notch well-known west coast drivers and Dave drove well in Saturday's prelim race, finishing in fourth place just 34 seconds behind the legendary Bob Bondurant. But it was Sunday's feature race - on Valentine's Day February 14th - that Dave provided a glimpse of things to come as he skillfully outdueled the field to record his first ever victory! Bondurant remembers it this way - "Willow Springs in Feb 1960 was the first time I ever raced against Davey, and I thought, where'd this guy come from? He was so quick, a tremendous driver."

Dave began to build a name for himself on the West Coast and the press took notice. Corvette News put Dave and his 00 Corvette on the cover and ran an article titled "From Dragster to Driver." The Editor's Note has this to say: "Dave MacDonald, a personable young Californian began drag racing with a 1955 Corvette at California's San Gabriel Drag Strip. Since then, a string of Corvettes and expert driving has garnered more than 100 trophies in drag racing and road racing, well nigh bulging one room of his El Monte, California, home. Dave is quite modest when reciting his accomplishments, but his driving skill and mechanical know-how amply support his record. So far in 1961, Dave leads racing in the California Sports Car Club with more than twice as many points as his closest class competitor."

Dave rarely came in anything but first place but still he felt he could do better. Car owner Jim Simpson remembers Dave coming to him with an idea to build a new smaller and lighter custom Corvette that they could run in the modified division. Thy collaborated with legendary car designer Max Balchowsky (of OL' Yeller fame) and started by making a mold of Jim's 1961 Corvette. Using the mold they poured a razor thin 1/16" fiberglass shell that they cut in half and then shaved and shaped down to a finished product that was 17" shorter, 5" narrower and 4" smaller in height than a stock Corvette. They painted the car Dave's favorite color orange (despite Max's gentile nudging of yellow) and crammed in a new nearly impossible to get '62 Chevy 327 fuelie. At 1,750lbs the custom one-off Corvette weighed 1,000lbs less that a stock Vette; it was dubbed the "Corvette Special". The Special's debut was in the modified main event at Laguna Seca in October 1961 and it unfortunately lasted only one lap. As Dave came around for lap two, he was one of seven lead cars to go through an oil spill that was a result of a crash between Augie Pabst and Bob Bondurant on the previous lap. Dave's Corvette spun wildly into the infield dirt and broke the car's suspension. Not much was learned at Laguna Seca but Dave powered the Corvette Special to victories in 4 of the next 5 races, including back-to-back wins at Riverside against a fields of Maseratis, Corvettes, Porsches and Ferraris. The Corvette Special is thought by many to have been the inspiration for Zora Duntov's Corvette Grand Sport

June 29, 1962, during development of Chevrolet's spectacular new 1963 Corvette Sting Ray the legendary Zora Arkus Duntov handpicked Dave MacDonald and Dick Thompson (Future Corvette Hall of Famers) to perform four days of all-out no holds barred road testing at The General Motors Proving Grounds in Milford Michigan. On hand were dozens of GM engineers compiling driver feedback and other valuable data needed for adjustments prior to firing up the assembly line. Film footage from these tests was used in a promotional film entitled "Biography of a Sports Car" and distributed around the country as part of GM's marketing campaign. Demand for the '63 Sting Ray soared so high that GM used round the clock production crews to fill orders. By years end Sting Ray sales had surpassed 21,500 units, a 50% increase over 1962's record setting year. America had fallen in love with the Corvette Sting Ray and Dave MacDonald had a significant hand in its development. Sidenote: At 1991 Corvette show in Anaheim California, Zora approached Dave's wife Sherry and told her - "Dave best Corvette driver." High praise indeed from the "Father of the Corvette".

In September 1962 GM flew Dave MacDonald, wife Sherry, Bob Bondurant and Jerry Grant out to the St Louis plant to present them with the first batch of '63 Z06 Sting Dave was given the very first one off the production line – VIN#684. They then drove the Rays cross-country back to the west coast and Sherry recalls heads turning the entire way as the '63 Stingray was a real show stopper. The cars were quickly race-prepped and entered in the Riverside 3hr Enduro on October 13th. This would turn out to be a pivotal race for Dave as he, and the new Vettes, were to be matched against Carroll Shelby and his new Cobra Roadster. It was the debut race for both iconic sports cars and it led to some spectacular road racing in the early going. Dave jumped out to a 1/2 lap lead until a loose coil wire killed the engine on lap 4. Dave pulled off course, opened the hood and reattached the wire. When he reentered the track Cobra driver Billy Krause was on his tail and the highly anticipated showdown was now fully engaged! Dave and Bill continued to pull away from the field and exchanged the lead several times before Krause left the race with a rear axle problem. Dave MacDonald was all alone at the front and continued to distance himself from the field. However at the 1 hr mark his Stingray coughed up his left rear wheel and he limped into the pits. The damage was too severe to continue and Dave was done for the day. While Dave was impressed with the Cobra's performance, Carroll Shelby was also impressed with Dave and immediately set out to hire him. He went to team owners Don Steves and Jim Simpson and asked if he could hire Dave away to drive his new Cobra Roadster in the 1963 season. Simpson knew that Chevrolet was pulling out of racing and felt in his heart that joining Shelby American and the full backing of FoMoCo was the best move for Dave. Jim and Don reluctantly let him go and Jim remembers delivering a parting statement to Carroll - "That kid is going to be the world's greatest racing driver, and you can put that in granite." Dave and Carroll Shelby agreed to terms shortly thereafter but the contract was not officially signed until January 20th 1963; this would allow Dave to keep his commitment to Jim and run his '62 Chevrolet Impala in NASCAR's Motor Trend 500 on January 19th. This was the swan song for Dave, Jim & Chevrolet. Unfortunately Jim's tired, outgunned '62 Impala was no match for the new '63 models entered by the full-time southern teams. Dave drove hard however and finished a respectable 12th and ahead of many drivers who'd later be enshrined in the NASCAR Hall Of Fame.

So two days after the MT 500 Dave began his employment at SAI. He was hired on as both a driver and a mechanic, which was important to Dave because as a gifted mechanic he'd always race prepped his own cars and this allowed him to continue doing that. His first task at the Shelby American speed shop in Venice California was to immediately begin race prepping Cobra CSX2026 for the upcoming races at Riverside International Raceway on Feb 2-3. Carroll Shelby's bold move to hire the hard charging youngster paid immediate dividends as Dave ran CSX2026 to back-to-back victories that weekend at Riverside, thus giving the Cobra brand its historic first wins! Teammate Ken Miles drove Cobra CSX2002 and finished 2nd both days for a 1-2 Shelby American sweep.

As top racing speeds continued to climb throughout the 60's, it was obvious that to win, you had to keep up. In March 1963 Shelby American stuffed Ford's new 289 engine into the Cobra Roadster in hopes of furthering Cobra's assault on American road racing. March 2-3 1963 at Dodger Stadium was the 289's maiden race and once again Dave MacDonald won both days with Ken Miles finishing second for another Shelby Cobra 1-2 sweep. Dave ran the Roadster to several more wins throughout the country and then in late 1963 he moved into Shelby's newest monster, the Cooper Monaco, which the media affectionately dubbed " The King Cobra". Dave played a pivotal role in bringing the King Cobras on scene as he not only credited with convincing Carroll to put a modified sports racing car in the stable but he also helped build them and run shakedown testing during development.

On Oct 13, 1963, Dave drove King Cobra CM/1/63 to victory in the LA Times Grand Prix at Riverside Raceway. The event drew the largest crowd in the history of American road racing as 85,000 fans saw Dave dominate a star-studded international field. Helping to lure the world's best drivers to California was a record purse that included a new 1964 Pontiac Grand Prix and a winner's payout 7 times greater that what Graham Hill received for winning the '63 Monaco GP. Racing champions from all genres were entered including, AJ Foyt, Jimmy Clark, Rodger Ward, Dan Gurney, Graham Hill, Parnelli Jones, Pedro Rodriguez, Jim Hall, Bob Bondurant, John Surtees, Dick Thompson, Lloyd Ruby, Richie Ginther, Billy Krause, Roy Salvadori, Tim Mayer, Augie Pabst, Don Westor, Frank Monise, Ed Leslie, Chuck Parsons, Frank Gardner, Walt Hangsen, Jerry Grant and Roger Penske. They were no match for Dave on that day as he won in spectacular fashion, finishing a lap ahead of the entire field - a feat never before accomplished in the Times Grand Prix. After the race Carroll Shelby told reporters "This is the happiest day of my life, I'm glad I took a chance with the kid and gave him the ride. He's just the greatest, isn't he?" the King Cobra's first-ever

The following week against essentially the same field, Dave piloted King Cobra CM/1/63 to an equally impressive victory in the Monterey Pacific Grand Prix at Laguna Seca Raceway, finishing 3+ laps ahead of everyone but 2nd place driver AJ Foyt. The win gave Dave back-to-back victories in the two biggest and richest road racing events in America and brought international recognition to Shelby American and the Cobra movement!

A week later Dave drove Cobra Roadster CSX2136 to a 2nd place finish in the Hawaiian Grand Prix and suddenly he was the hottest driver in the country. He landed on several magazine covers and was awarded the prestigious Helms Athletic Foundation "Athlete of the Month" medallion for October 1963. The award first established during the 1936 Olympics was given to the athlete who dominated his or her sport through outstanding performance. Dave was only the ninth auto racer to receive this honor and the first during the United States football season.

Dave MacDonald was making his mark and offers from all types of racing were coming his way. With Shelby's approval he accepted an offer to drive the iconic Wood Brothers #21 Ford in NASCAR's Golden State 400 held at Riverside Raceway on November 3rd, 1963. He led for 92 laps and had built a 3/4 lap lead before losing third gear, enabling NASCAR star Darel Dieringer to slowly reel him in, Dieringer caught and passed Dave on lap 115 and after trading the lead for a couple laps passed Dave for good on lap 119 and went on to victory. Dave 2nd place showing under difficult circumstances, and against a field that included 7 of the top 10 and 22 of the top 25 NASCAR point leaders helped further raise his racing profile.

Two weeks later and again against a loaded NASCAR field at Augusta International Raceway Dave ran a Holman/Moody Ford Galaxie to a 2nd place finish in the Augusta 510. He finishing just behind teammate and NASCAR legend Fireball Roberts. Notable finishers in this race were:

Darel Dierniger (1st)
Dave MacDonald (2nd)
Billy Wade (3rd)
Joe Weatherly (4th)
Ned Jarret (5th)
Jimmy Pardue (6th)
Marvin Panch (9th)
Buddy Baker (10th)
Tiny Lund (12th)
Frank Warren (13th)
Cale Yarborough (15th)
David Pearson (17th)
Wendell Scott (18th)
Richard Petty (19th)
Junior Johnson (21st)
Rex White (26th)
Darel Dieringer (27th)
Fred Lorenzen (28th)
Buck Baker (29th)
Jack Smith (32nd)
Bobby Johns (35th)

The Augusta 510 ended a spectacular 5-week performance where Dave finished 1st or 2nd in five marquee races on both the USRRC and NASCAR circuits.

In the 60's it was every driver's dream to make it to motor racing's grandest stage – the Indianapolis 500. Few though ever realize that dream. But in just his fourth year of racing Dave's star was soaring and he was on the verge of superstardom when Mickey Thompson offered him an opportunity to make that dream a reality and drive his Ford racer in the 1964 Memorial Day race. With Shelby's blessing Dave accepted Mickey's offer in November of '63.

January 1964 Dave MacDonald signed a 20-race NASCAR contract with Ford Factory member Bill Stroppe. Shelby agreed to the deal but only as long as Dave remained committed to a full Cobra schedule for Shelby American. Dave MacDonald had become a full fledged Ford works driver in just four years of racing. His first race on the NASCAR circuit came on January 19th when he ran a Stroppe Merc at Riverside in the '64 Motor Trend 500. He ran in the top ten and as high as 3rd until his brakes gave out on lap 137. Then on February 24th Dave scored a Top Ten finish in his first and only Daytona 500 - against a lineup NASCAR.com has called "The Greatest Field in NASCAR History". Richard Petty was race winner capturing his first of seven Daytona 500's. (Note: Dave went head-to-head with Richard Petty in six NASCAR races and finished ahead of the King in 4 of the 6.)

Next on the schedule was the United States Road Racing Championships at Augusta International Raceway held March 1, Dave ran two races this day, finishing 1st in the Drivers' Championship race in Shelby King Cobra CM/1/63, then 2nd in the Manufacturers' Championship race driving Cobra Roadster CSX2259. His average speed of 97.653 MPH in the Drivers race was 11 MPH faster than the previous track record set by Fireball Roberts in the Augusta 510. After this victory, hall of fame motor sports journalist, Chris Economaki, wrote that, "Dave MacDonald just stamped himself as one of today's road racing greats"

Around this time Shelby American's upstart band of hottrodders were putting finishing touches on Peter Brock's new design – the Cobra Daytona Coupe – a bigger, faster, more aerodynamic car that Carroll and Ford hoped would challenge Ferrari for the World Manufacturers' Championship. Dave helped to build the first (of six) Daytona Coupe, chassis CSX2287, and then along with co-drover Bob Holbert ran its debut race at the 1964 Daytona Continental 2,000km at Daytona International Speedway. They set numerous track records in 2287 and were 4 1/2 laps ahead of the field when a freak fire in the pits stole a sure victory. Carroll then entered Daytona Coupe CSX2287 in the 12 HRS of Sebring endurance race on March 21, 1964. Dave MacDonald and Bob Holbert were again co-drivers and the two Americans stunned the racing world piloting the 2287 to a 1st in GT and 4th overall finish behind three Ferrari Prototypes. This was the first win for the Daytona Coupes and also broke Ferrari's 6-year dominance on the Grand Touring division. It was also a personal milestone for Dave MacDonald; with this win he would forever distinguish himself as the man who drove each of Carroll Shelby's legendary Cobra's - the Cobra Roadster, King Cobra, and Daytona Cobra Coupe - to their first-ever victories.

Dave then bypassed running a Shelby King Cobra at the Pensacola sports car races on April 5th in favor of a Bill Stroppe Merc in NASCAR's Atlanta 500, he finished 16th. Back in the fold with Shelby American the team headed to Arizona for the Phoenix FIA Open held at newly constructed Phoenix International Raceway on April 19. Shelby brought along three Cobra's for this effort - two Roadster 289's and King Cobra CM/1/64, aka the "Lang Cooper". King Cobra CM/1/64 was owned by Dave's good friend and Olympia Brewery heir Craig Lang. Dave and Craig helped build the car in the Venice shop from the ground up and Dave ran it under the Shelby American banner. Phoenix was CM/1/64's debut race and Dave ran it flawlessly through PIR's new road course, lapping everyone in the 29 car field except 2nd place finisher Skip Hudson; securing CM/1/64's maiden victory.

Practice for the 1964 Indy 500 began in earnest on May 1st and Dave moved to Indianapolis for the entire month. The pace was hectic as the Thompson team efforted to sort out issues Mickey's radically redesigned Indy racer. After only two days of practicing Dave was scheduled to run a Bill Stroppe Mercury in NASCAR's Yankee 300 held at Indianapolis Raceway Park on May 3rd but Carroll Shelby pulled rank and instead had him sent to Laguna Seca California to run a King Cobra in the United States Road Racing Championships held the same day. Jim Hall had run his Chaparral to victory at Pensacola (the race Dave missed) and had overtaken Dave in the Drivers Championship standings and Carroll wanted it back. Dave's teammate Bob Holbert dropped out early and Dave had to fight the Chaparrals of Jim Hall and Roger Penske alone and ultimately finished sandwiched between the two. Hall won the race and increased his lead over Dave in the Driver's standings.

Dave flew back to Indianapolis immediately following the Laguna Seca race to continue testing the Thompson racer. He was slated to run a Stroppe Mercury at Darlington in the NASCAR Rebel 300 on May 9th but like the week prior Shelby had him rerouted, this time to the USRRC at Kent Washington for another run against Jim Hall and the Chaparrals. Dave arrived in Kent to find his King Cobra (CM/1/64) was totaled in a practice mishap by teammate Bob Holbert. Shelby had Dave step into Bob's King Cobra (CM/3/63) for the race, which turned out to be a memorable one. Dave and Jim fought a spectacular race-long battle with Dave just 3 seconds ahead when Jim's high-flying Chaparral gave out on the next to last lap. Dave crossed the line to score victory and then on his cool down lap scooped Jim up from the back straight. Dave earned 9 valuable points for the win and left he and Jim in a tie atop the leaderboard for the Drivers Championship. In a true display of sportsmanship, Dave invited Jim to share the victory lap … a victory lap that would be Dave's last before his death three weeks later in the Indianapolis 500.