May 30, 1964 - The 48th running of the richest race on earth - The Indianapolis 500.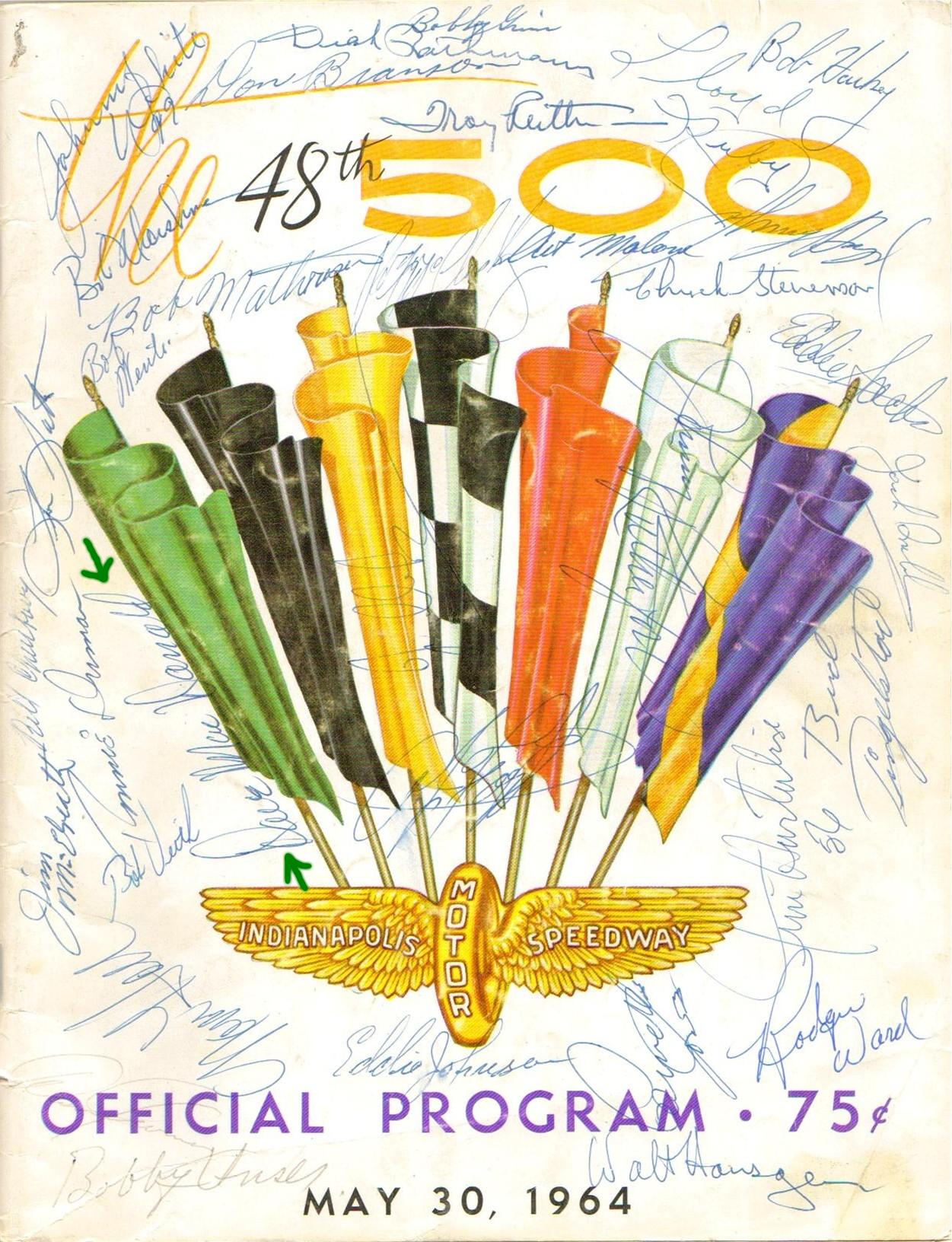 Mickey Thompson hired good friend Dave MacDonald to run one of his radical new low-slung racers in the '64 Indy 500.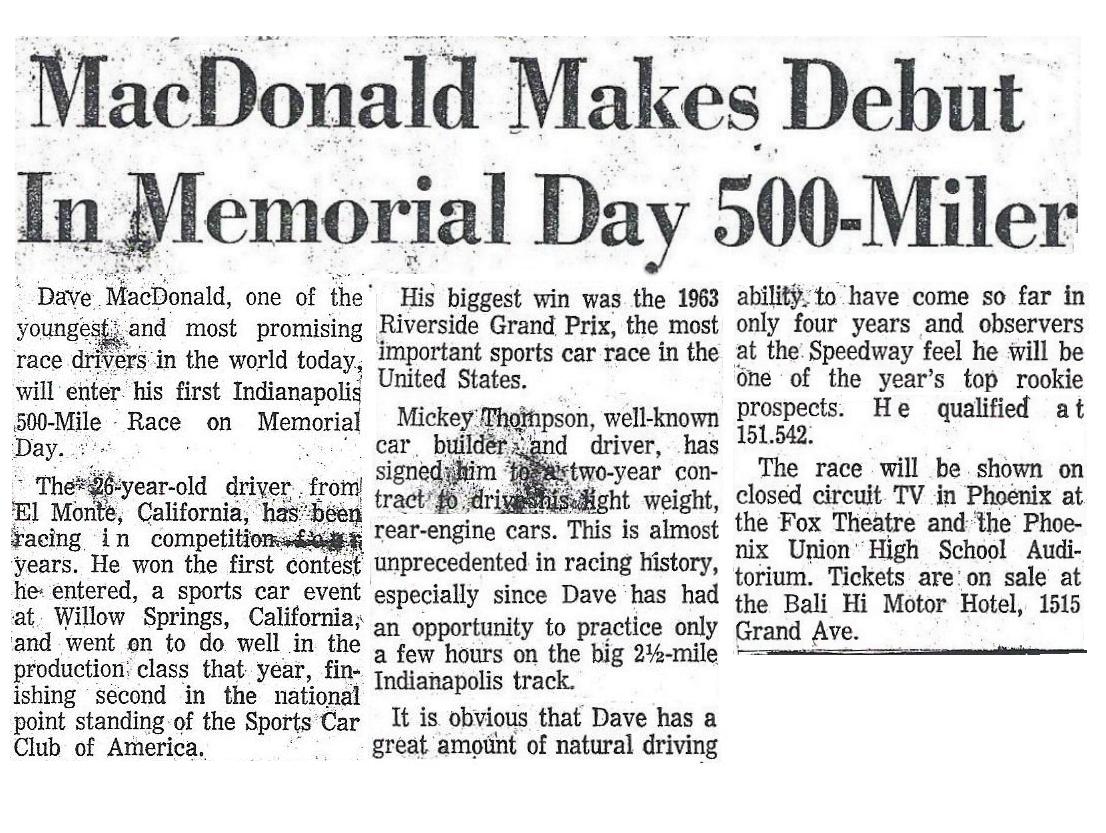 Photos below are from the November 1963 tire test session at the Speedway. Dave MacDonald, Masten Gregory, Duane Carter and the
Thompson team were there to test run Mickey's "Super Skates" using large 15" tires recently mandated by USAC. After the '63 race, many
car owners and drivers complained about Mickey's low-slung racers and USAC subsequently mandated that all future 500's be run on tires
no smaller than 15". The ruling devastated Mickey as his cars were specifically designed to ride on the tiny low profile 12" tires originally
approved by USAC. Below: MacDonald in the #82 car with new compliant 15" tires. Thompson checks the scales. Photo The Henry Ford.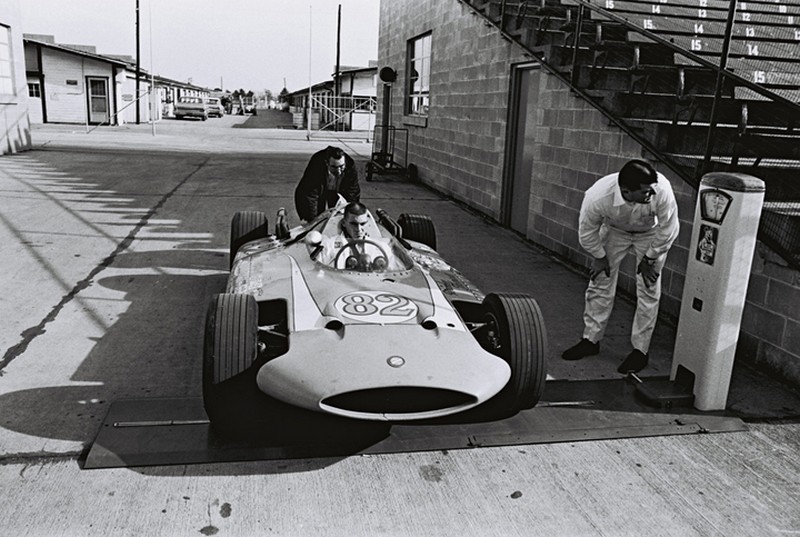 Dave MacDonald in the Thompson #82 racer moves to the track for its initial test run with 15" tires. Photo The Henry Ford.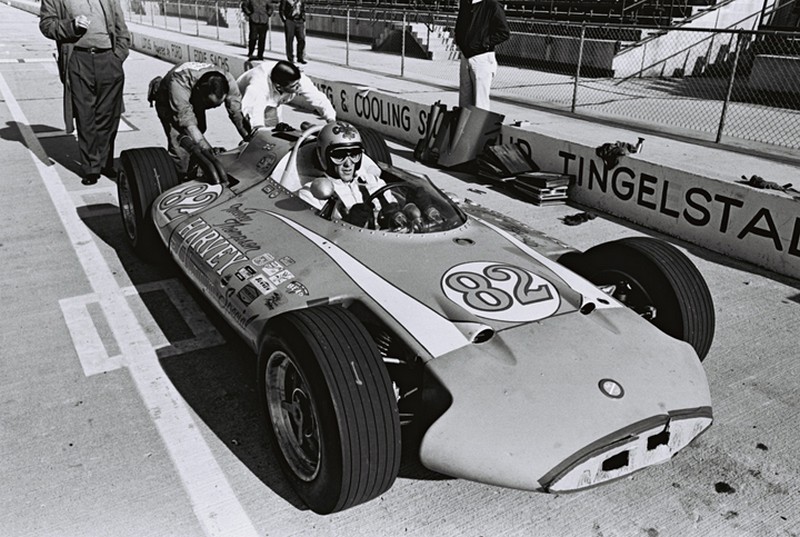 Thompson brought his #82 & #83 racers to the tire tests (Dave MacDonald in car). Mickey ran these cars at Indy in '63 under a contract
with Chevrolet so they of course ran Chevy engines. He switched to Ford however for the 1964 Indy 500 but the new '64 powerplants
were not yet available at the time of these tests so Mickey ran the cars with the '63 Chevrolet engines. Photo courtesy The Henry Ford.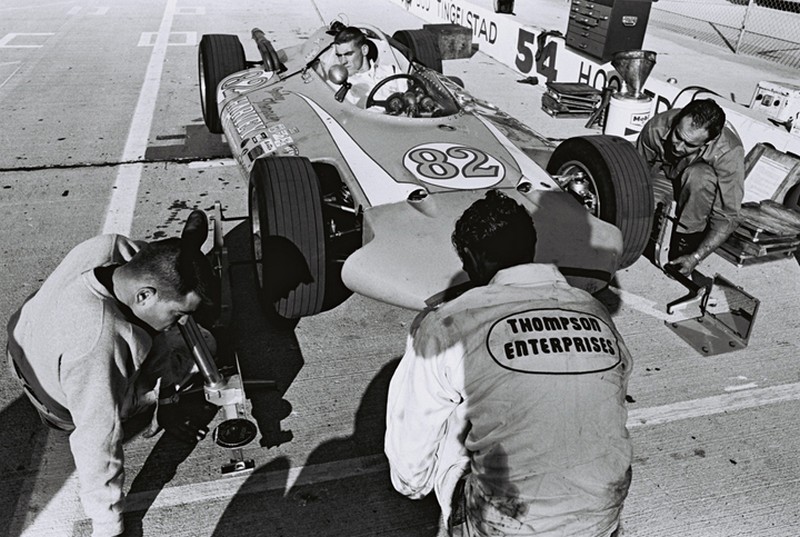 This photo is from the 1963 Indy 500 but it shows the dramatic difference between Mickey Thompson's 12" slicks that were ruled non
compliant after 1963, and the standard 16" and 18" Indy tires. Photo The Henry Ford.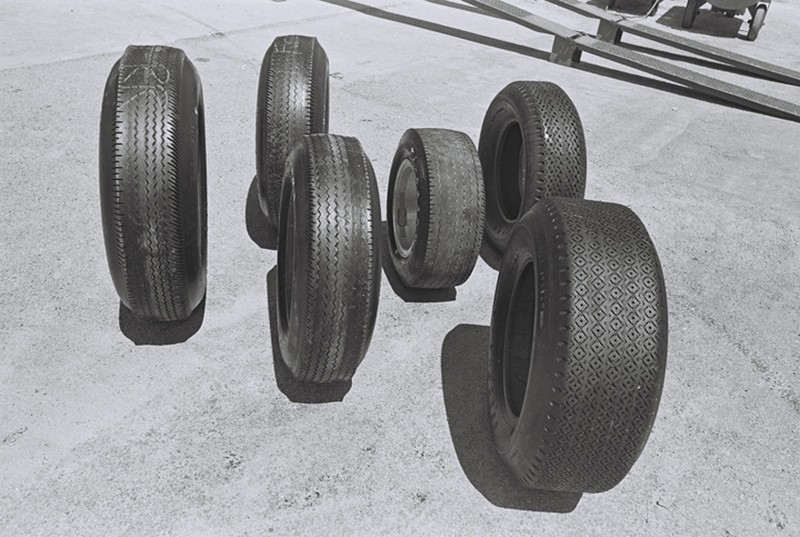 Day two was much colder and MacDonald puts on appropriate gear. The #83 car is in the background. The session was scheduled for 5
full days of tire testing but the cars handled so poorly that Mickey cancelled it after day two. He trailered both cars and brought them back
to Long Beach for more development. Upon his return Mickey would tell the Los Angeles Times "The cars just wouldn't handle, there was
too much body roll due the higher center of gravity". Photo The Henry Ford.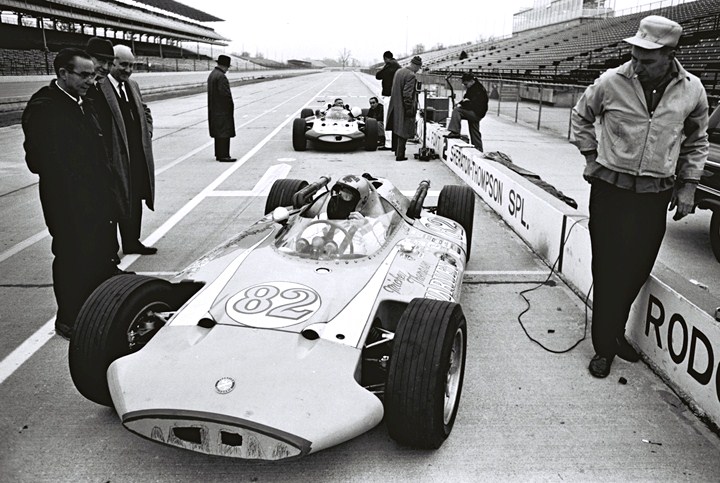 November 27 blurb from Motor Trend writer George Moore's "Indy Diary". Refers to Mickey Thompson taking his Indy racers back to
California to ponder what modifications are needed to give his cars some stability.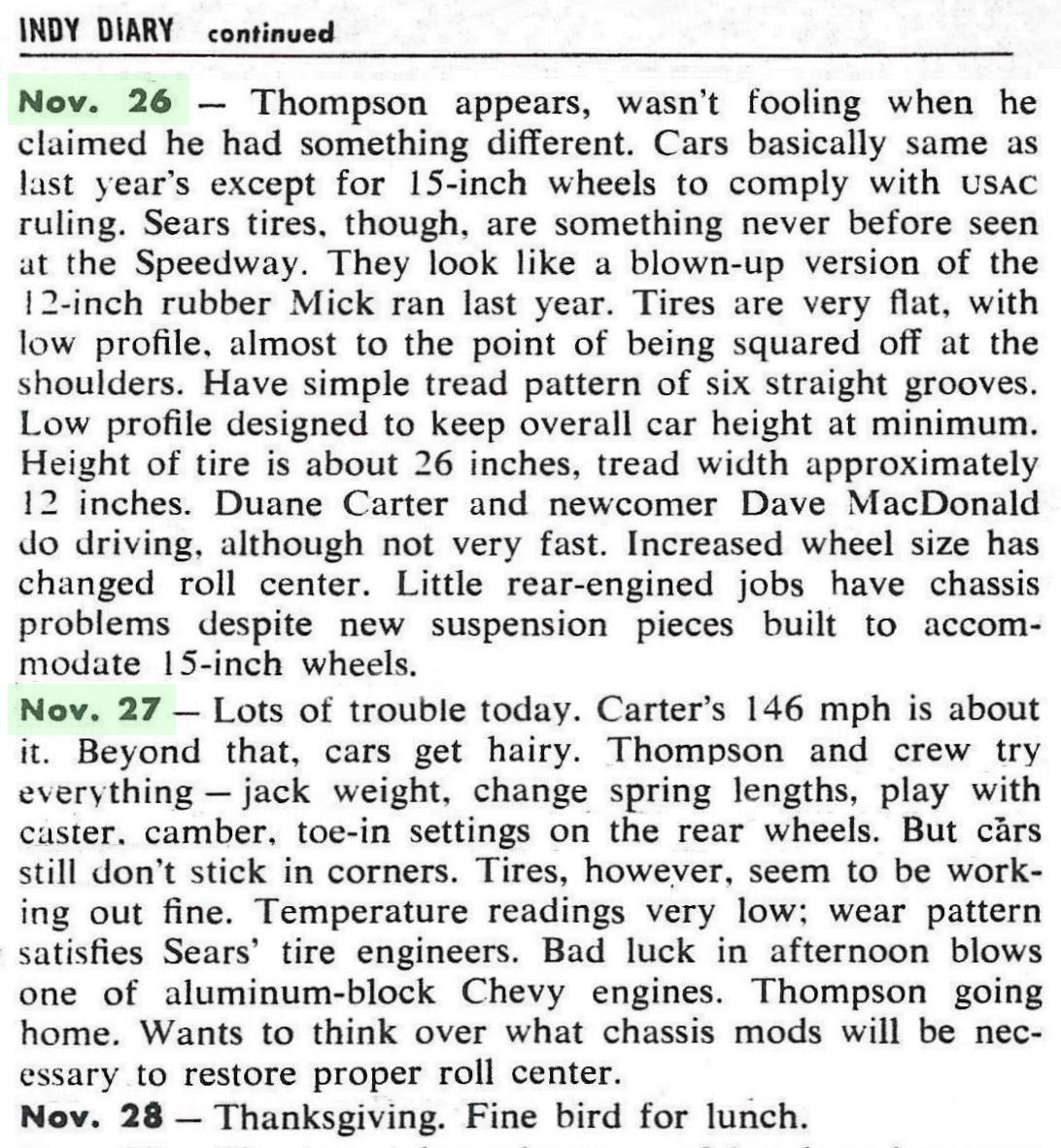 12/6/63 Los Angeles Times intreview by Bob Thomas - Mickey Thompson talking about the November '63 tests at the Speedway.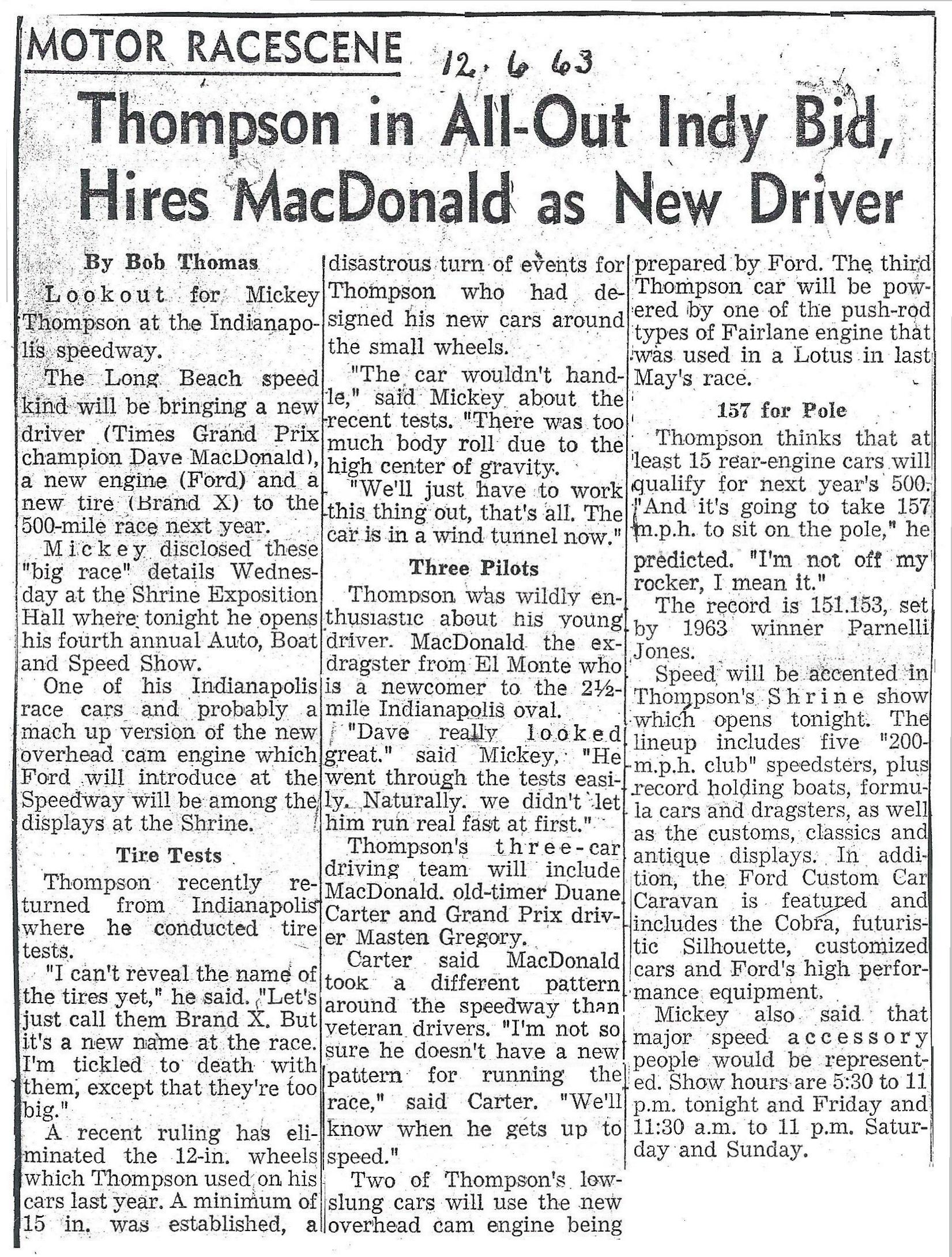 Mickey Thompson was not only a hard charger and brilliant innovator, but a charismatic salesman as well. Just a sophomore at Indy he
was nonetheless able to secure three of Ford's powerful new double overhead cam engines - a hot commodity in the Ford camp. And this
from a man who ran Chevrolet engines in 1963.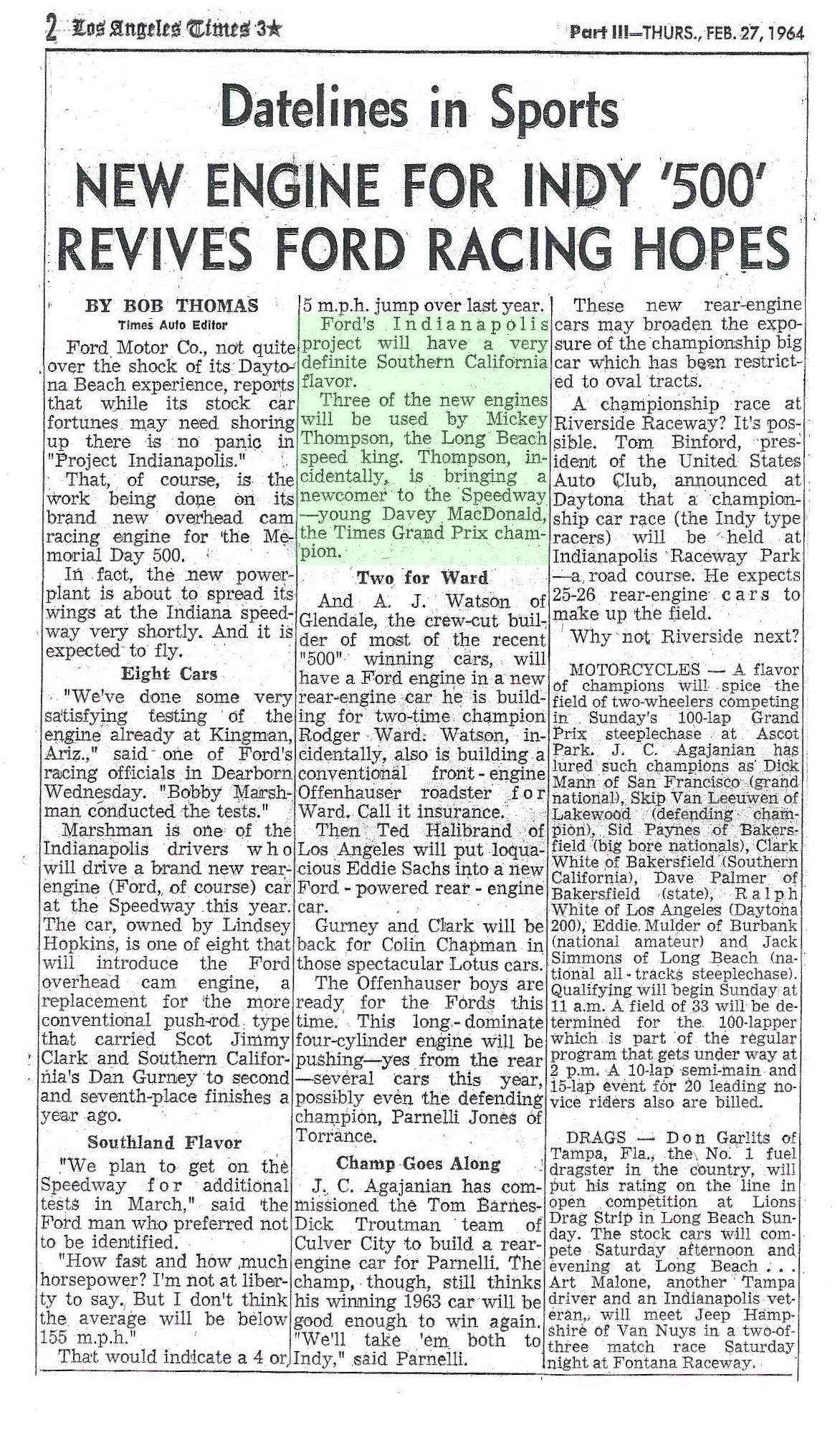 The Thompson team back at the Speedway in March 1964 for much needed track testing. The Sears tire people were back too to get a first
hand look at Mickey racers now fitted with a new experimental aero nose kit. Mickey had also installed side skirts and a rear wing but
USAC officials told him to remove them. (These innovations are now commonplace today). Drivers present for these tests were Graham
Hill, Masten Gregory and Dave MacDonald. The new '64 Ford engines were still not available for these tests so they ran the cars agin with
Chevy engines. Hill took one test run and walked away from the team. "It's diabolical" he said.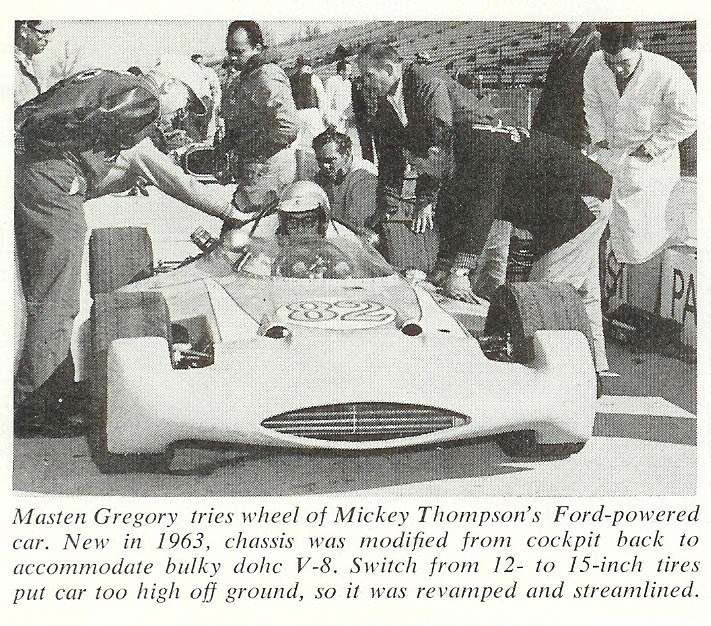 Sears tire engineers performing tests after Masten Gregory's run. Gregory and MacDonald agreed with Graham Hill in as much as hand-
ling issues were still evident but both drivers felt there was an improvement from the November tests. At the conclusion of these tests
Mickey Thompson promised big changes to come and returned to his Long Beach shop and began the monumental task of redesigning
the car from the ground up. Thompson blasted USAC officials in the press claiming the rule change to 15" tires cost him $250K.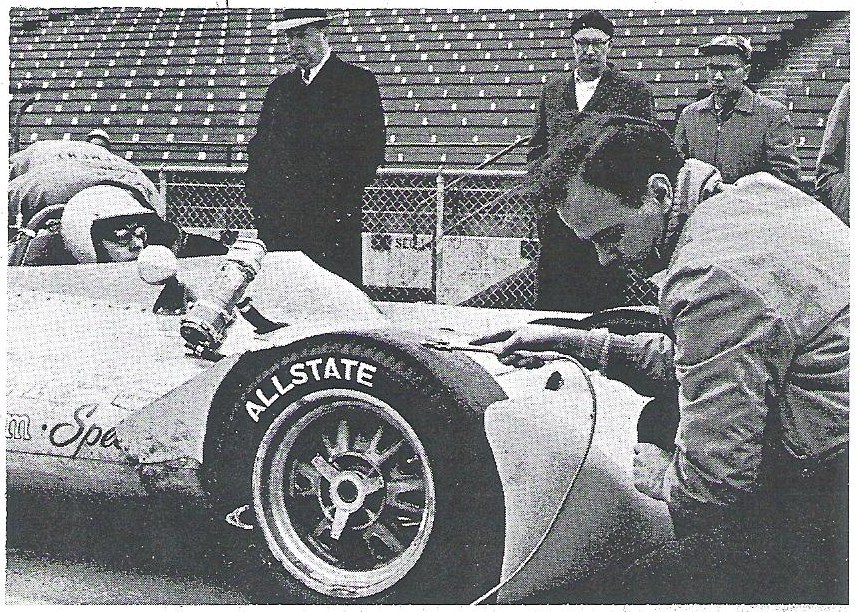 Big changes indeed! Below is April 26, 1964 Los Angeles news article with a glimpse of Mickey Thompson's new "Futuristic" design.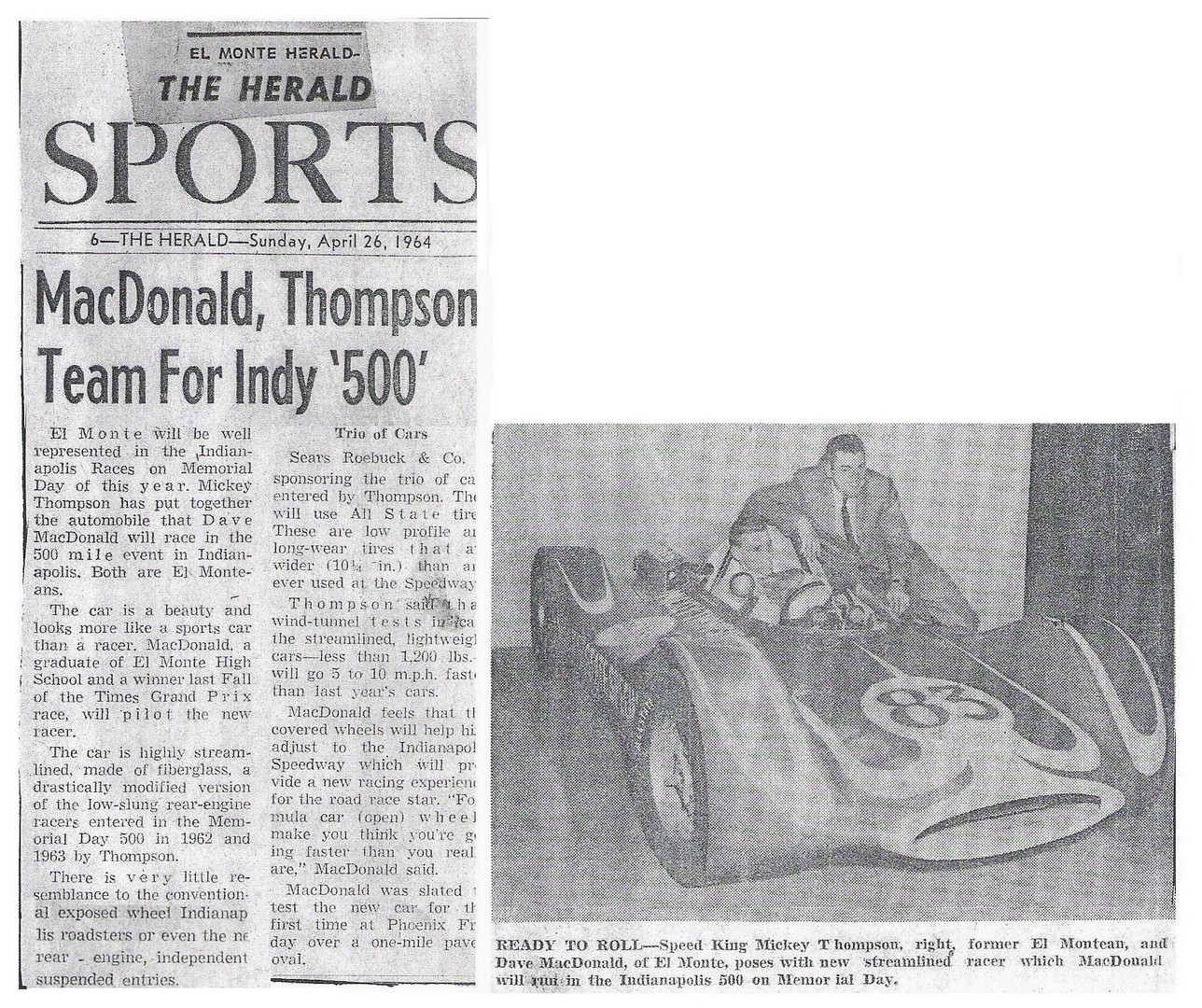 Dave MacDonald and Mickey Thompson pose with the newly redesigned Ford Sears Allstate Special race car. Mickey completely re-
designed his cars from the inside out and skinned them with new full fendered aerodynamic body kits designed to mitigate lifting and
floating caused by the switch to larger 15" tires and subsequent higher roll center. Photo Dave Friedman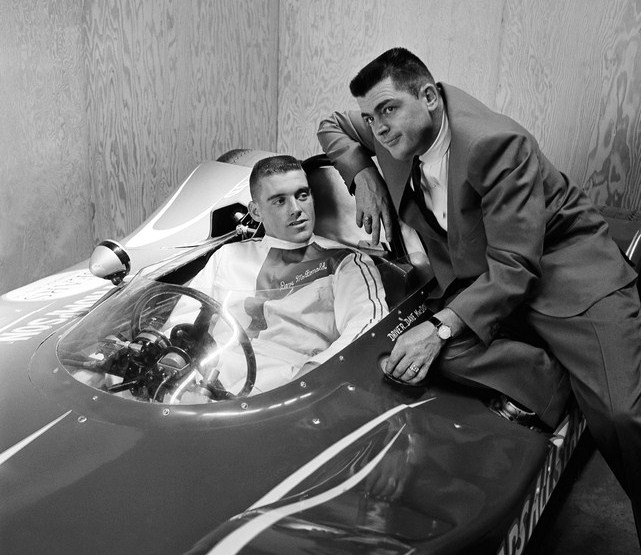 Mickey Thompson and the team were back at the brickyard in May and all eyes on the exotic full fendered superskates. Early morning on
May 1, the Thompson #83 car (MacDonald's car) and Chuck Rodee's #87 get pushed out for some track time. Besides the aero kits, many
other adjustments were made to the cars following the March tests. Major chassis & suspension adjustments were made in an effort to
resolve the instability issues. Photo Indianapolis Motor Speedway.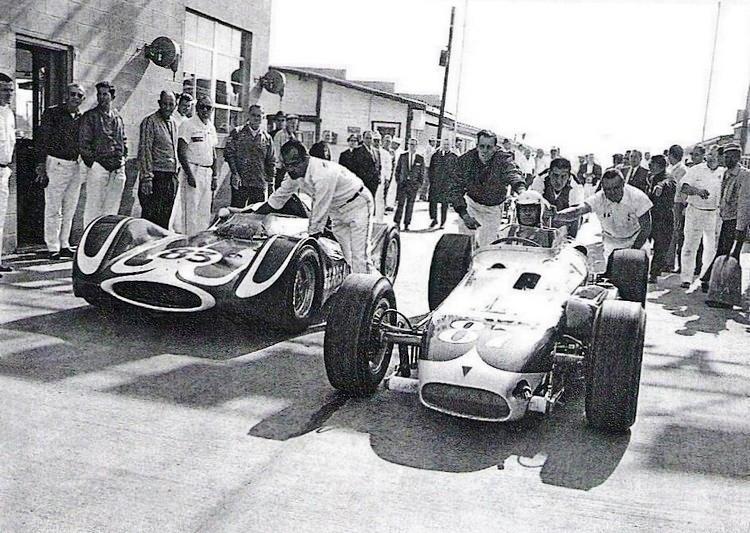 Mickey Thompson's new design was a dramatic departure from the traditional Indy racer. Thompson was a brilliant innovator and his aero
kit's were far ahead of their time. However, only wind tunnel testing had been done thus far and they were about to find out if these kits
would successfully counteract the car's lifting and floating on the track. Photo Courtesy The Henry Ford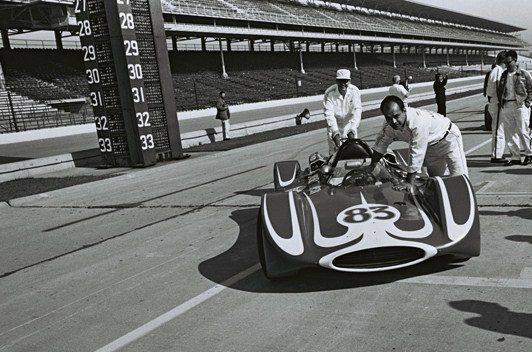 MacDonald takes to the track in the #83 car (and Gregory in the #82 car). Photo courtesy of Indianapolis Motor Speedway.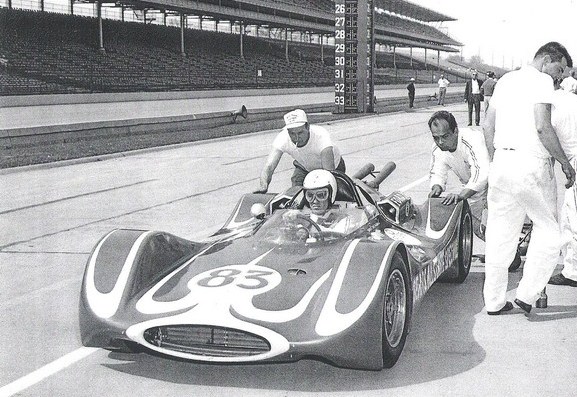 Masten Gregory back in from his run with the #82 car and he tells Mickey he's not comfortable with the car at speed. Both drivers say the
cars continue to lift and Mickey knew May would be busy month. Parnelli Jones heads out in the #97 car. Photo The Henry Ford.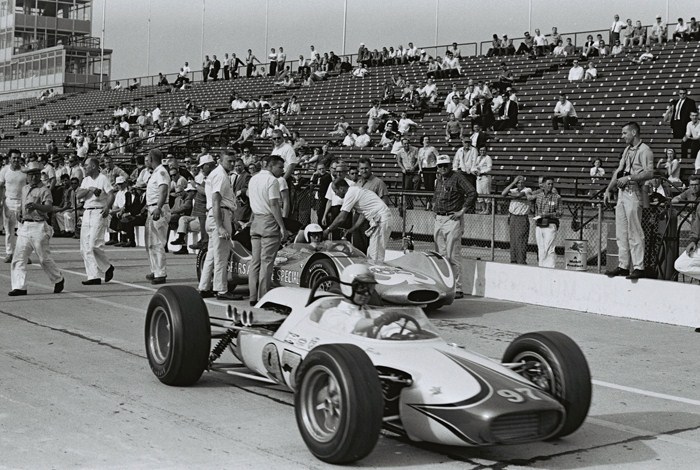 MacDonald back in with the #83 car and reports the same results as Gregory and the Thompson crew looks to make adjustments.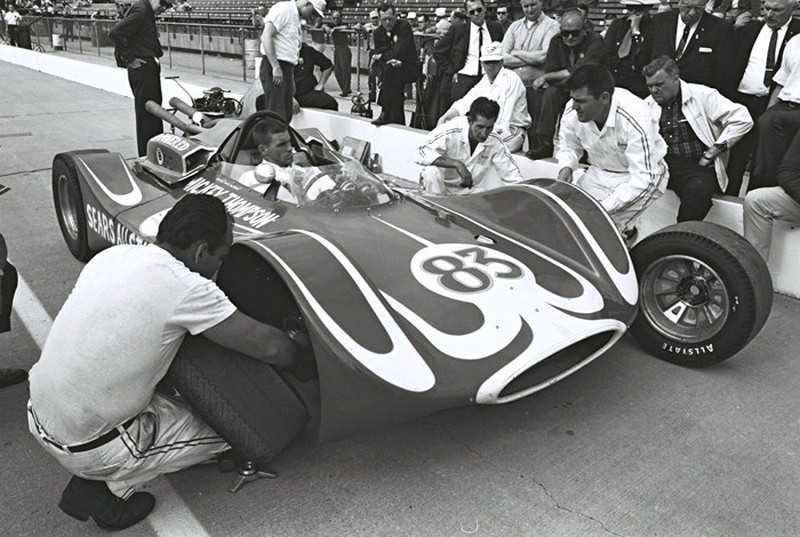 Late in the afternoon on May 2nd it was time for Dave MacDonald to perform his rookie test. The cars remain in adjustment mode and
fortunately the rookie test was not at full speed. The test required drivers to run 10 consecutive laps around the track at a moderate, con-
sistent speed. A driver's speed isn't supposed to vary by more than half a mile an hour and is increased in increments of 5 mph: 120 mph,
125 mph, 130 mph and 135 mph. Many drivers have been sent home for more seasoning after failing to impress officials during their test.
Photo courtesy of Indianapolis Motor Speedway.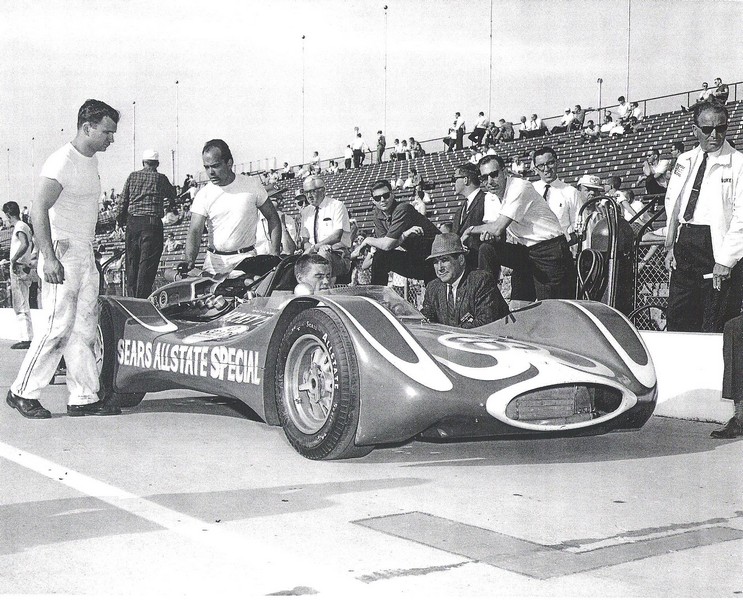 Success! Dave back in after his rookie test run. Mickey Thompson and track safety director Paul Johnson look on as Dave removes his
rookie stripe. Johnson and veteran USAC Director Jim Thompson were overseeing testing that day and were both impressed with Dave.
"He laid 'em in there very consistently," said Thompson, "He's a very good looking boy." Photo courtesy of Indianapolis Motor Speedway.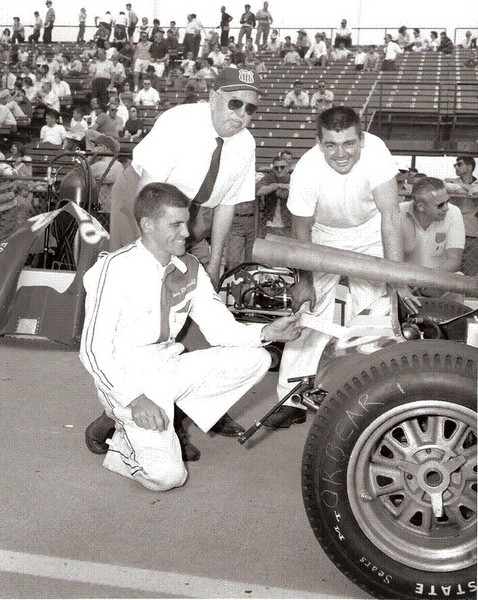 Photo courtesy of The Henry Ford.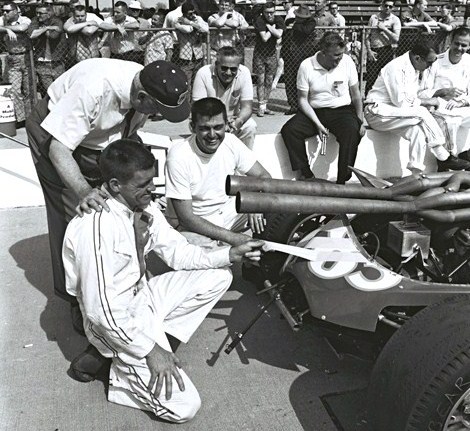 Jimmy Clark (L) and Dan Gurney congratulate Dave MacDonald on being the first rookie eligible for the '64 Indy 500. Photo courtesy
of Indianapolis Motor Speedway.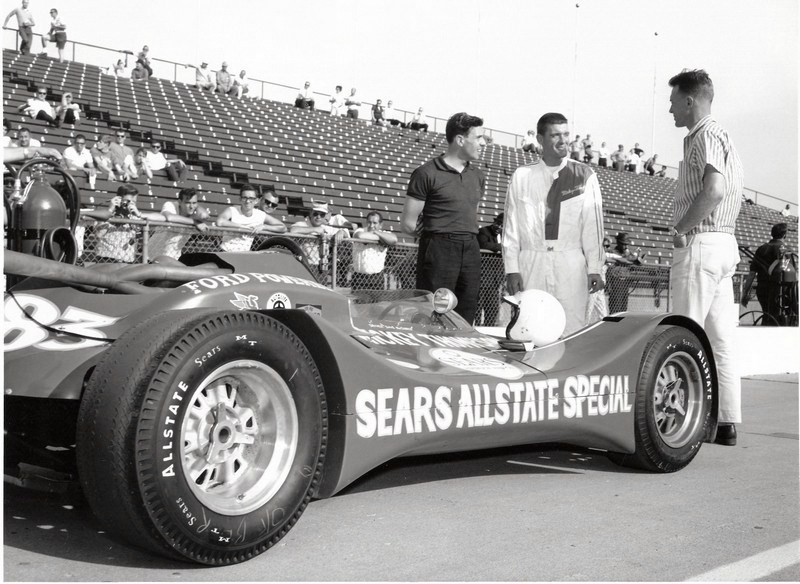 Photo courtesy of Indianapolis Motor Speedway.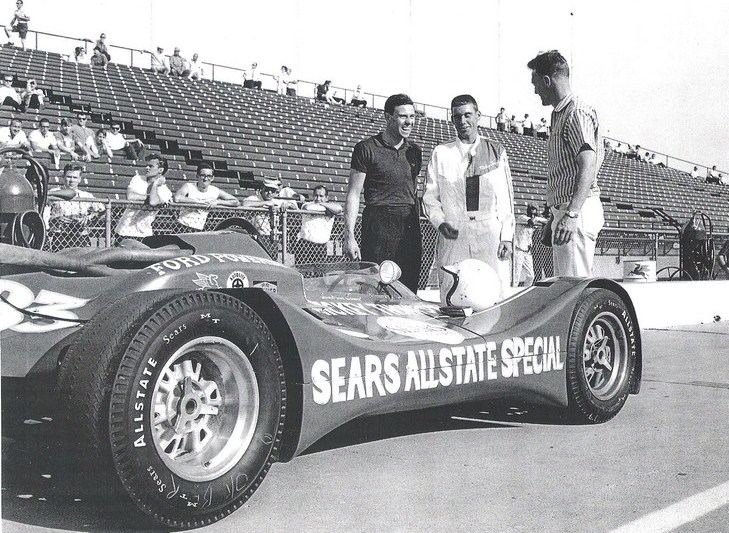 Dave MacDonald with good friend and reigning Indy 500 Champion Parnelli Jones (R). Photo Indianapolis Motor Speedway.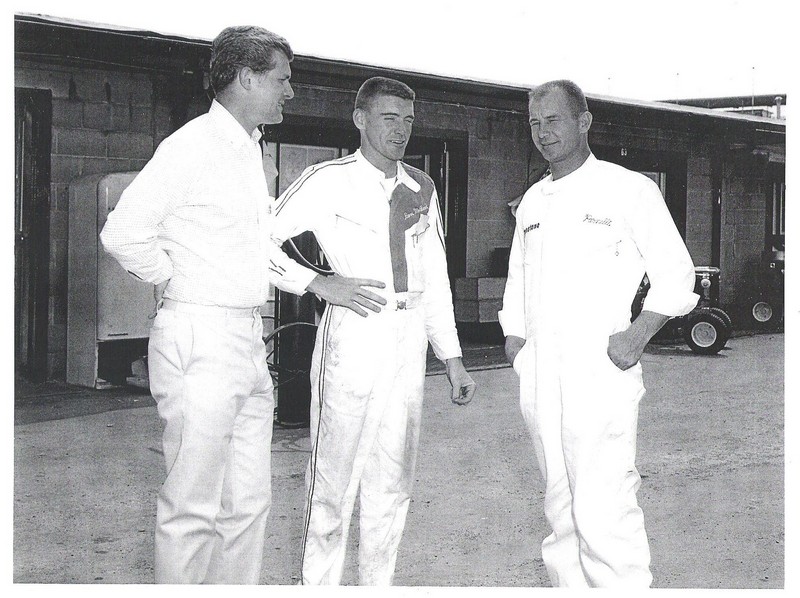 Rookie test aside, the crew knew that cruising at 130 mph is far different from racing at 180 so they continued to work towards finding a
setup that would provide speed as well as control. The Thompson crew would work on MacDonald's car while he flew back to California
to run a race for Carroll Shelby. Photo The Henry Ford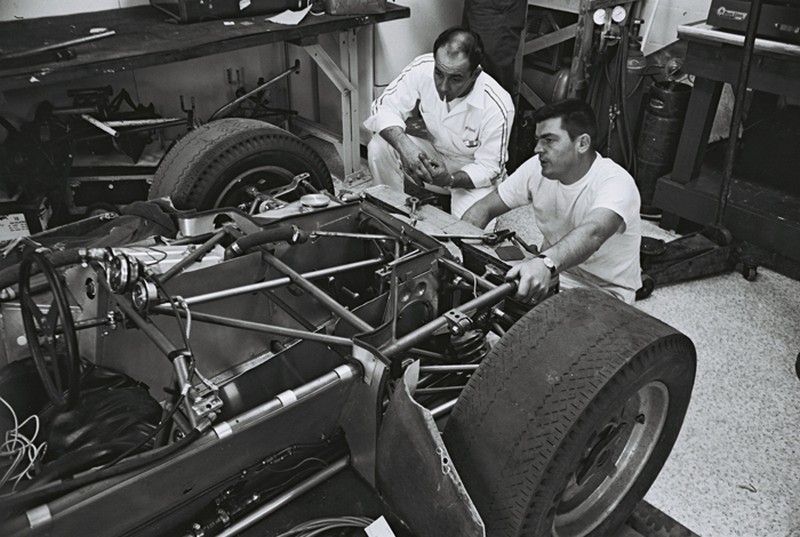 Carroll Shelby had agreed to let Ford use MacDonald at Indy but did so with confirmation that Dave would also be able to run his Cobra
commitments. Thus Dave left Indy on May 2nd and flew to Laguna Seca in Monterey California to run King Cobra Lang Cooper CM/1/64
against Jim Hall and his Chaparral's on May 3rd. Indianapolis Times 5/3/64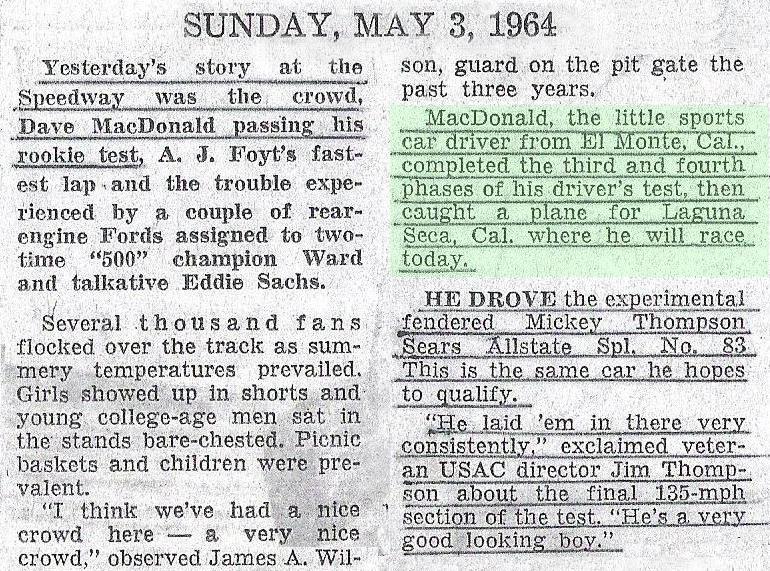 Dave ran a strong race at Laguna Seca but came up a bit short and finished 2nd to Jim Hall and his Chaparral.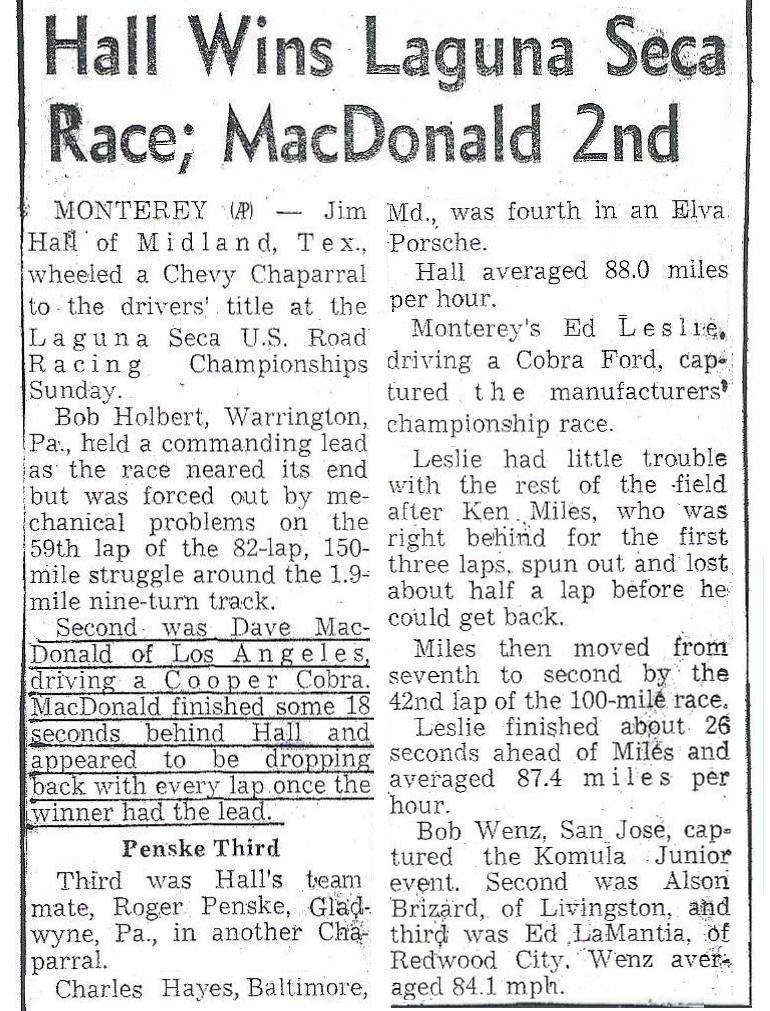 Dave flew back to the Speedway immediately after the Laguna Seca race and was testing the Thompson #83 car again here on May 4th.
Masten Gregory had the #84 car out as well. Friends Dan Gurney and Jim Clark sit on the wall and look a bit concerned.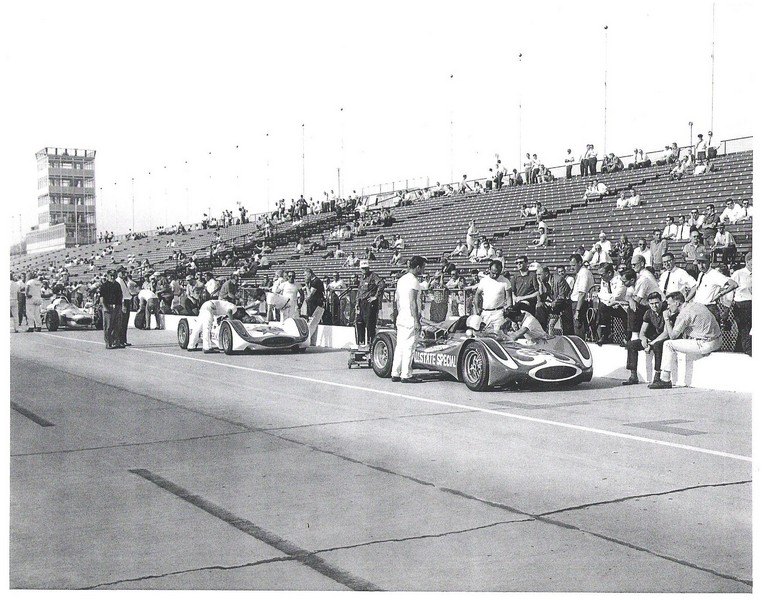 An unhappy Masten Gregory brings the #84 car back in and is becoming increasingly vocal about his car's handling woes.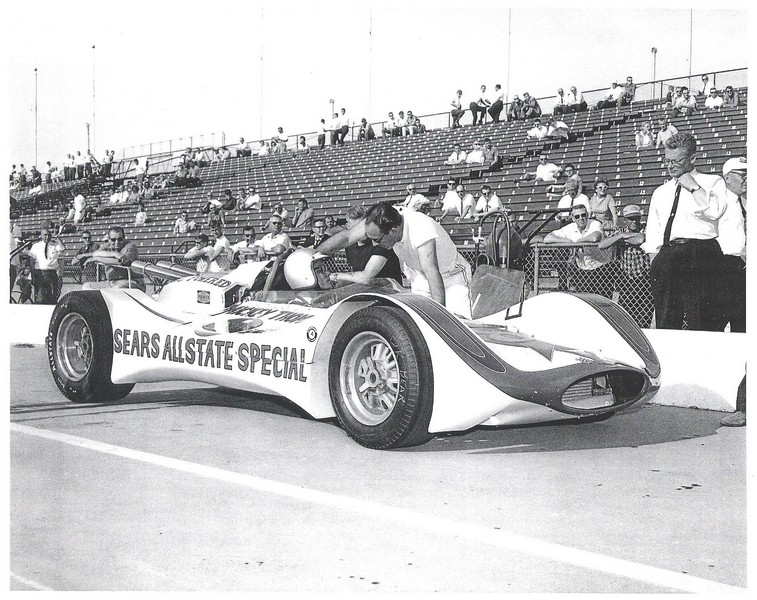 Meanwhile the Thompson garage was always bustling as the crew worked on the three race cars round the clock the entire month of May.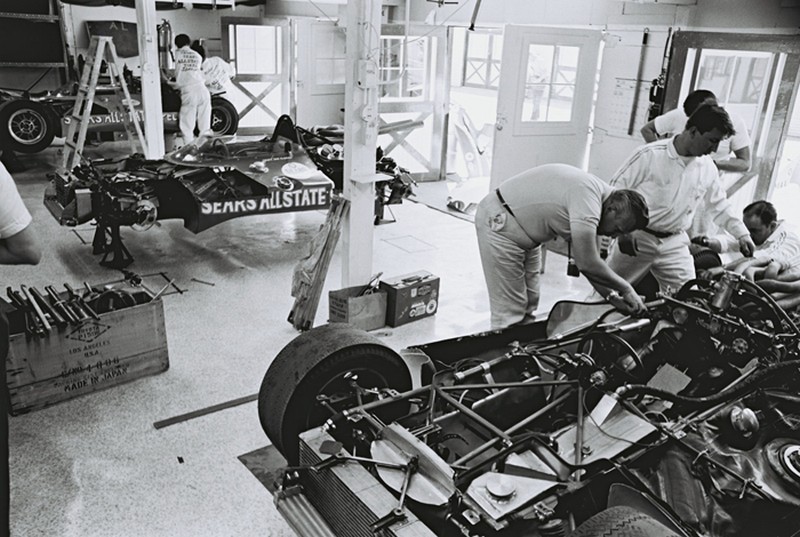 Photo The Henry Ford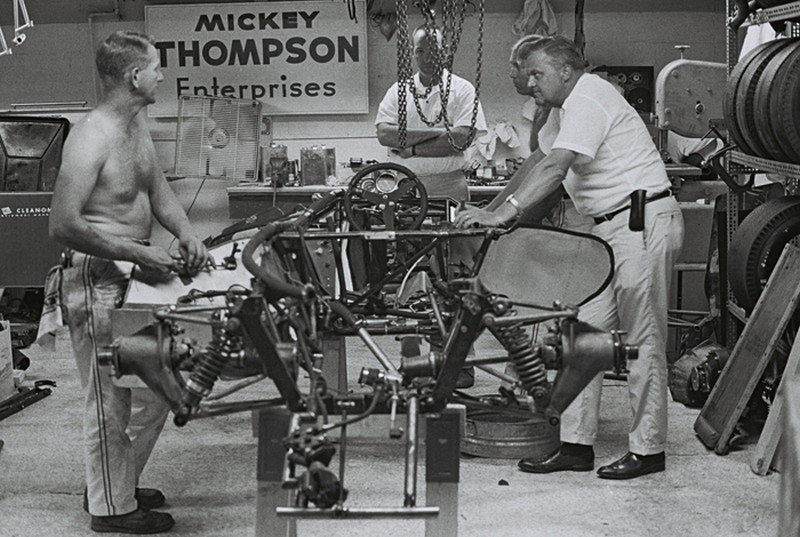 Photo The Henry Ford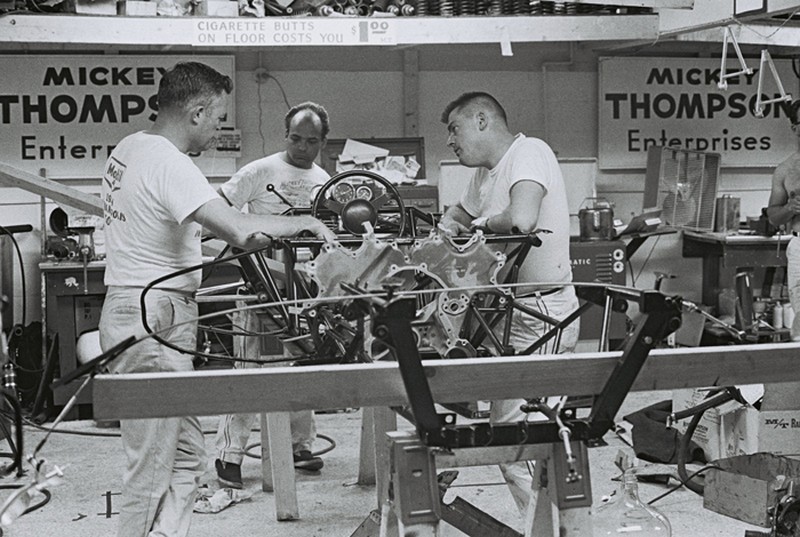 Suspension and frame get a complete makeover. Photo The Henry Ford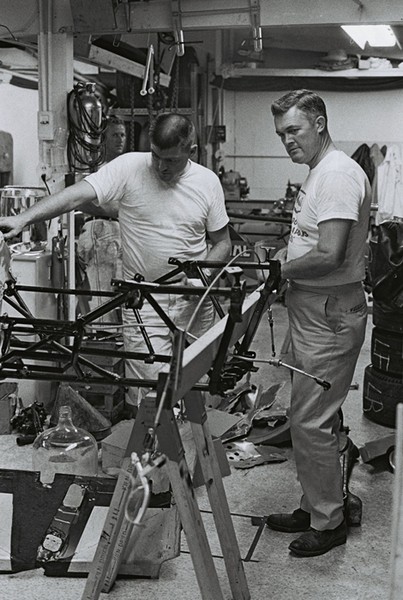 Photo The Henry Ford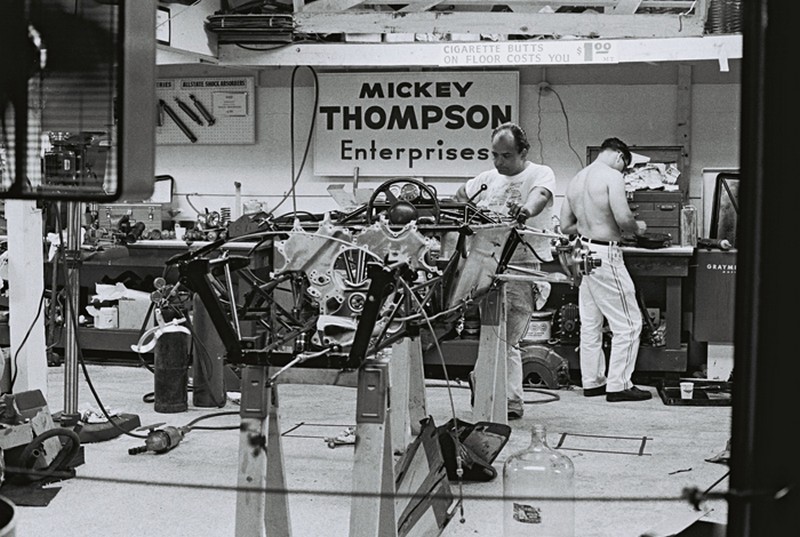 Photo The Henry Ford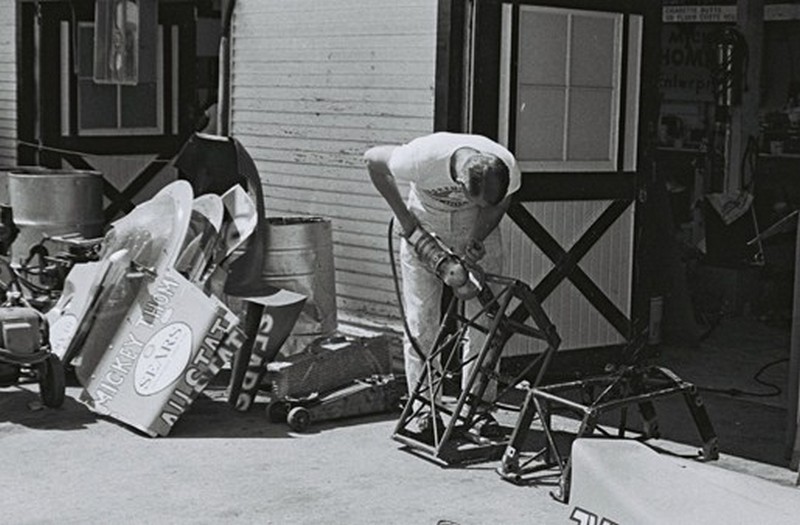 Photo The Henry Ford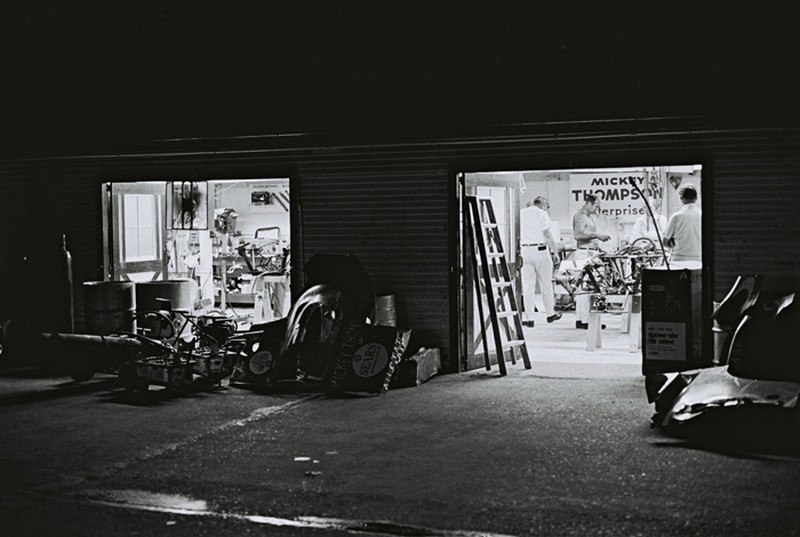 MacDonald's #83 racer nearly ready to go back on the track. You can see the rubber gas bladder on the left side. Photo The Henry Ford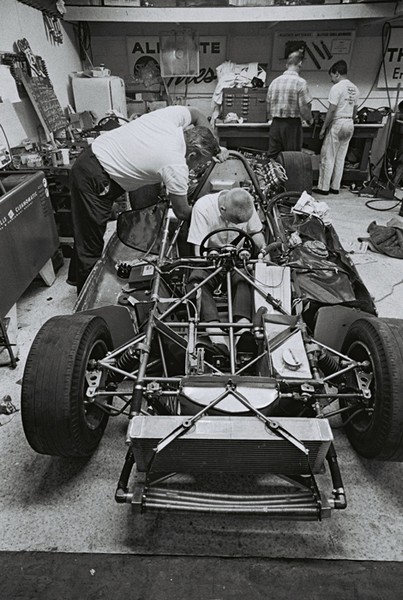 Adding further controversy to Mickey's cars was Colin Chapman's discovery of a radical third-wheel steering arm connected to the right
rear wheel of Mickey's racers. This went completely unnoticed by track officials during car inspections. When this news hit the wires any-
one who wasn't already talking about the Thompson superskates was now. Mickey was a brilliant innovator, and while many of his con-
cepts were revolutionary they didn't always receive proper development time to flesh out potential problems. This was more of an experi-
mental solution Mickey concocted in an attempt to deal with the floating issues. (By all accounts it was disconnected by race time).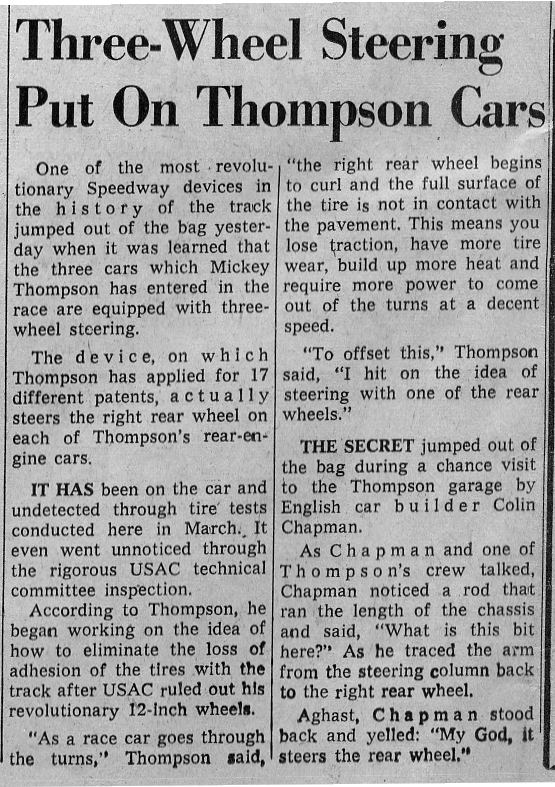 May 4 blurb from Motor Trend writer George Moore's "Indy Diary" referencing the third-wheel steering.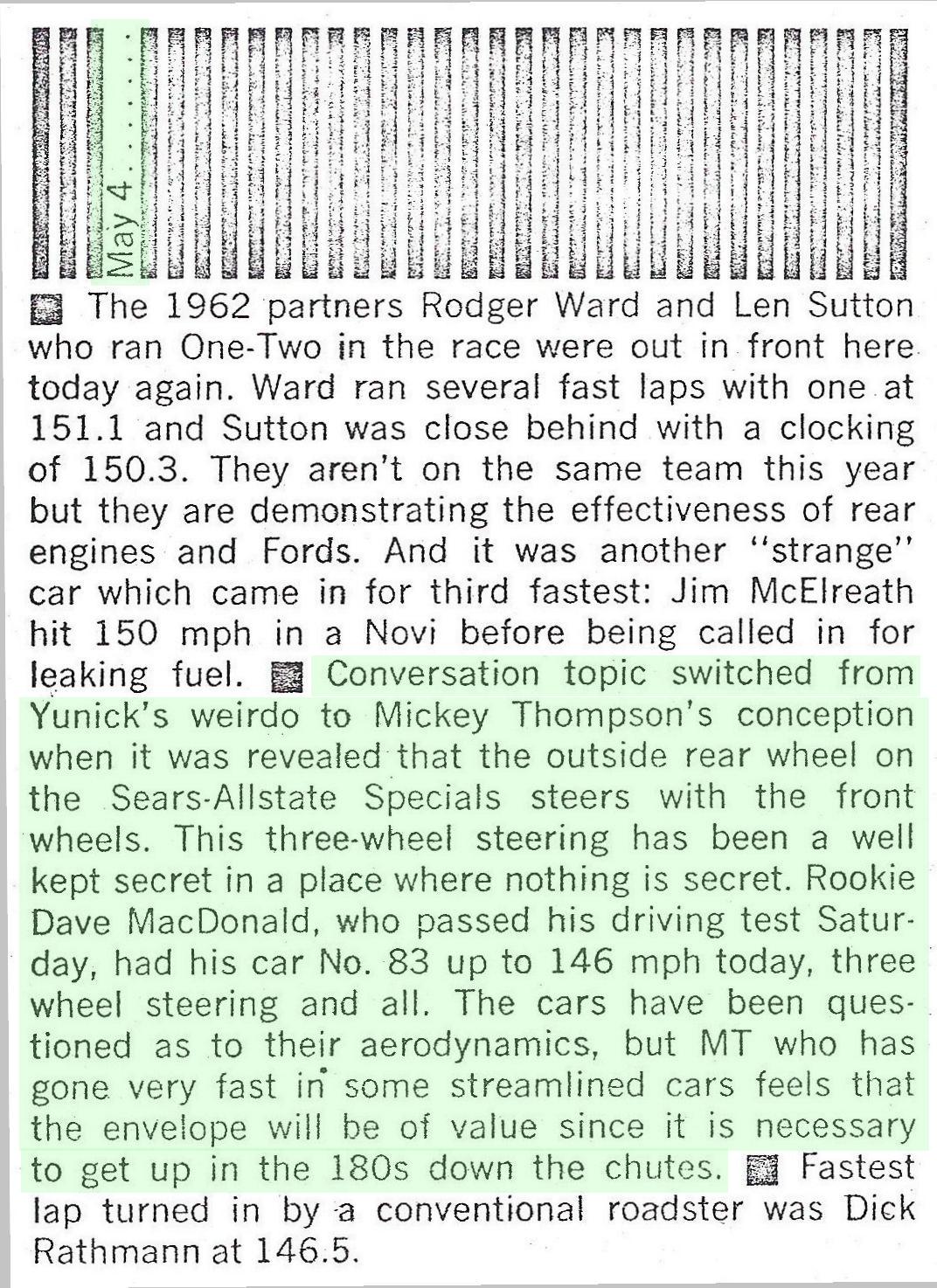 Mickey brought in several different nose cone configurations from his Long Beach Califronia speed shop in an effort to find some down-
draft to keep the cars on the track.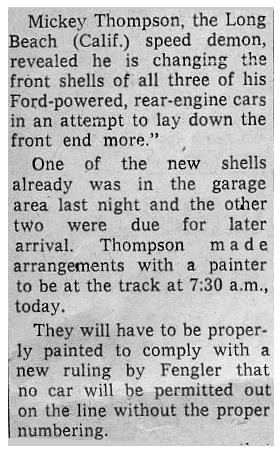 Some of the nose cone configurations in front of the garage. Photo courtesy of The Henry Ford.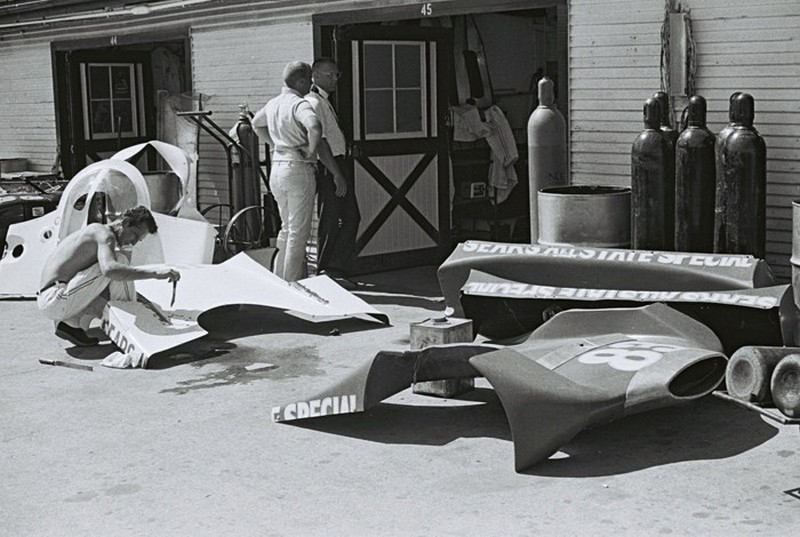 Dave's #83 car gets a new front aero kit and is pushed from the garage to the painter to be numbered. A new rule required all cars to be
properly numbered before being put on the track. track. Photo courtesy of The Henry Ford.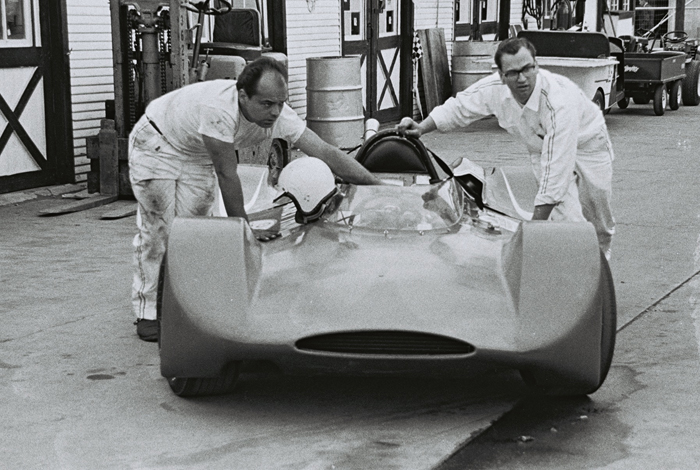 May 6 blurb from Motor Trend writer George Moore's "Indy Diary" detailing the Thompson crew attaching air tufts to MacDonald's #83
car. The crew also stationed cameras at several points throughout the track to monitor and film the movement of the tufts. Mickey also
had air vents cut into the front cone and would try various configutations to help improve handling.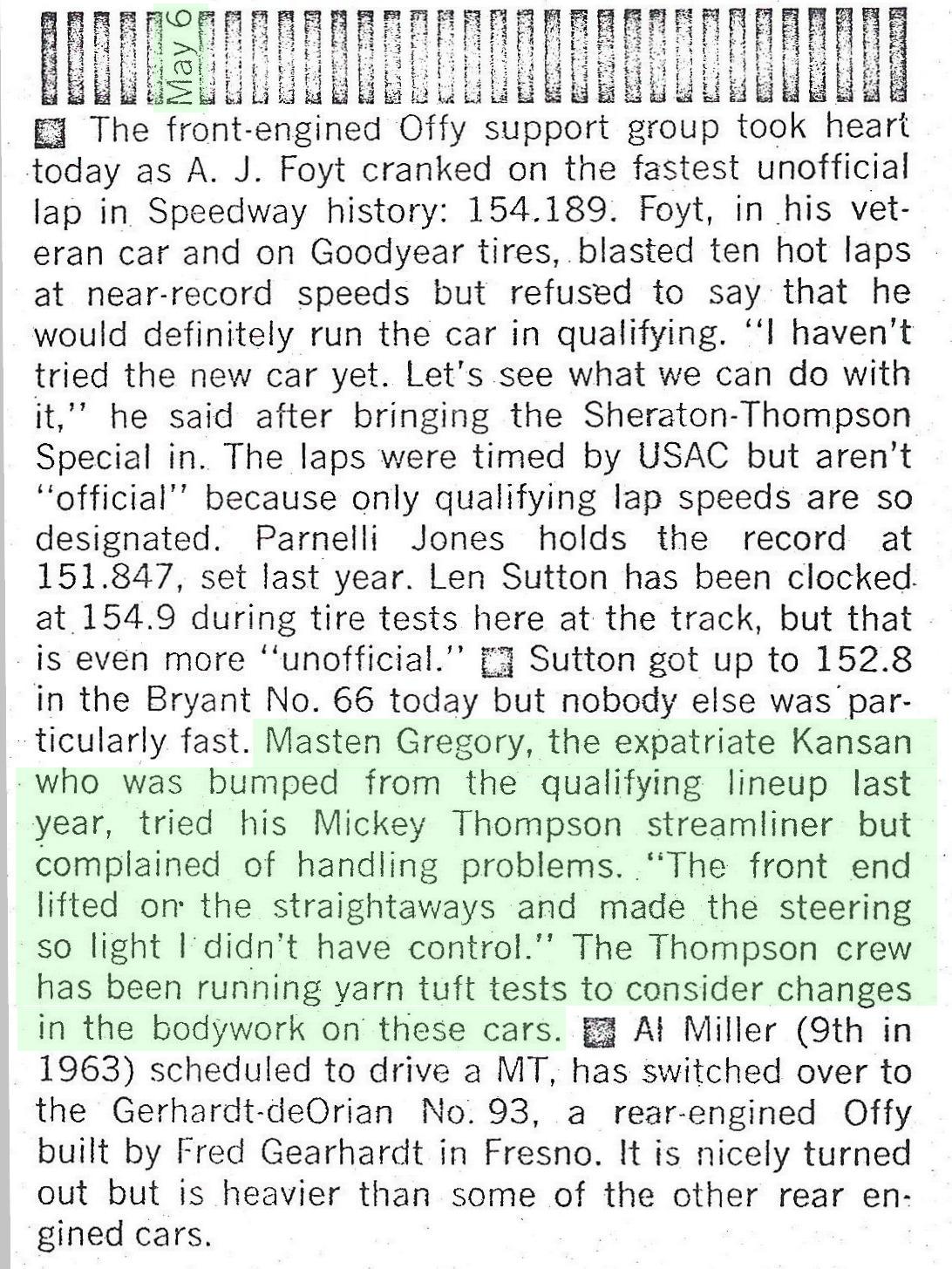 Photo showing Dave MacDonald in the #83 car on May 6 running with the air tufts. A fresh number 83 painted on the cone to sastify new
Indy regulations that all cars practice with race numbers. Photo courtesy The Henry Ford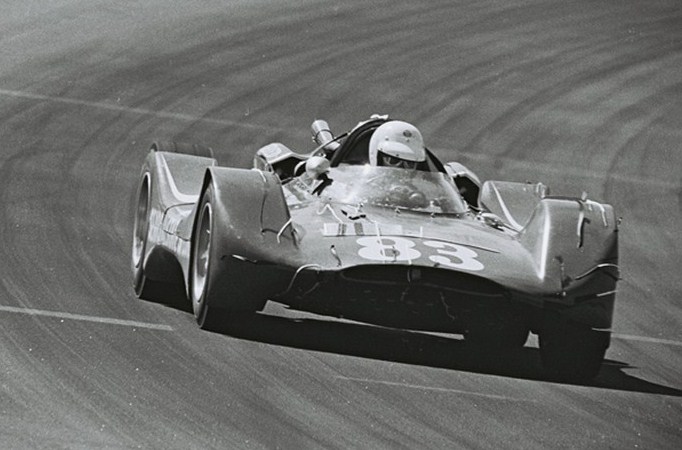 On May 9th Dave took the redeye back to Kent WA to run the 5/10/64 USRRC Championships for Carroll Shelby. He raced the King Cobra
to victory, outdueling Jim Hall and his high flying Chaparral - Dave invited Jim to share in the victory lap - this would be Dave's final vic-
tory. While at Kent, Dave confided in his friends that Mickey's Indy car was still not right. Ken Miles, Bob Holbert & chief mechanic Wally
Peat all urged him not to go back to Indy. Carroll Shelby told Dave the car needed much more development and not to run it. Carroll told
Dave he'd build him a better car for the '65 Indy and that he'd even call Mickey for him. Dave told them all that he was "obliged to Mickey
and would not back out and the crew was working hard to sort out the problems and he would fulfill his committment". Photo Friedman.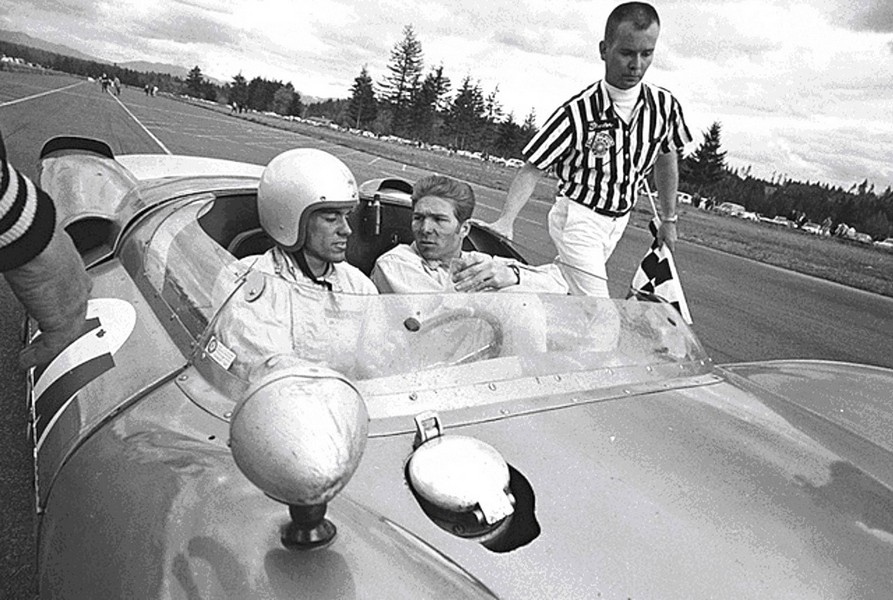 MacDonald pilots King Cobra CM/3/63 to victory in USRRC Championships at Kent Washington on May 10th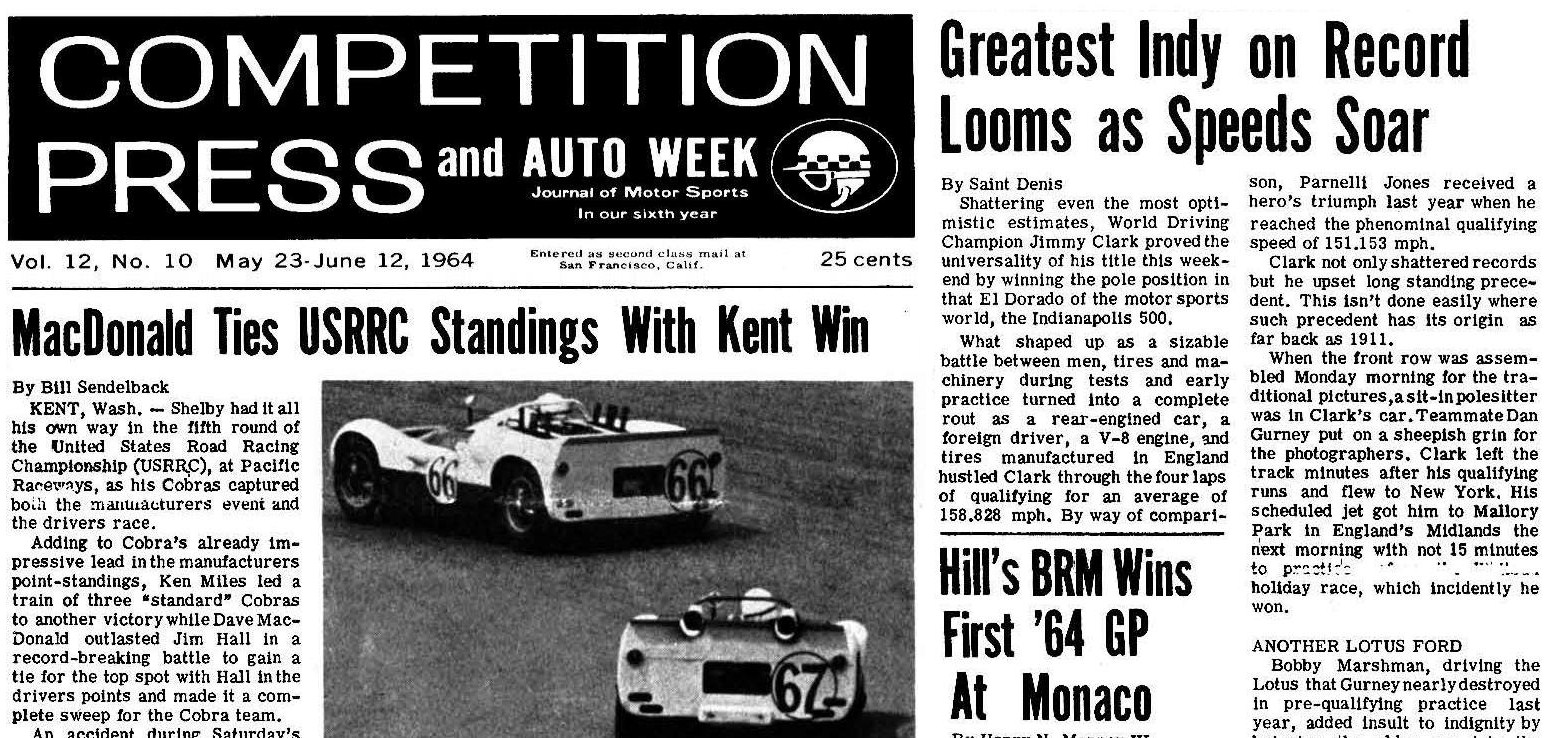 Dave flew back to Indy on the redeye and going thru Chicago arrived in Indianapolis at 8:30AM on the 11th. Wally Peat, with Shelby's
blessing, flew to Indy the following day to get a first hand look at the situation.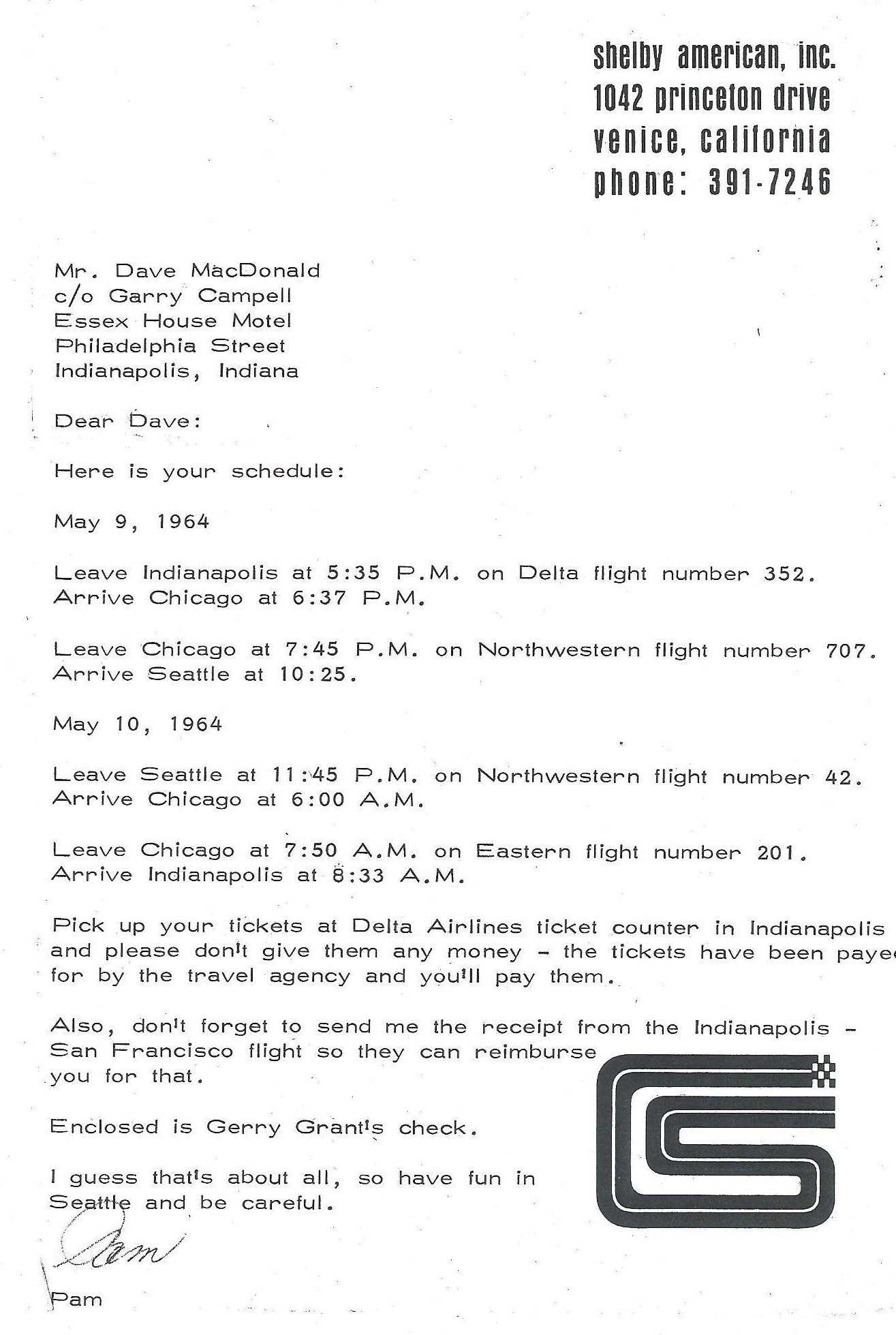 Fresh off the King Cobra win at Kent WA Dave is now back at the Speedway and the crew pushes him out for a run in the #83 car.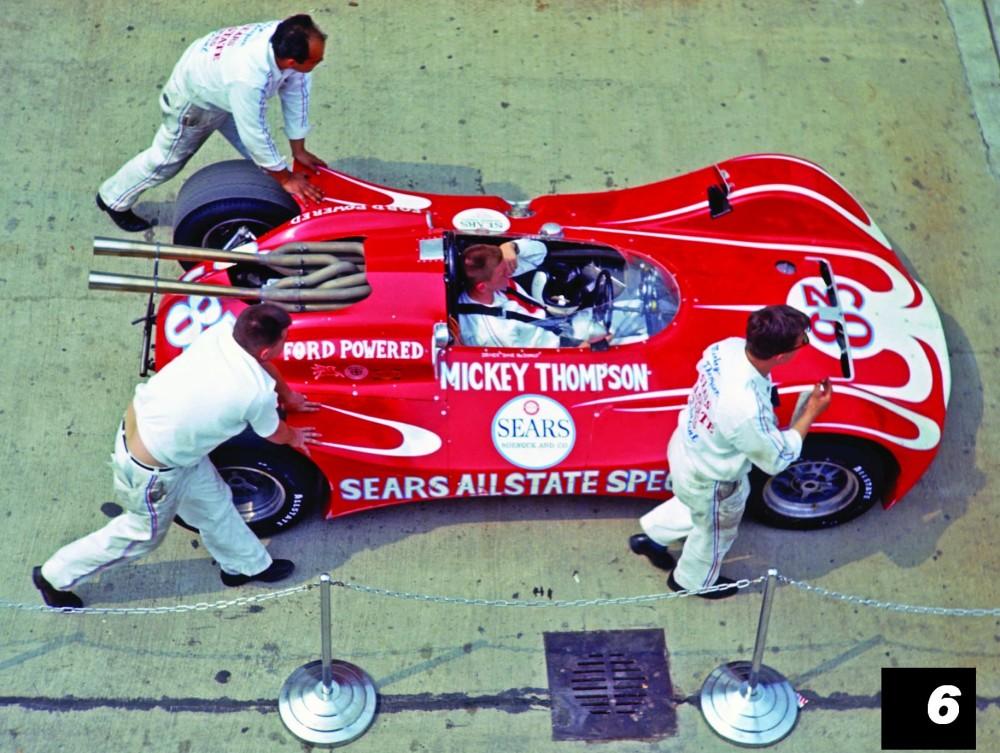 Masten Gregory continued to complain about the handling of the #82 car and Mickey orders the crew to prepare it for MacDonald to get
his input. Masten is behind the car and Dave sits on the wall while the team prepares the car. Photo The Henry Ford.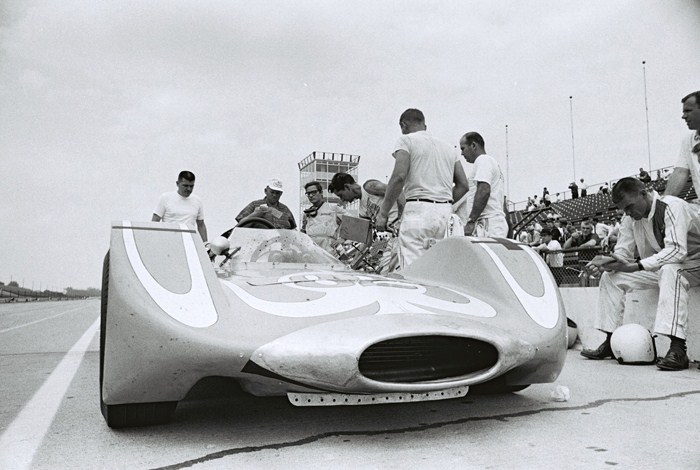 Dave MacDonald back in after only a few laps in the 82 car. Photo courtesy The Henry Ford.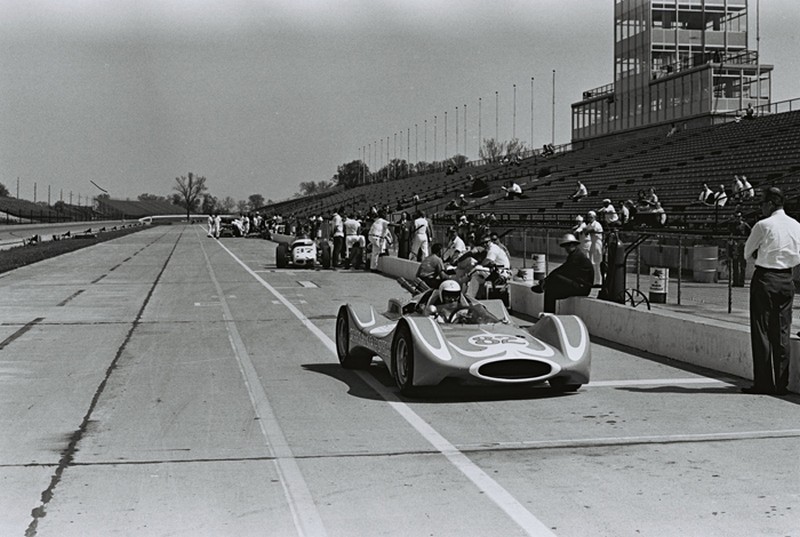 Dave tells Mickey that the #82 car is as bad or worse than the #83 car. Photo The Henry Ford.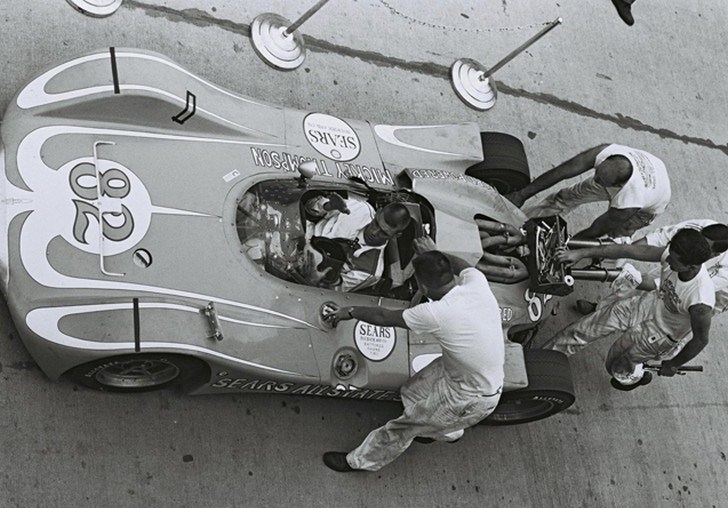 Mickey and the team push it straight to the garage and Thompson chief mechanic Peter Bryant brainstormed with the crew for a solution.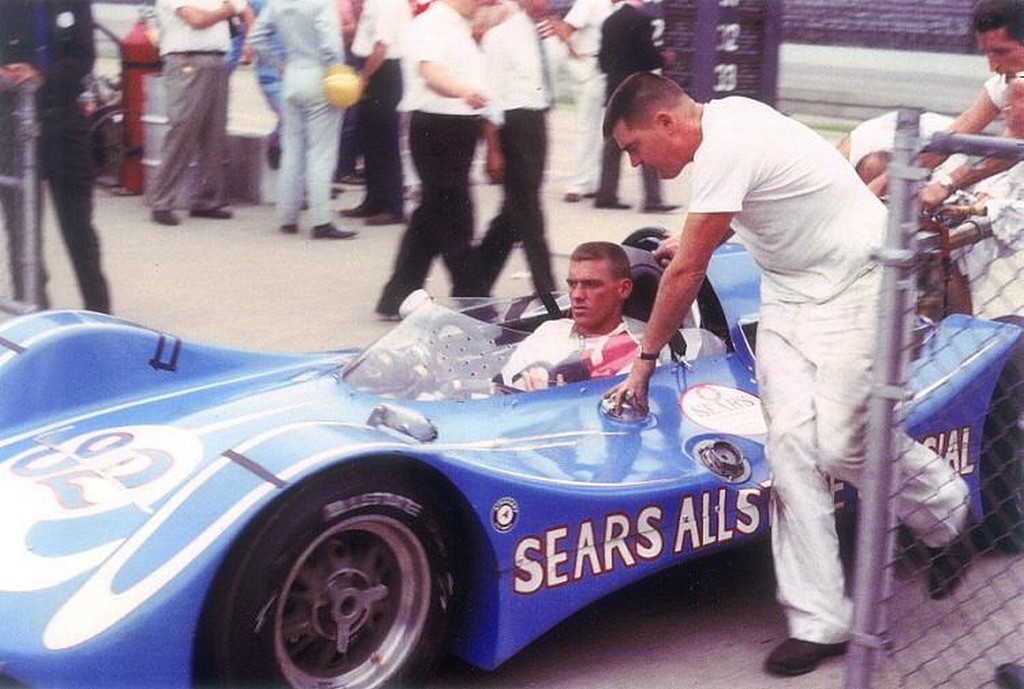 The team has the #82 car back at the garage for additional modifications.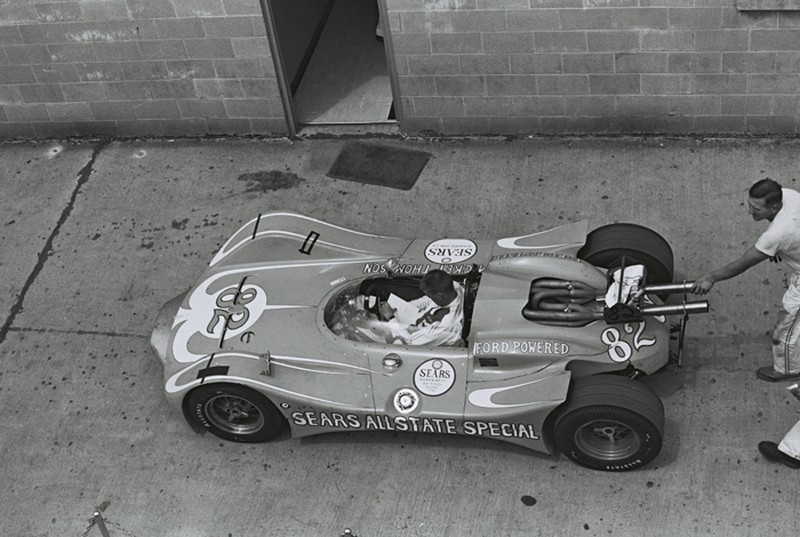 May 13th and Masten Gregory back out for a practice run but losses control of the #84 car and slams into the wall. Gregory says he's had it
and leaves the team. Before going he tells Mickey he believes a major factor to the car's instability is that air is getting trapped beneath the
encolsed fenders.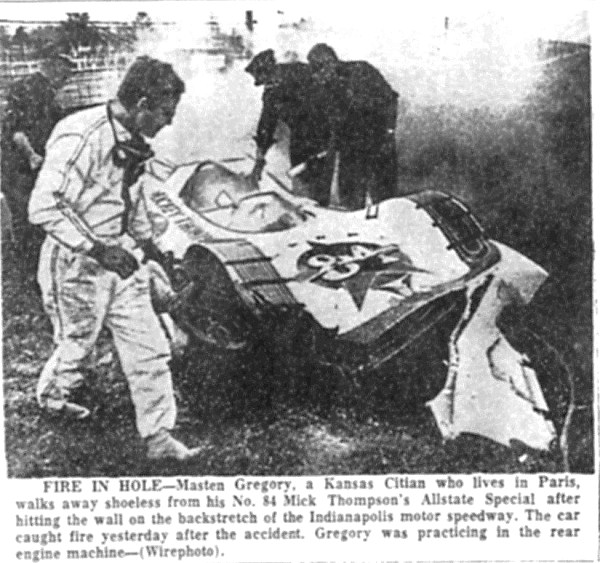 May 14th Indianapolis AP article about Masten's crash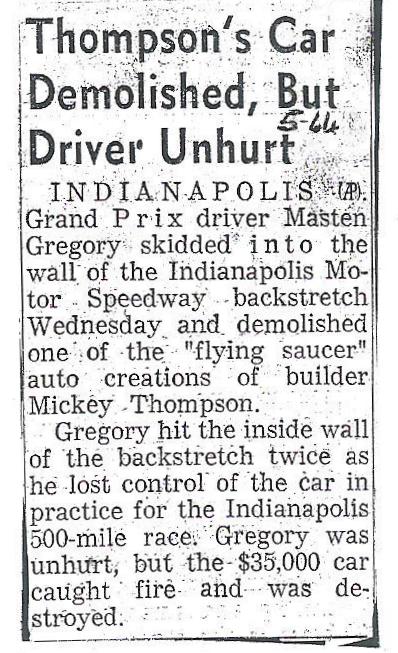 Masten Gregory then took an open spot with the Dean Van Lines team and began openly critizing Mickey's racers in the press.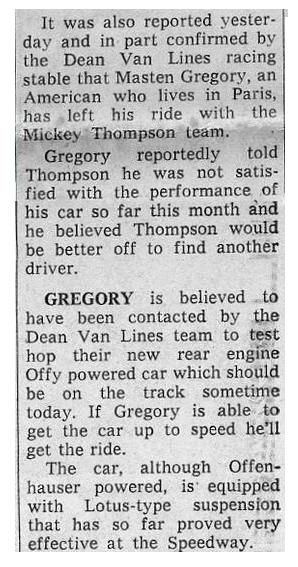 Thompson crew gets a look at Masten Gregory's crashed #84 racer back in the garage. Photo Dave Friedman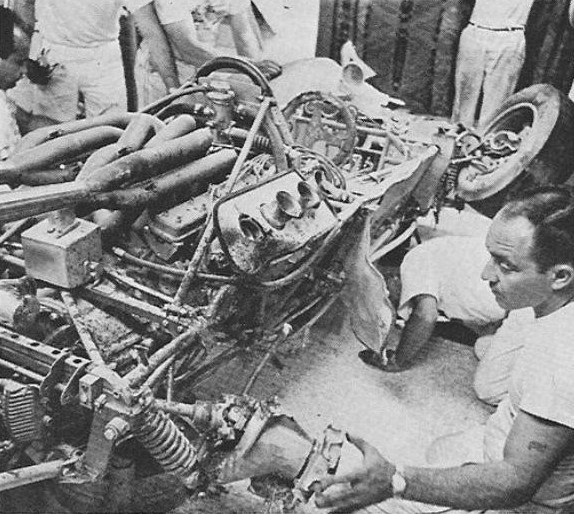 Top boss Mickey Thompson knows the demolished #84 racer will mean additional work for his stretched crew. Photo The Henry Ford.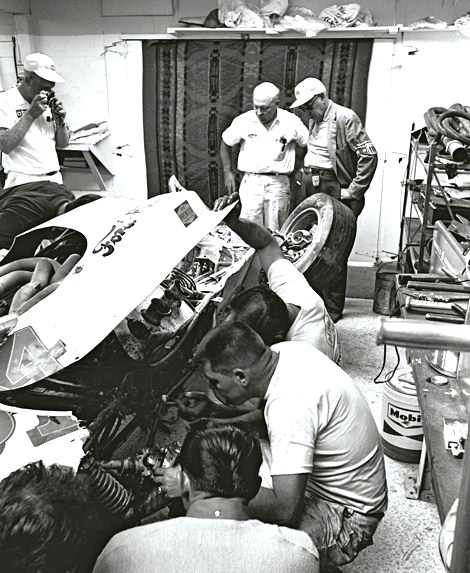 In this photo of Gregory's 84 car you get a good look at the rubber gas bladder Mickey put in his Indy cars. Photo The Henry Ford.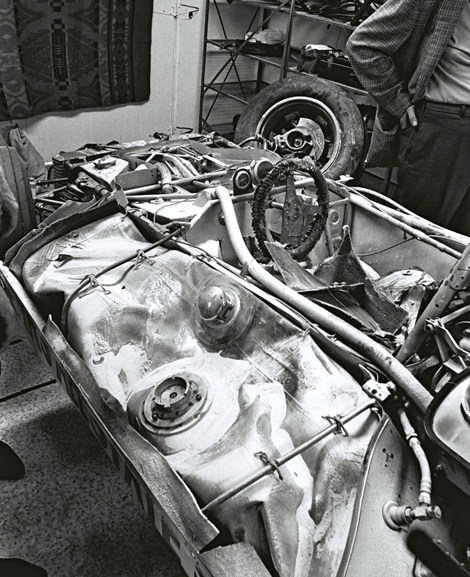 With his wrecked #84 racer at his side a dejected Mickey Thompson ponders his next move.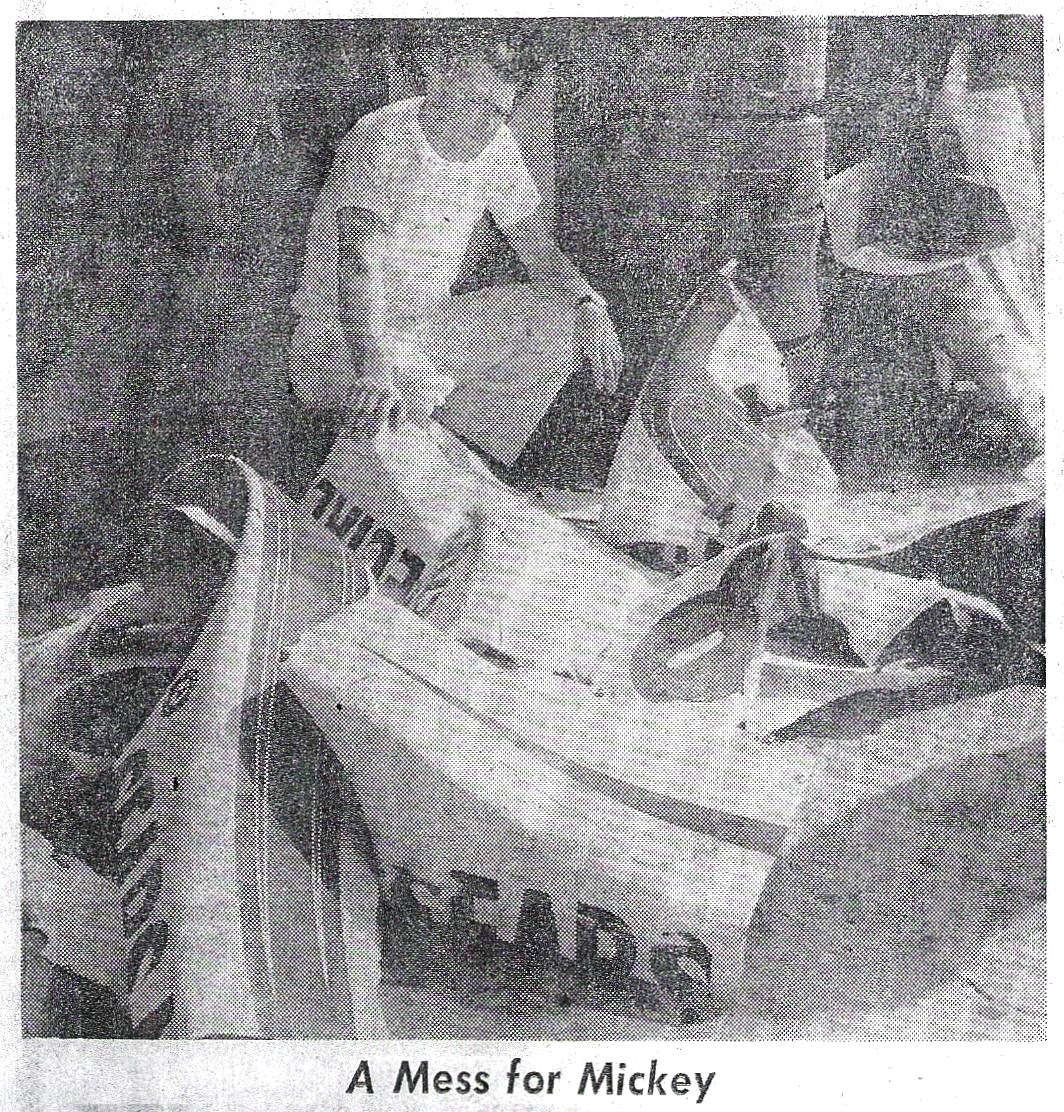 Days later an angry Thompson responds to Gregory's criticism about trapped air by ordering the crew to grab a hacksaw and cut channels
in MacDonald's #83 car. Dave watches from inside the racer. Mickey himself participated in this modification. Photo The Henry Ford.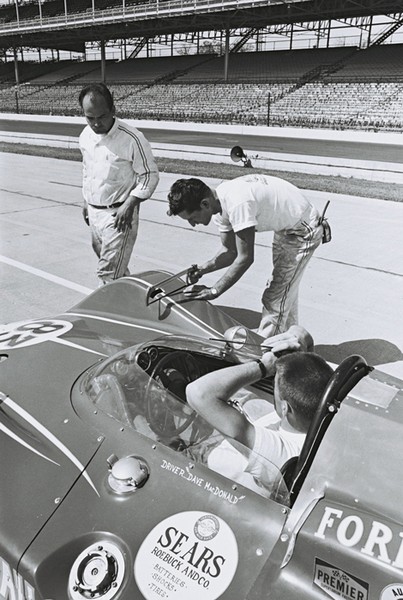 Mickey sent Dave back out on the track with the fender channels and Dave promptly clocked his fastest laps of the month - A 155 mph
average. Unorthodox modification aside, MacDonald reported that it improved the car's stability. Photo Dave Friedman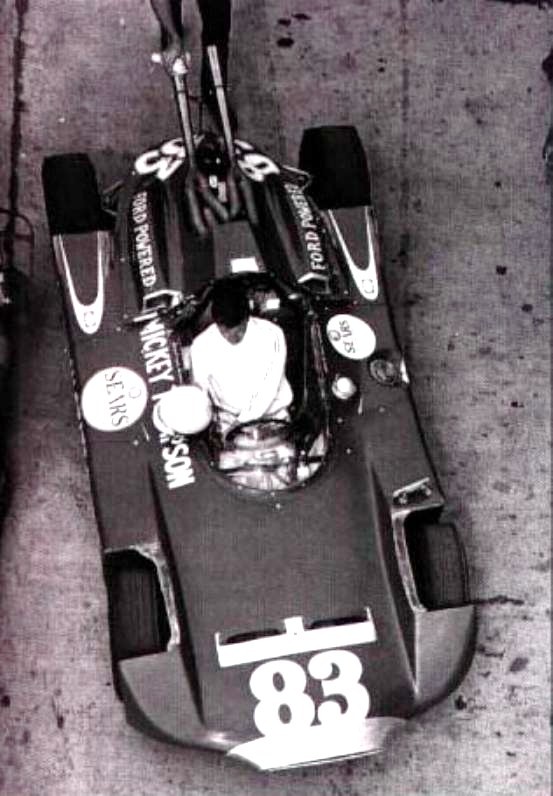 Down a racer after Gregory's departure, Mickey invited 15-time Indy 500 competitor Eddie Johnson to the team and told him to go out
and run the #82 car. Both cars now had fender channels. Johnson was only able to get into the mid 140's in his initial runs. Meanwhile
over in the Van Lines camp Masten Gregory was having trouble getting the Offy up to speed. Photo Dave Friedman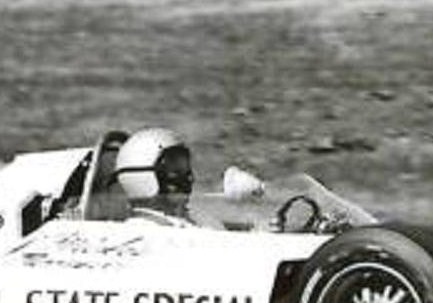 Testing continued and Dave MacDonald takes to the track after additional adjustments were made to his #83 car.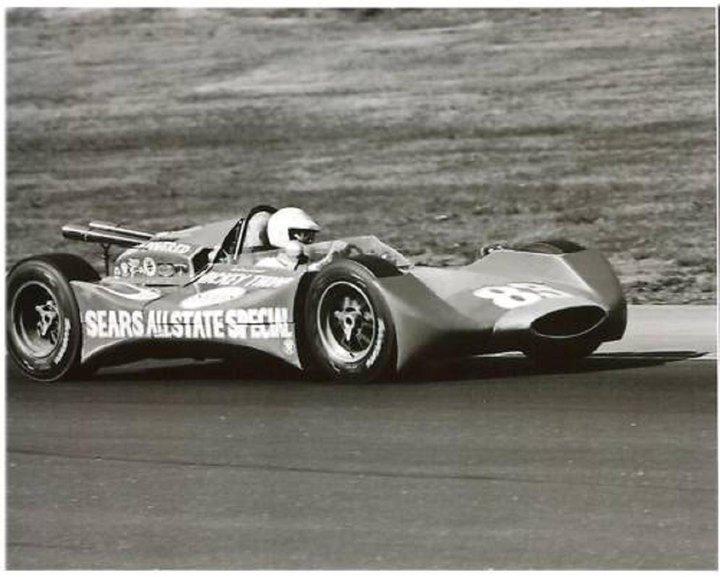 Team owner JC Agajanian, his driver Parnelli Jones, and Dave MacDoanld in what looks to be a serious conversation.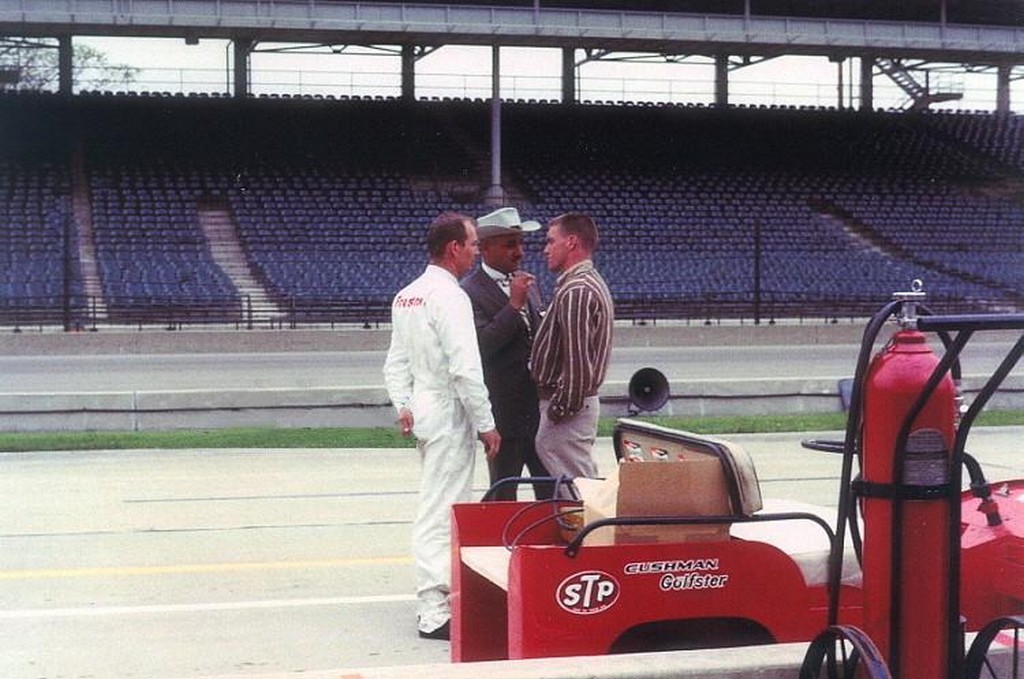 May 14th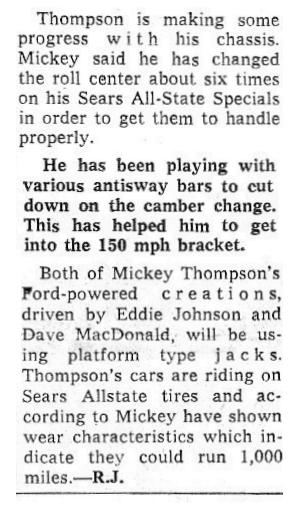 May 16th, Pole Day! Dave MacDonald had called his wife (Sherry) the night before qualifying began and told her they were still sorting
out the car and had no plans on attemptng to qualify on Pole Day. Thompson however had a change of heart and decided to give it a go.
Dave settles into the Ford Allstate Special. Photo The Henry Ford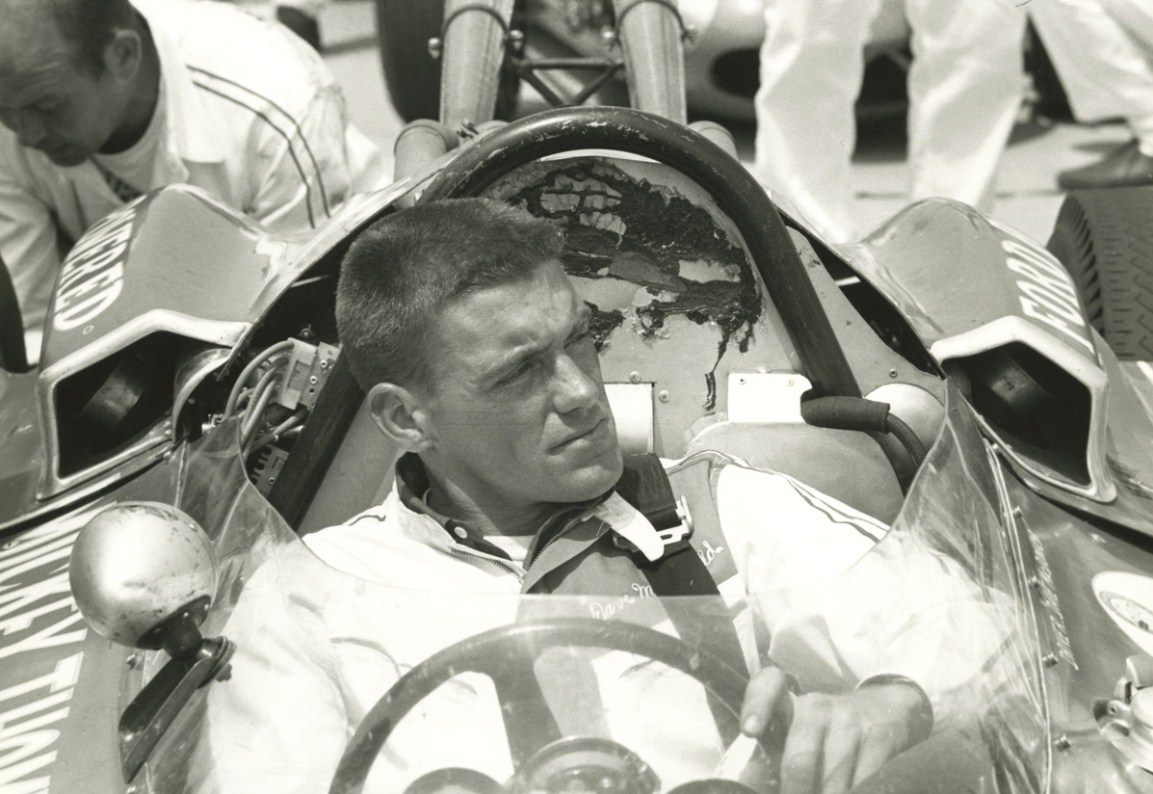 Broadcaster Chris Economaki sneaks in a word with Dave before his qual run while Mickey Thompson & Dan Gurney look on.
Gurney would later successfully qualify his Lotus and be placed on the outside of row 2 in 6th position. Photo Dave Freidman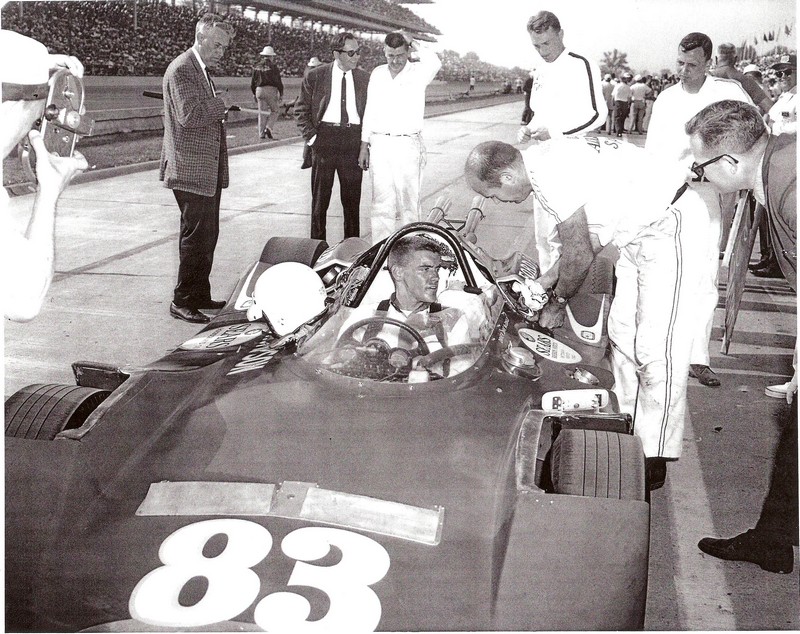 As Dave MacDonald is pushed out Mickey Thompson checks his custom-cut fender channels for tire clearance. Photo The Henry Ford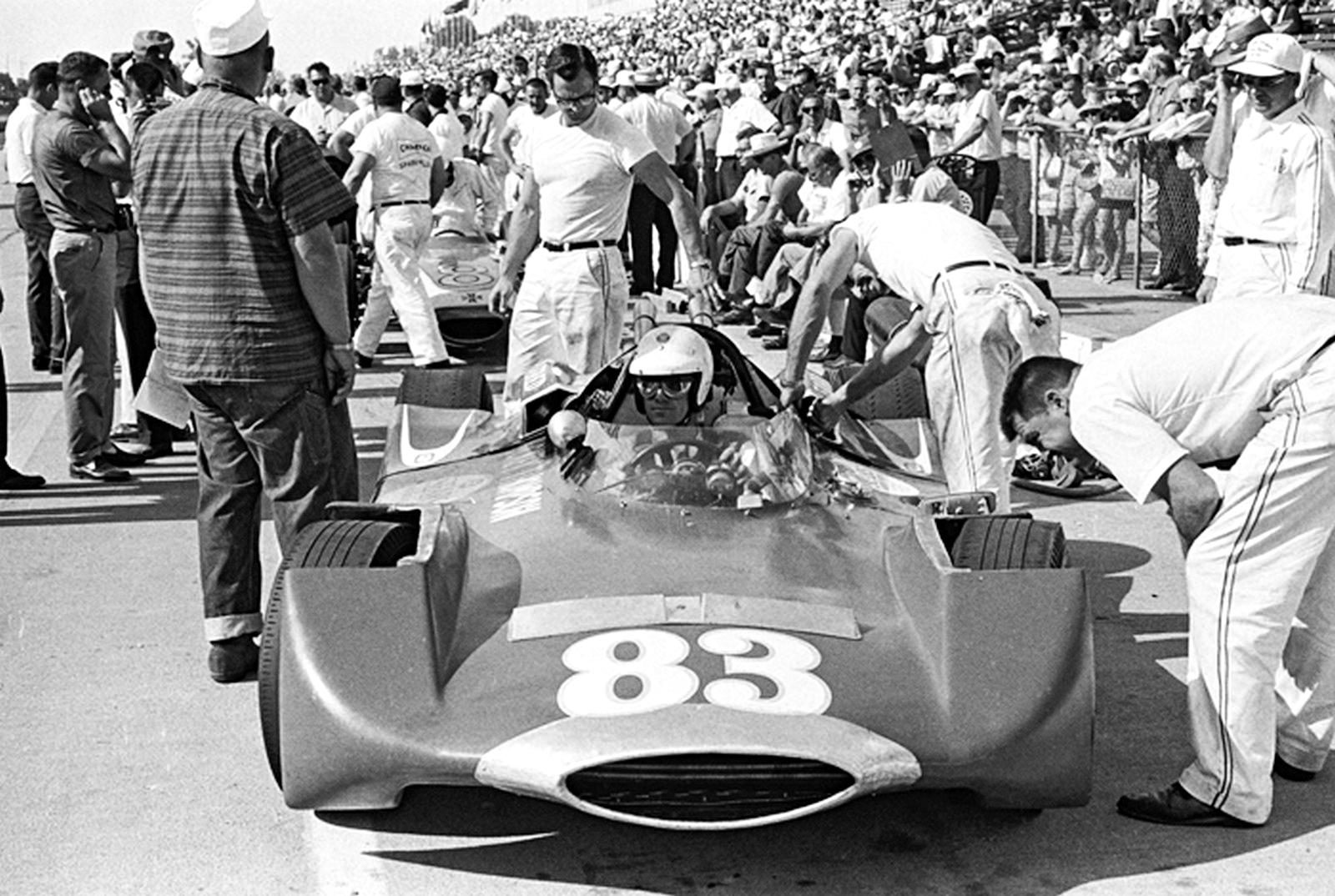 Out goes MacDonald in his first-ever Indy 500 qualifying run. Photo Dave Friedman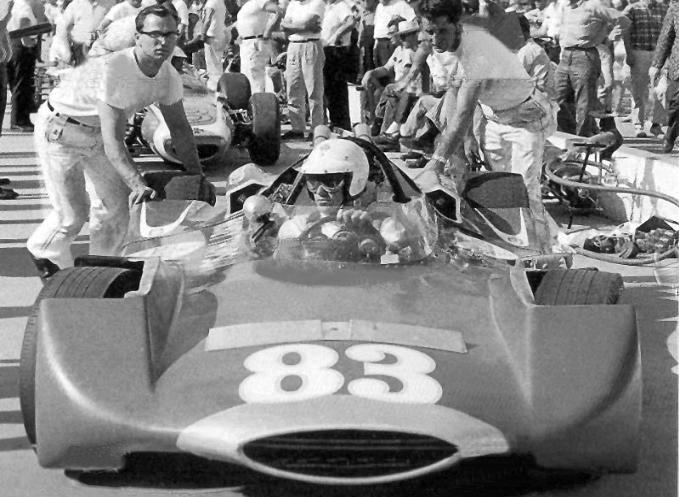 MacDonald takes the red Ford Sears Allstate Special down pit road and onto the Speedway.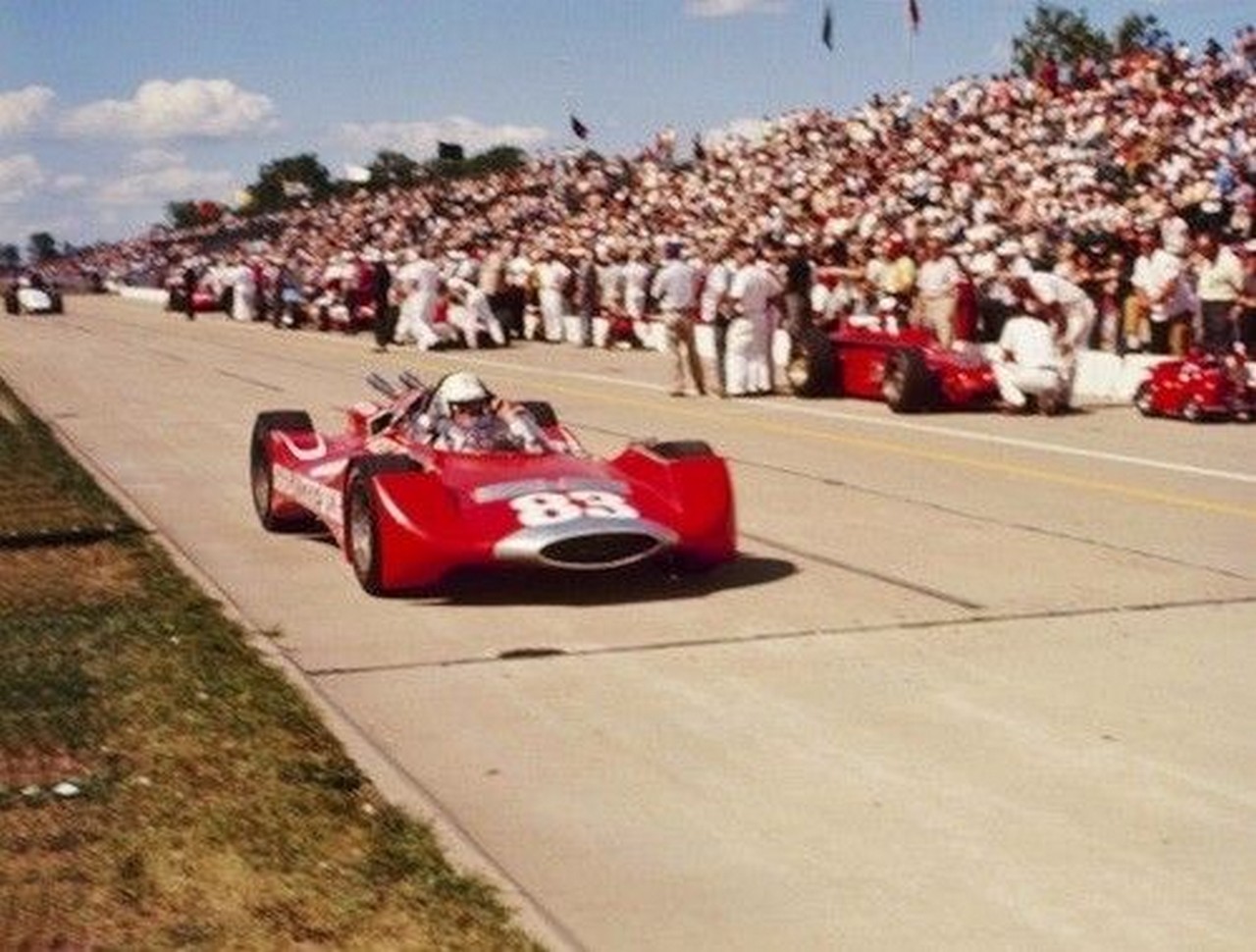 Dave MacDonald out in a day one qual run on Pole Day trying to be the first rookie in the filed of 33. Photo courtesy The Henry Ford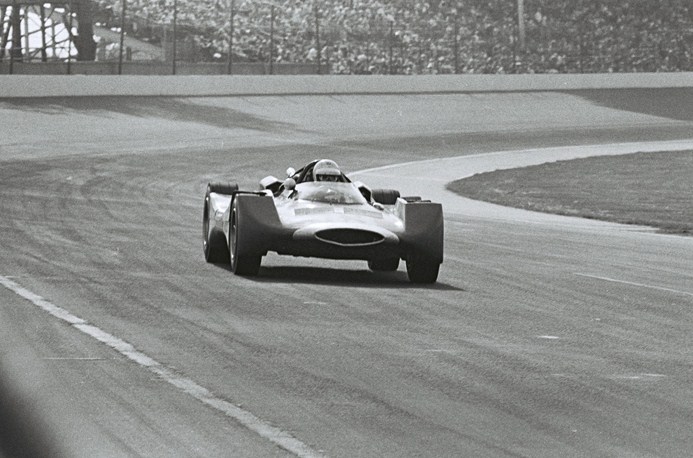 Despite lingering problems, Dave qualifies the Sears Allstate Special with an average speed of 151.464 MPH and is successfully into the
1964 field. (Dave would eventually be placed in the middle of row 5, in 14th position).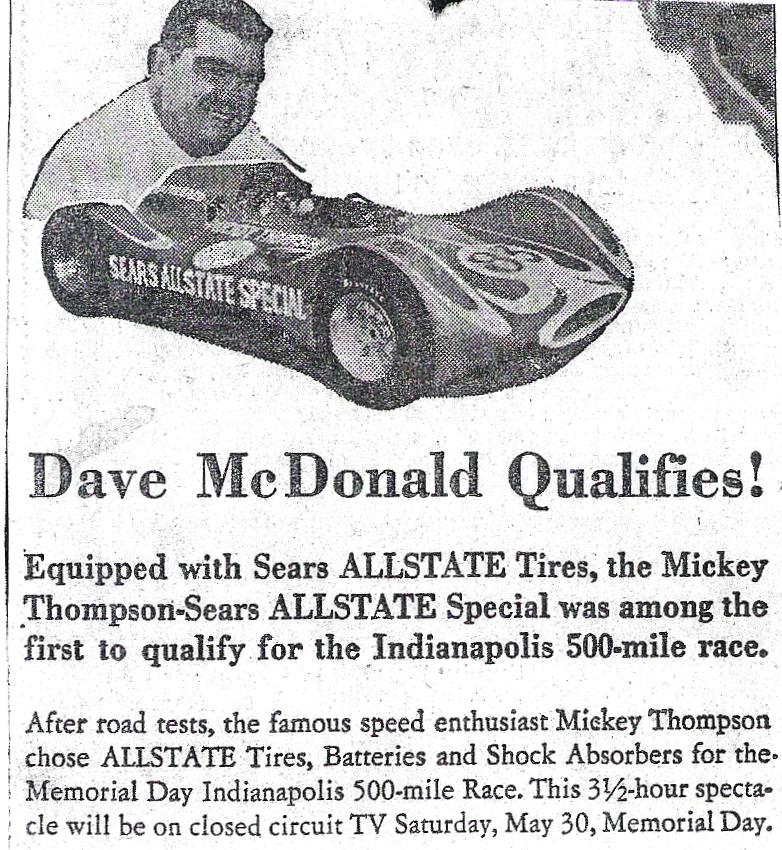 Car owner Mickey Thompson and Dave MacDonald in a celebratory mood after Dave puts the car in the field. Sherry was completely
surprised when Dave called her with the good news! Photo Dave Friedman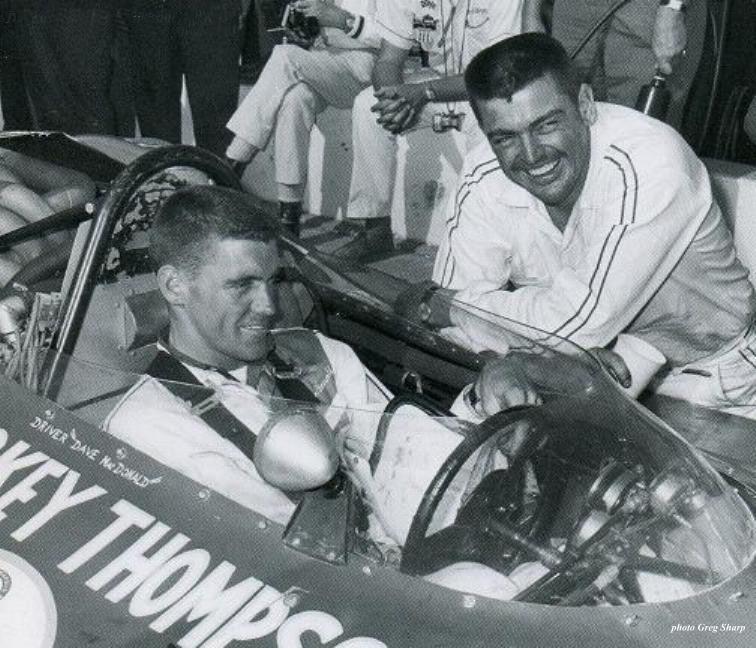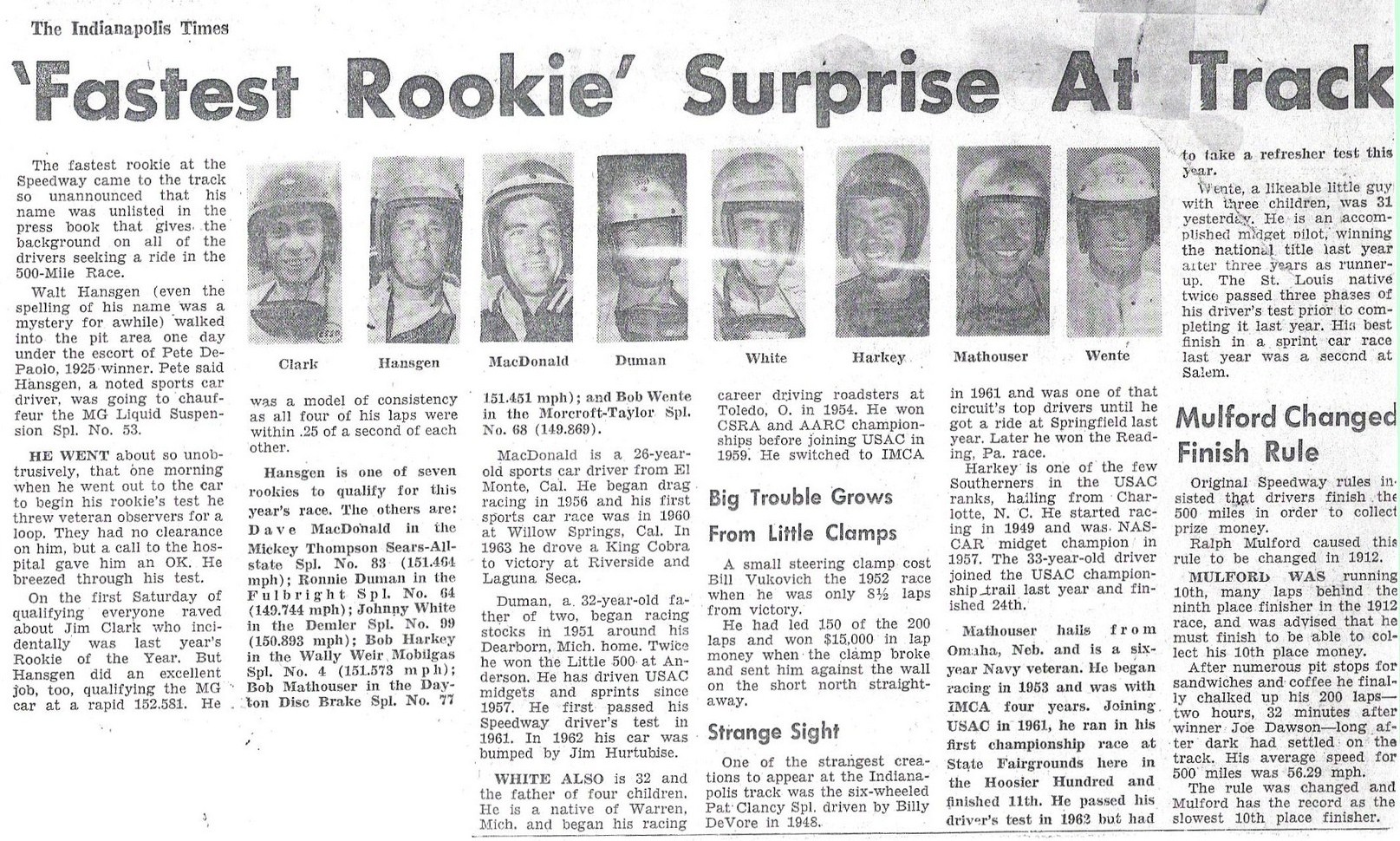 Dave MacDonald becomes the first rookie in the field and is back at the Thompson garage signing a few autographs.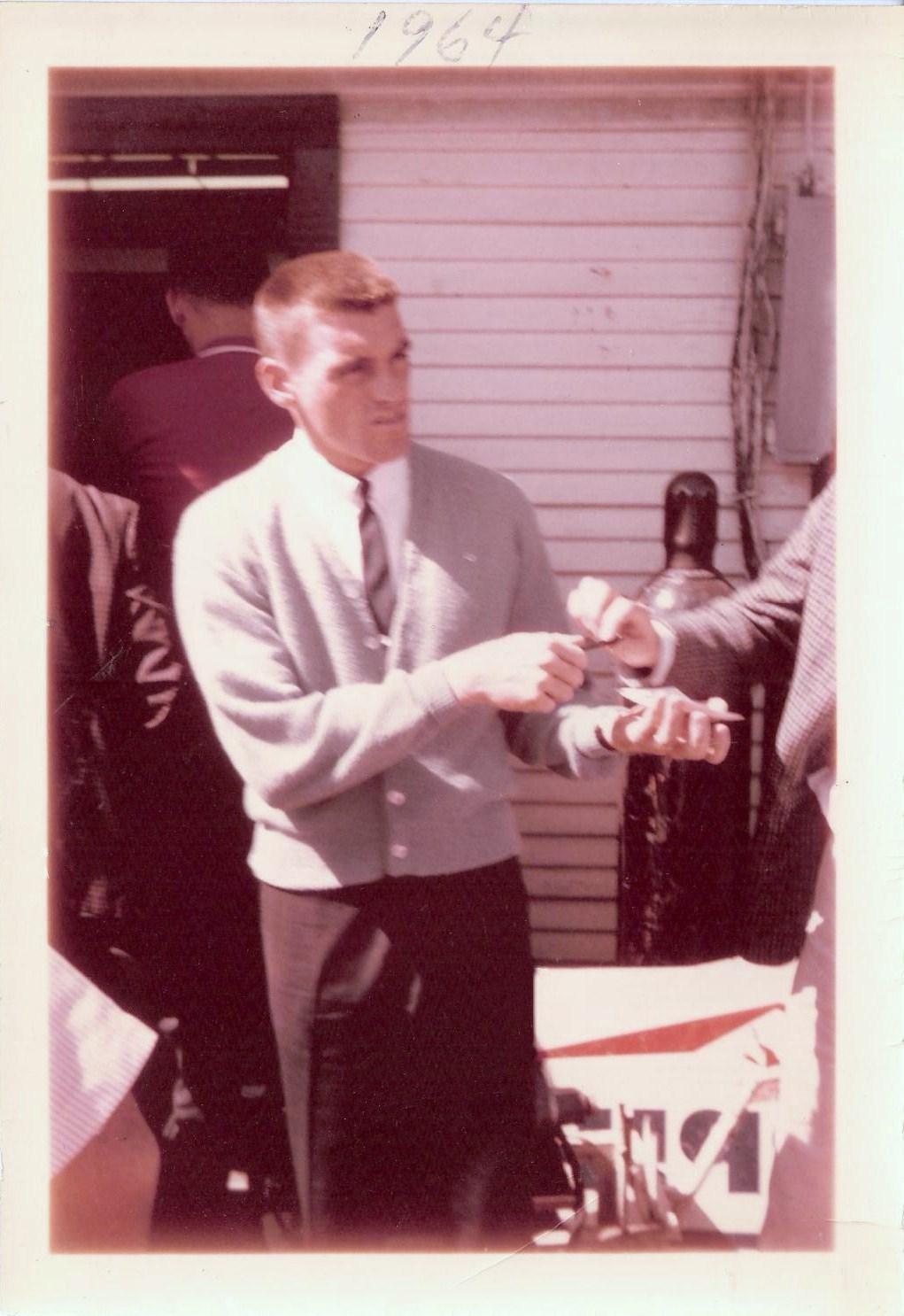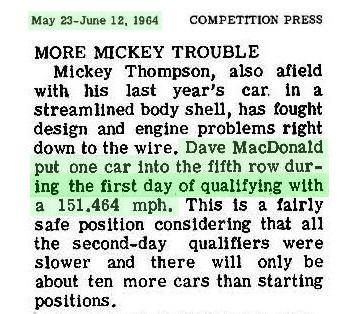 A happy Jim Clark after cranking an average speed of 158.858 MPH, which would be good for the Indy 500 pole. Photo The Henry Ford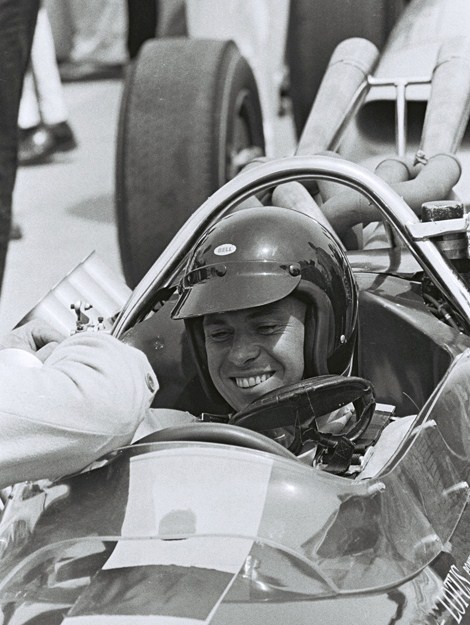 The Thompson crew finishes repairs on the #84 car and Mickey sends 5' 5" Eddie Johnson out to try and put it in the field. Eddie was not
able to get the car up to speed and will have to wait a few days to try again. Photo courtesy The Henry Ford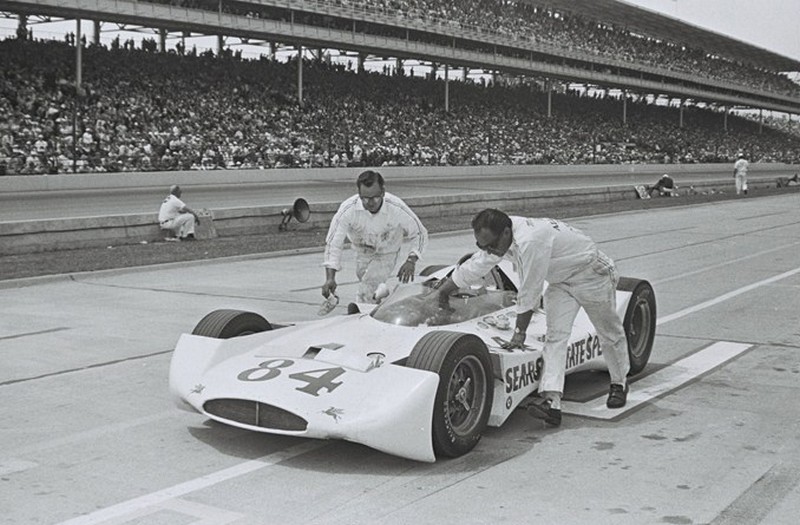 May 17th and MacDonald is back out practicing when the engine on his Sears Allstate Ford gives out and he's towed in. The Thompson
team had no more engines available and a Ford engineer told Mickey it would be days, maybe a week before Detroit could send another.
Mickey was not allowed to use an engine from the #82 & 84 cars as Detroit made it clear the priority was to get those cars in the field too.
MacDonald wanted the track time but with nothing to do he flew back to California to be with his family. Photo courtesy Indianapolis
Motor Speedway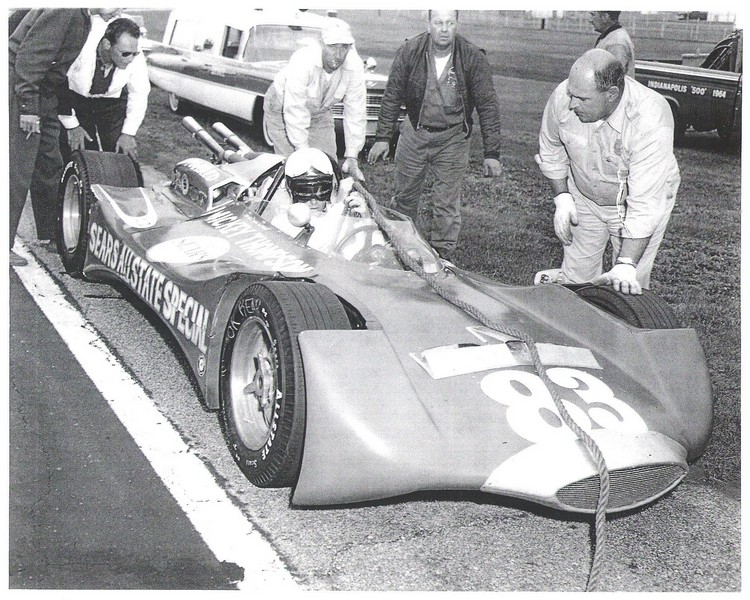 Fender channels offered improved stability but the cars were still a work in progress as Eddie Johnson discovered in his next run. Trying
a run at speed Johnson loses control of the #82 car and put it into the ouside wall. Already overworked Peter Bryant and crew would now
need to put the #82 car back together. Photo William Oates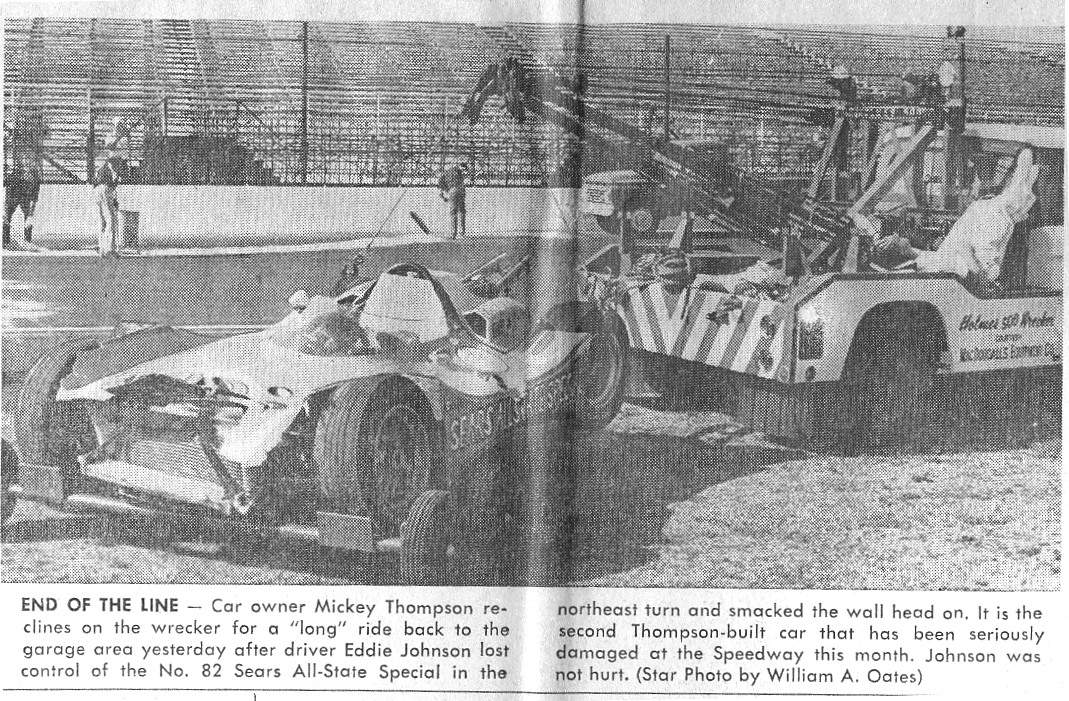 May 19 blurb from Motor Trend writer George Moore's "Indy Diary" referencing Eddie Johnson's crash in the #82 car.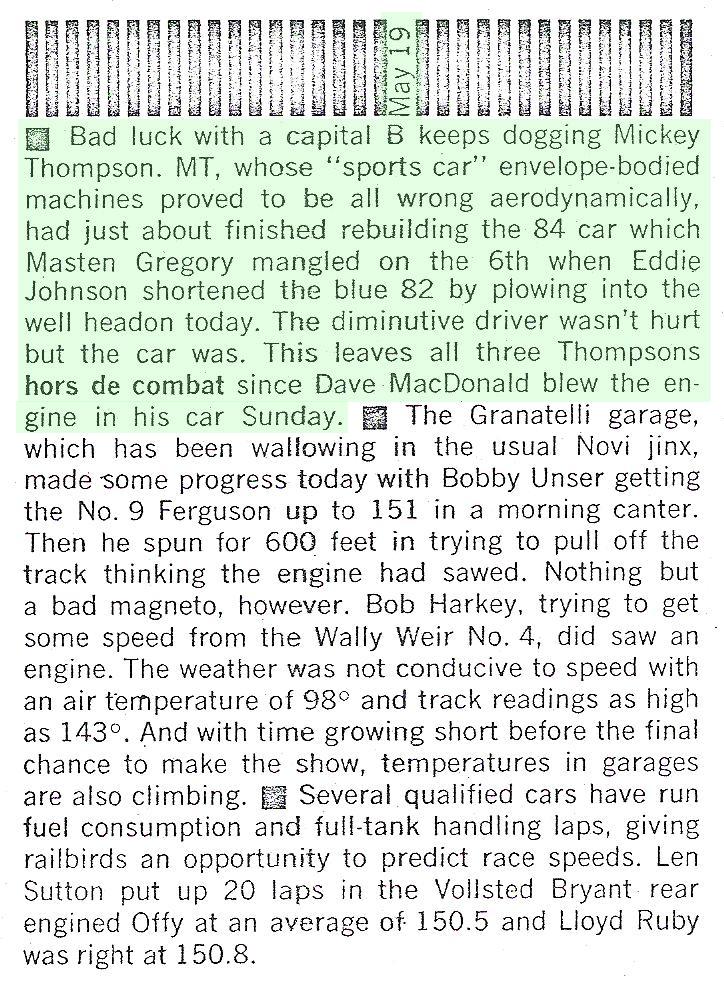 Mickey Thompson's #82 car goes into the wall. Driver Eddie Johnson is unhurt but the Thompson team has just one undamaged car.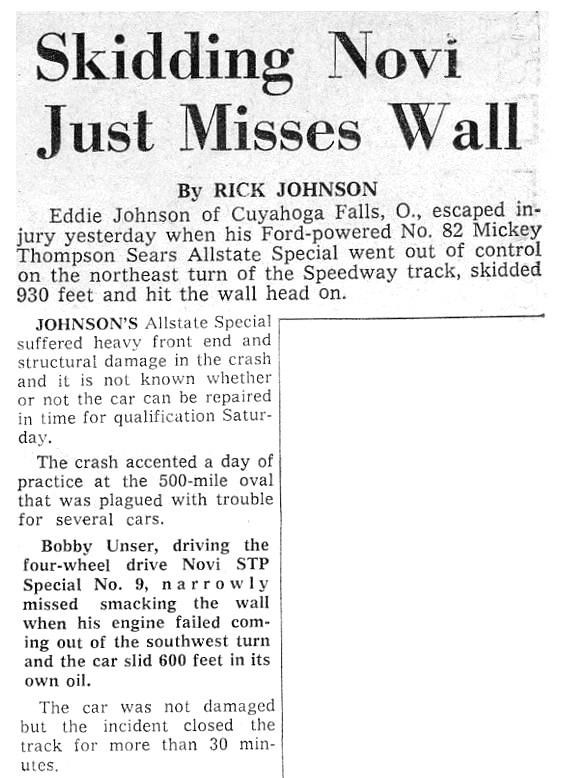 Another view of Eddie Johnson's crashed #82 racer as it's pushed from the tow truck to the garage. Photo courtesy The Henry Ford.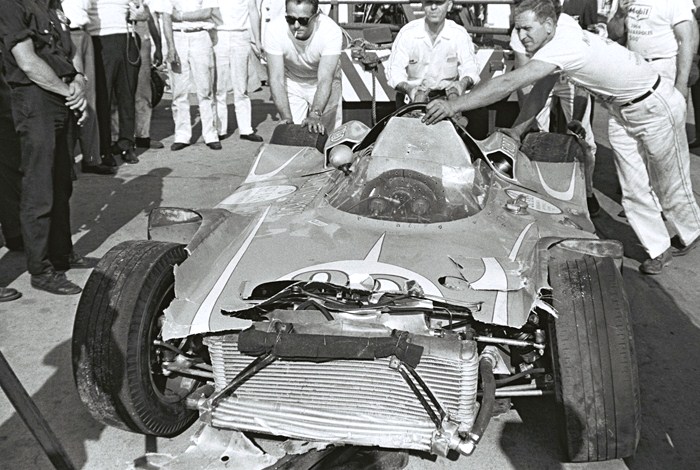 Mickey and crew work feverishly in the hopes of qualifying two, or even all three cars into the field. Eddie Johnson will try to qualify the
previously wrecked #84 on May 23rd. A final attempt with #82 depends on whether or not they can get it ready.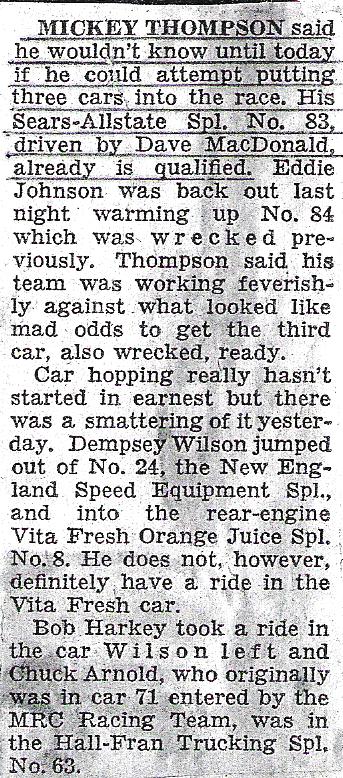 Dave MacDonald left California Friday morning May 22nd and was back at Indy that evening. He and the team were all at the track
Saturday May 23rd for Eddie Johnson's final attempt to qualify the #84 car. Eddie got it done as he averaged 152.905 mph, good for 24th
position on the outside of row 8. Thompson is a happy man. Masten Gregory was unable to put the Van Lines Offy in the field and came
back to Thompson's team and tried to qualify the now repaired #82 car. He was unsucessful however and neither he nor the car ran the race.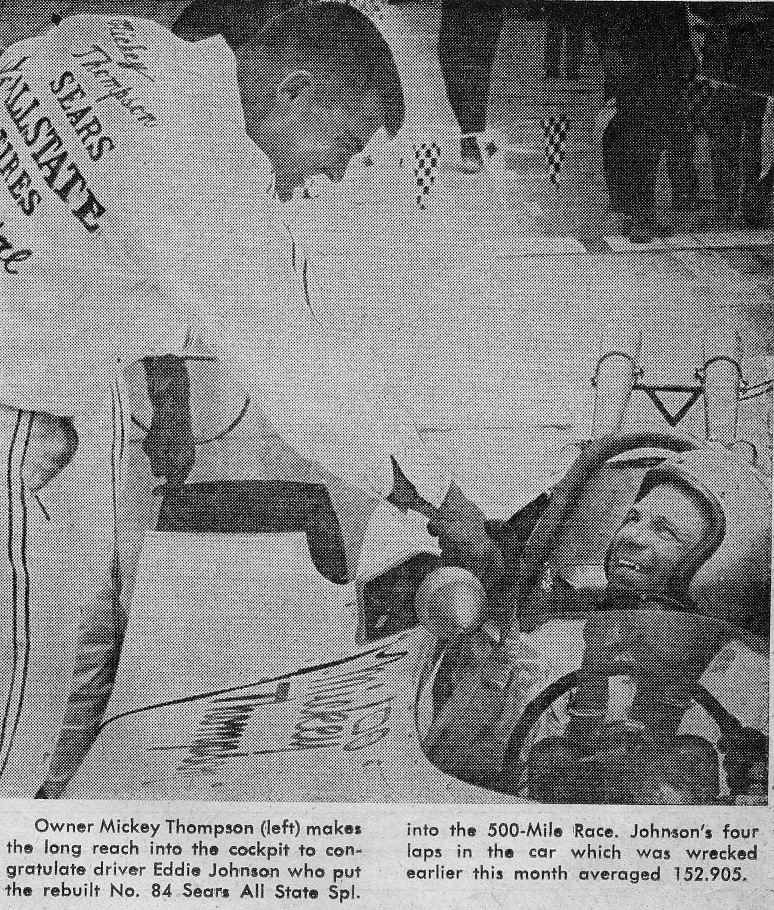 Eddie Johnson puts a second Thompson racer in the field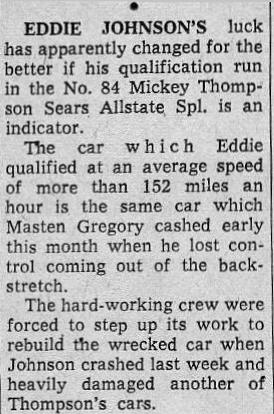 The joy of Eddie qualifying ends quickly for MacDonald as the next day he hears that good friend Glen Fireball Roberts was involved in
a serious crash in NASCAR's World 600. He is severely burned and in the hospital. (Glen would succumb to his injuries on July 2nd).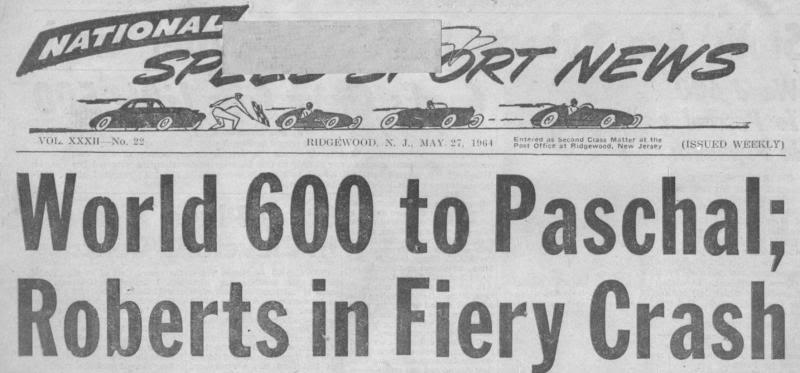 Rumors begin to circulate that Eddie Johnson's qual run days ago may not have been on the up and up. Journalist Chris Economaki reports
that Mickey Thompson, under pressure from Ford to get at least two cars in the field, may have put #84 body panels on Dave MacDonald's
#83 car before sending Eddie Johnson out to qualify.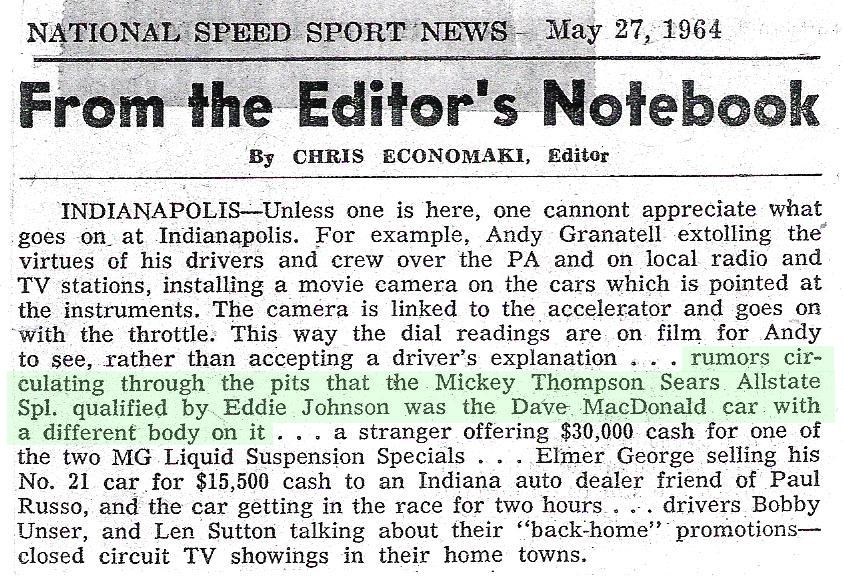 Carb Day May 28th and drivers get one last practice session before the race. Dave MacDonald is out with the #83 Ford at the same time
World Driving Champion Jimmy Clark is practicing in his Lotus. Reports of this session say that Clark, after seeing unusual action from
Dave's car, followed him into the pits and urged his friend to "Get out of the car mate, just walk away". Photo courtesy The Henry Ford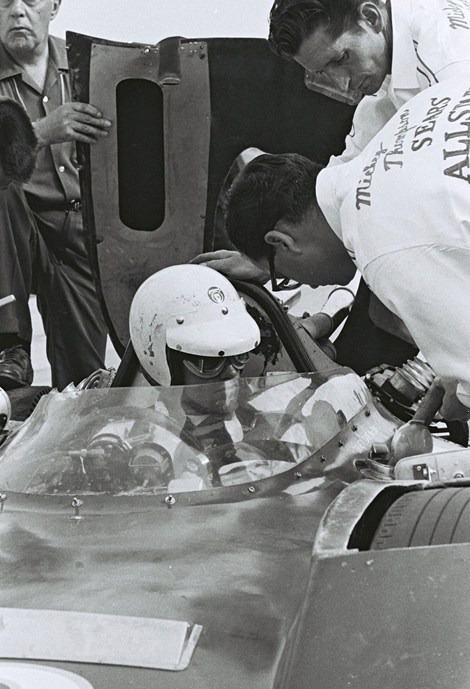 Dave MacDonald back in from his Carb Day run.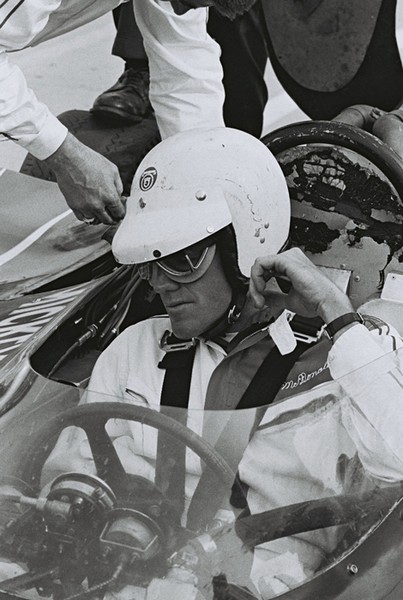 The field is set and the 33 best drivers in the world sit down for the 1964 Indy 500 drivers photo. Dave MacDonald and Eddie Sachs are
seated next to one another in middle of photo. Dave is wearing a sweater & tie. Photo Dave Friedman.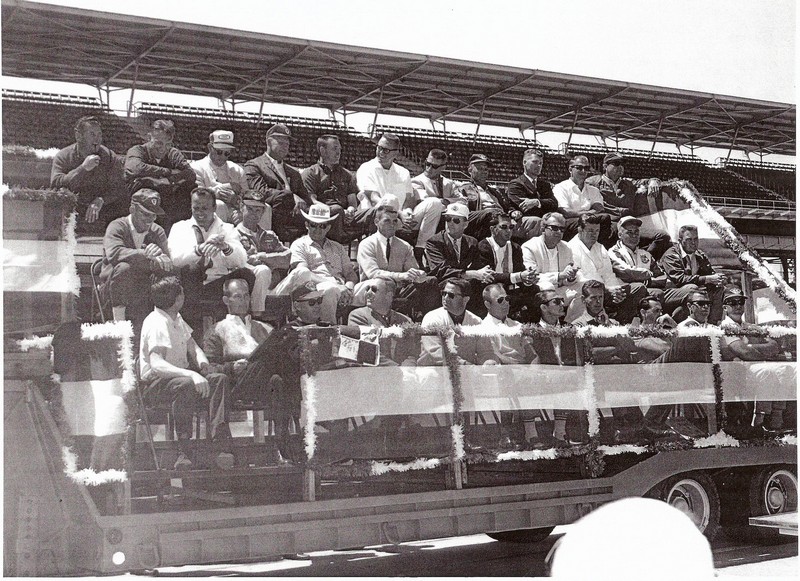 A closer look at some of the drivers. Photo Dave Friedman.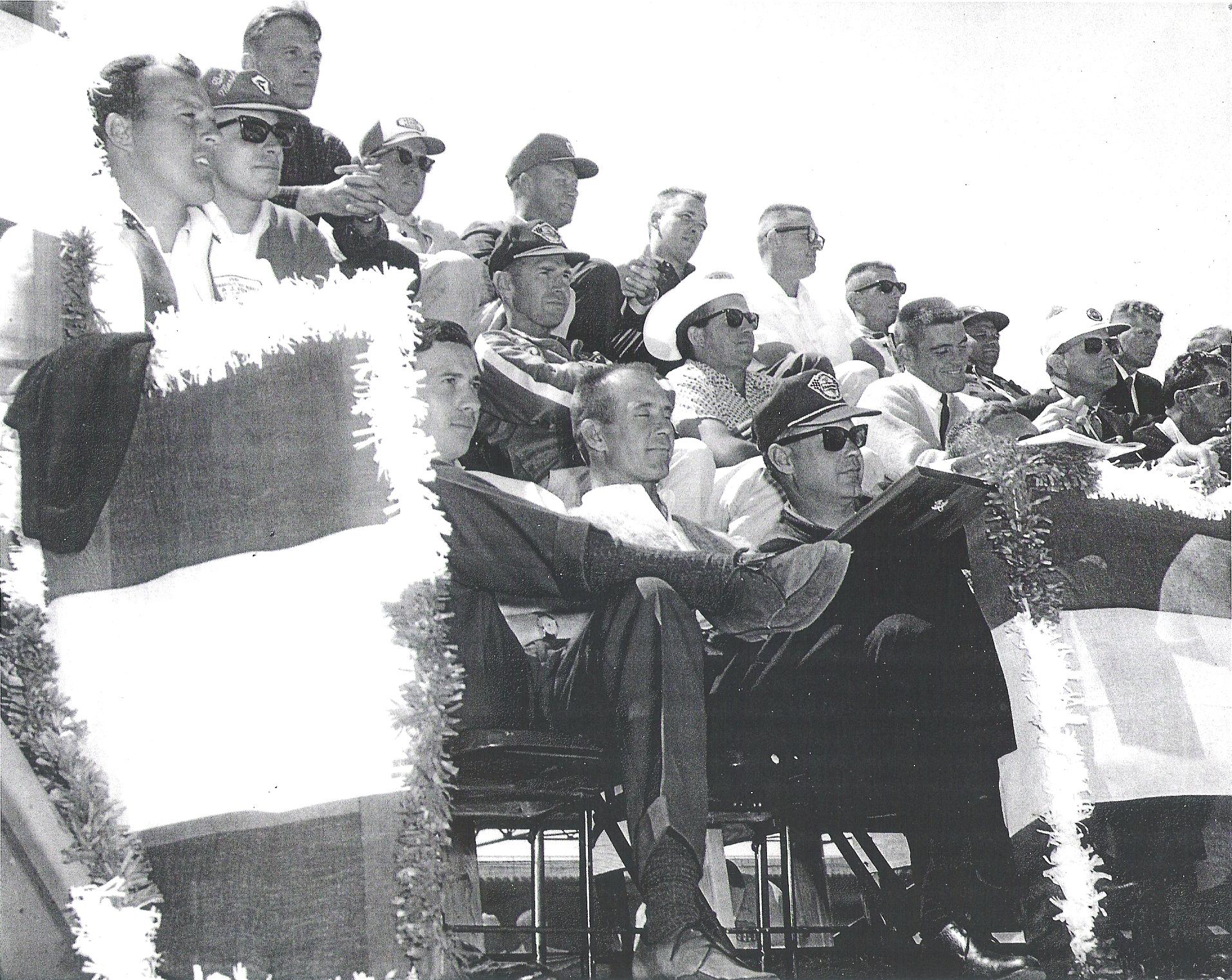 Directly across from the driver's meeting was the driver's stand so all the drivers were looking right at it. As usual Dave's last name was
misspelled. Throughout his career sportswriters would spell it MacDonald & McDonald.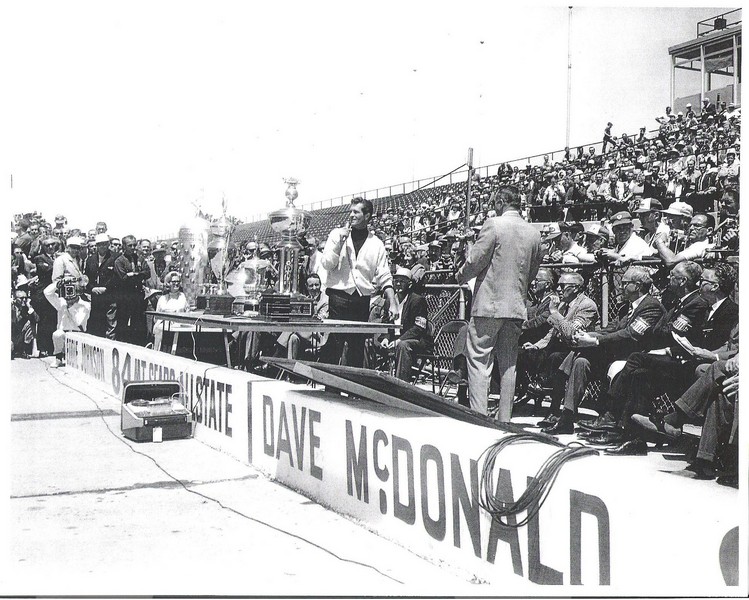 Final starting positions for the 1964 Indianapolis 500. Dave is in the middle of the 14th row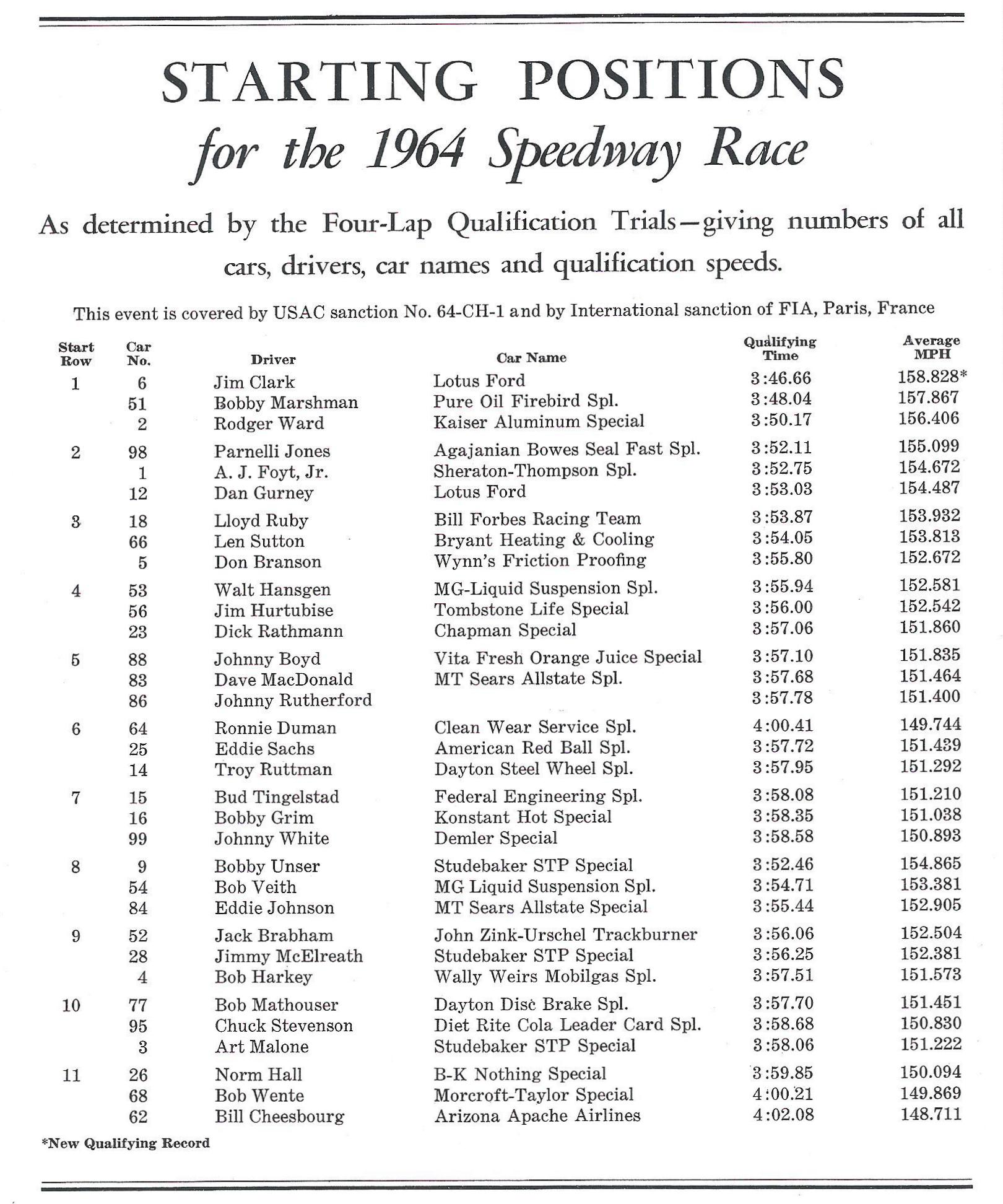 MCA-TV (Music Corporation of America) announced the first ever Indy 500 broadcast to a national closed-circuit TV audience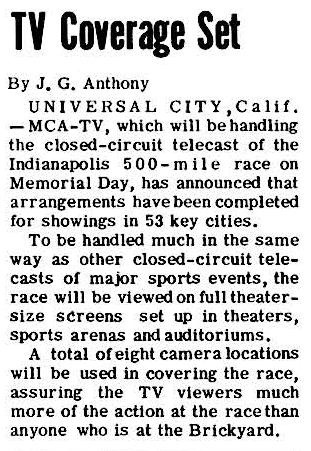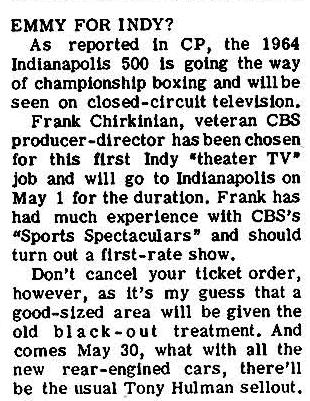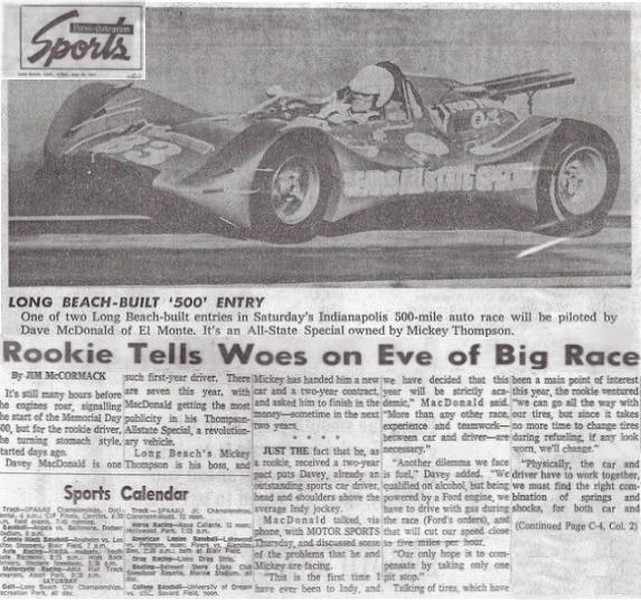 Race day and the Indianapolis Motor Speedway is brimming wth excitement. Nearly three hundred thousand fans arrive for the 500.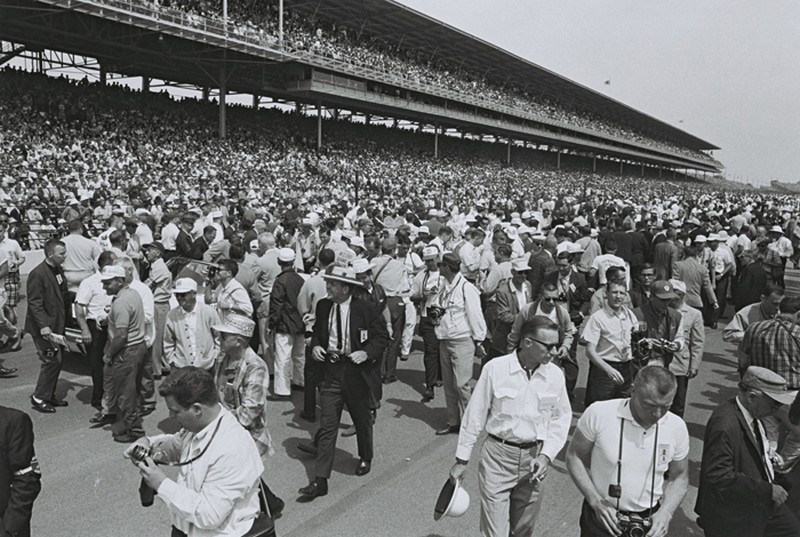 Pre race photo of Eddie Johnson. Eddie will start in 24th position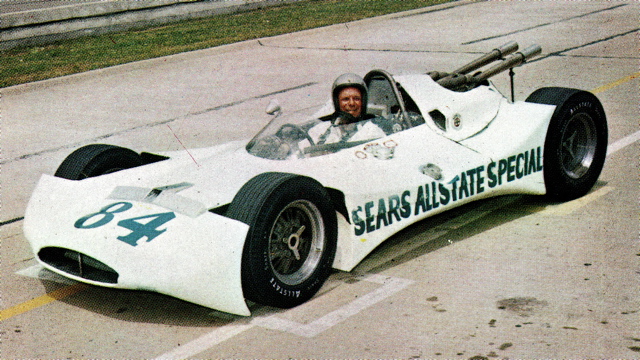 Pre race photo of Dave MacDonald. Dave will start in 14th position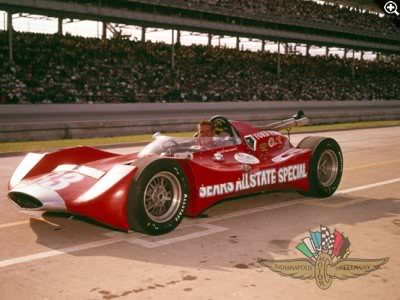 Dave's autographed Indy photo. From the collection of John Douglas, used with permission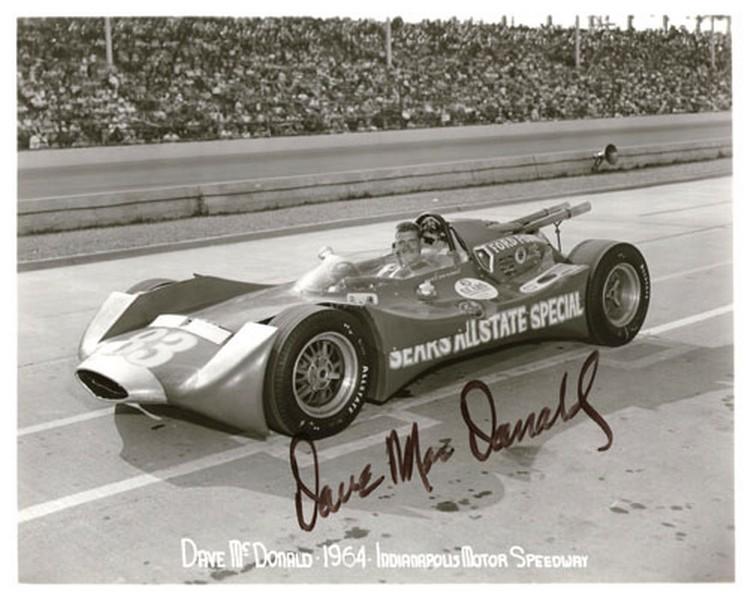 Mickey (center) and the crew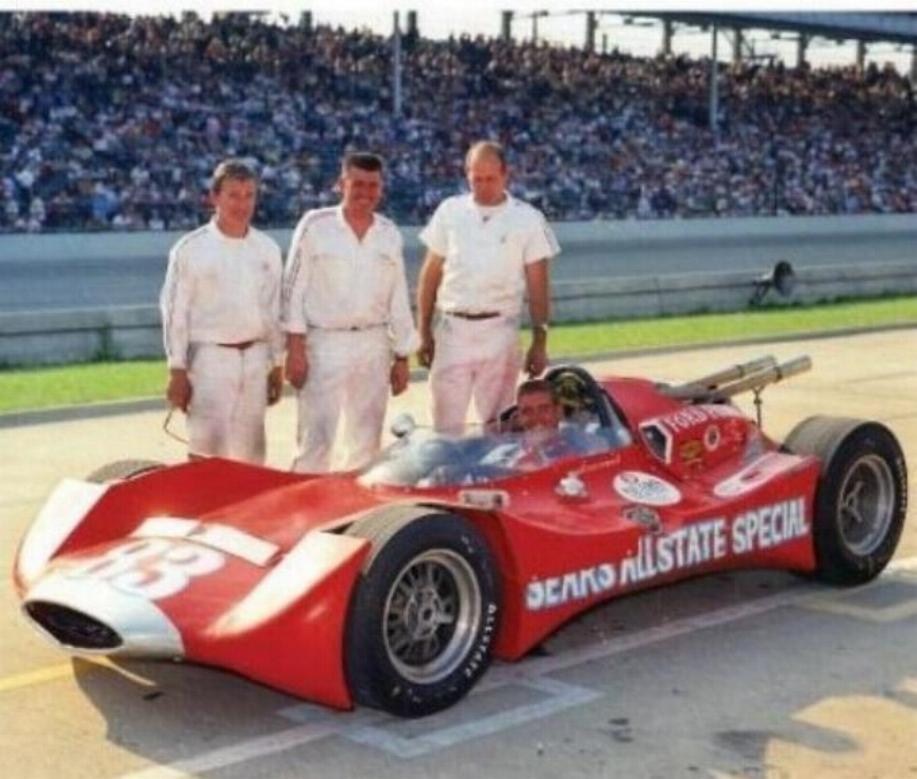 Crowd favorite and Indy veteran Eddie Sachs in his rear engine Ford will start 17th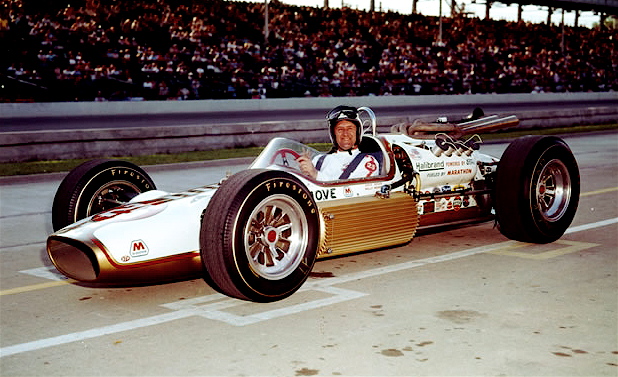 Cars and drivers fill the grid for the start of the race. Dave MacDonald and John Mecom (R) in a pre race chat. Photo Dave Friedman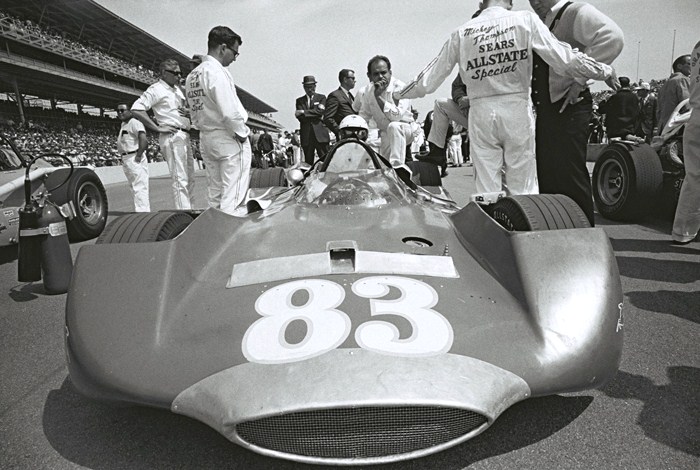 John Mecom (L) and Dave MacDonald (C) again. Photo Dave Friedman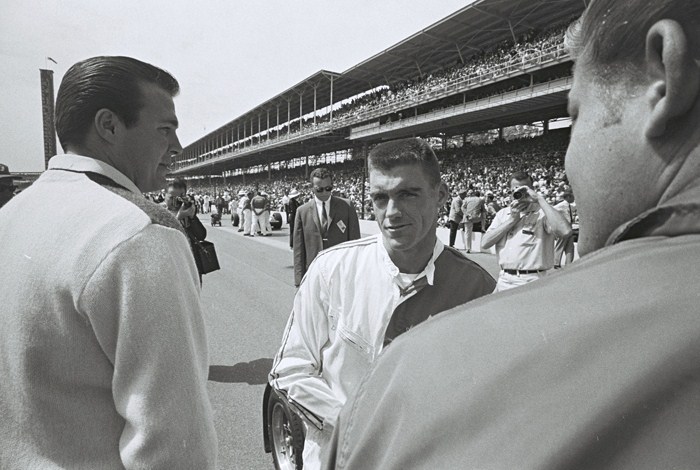 Pace car for the 64 Indy 500 was a sparkling new Ford Mustang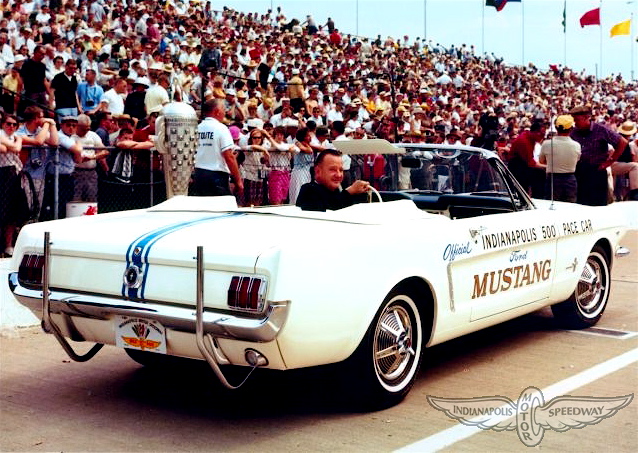 Pace lap - Dave in the middle of row 5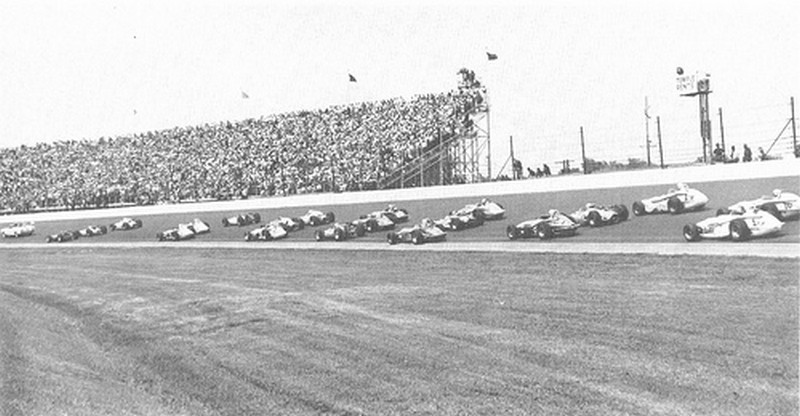 Lap 1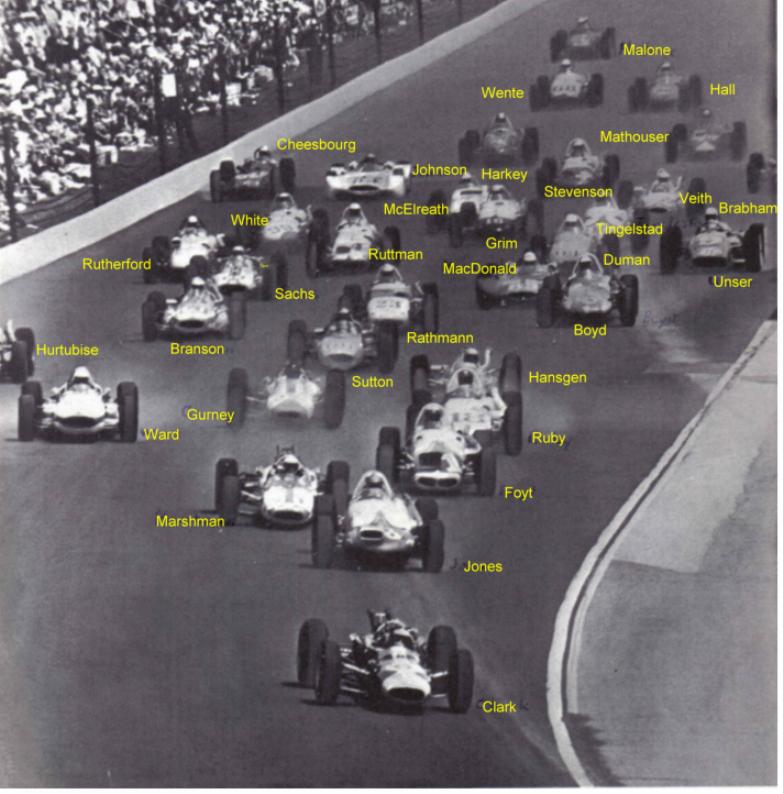 After winning the 1964 Indianapolis 500 a happy but subdued AJ Foyt holds a glimpse of what tomorrow's headlines will be.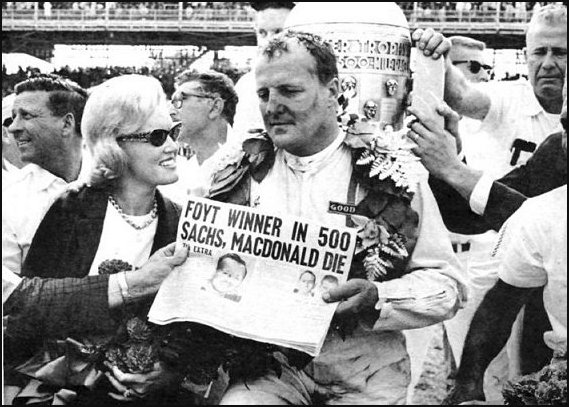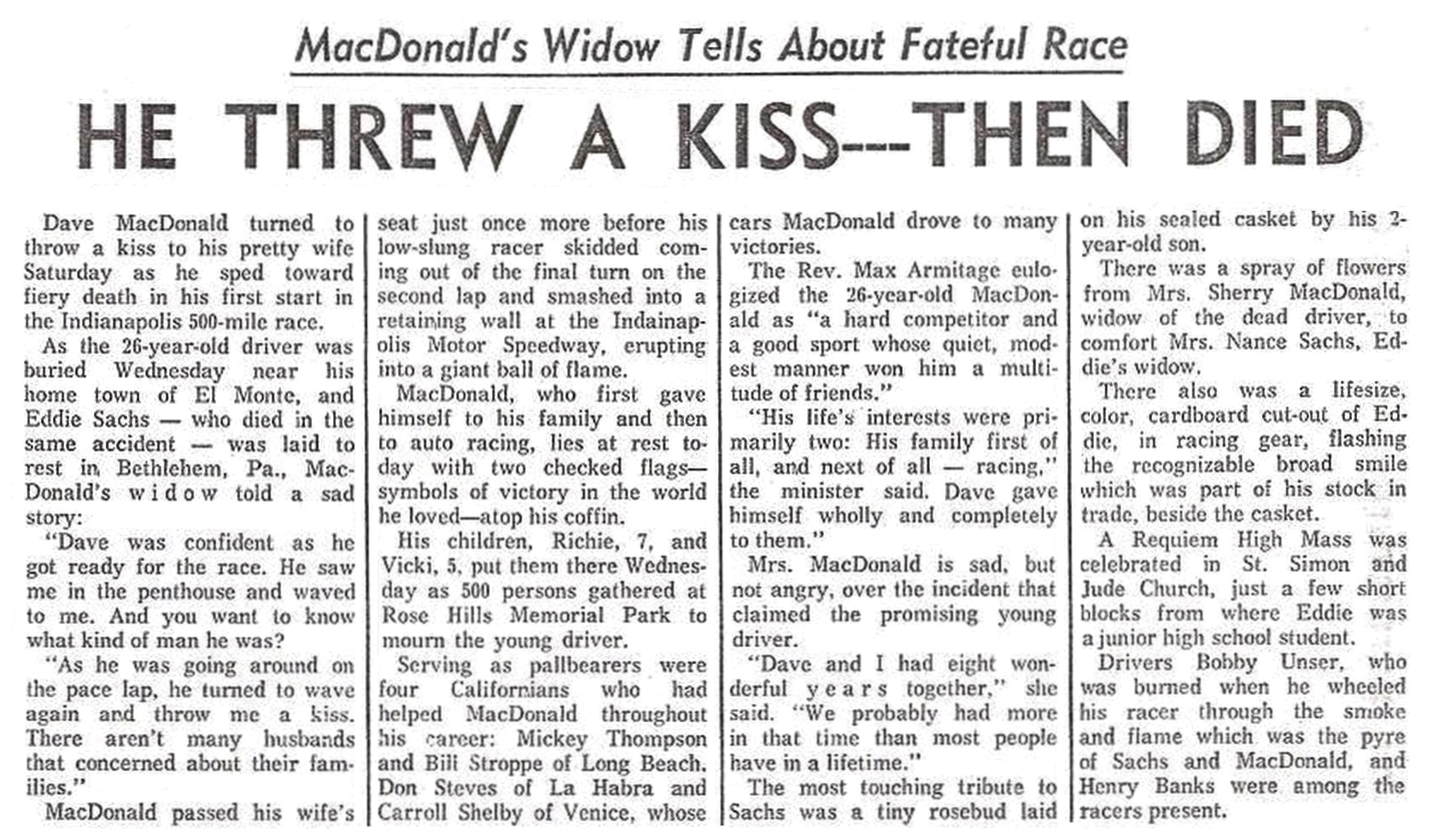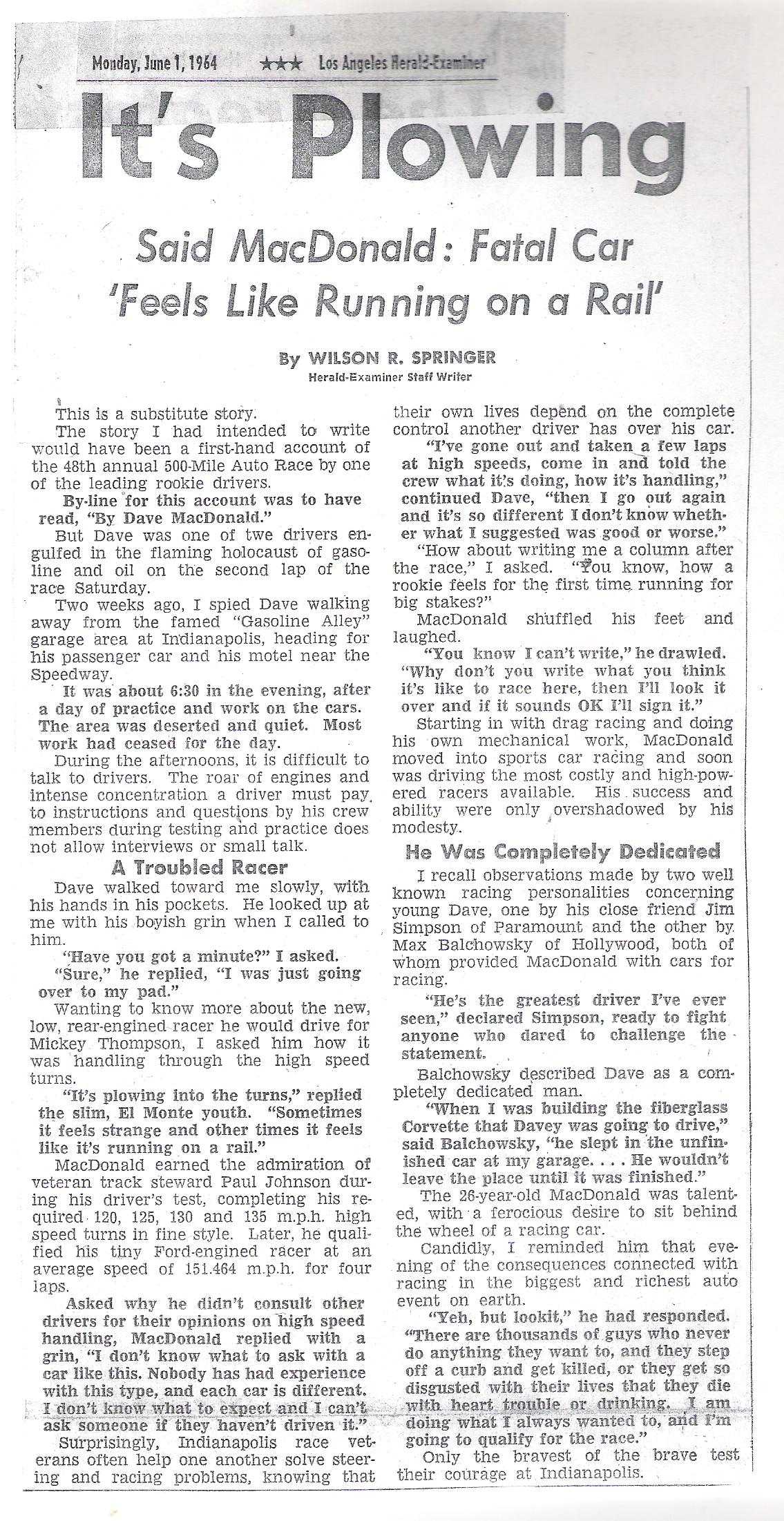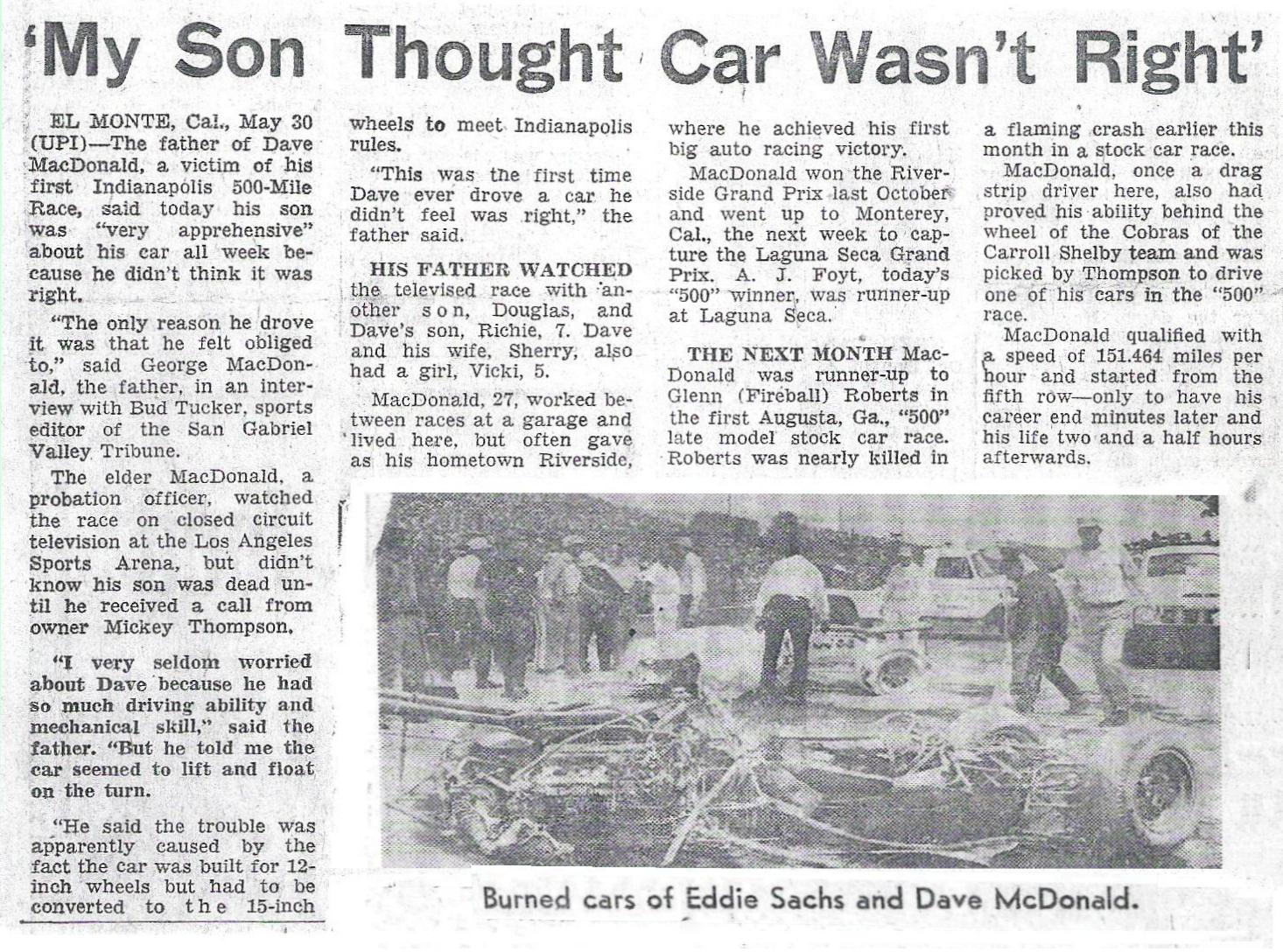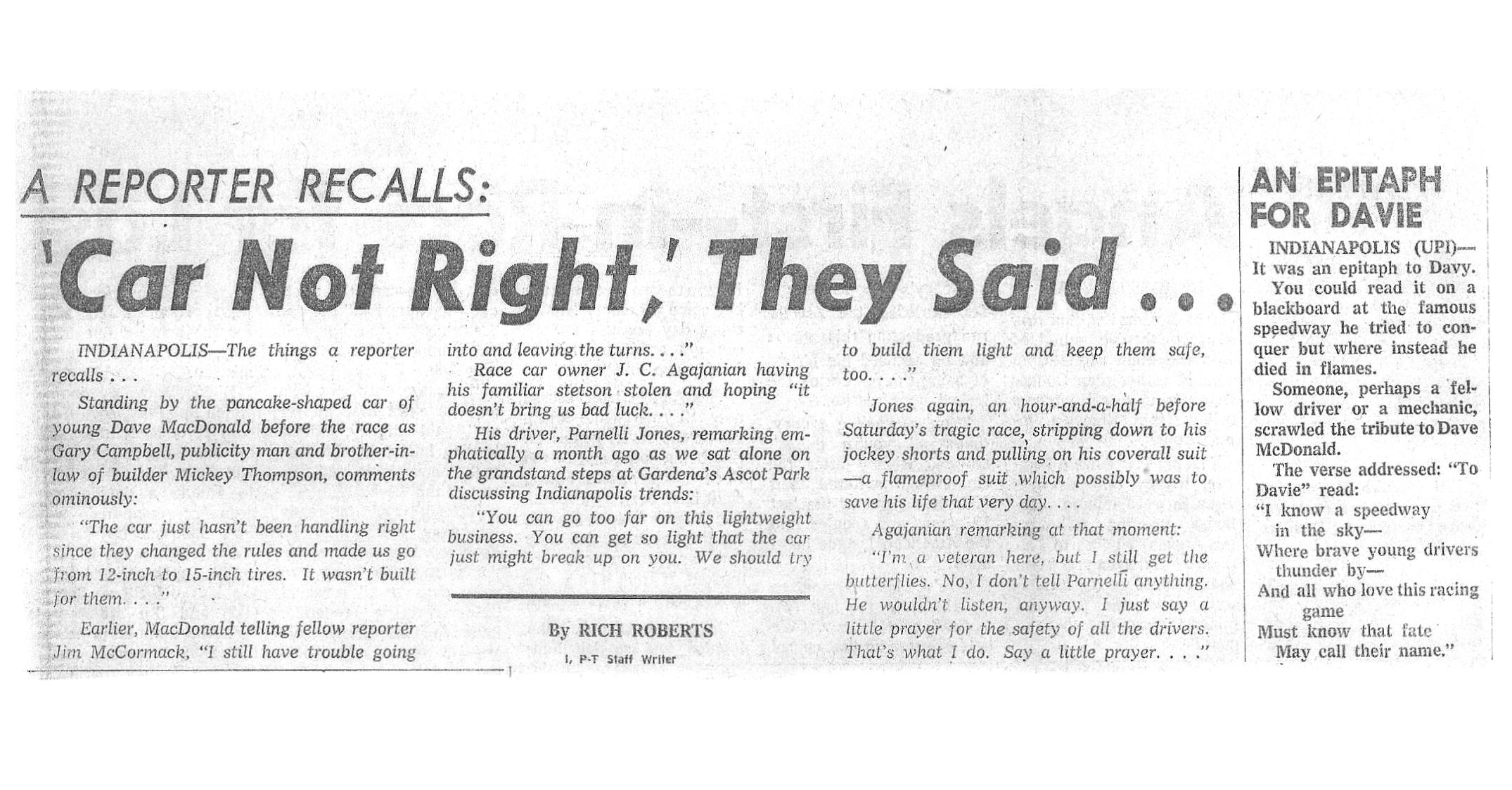 JC Agajanian was kind enough to offer Mickey and a distraught Sherry MacDonald a ride back to California on his chartered plane.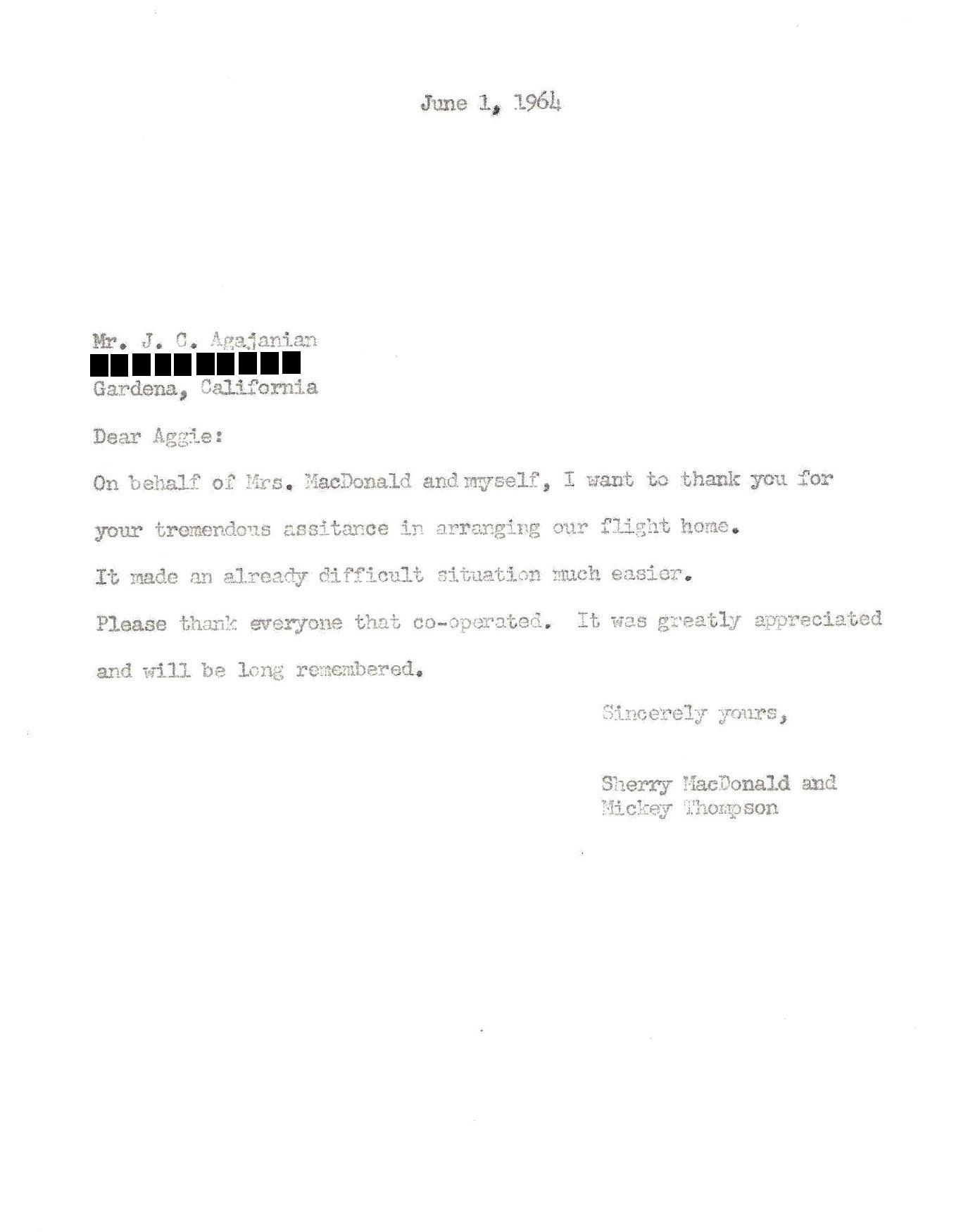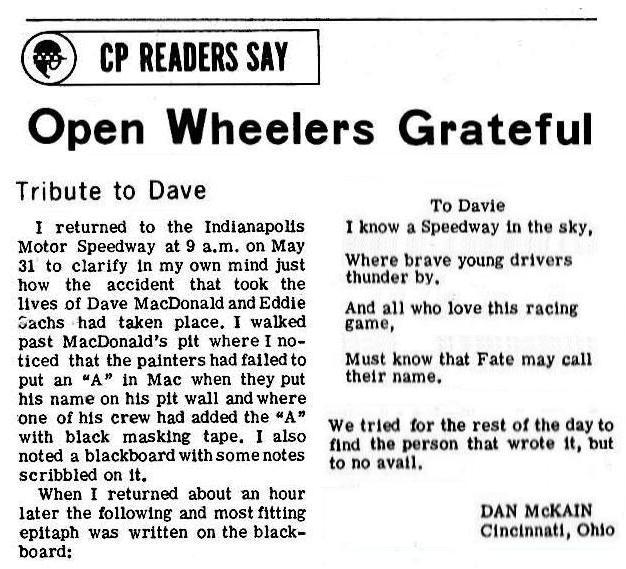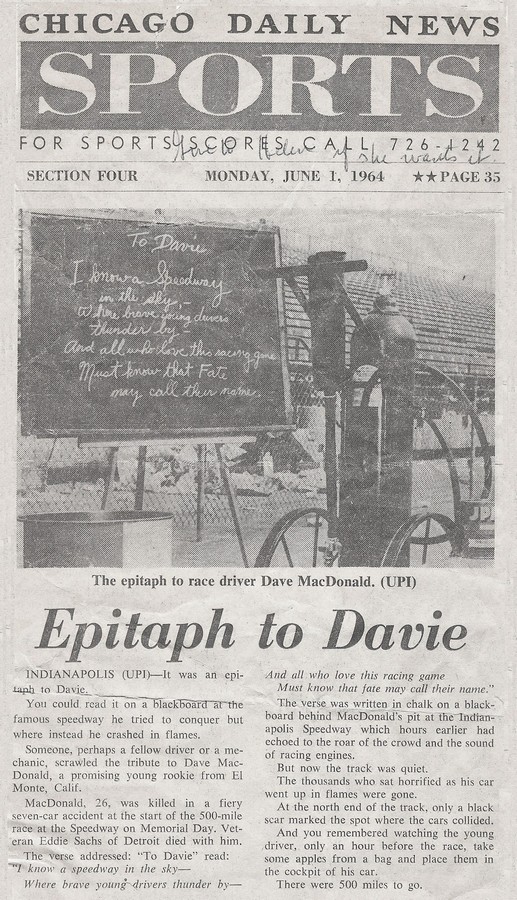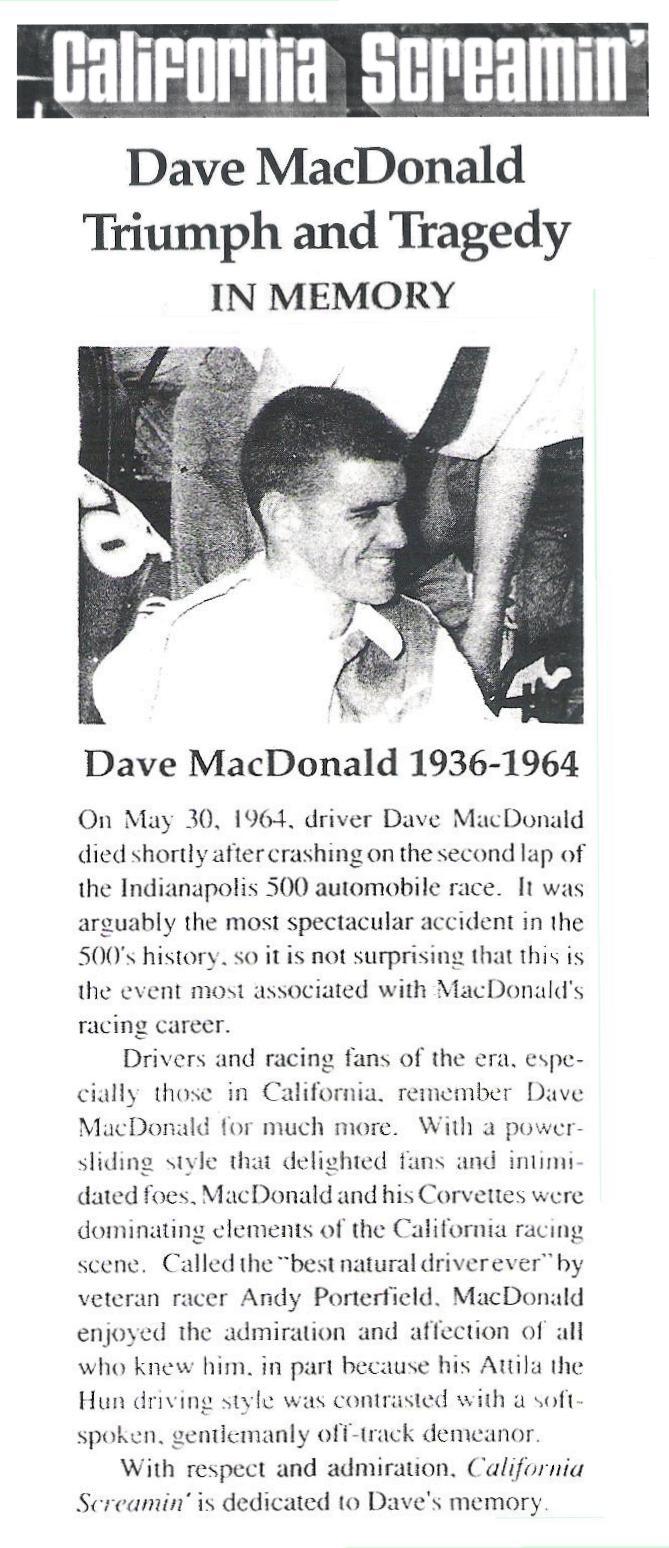 Los Angeles Herald Examiner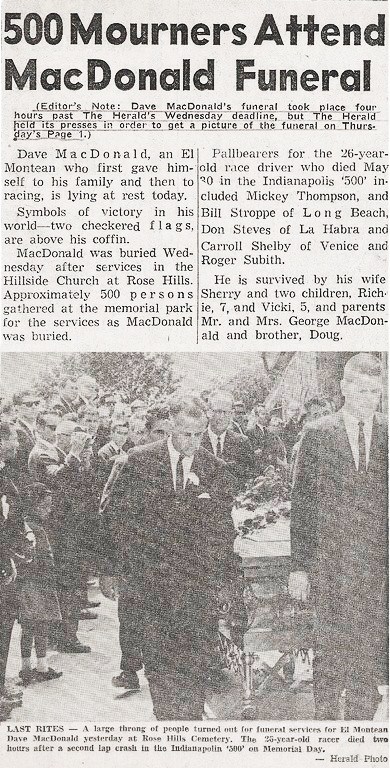 Los Angeles Times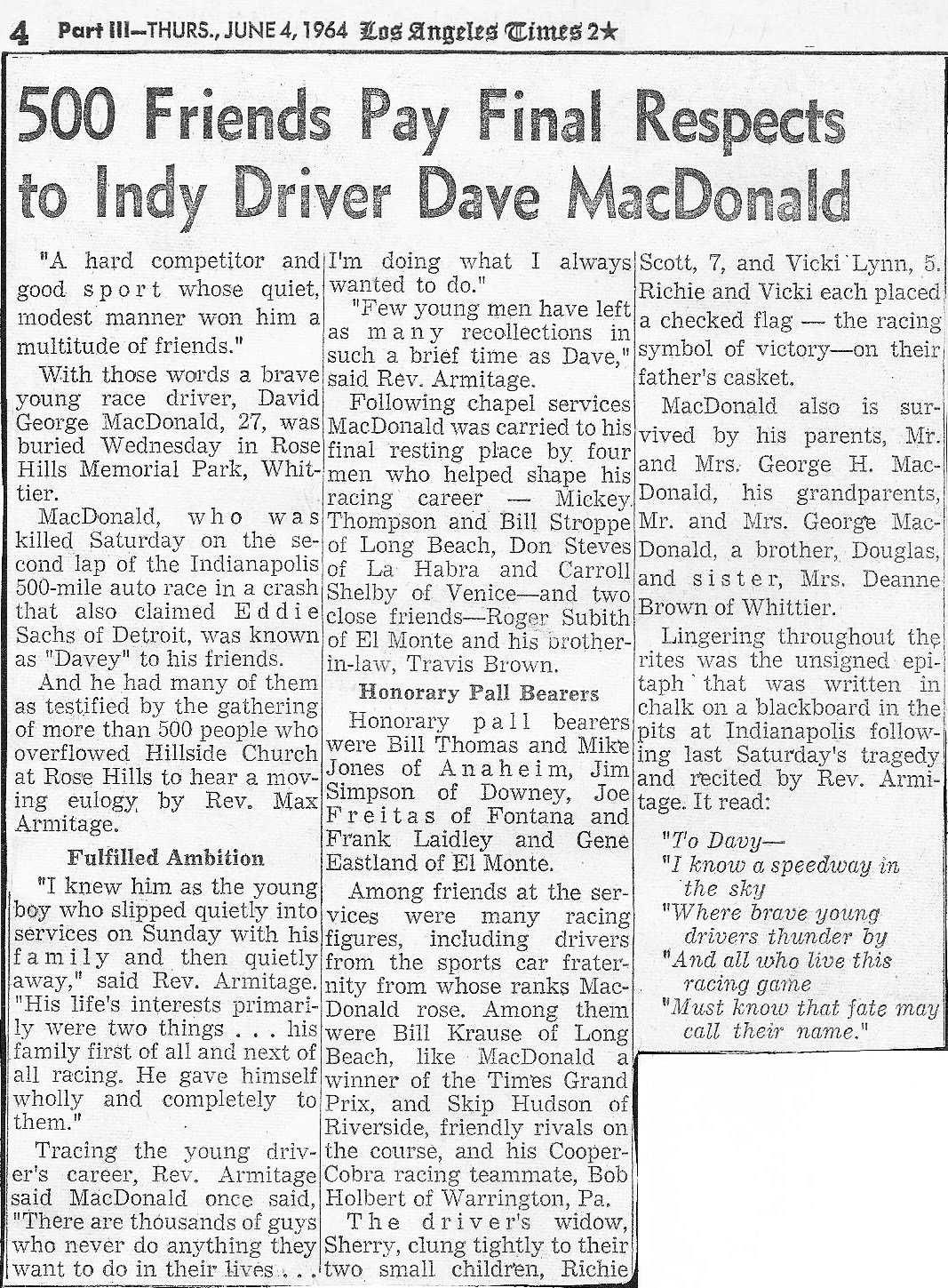 Sherry MacDonald at Dave's funeral in California