October 13-14, 1962 - Dave MacDonald races the new 1963 split-window Corvette Stingray at the Riverside 3hr Enduro. This race marked
the historic, and highly anticipated, first-ever meeting between Chevrolet's new Corvette Stingray & Carroll Shelby's new Ford Cobra Roadster.
Chevrolet vs Ford, Corvette vs Cobra, Duntov vs Shelby ... it was the highlight of the 62 season. The #00 Sting Ray Dave would drive is the
first-ever 1963 Z06 Sting Ray ever made - VIN #30837S100684.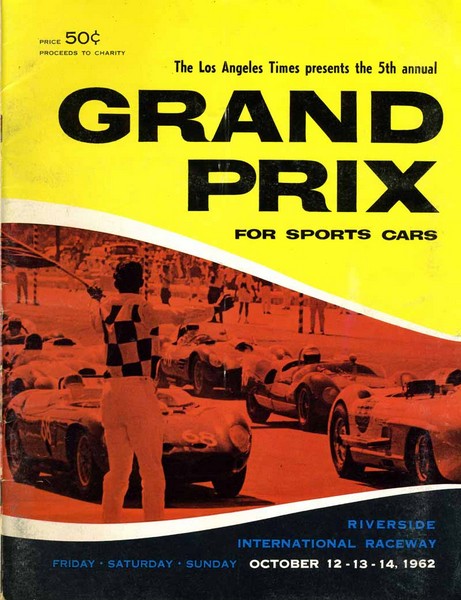 Chevrolet offered the first four Z06 Stingray's to prominent US Corvette racers and their sponsors. Chevrolet brass flew Dave MacDonald (and
wife Sherry), Bob Bondurant and Jerry Grant to their St. Louis factory to personally pick up their cars. MacDonald was given the first 1963 Z06
ever made - serial #684. The group then set out on a road trip back to the west coast and Sherry says heads were turning the entire way. Mickey
Thompson (Hooper's race sponsor) was given the fourth Stingray and had it flown back to LA via Flying Tiger Cargo service two weeks earlier.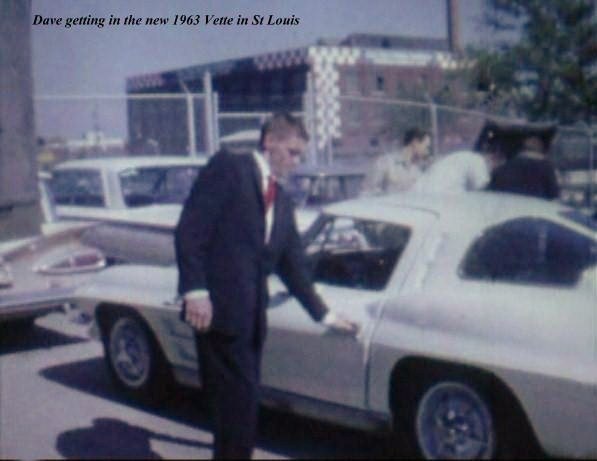 Dave MacDonald and Dr Dick Thompson were hand picked by Zora Duntov to shakedown the new Stingrays.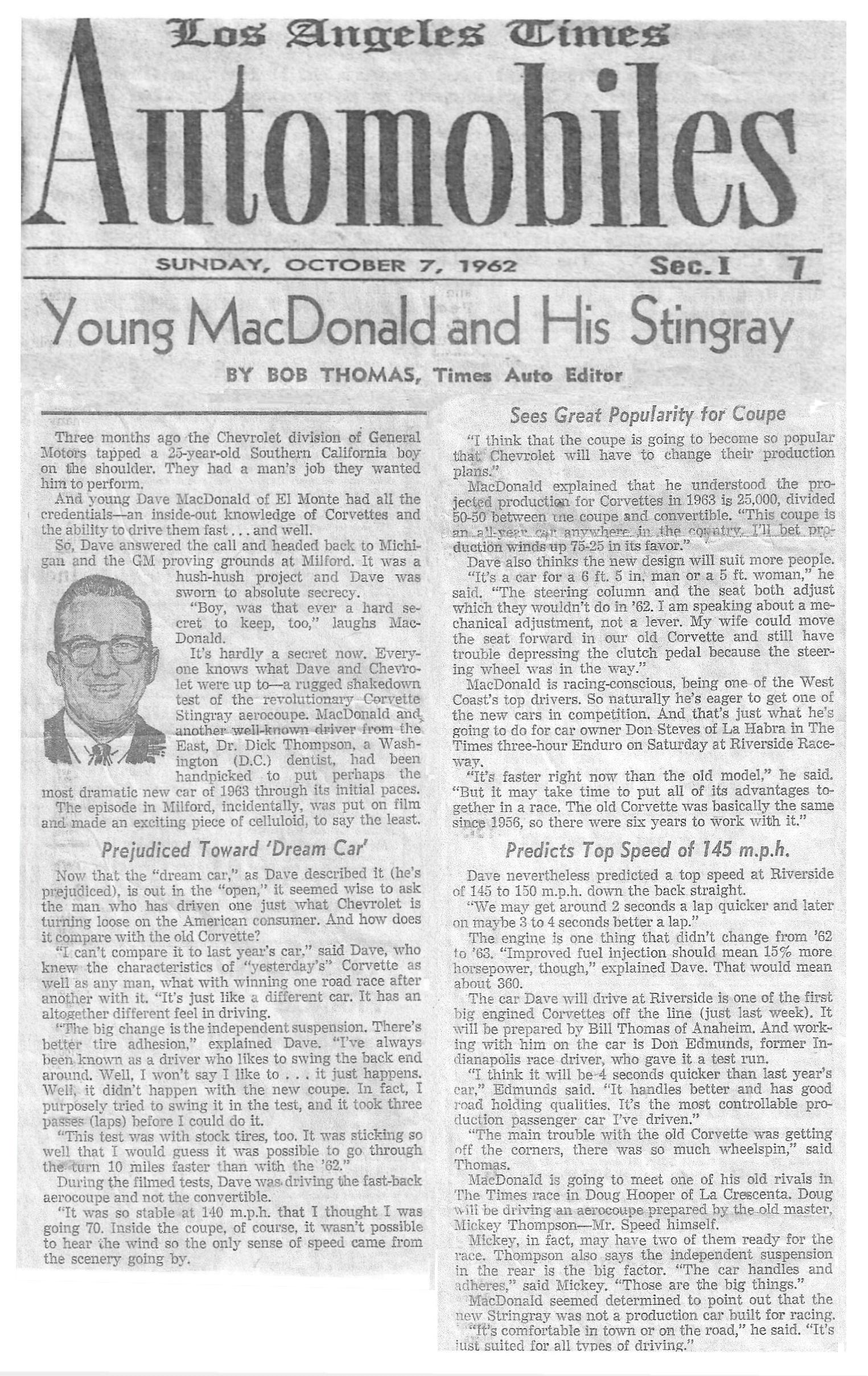 After Dave picked up his Z06 Ray he had just 2 short weeks to race prep and paint it for the Riverside 3hr Enduro on Oct 12th.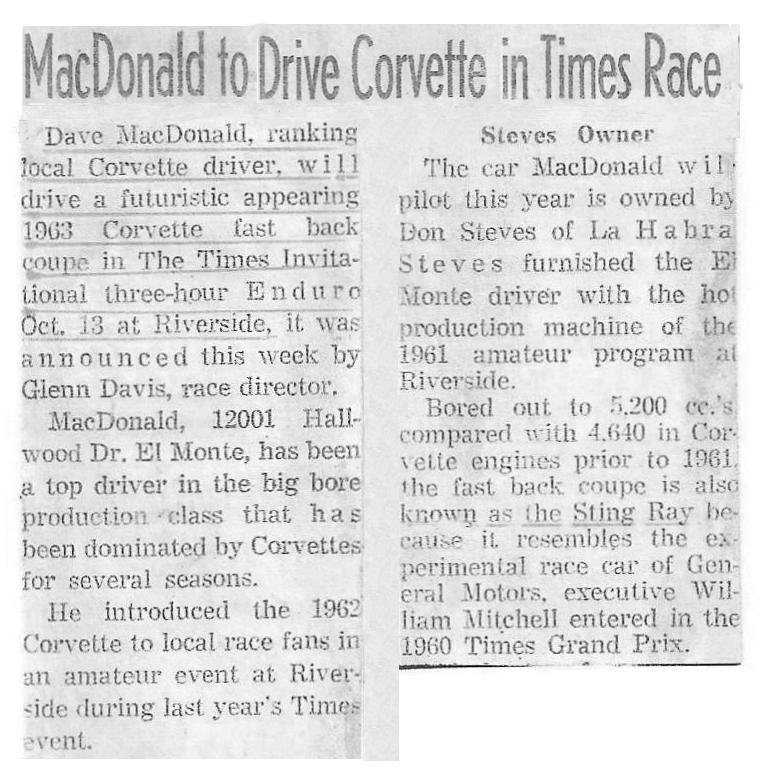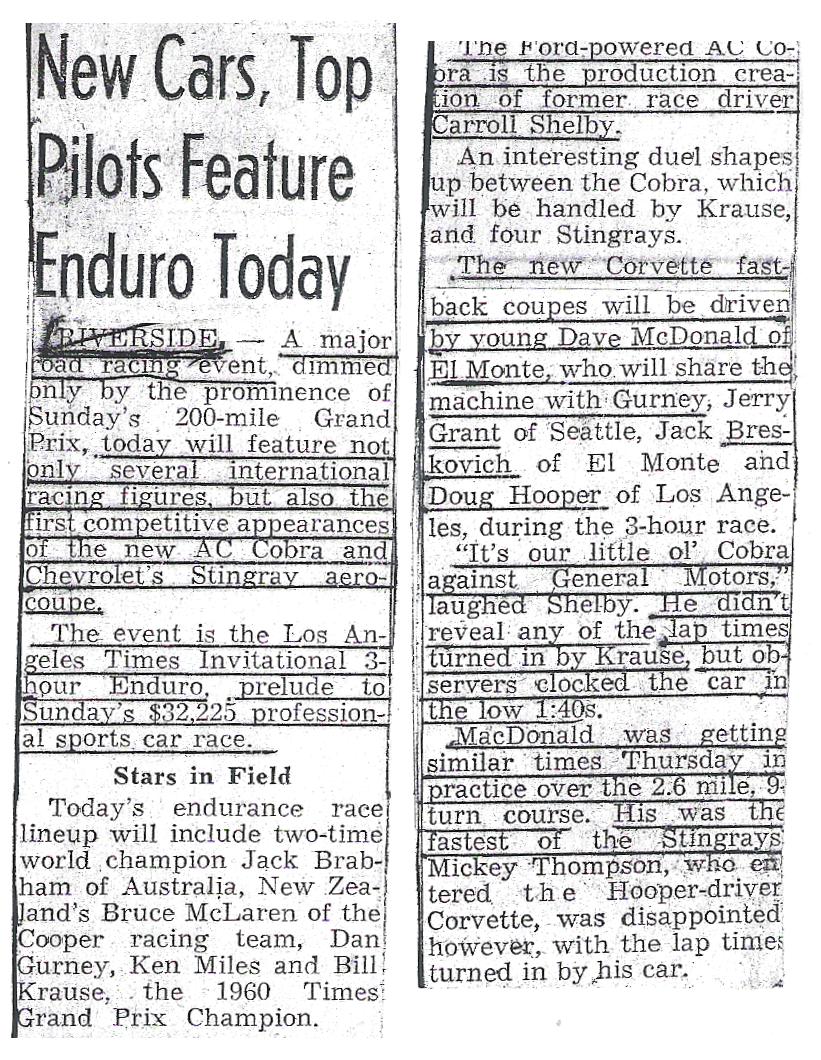 This SCCA sanctioned event was run on Riverside Raceway's shortened 2.5 mile track layout where drivers went thru an abbreviated turn 7 and
over to turn 8 and the back straight.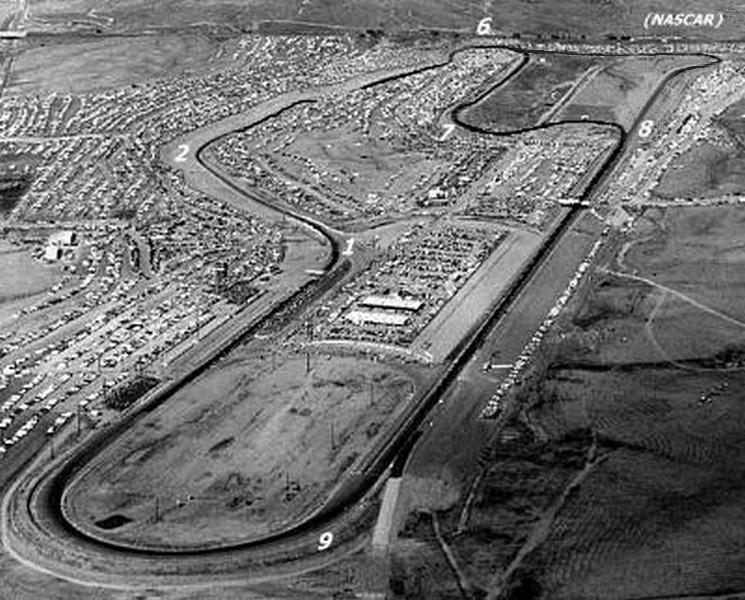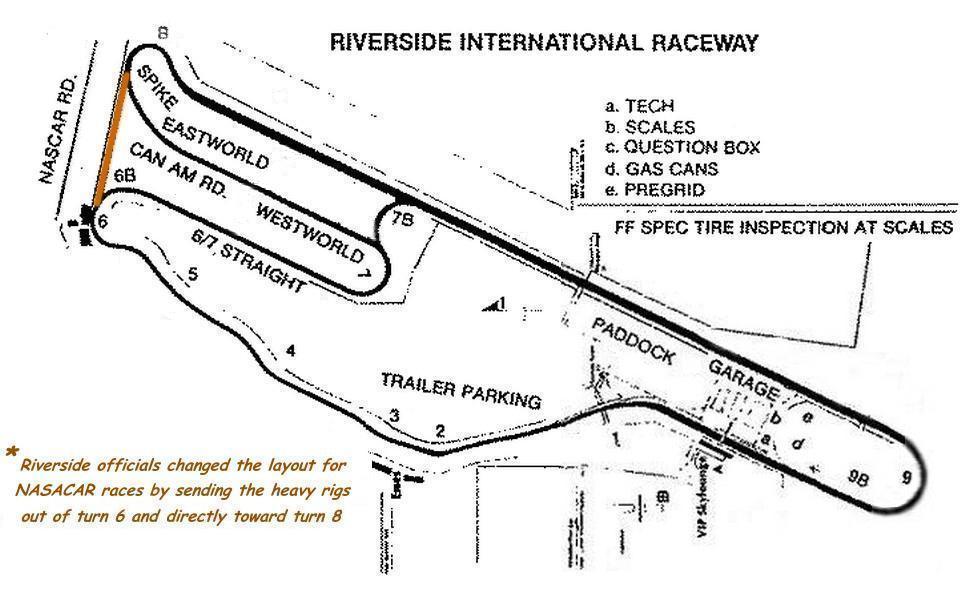 Dave MacDonald, Bob Bondurant & Jerry Grant had less than two weeks to race prep the Rays for battle against Carroll Shelby's Ford Cobra in
the 3hr Enduro. Below is interior photo of MacDonald's new 1963 Stingray (#684) at Bill Thomas' speed shop in September '62. Dave painted
the Ray in his familiar blue & white #00 race trim and he and Bill worked together prepping the powerplant. Photo The Bill Thomas Family.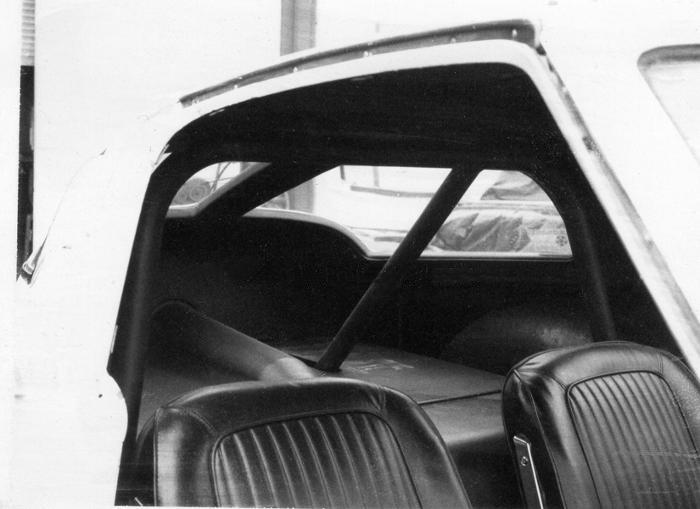 Race weekend arrives and Dave moves Stingray #684 out to the track for some Friday practice time. Jack Brabham's Sunbeam Alpine (#4) in
the background. Photo Dave Friedman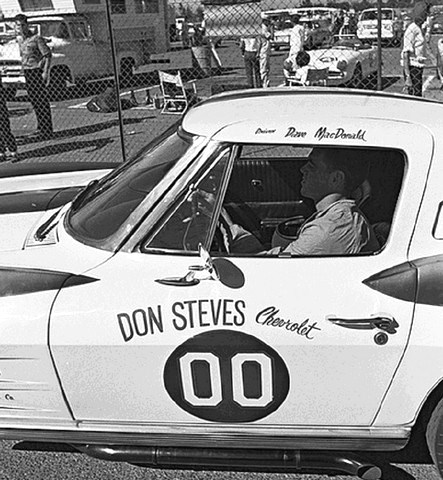 Carroll Shelby (seated wearing sunglasses) keeps a watchful eye as Phil Remington jockeys the new Ford sports car to the track for driver
Bill Krause to run practice laps. Krause, 1960 LA Times Grand Prix winner, was selected by Shelby to drive the Cobra's debut race.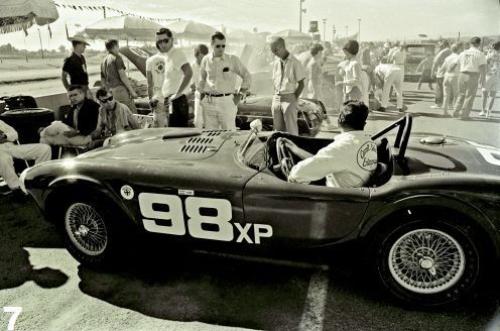 America's two most iconic sports cars during a Friday morning practice session - Billy Krause in the Ford Cobra and Dave MacDonald in the
Chevrolet Stingray. Carroll Shelby is behind the Cobra. Photo Dave Friedman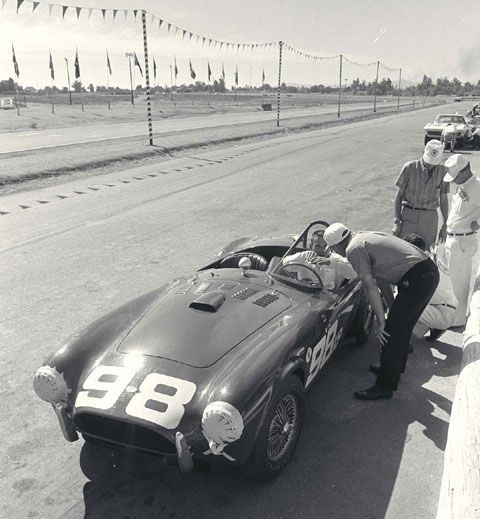 Chevrolet and Ford camps in an impromptu meeting during Friday practice. Bill Krause seated in Ford Cobra CSX2002 talks with Stingray
owner Mickey Thompson while Dave MacDonald (head down) talks with Carroll Shelby (white hat). Behind Dave are Zora and Elfi Duntov.
To the left of the Cobra is master fabricator Phil Remington. Automotive superstars in this fabulous Dave Friedman photo. Interesting to note
that in a mere three months time MacDonald would be driving for Shelby and Krause for Thompson. Makes this a really interesting photo.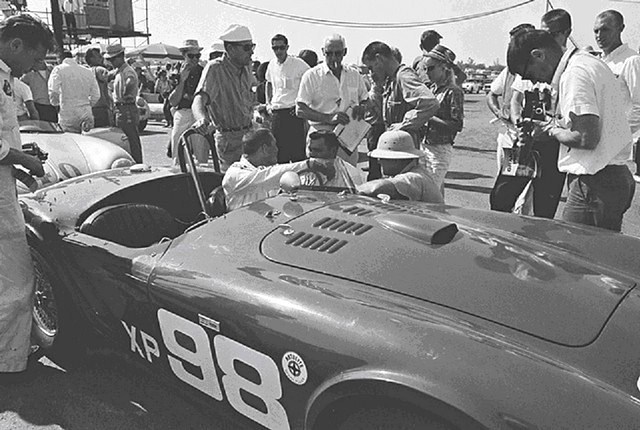 True automotive legends in this photo! Carroll Shelby gives Zora Arkus-Duntov a glimpse of what Zora's new Stingray's are up against.. Photo
courtesy Pat Brollier, Sports car Graphic and Vette magazine.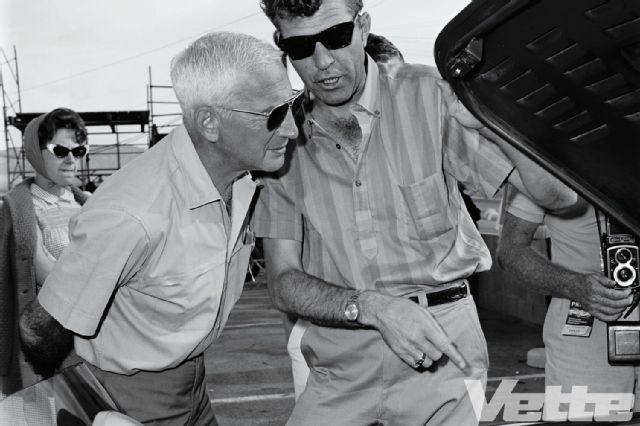 Carroll tells Zora to climb inside!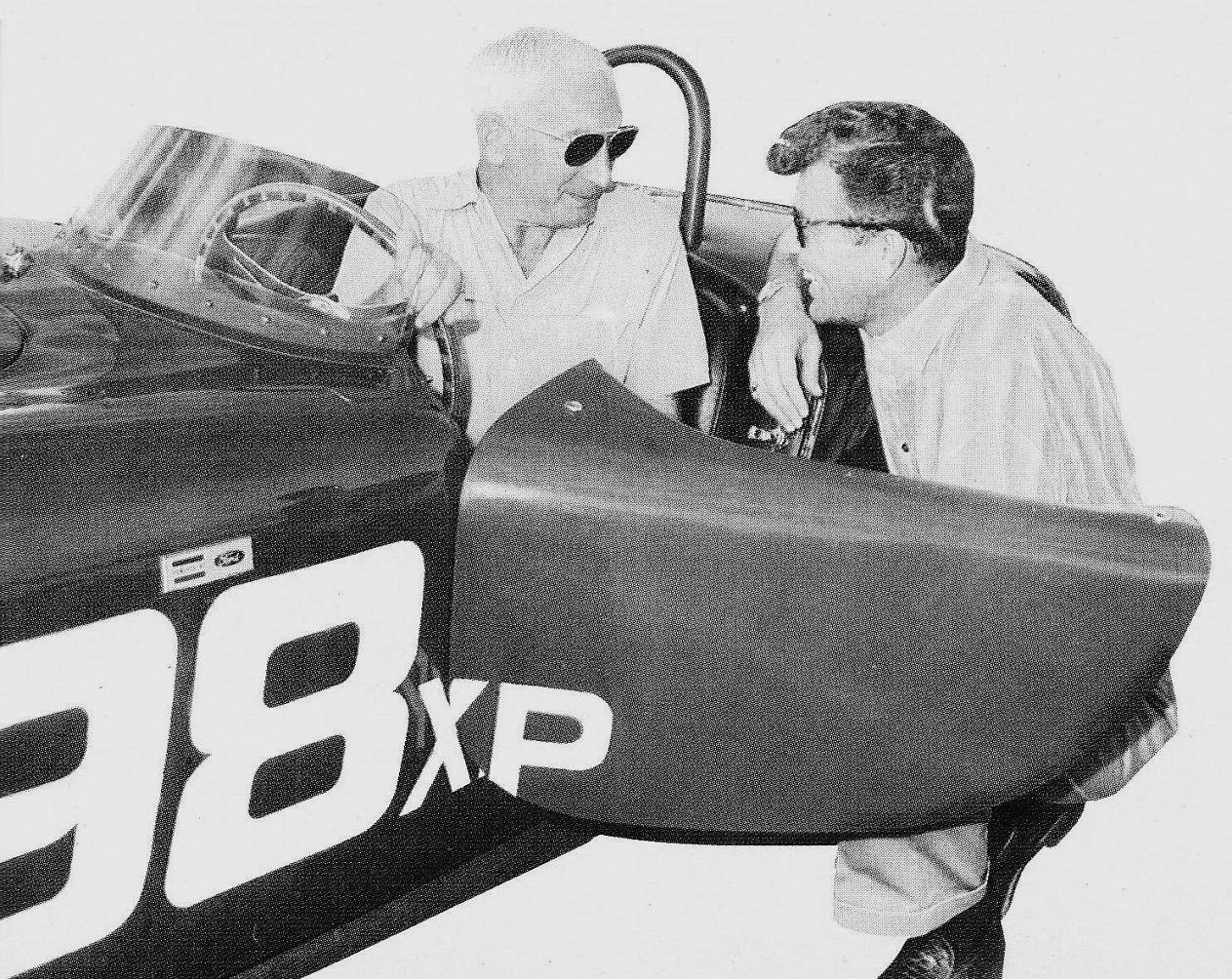 Cobra driver Billy Krause, also scheduled to run an Elva in Sunday's LA Times Grand Prix, out running practice laps and getting some helpful
advise from chief competitor in the 3hr Enduro, Dave MacDonald. Dave was always willing to help a friend. (Bill did not qualify for the GP)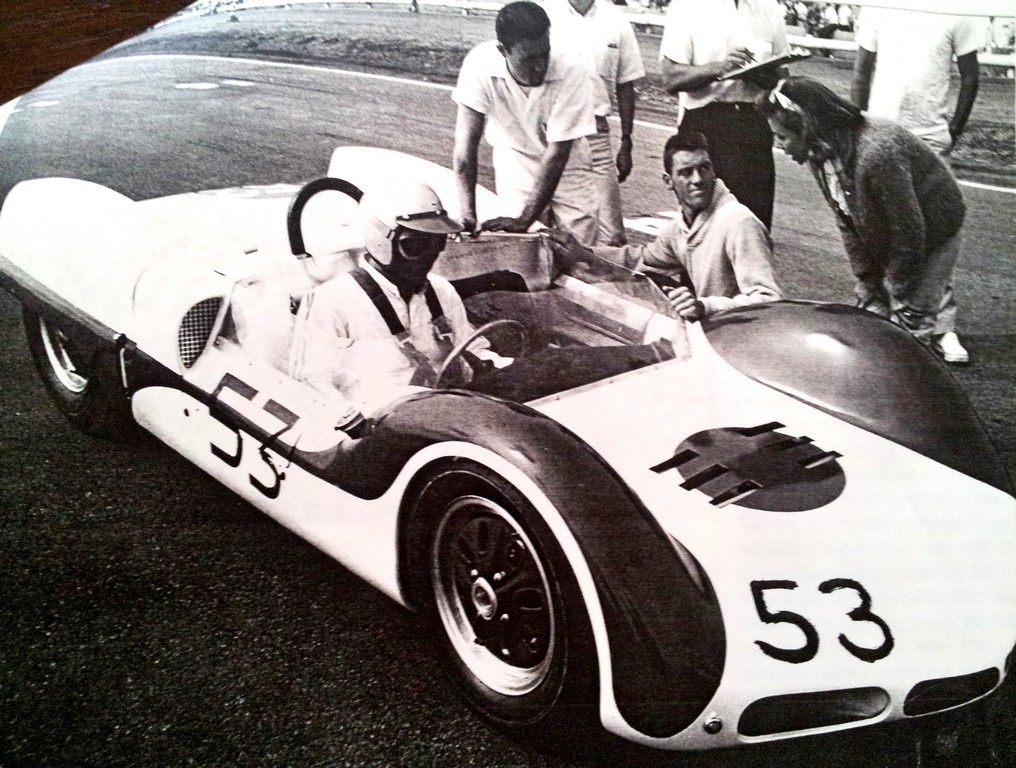 Race Day for the Saturday afternoon 3hr Enduro. Huge throng of spectators invade Riverside for weekend racing festivities - 39,000 for
Saturday's 3hr Enduro and 73,200 for Sunday's LA Times Grand Prix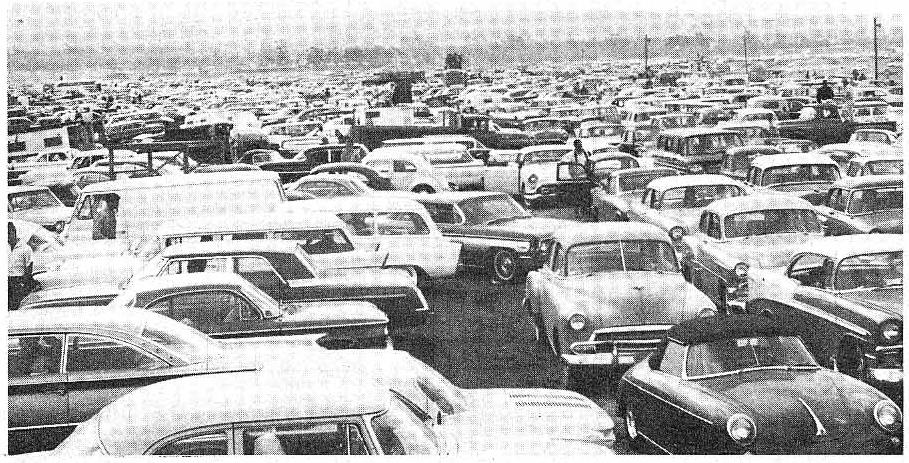 Crowd beginning to fill the stands as several cars are out running their final practice laps 90 minutes before the race. Dave MacDonald in his
red white & blue pinstripped #00 Sting Ray heading into turn 6. (uncredited but appears to be a GM promo photo)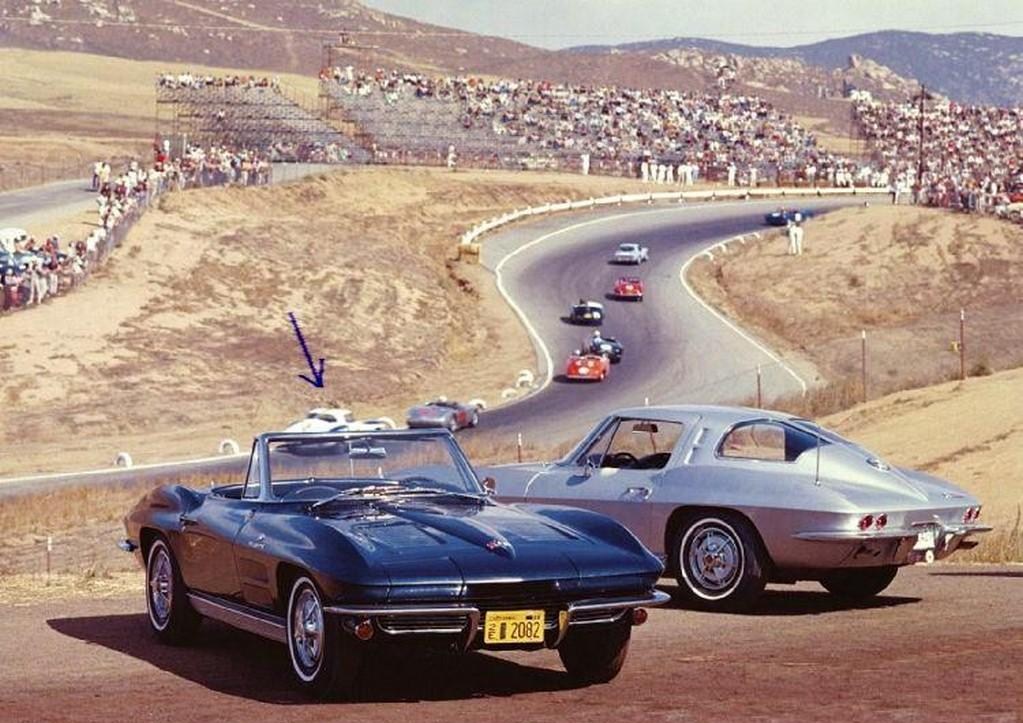 Dave MacDonald in #684 going through turn 7 with Dennis Harrison in a Porsche 356 as practice winds down. Harrison did not make Saturday's
race. Photo Gordon Martin courtesy MototBinder by Roy Spencer.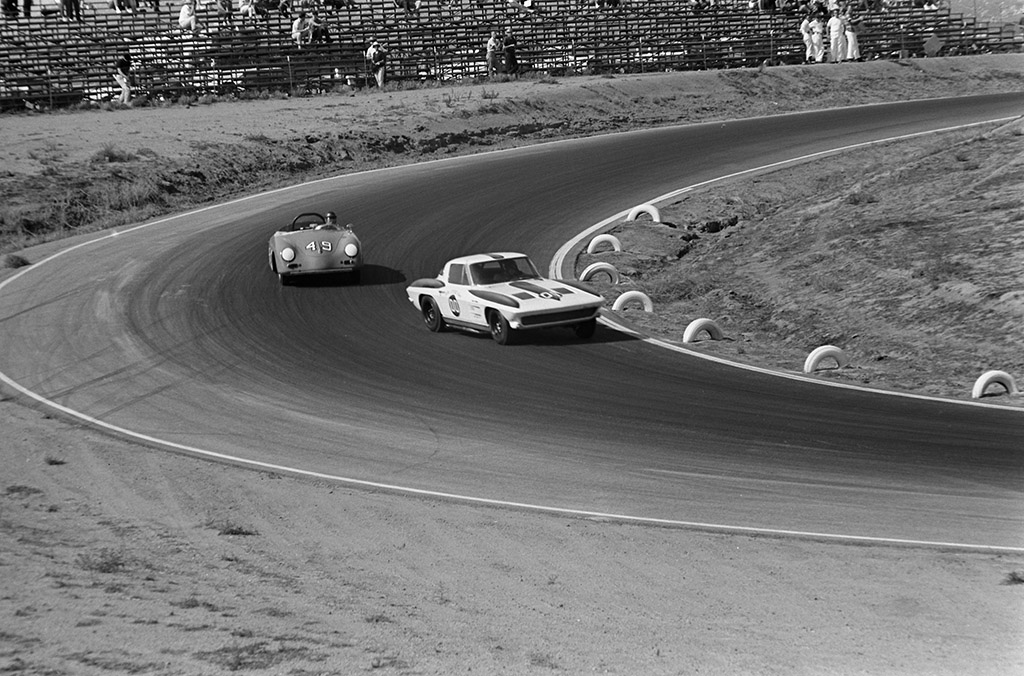 Zora Duntov and Mickey Thompson shortly before the (historic) Stingray vs Cobra showdown. Photo Dave Friedman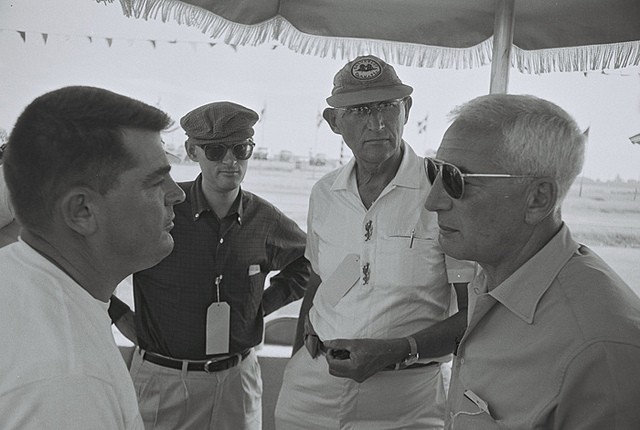 At a time when Hollywood was in love with fast cars actor Dick Van Dyke was there to root on local favorites. Photo Dave Friedman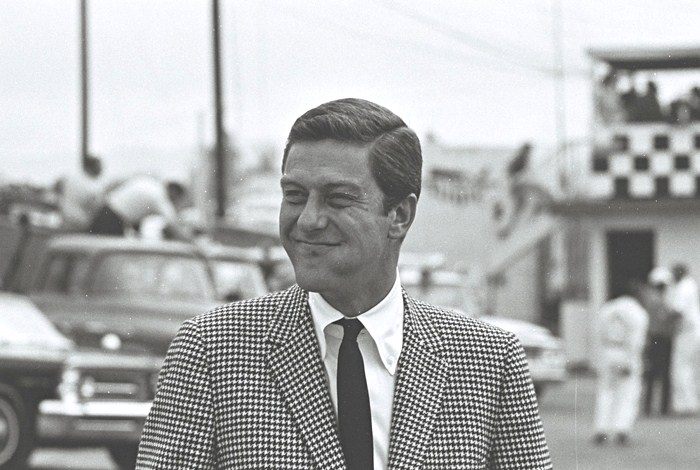 Beautiful Darlene Lucht, Miss Corvette 1962 socializing with Bill Thomas (R) before the big race. Photo Dave Friedman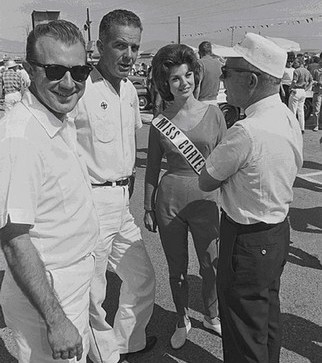 Magnificent machines in the pits 1 hour before the race. Dave MacDonald's good friend Joe Freitas stands in front of Dave's Stingray (thumbs in
pockets) and that may be Ken Miles to Joe's left. Behind the Ray is Zora Duntov scratching his ear. Photo Gordon Martin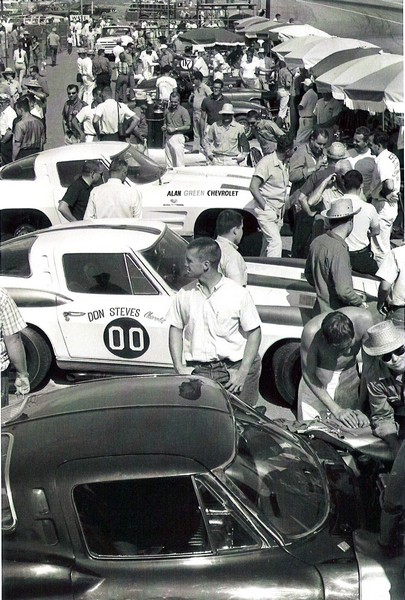 Riverside race beauties stand near Dave's futuristic Corvette Stingray before the cars move to the other side of pit wall. Photo Dave Friedman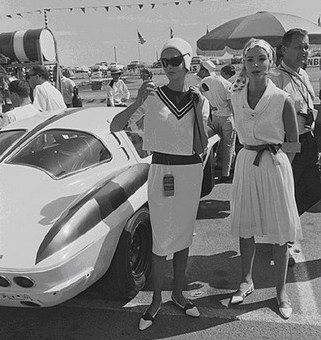 Stingrays of MacDonald & Hooper before moving them out to the grid. Talking with Dave is good friend, and Cheetah race car creator, Bill
Thomas. Bill race prepped the Stingray for this race. You have to zoom in to see but Dave's wife Sherry and 5 yr old son Rich are along pit wall
(Rich on this side) behind Hooper's Sting Ray. Notice the fat tires on Hooper's car, Mickey got his Stingray 2 weeks earlier than the others and
had additional time to race prep his Vette, including installing a nice set fat slicks. Photo Dave Friedman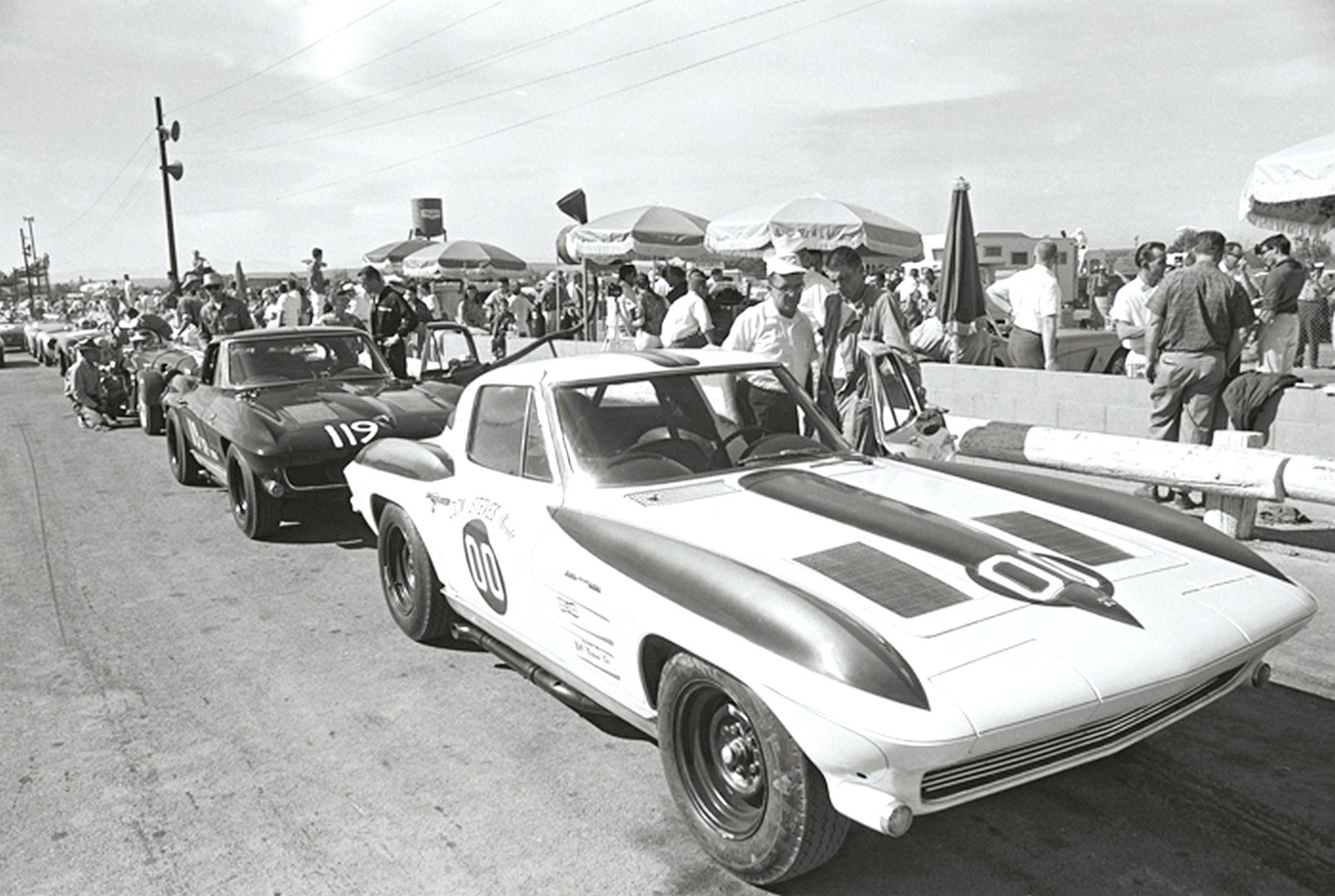 Dave MacDonald and Bill Thomas in a final conversation before Dave pulls his '63 Ray out to the LeMans style race grid. Photo Tom McIntyre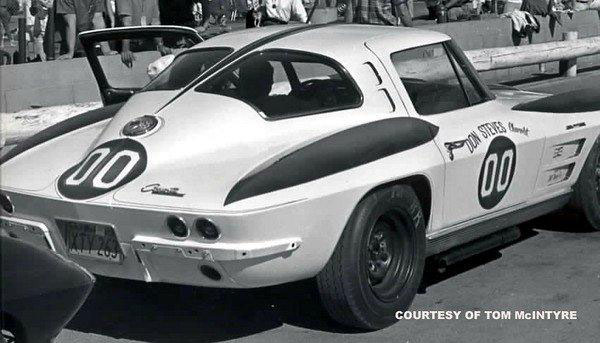 Carroll Shelby, Phil Remington (C) in strategy session with driver Bill Krause before firing up the 260ci monster. Photo Dave Friedman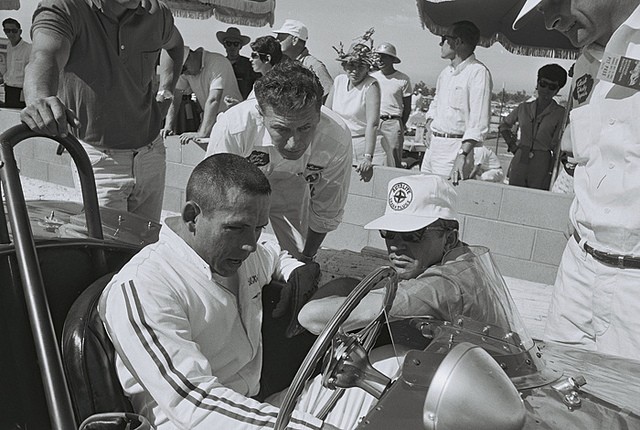 John Masterson's Mercedes (222), Chuck Lofgren's Jaguar (171) & Jerry Titus' Sunbeam Alpine (331) also ready. Photo Dave Friedman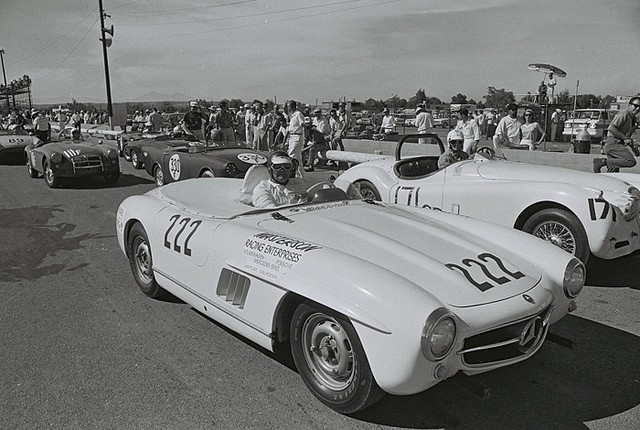 Ditto for Bruce McLaren in his Sunbeam Alpine (5) and Mike O'Neil's Lotus Elite Climax. Photo Dave Friedman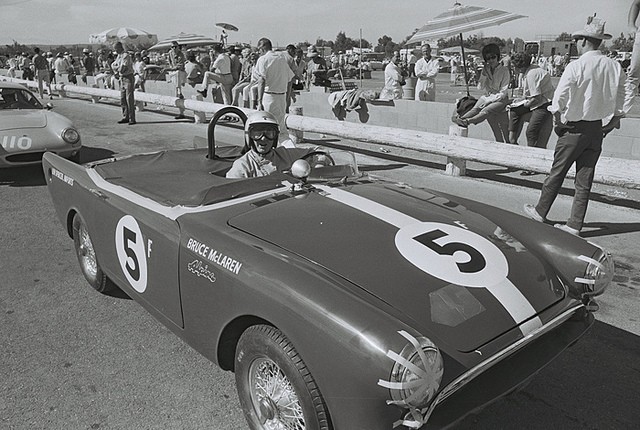 Jack Brabham sits in his Sunbeam Alpine awaiting the move out to the grid. The Sunbeam Alpine's were well represented in this 1962 race, led
by Ken Miles, Bruce McLaren, Jerry Titus, Ray Pickering, and Blackjack Jack Brabham. Photo Dave Friedman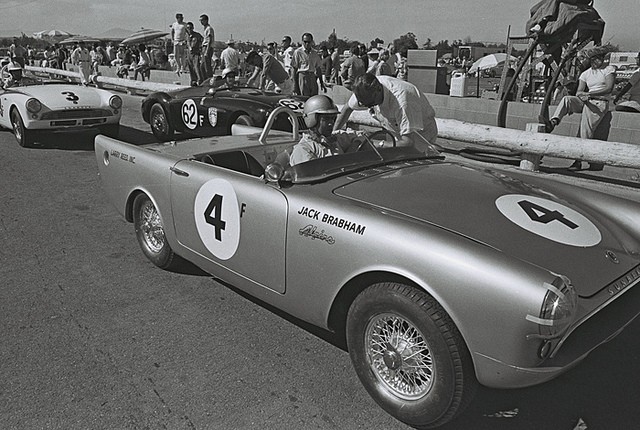 Ron Bucknum's MG and Emilo Valsecchi's Triumph TR4 will be towards the rear of the grid when they line up. Photo Dave Friedman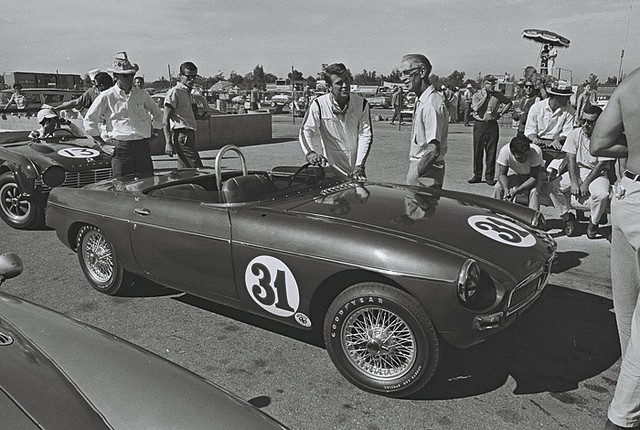 Drivers begin to pull their cars out to the starting grid for the LeMans style start. Unfortunately Bruce McLaren's Sunbeam stalls underneath
the bridge. Photo Dave Friedman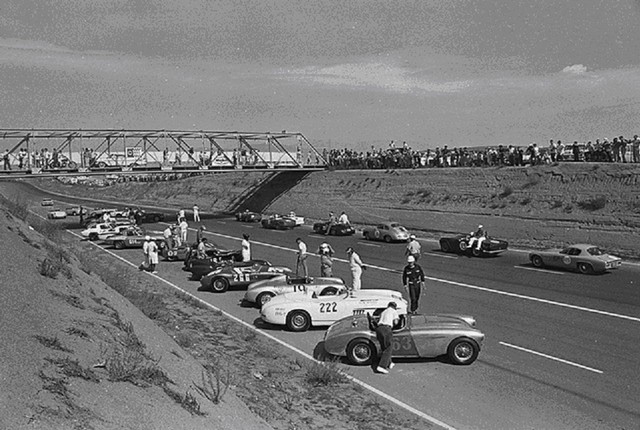 Bruce McLaren is forced to begin pushing his Sunbeam Alpine toward the grid. Photo Dave Friedman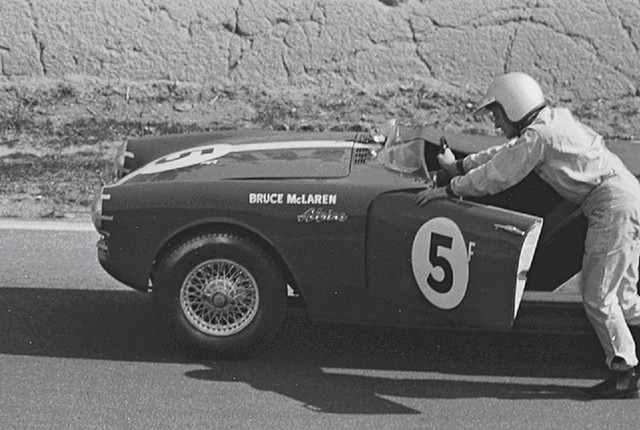 McLaren's Sunbeam fires up and he's the last to the grid. Stingray's of Bondurant, MacDonald & Grant sit side by side. Barely visable is the
headlight of Bill Krause's deep red Shelby Cobra roadster as he backs into position next to Grant. Photo Dave Friedman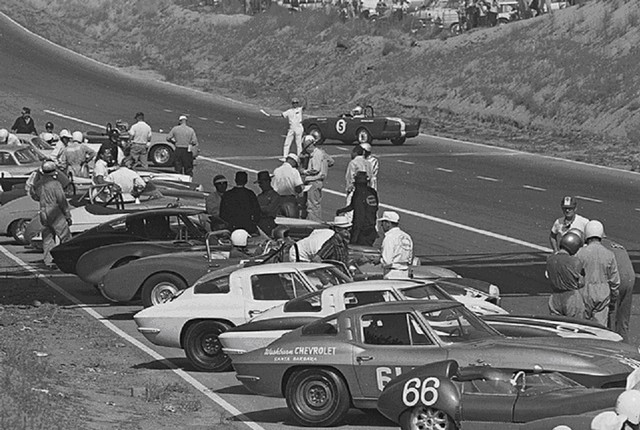 Drivers mill about as field is just about in place. Photo The Henry Ford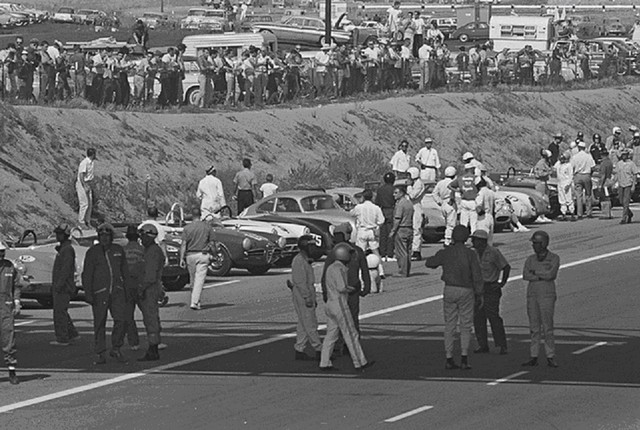 Stingrays of Bondurant, MacDonald & Grant, Krause's Cobra, Bob Kirby's Porsche & Dick Guldstrand's Vette (56). Photo Dave Friedman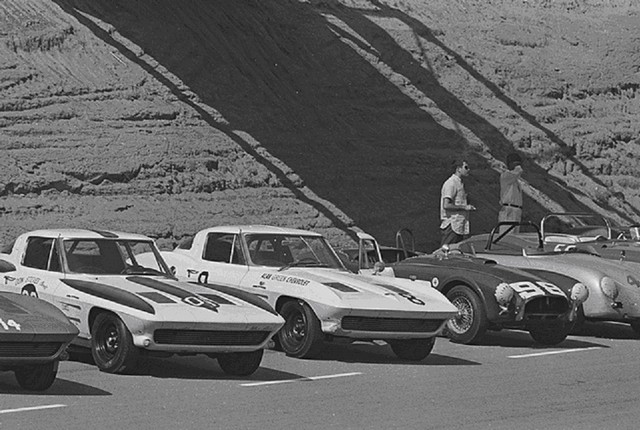 Drivers huddle after the 42 cars are placed in their final grid positions. Beautiful and historic color photo courtesy of Dave Friedman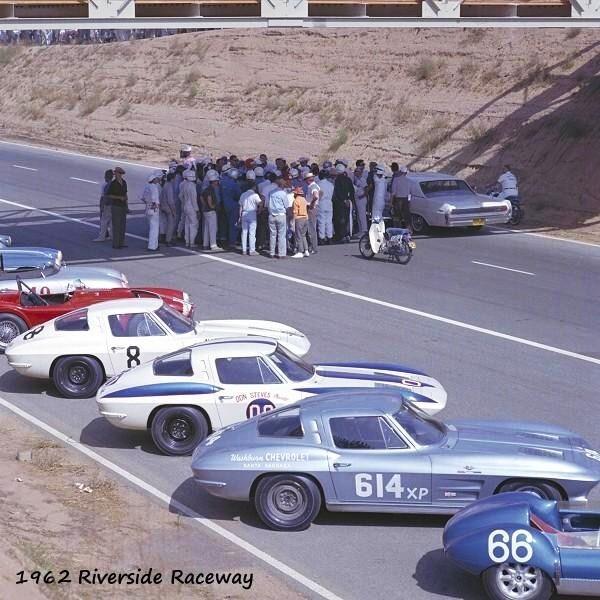 Race officials line drivers up in proper order. Dave MacDonald & Bob Bondurant are at bottom pf photo. Photo The Henry Ford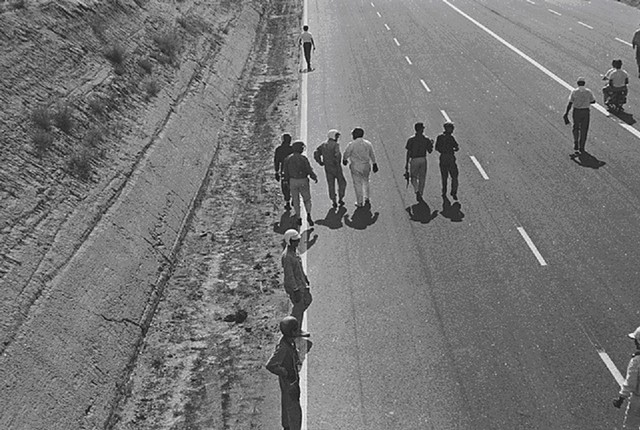 Drivers watching officials as they place the final drivers on the LeMans style grid. Photo Dave Friedman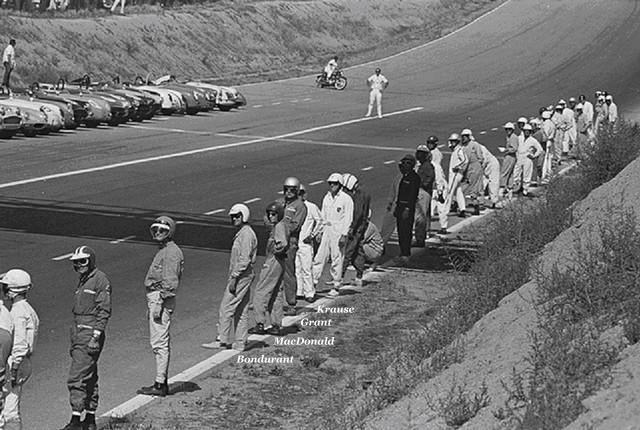 Drivers sprint to their cars at the sound of the gun!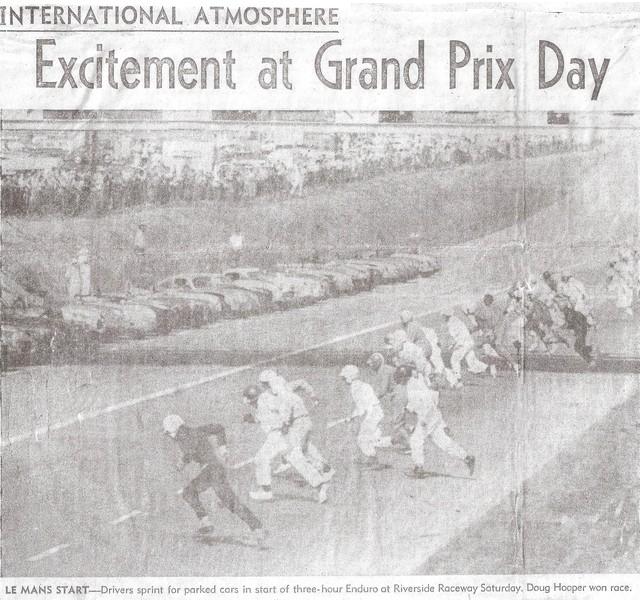 The following sequential pictures capture the exciting LeMans start of this 3hr Enduro. Dave Friedman photos from The Henry Ford archives.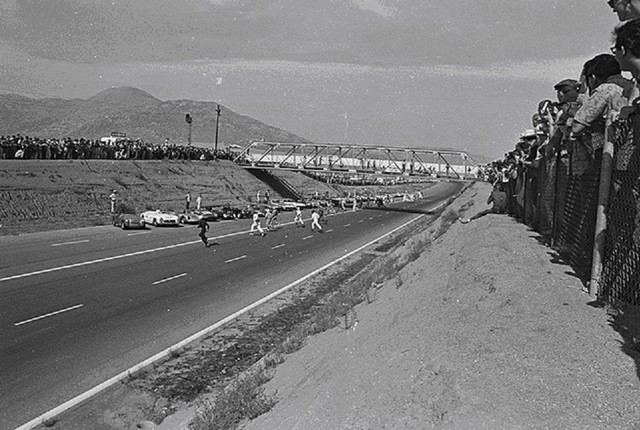 Photo Dave Friedman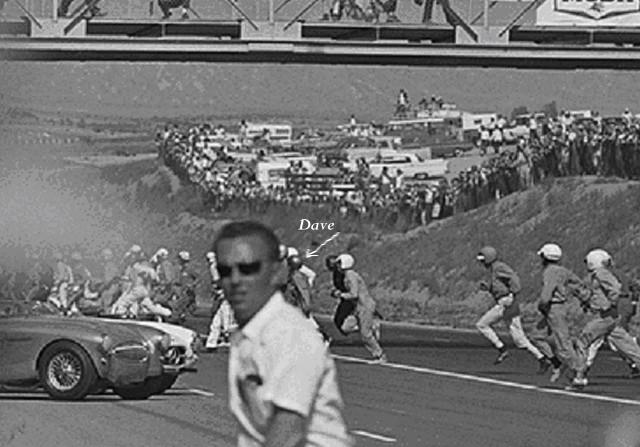 Photo The Henry Ford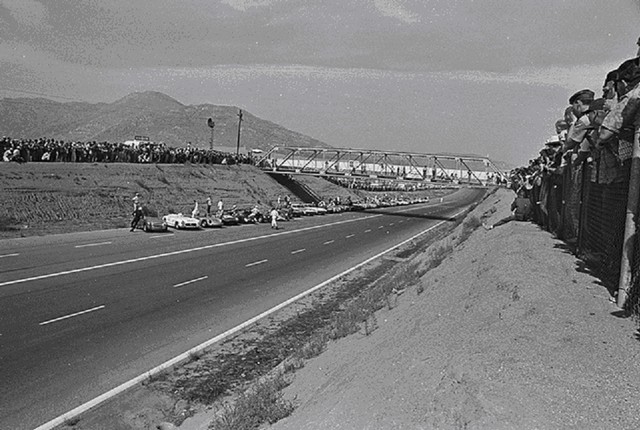 MacDonald was athletic and a fast runner, if you look closely you can see he has his Stingray moving off the line first. The #7 Genie driven by
Art Snyder looks even with MacDonald but he, like many in Le Mans style starts, stalled and didn't immediately get off the line. (Dave Friedman)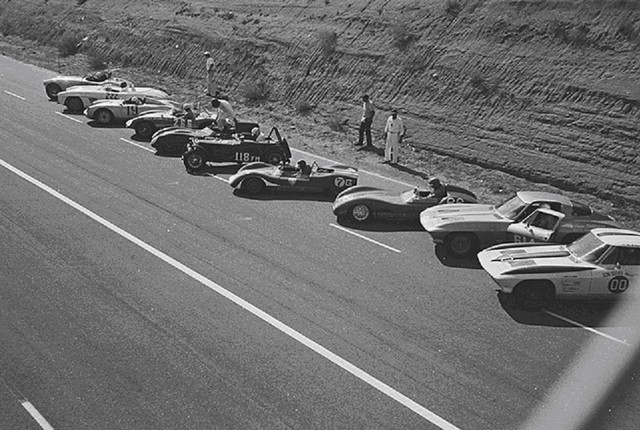 Dave MacDonald exciting the backstretch gallery as he puts Z06 Stingray #684 on the track first. Photo The Henry Ford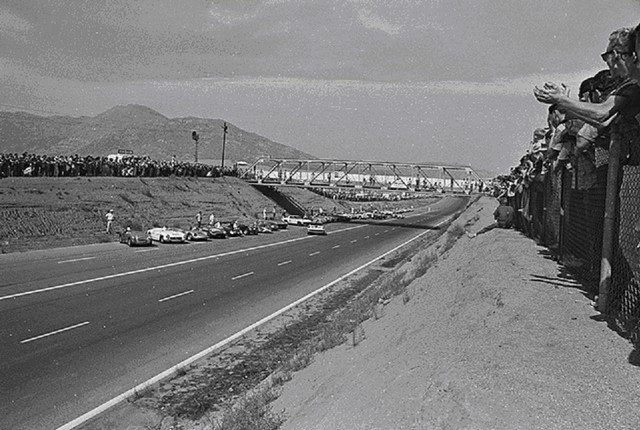 Photo The Henry Ford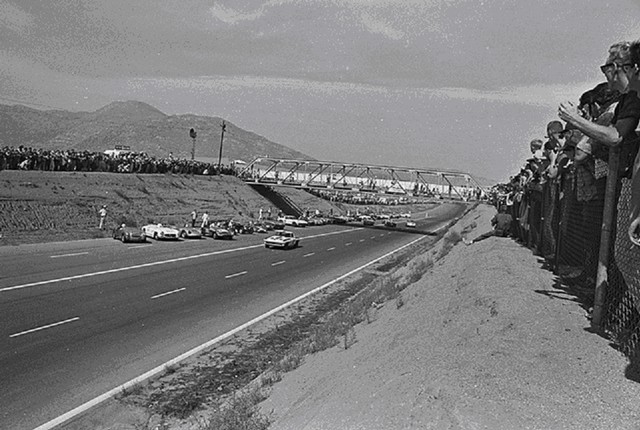 Dave MacDonald started as a drag racer in So Cal and here he uses his lightening fast shifting skills to his advantage. Photo The Henry Ford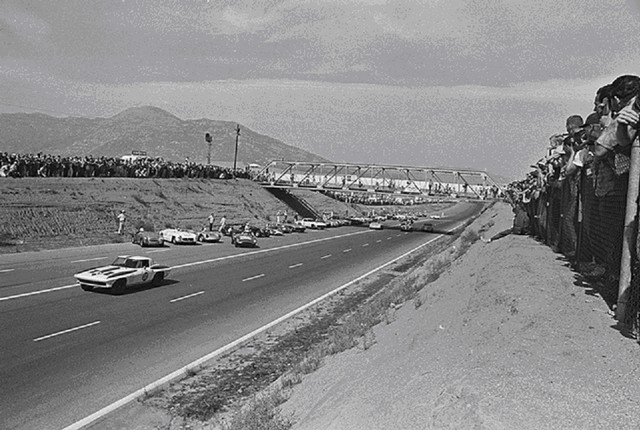 Photo The Henry Ford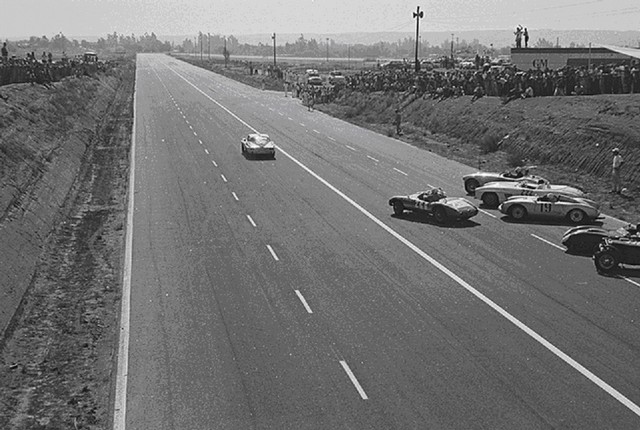 Dave MacDonald has set numerous standing start speed records on this very same Riverside back straight so he quickly moves through the gears
on familiar turf. Photo The Henry Ford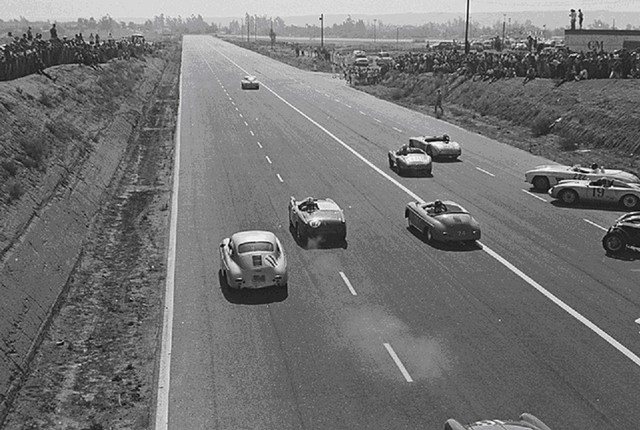 Dave MacDonald out to a great start and pulling away while Grant & Bondurant get their Stingrays onto the track. Photo Dave Friedman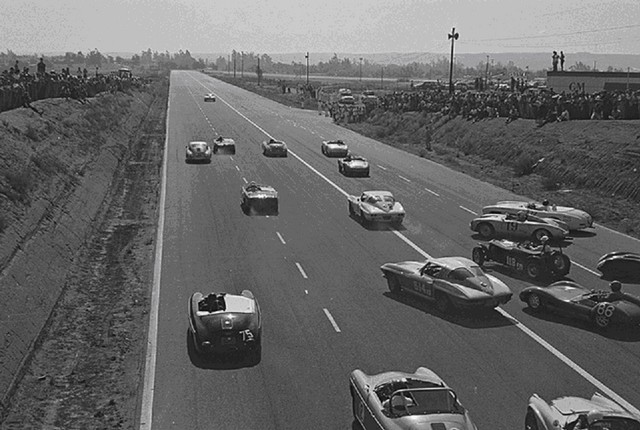 Here you can see Billy Krause and the Cobra getting off to a middle of the pack start in this 42 car field. Photo Dave Friedman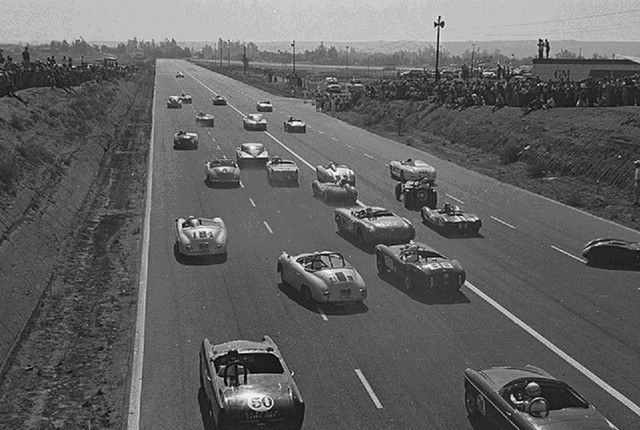 Front running Dave MacDonald flat out flying as he rumbles into turn 6 on lap 1. Dave is taking advantage of a clear track and extending his
lead over Krause's Cobra and the other Corvettes in the early going. Photo Dave Friedman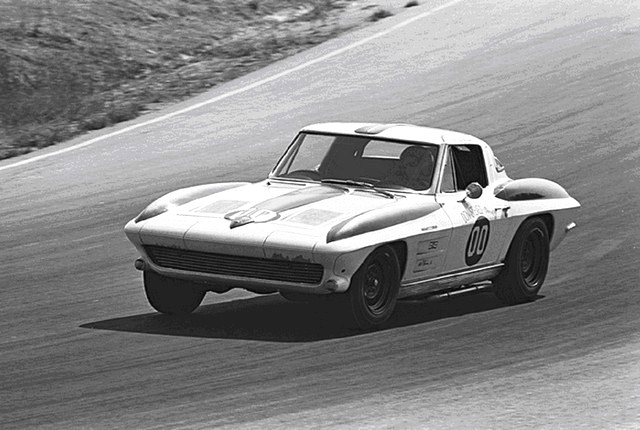 Krause was slow off the grid in 20th position but immediately starts moving swiftly through the field. Here he's already by Jerry Titus and now
prepares to move on Dick Guldstrand's Corvette as Dick waves him to the inside. Photo Dave Friedman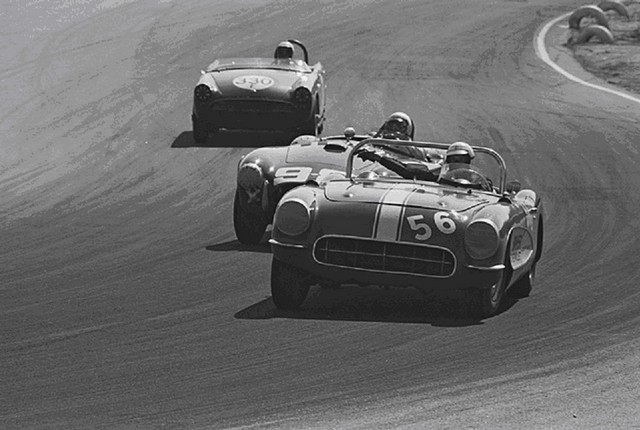 By lap 3 Krause had moved his ultra-light, ultra-fast Cobra into 2nd, but still a 1/2 lap behind the streaking MacDonald. Photo Dave Friedman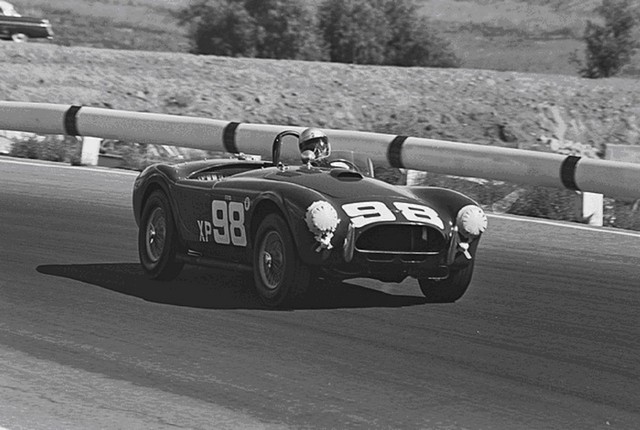 However, on lap 4 MacDonald's Stingray lost all power and he was forced to pull off the track in turn 7. Dave was a top-notch mechanic and
After opening the hood noticed right away that the coil wire had come loose. He quickly reconnected it and jumped back into the race but the
Delayallowed Krause to close the gap. Photo Gordon Martin courtesy MotorBinder by Roy Spencer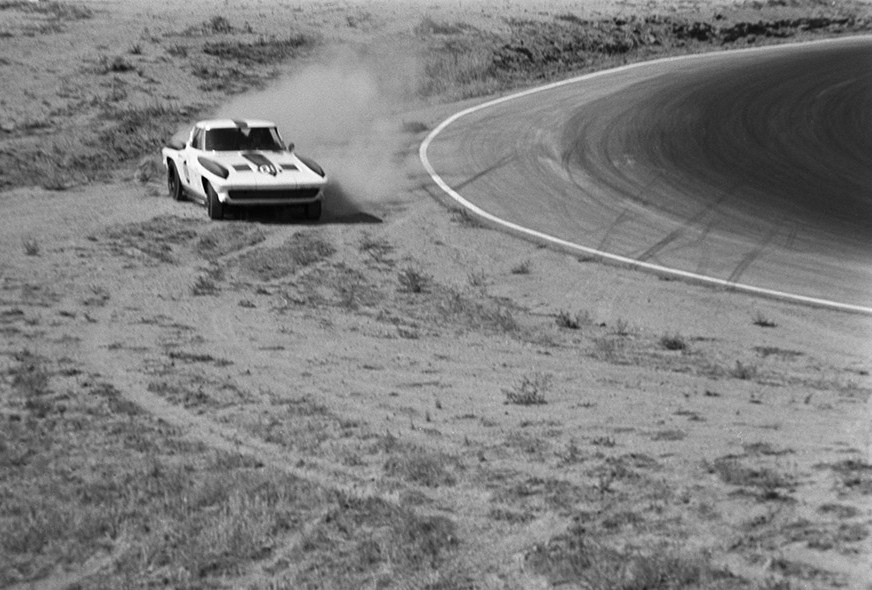 Bill Krause barrels into turn 6 and now has MacDonald's Sting Ray in his sights. Photo Dave Friedman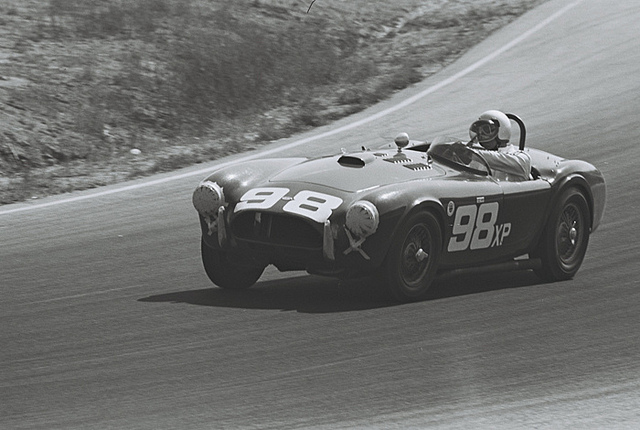 Krause tucks in behind MacDonald on lap 4 and the high profile showdown is now fully engaged! Photo Pat Brollier & Sports Car Graphic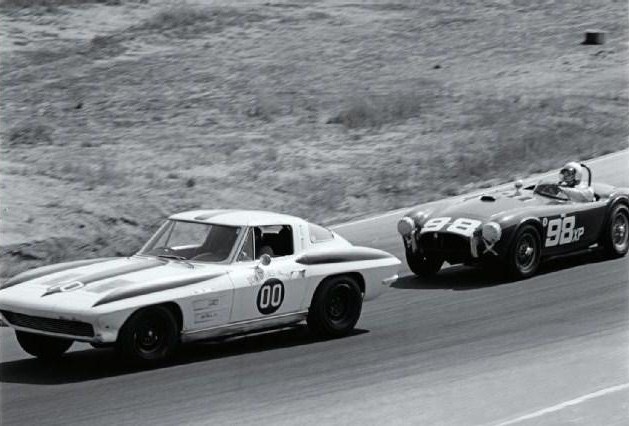 Ken Miles and his Sunbeam Alpine (#50) in a dogfight with John Masterson's Mercerdes going through turn 7. Photo Dave Friedman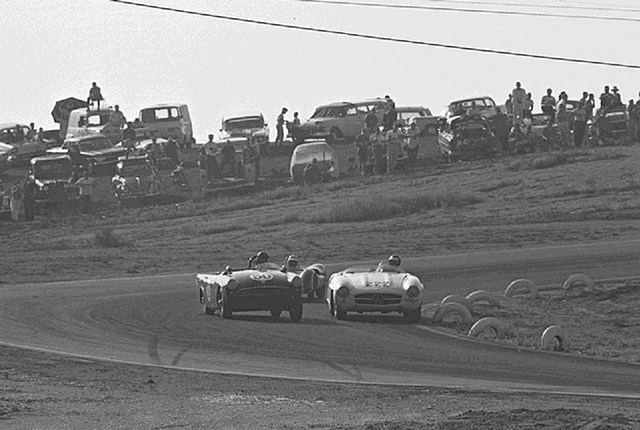 Lap 5 and Billy Krause continues to stalk Dave MacDonald as the star drivers run 1-2 ahead of the field.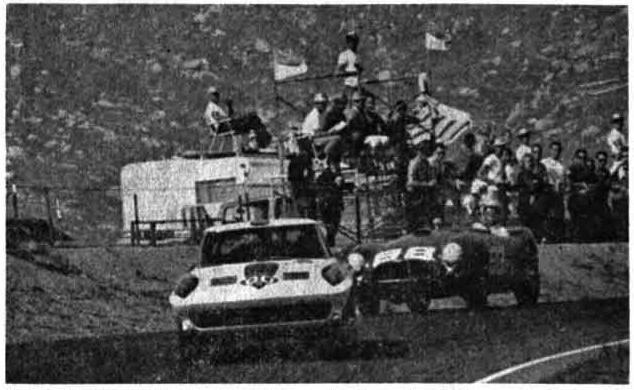 Running 3 & 4 at this point Jerry Grant & Bob Bondurant are flying in their new Stingrays. Photo Dave Friedman.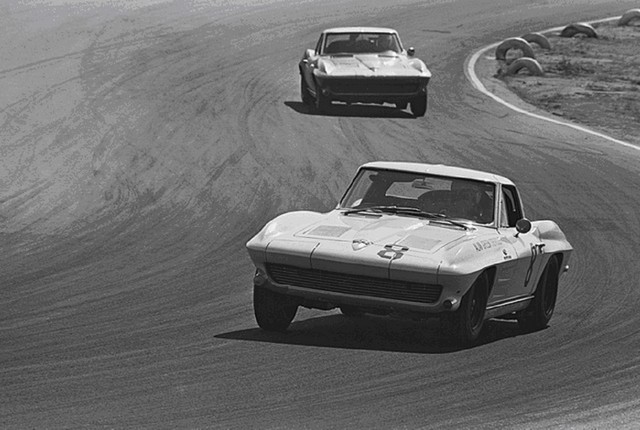 The Corvette/Cobra battle rages on as Dave MacDonald all out in Stingray #684 trying to fight off 1960 LA Times Grand Prix winner Billy
Krause in Shelby Cobra CSX2002. The two are putting on a memorable show early in the race. Photo Dave Friedman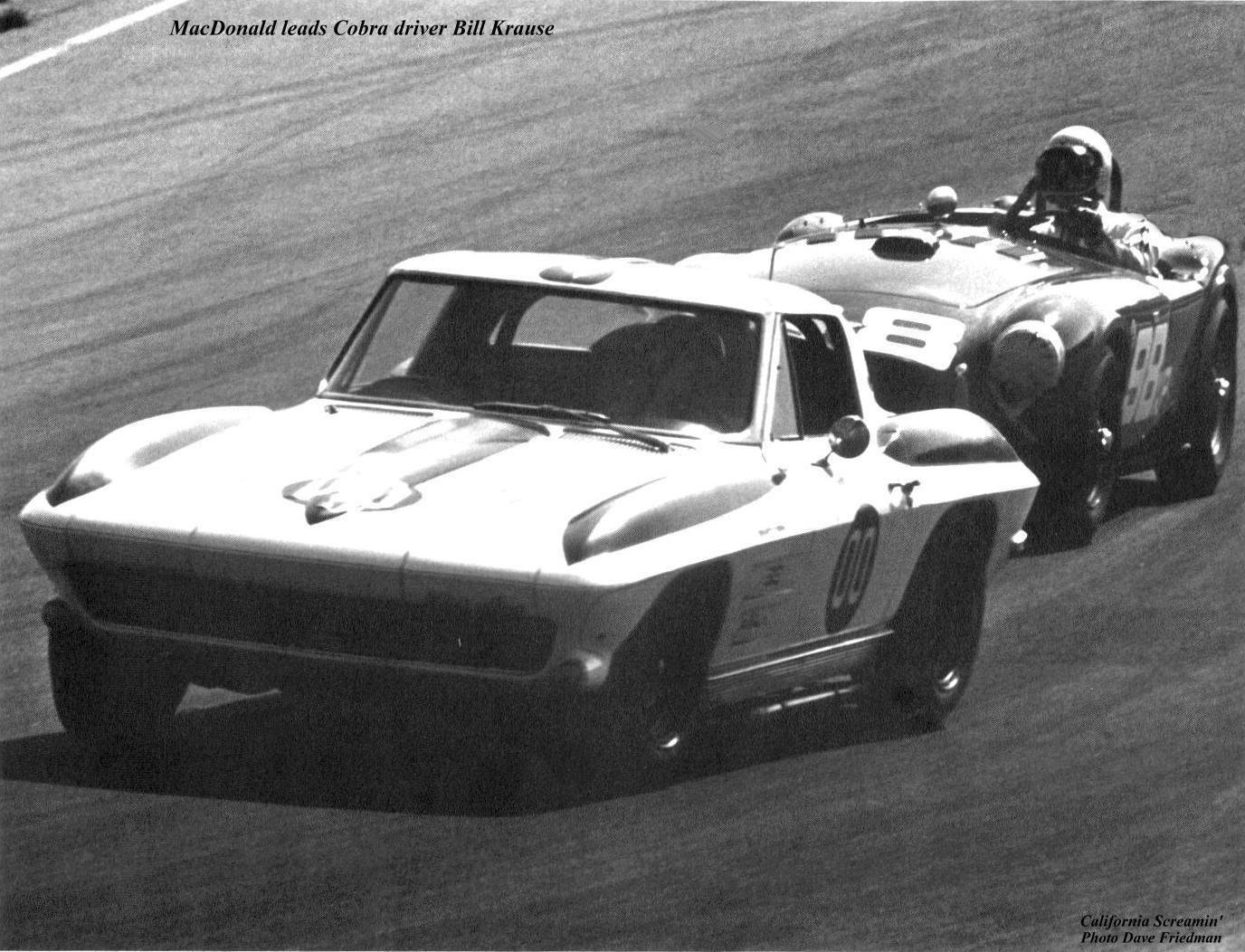 Lew Spencer's Morgan (#145) leads #11 Fay Van in a Porsche, #66 Bill Molle in a Lotus Mk XXIII Ford, #117 Bill Larsen in a Alpha Romeo
and Doug Hooper's Corvette through the esses and turn 6. Photo Dave Friedman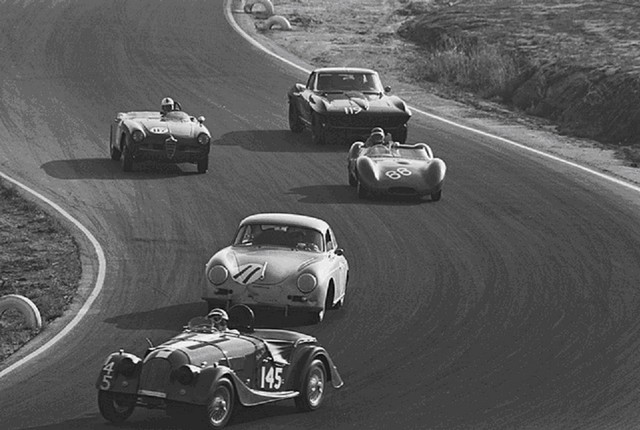 Leaders Dave MacDonald and Bill Krause giving the fans a show as they begin to reel in slower cars. Photo Bill Motta Road & Track Jan '63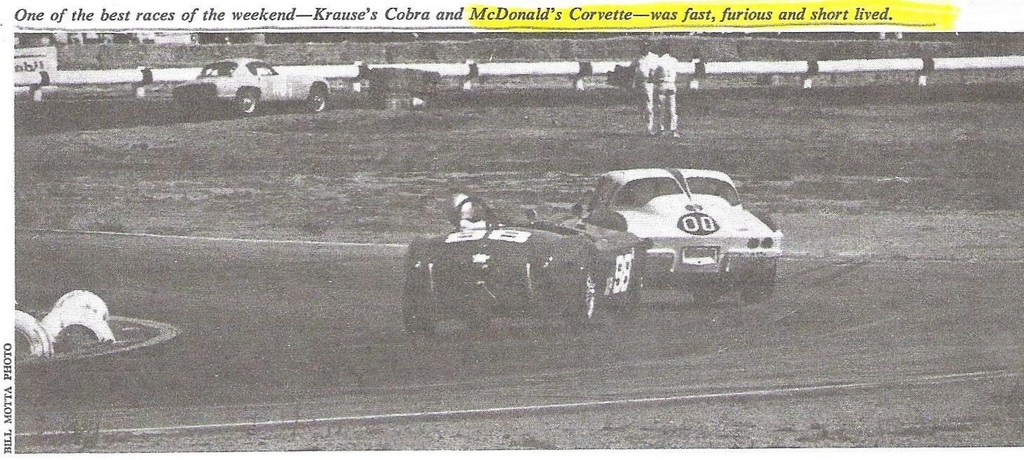 John Masterson goes through turn 7 with his Mercedes leading Mr. Corvette Dick Guldstrand and Bob Kirby's Porsche. Photo The Henry Ford.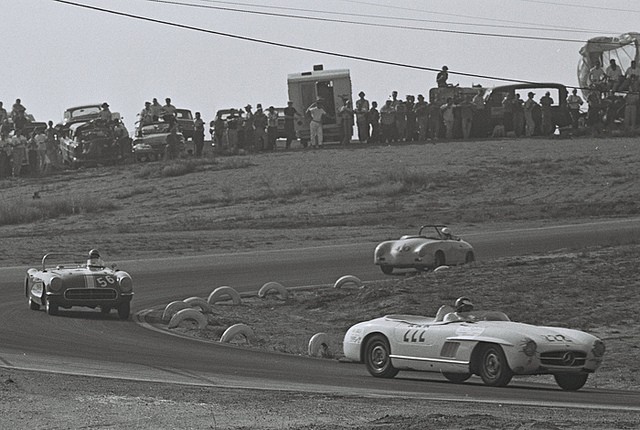 Dick Guldstrand gets by Masterson's Mercedes and is moving toward the front. Photo Dave Friedman.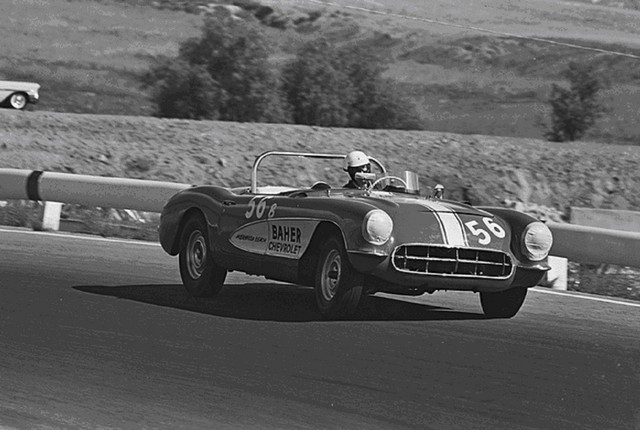 Dave MacDonald in his Chevrolet Z06 Stingray (serial #684) & Bill Krause in Shelby Cobra CSX2002 still racing nose to tail and far ahead of
the field as they go thru turn 6 on lap 8. Photo Dave Friedman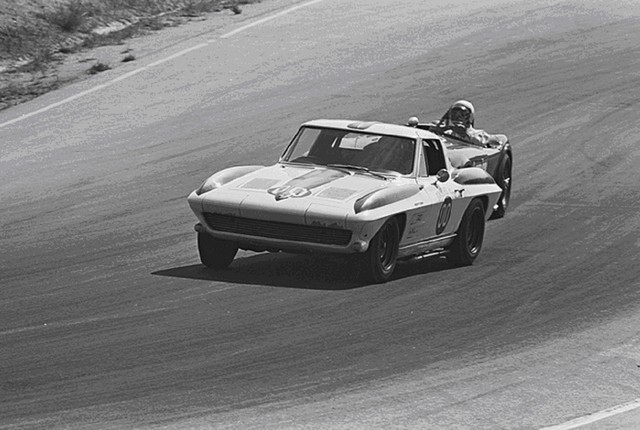 Norm Smith has his Corvette in front of Ray Pickering's Sunbeam going through turn 7. Photo Dave Friedman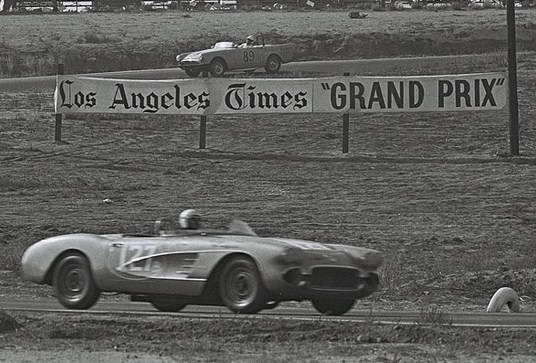 There are no known photos of Krause leading MacDonald but Billy got by Dave on lap 9 and was recorded as race leader. He & Dave fought
mightly during laps 9-14, sometimes exchanging the lead mid lap but with Krause finishing each lap in front. By this time they were already
lapping slower cars and here they go by Argentina's Tony Priedrabuena and his MG to put him a lap back. Photo Dave Friedman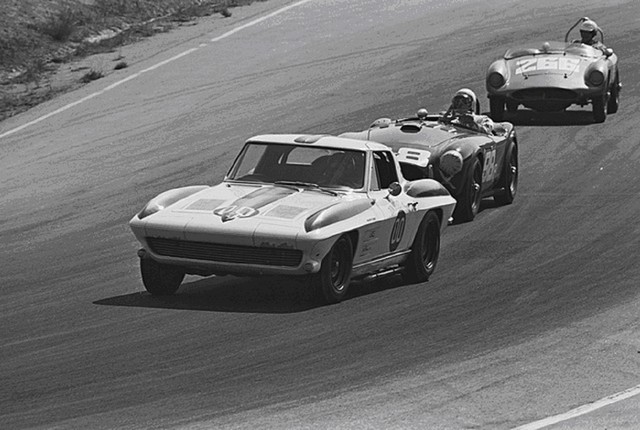 On lap 12 Dave MacDonald sliped his Stingray past Billy Krause's Cobra in the Riverside Esses before the racers blast through into 6. Krause
would repass MacDonald on the Riverside's long back straight and be recorded as lap 12 leader. Photo Dave Friedman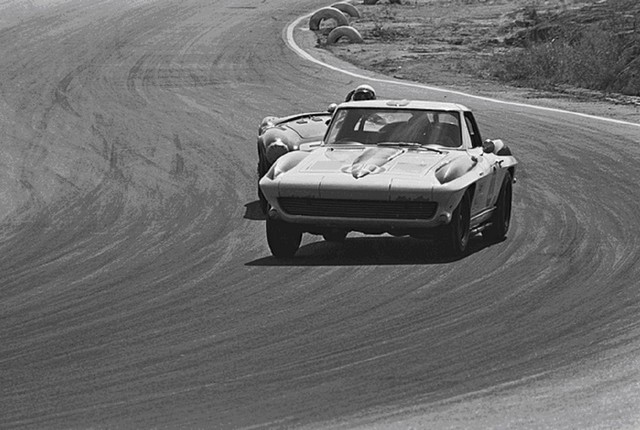 Photo courtesy Dave Friedman and the book 'California Screamin'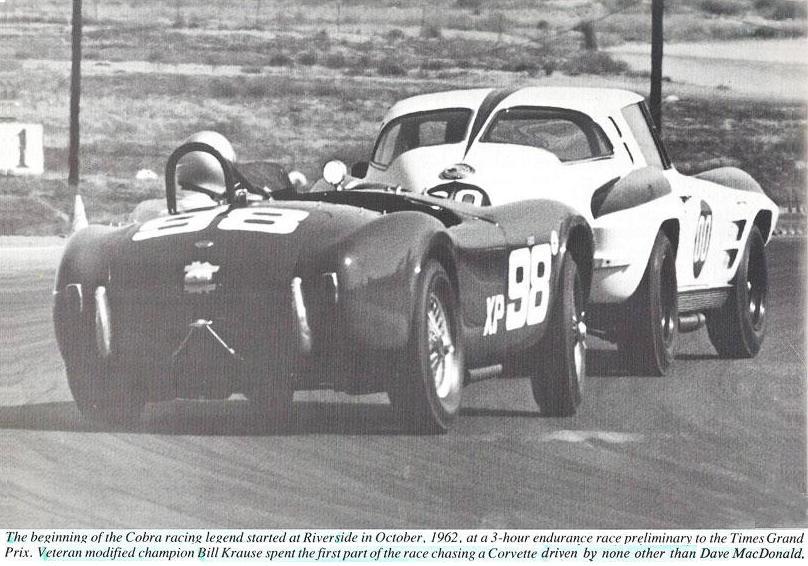 By lap 16 Billy Krause had stretched his lead over Dave MacDonald to 7 seconds. But then his Shelby Cobra snapped a left rear halfshaft. Billy
pulled CSX2002 into the pits and parked it for the day. Photo Dave Friedman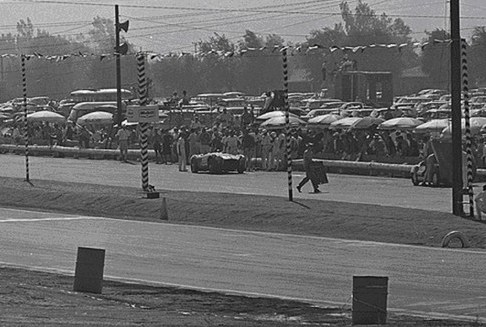 The debut of the Shelby Ford Cobra was certainly promising, but logged as a DNF nonetheless. Photo Dave Friedman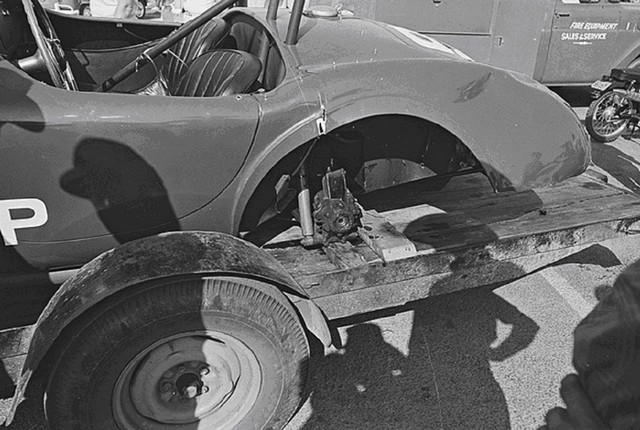 Dave MacDonald now all alone at the front has his '63 Z06 Stingray well ahead of the field on lap 17. Photo Dave Friedman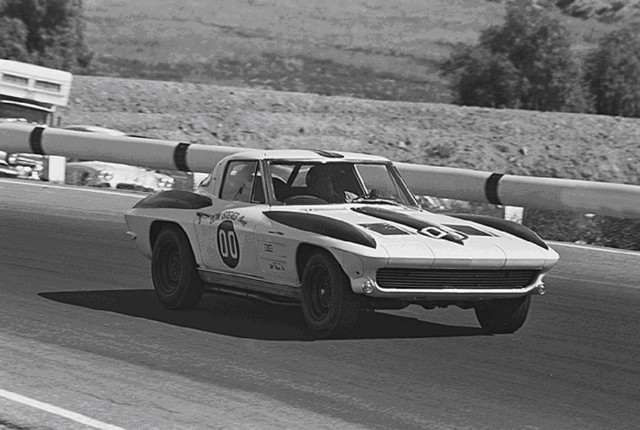 Bob Bondurant laps Norm Smith before turn 7 and now runs 4th behind MacDonald, Grant & Hooper. Photo The Henry Ford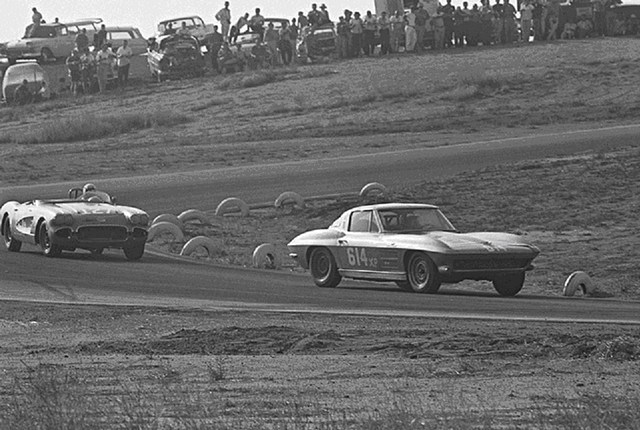 Bondurant gets by Hooper after Doug does a monster 180 in turn 7. Hooper quickly got his Stingray turned around and back in the race but not
before Bruce McLaren (top) went by him too. (During the race Hooper spun 3 separate times between 7 & 8). Photo The Henry Ford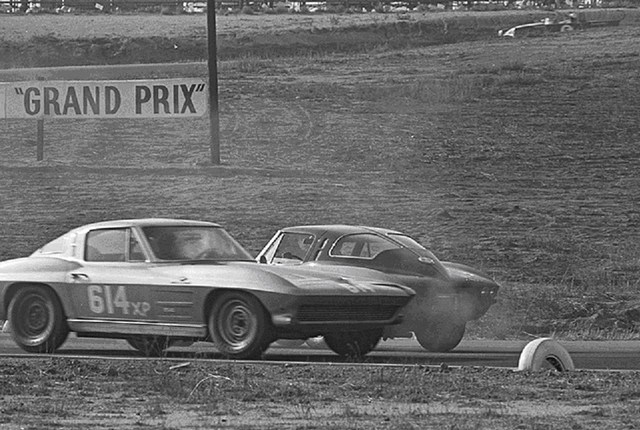 John Masterson leads Bob Kirby and Rick Muther through the esses. Photo Dave Friedman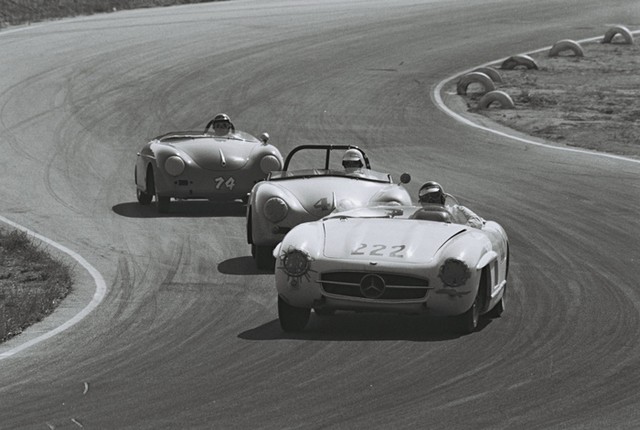 Just before the 1 hr mark Dave MacDonald comes round to put a lap on Doug Hooper & Lew Spencer. Photo Dave Friedman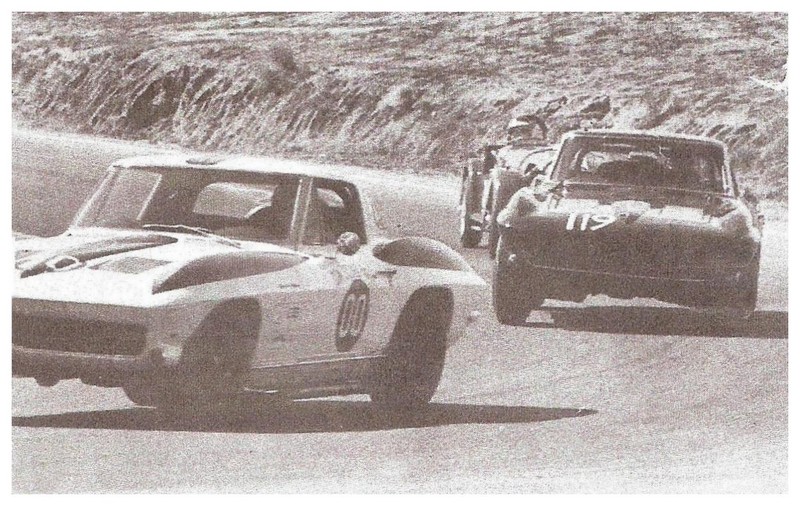 Dave MacDonald brings his new Split Window Coupe into the pits to check an issue with left rear wheel, he takes a splash of fuel while he waits.
Mickey Thompson scoots over for a look while Dave's wife Sherry, son Richie, Bill Thomas (white hat) and Zora Duntov watch the action from
just over pit wall. Photo Dave Friedman and The Henry Ford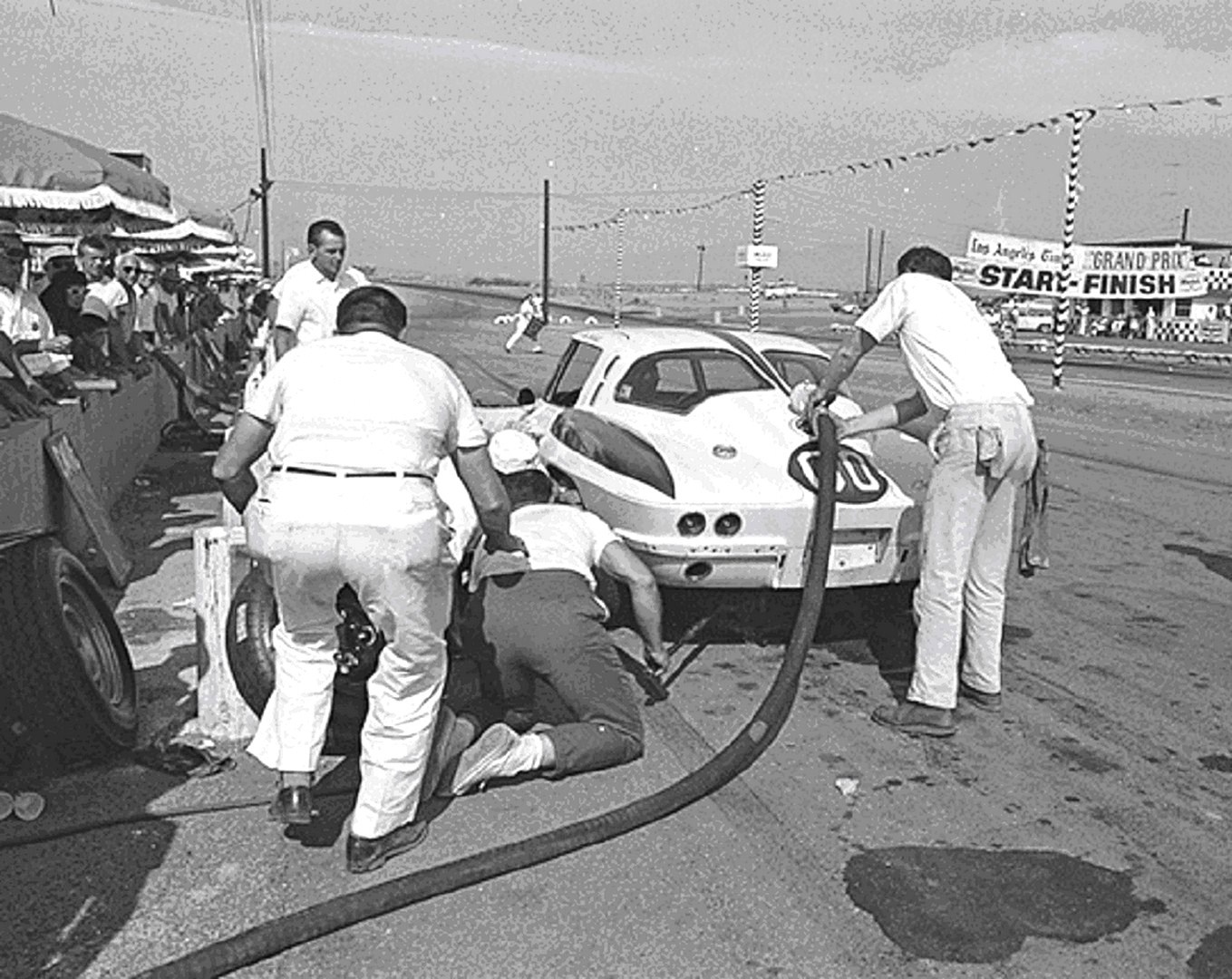 Zora Arkus-Duntov leans over pit wall trying to get a better view while Mickey Thompson looks for his driver Doug Hooper. Photo The Henry Ford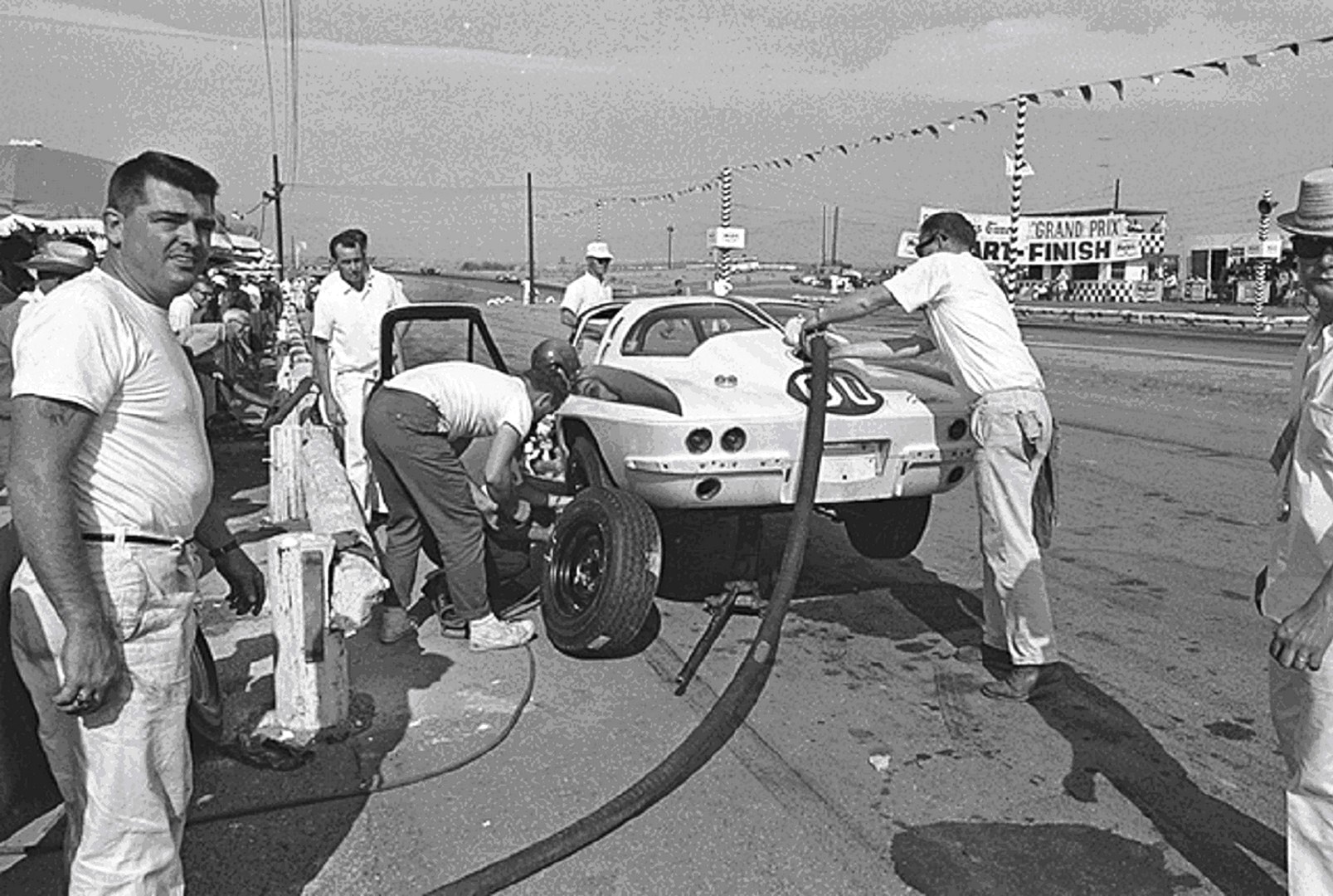 They send Dave back out but unfortunately the lugs on his left rear wheel were not completely secured when he left. They begin to vibrate loose
and the wheel snaps off and rolls off the track. Dave's Stingray on three wheels limping toward the pits. Photo unknown.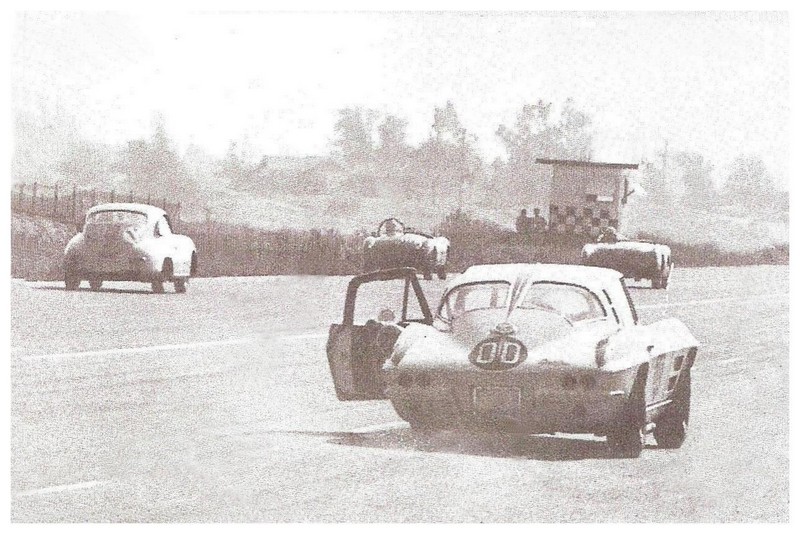 Dave MacDonald enters the pits and scrapes past Doug Hooper's slot as Mickey Thompson rushes out to get a look. Photo Dave Friedman.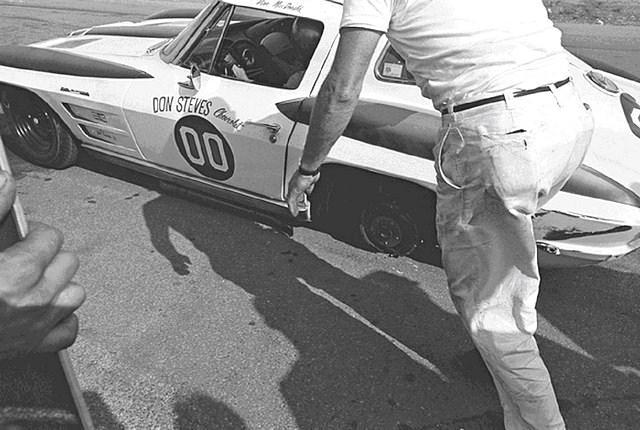 They determine the damage is too great and the Don Steves crew leaves MacDonald's Stingray on the jack and rolls it behind pit wall. After
leading most of the race the debut of Stingray #684 comes to an abrupt end. Photo The Henry Ford Dave Friedman Collection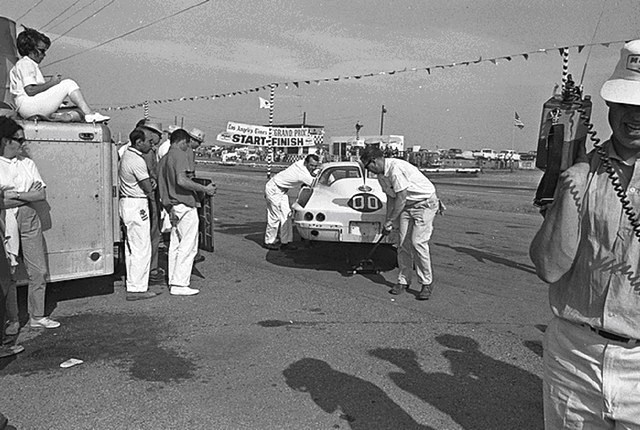 Dave MacDonald's 1963 Z06 Ray is parked for the day. (unknown photo credit)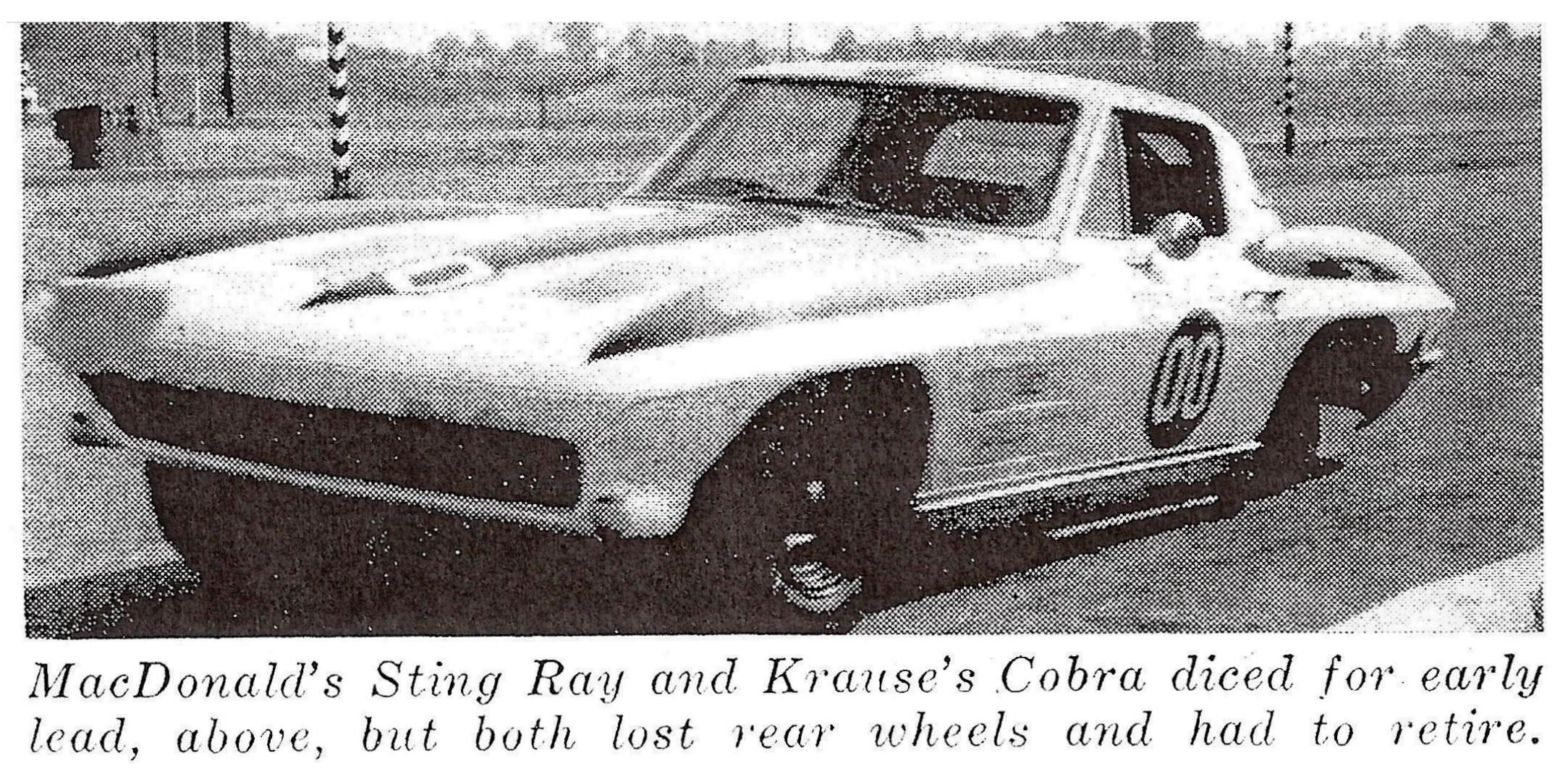 When MacDonald went out Ed MacKey inherited the lead but at the 1hr 15 min mark Hooper passed MacKey to take the lead. Photo Friedman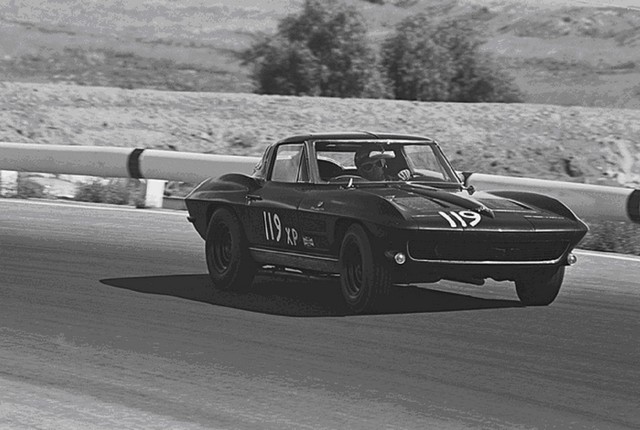 Ken Miles (7th place) continues to run a strong race. He's currently the highest running Sunbeam Alpine of a four car team that includes Miles,
Bruce McLaren, Jack Brabham and Jerry Titus. Here Ken prepares to lap the Porsche of Miles Gupton. Photo Dave Friedman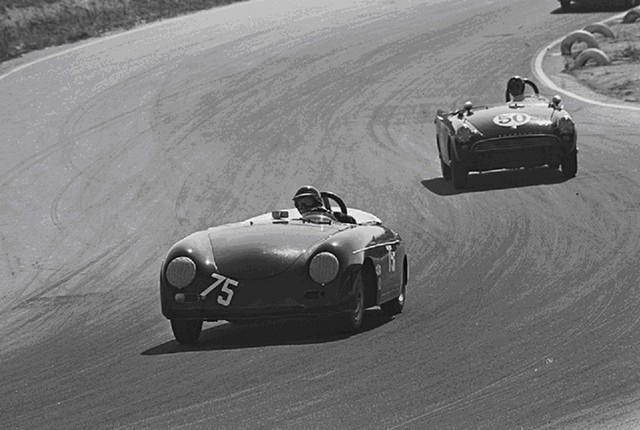 Rick Muther gets loose in the esses and his Porsche slips off course. Photo Dave Friedman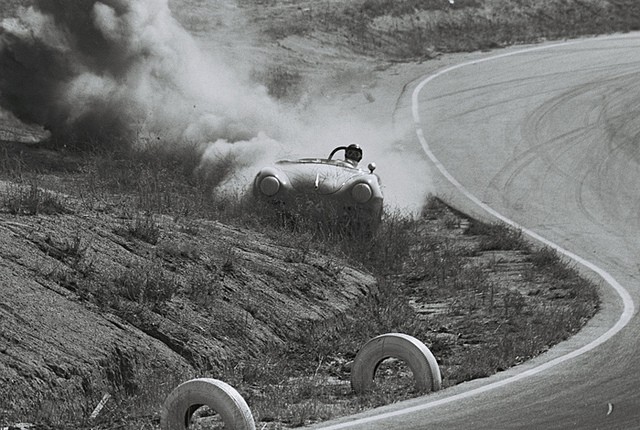 Jerry Grant & Bob Bonderant sling their Stingrays through turn 1 chasing Hooper who's up ahead entering turn 2. Photo Dave Friedman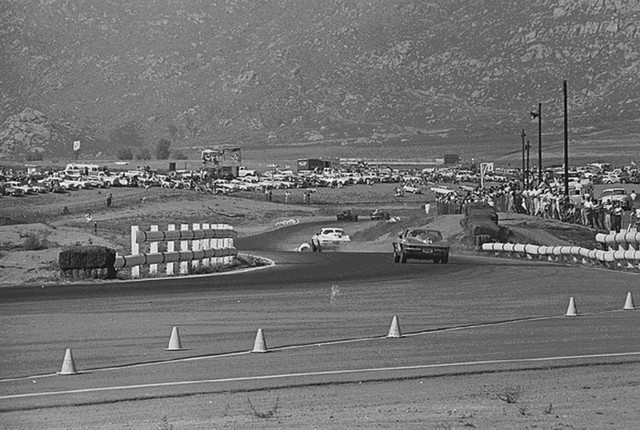 Bondurant charging hard after Jerry Grant goes off course and into the dirt. He loses 3 spots before returning to the track. Photo Dave Friedman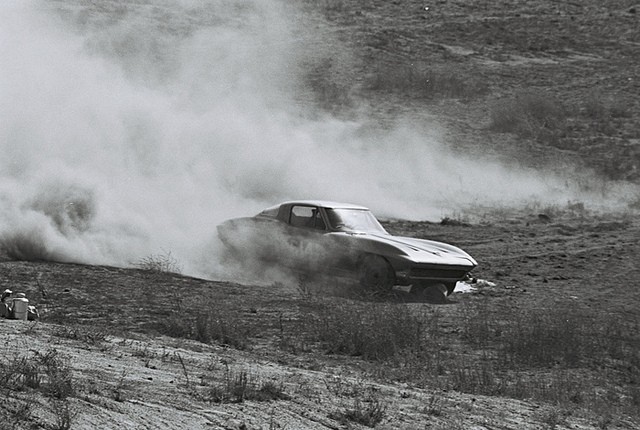 Race leader Hooper makes his one and only pit stop at the 2 hr mark. Mickey Thompson gives Doug refreshments. Photo Dave Friedman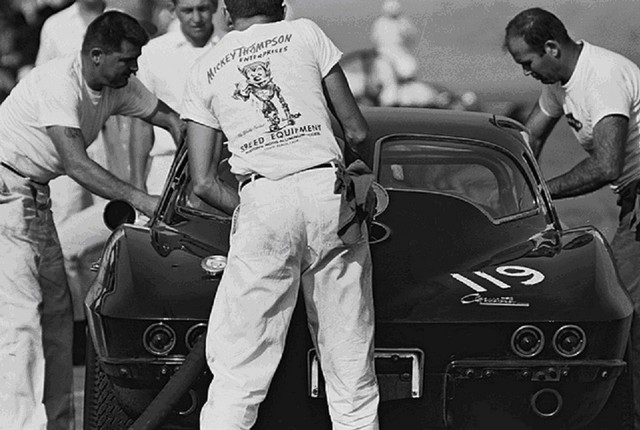 At the 2 1/2 hr mark Doug Hooper and 2nd place driver Jay Hills prepare to put a lap on Bruce McLaren. Hills had moved his Porsche through
the field to finally catch Hooper only to drop out minutes later with clutch trouble. Photo Friedman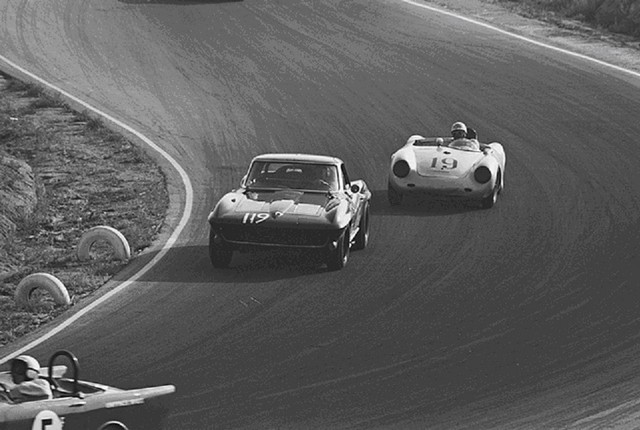 At the 3 hour mark Doug Hooper storms across the finish line first to win the inaugural Corvette vs. Cobra battle! Photo Dave Friedman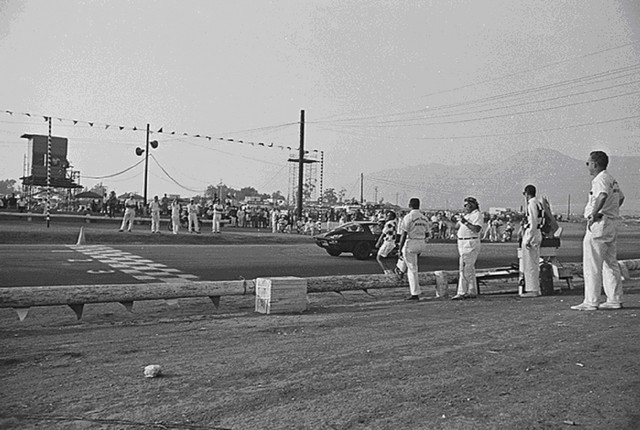 Hooper takes a well deserved victory lap after finishing more than a lap ahead of 2nd place Bob Kirby in a Porsche. Photo Tom McIntyre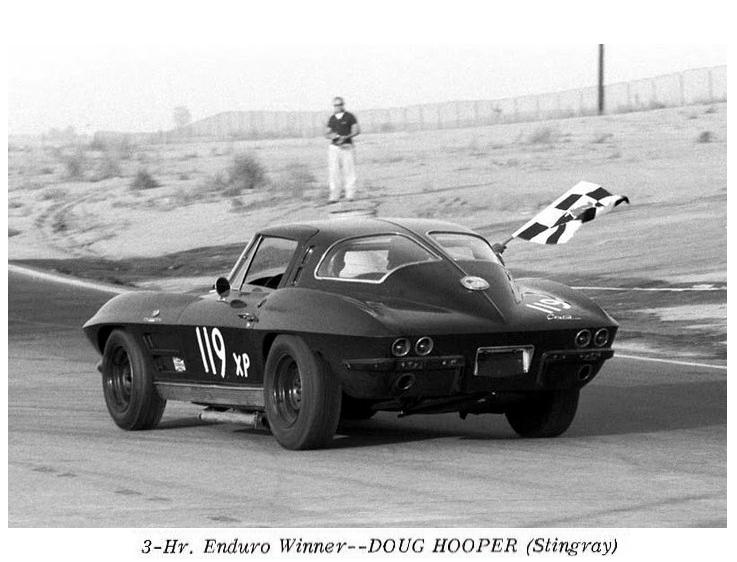 News articles recapping the Oct 14, 1962 3-HR Enduro at Riverside. (A short video clip of this race is in Dave's video section)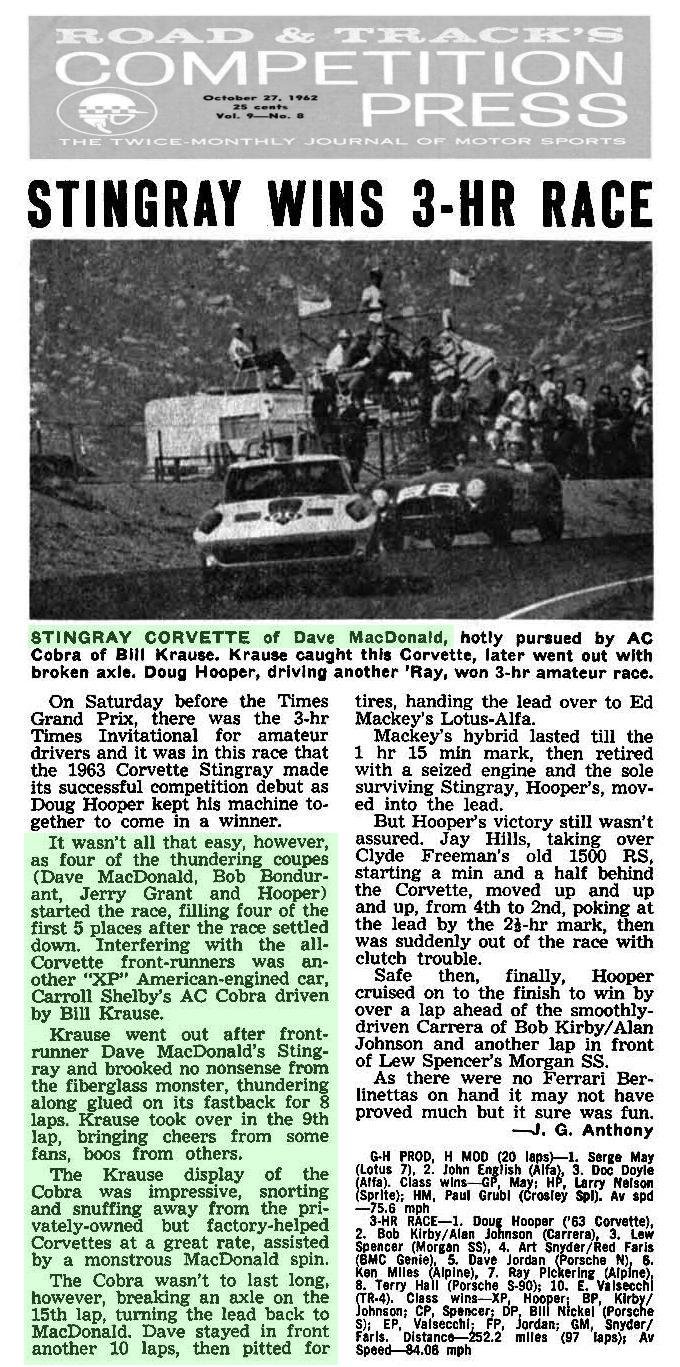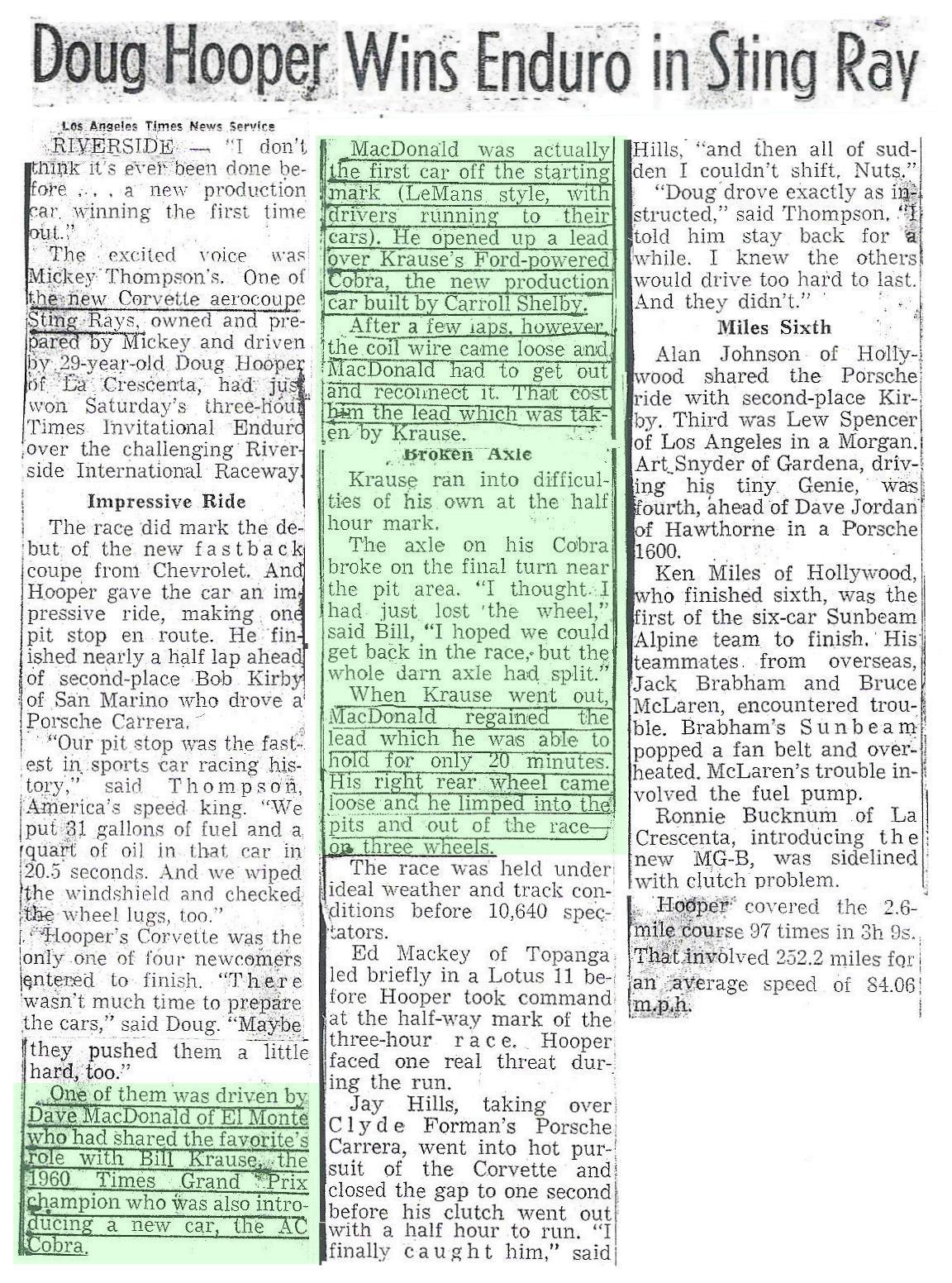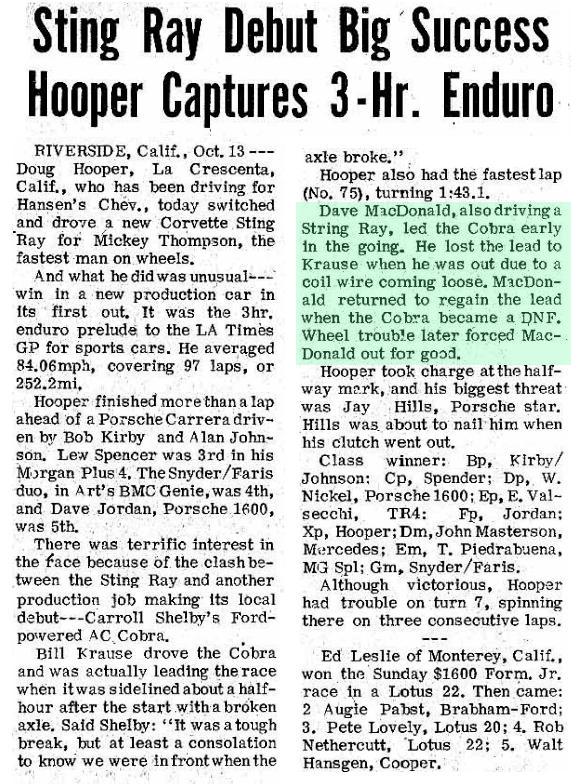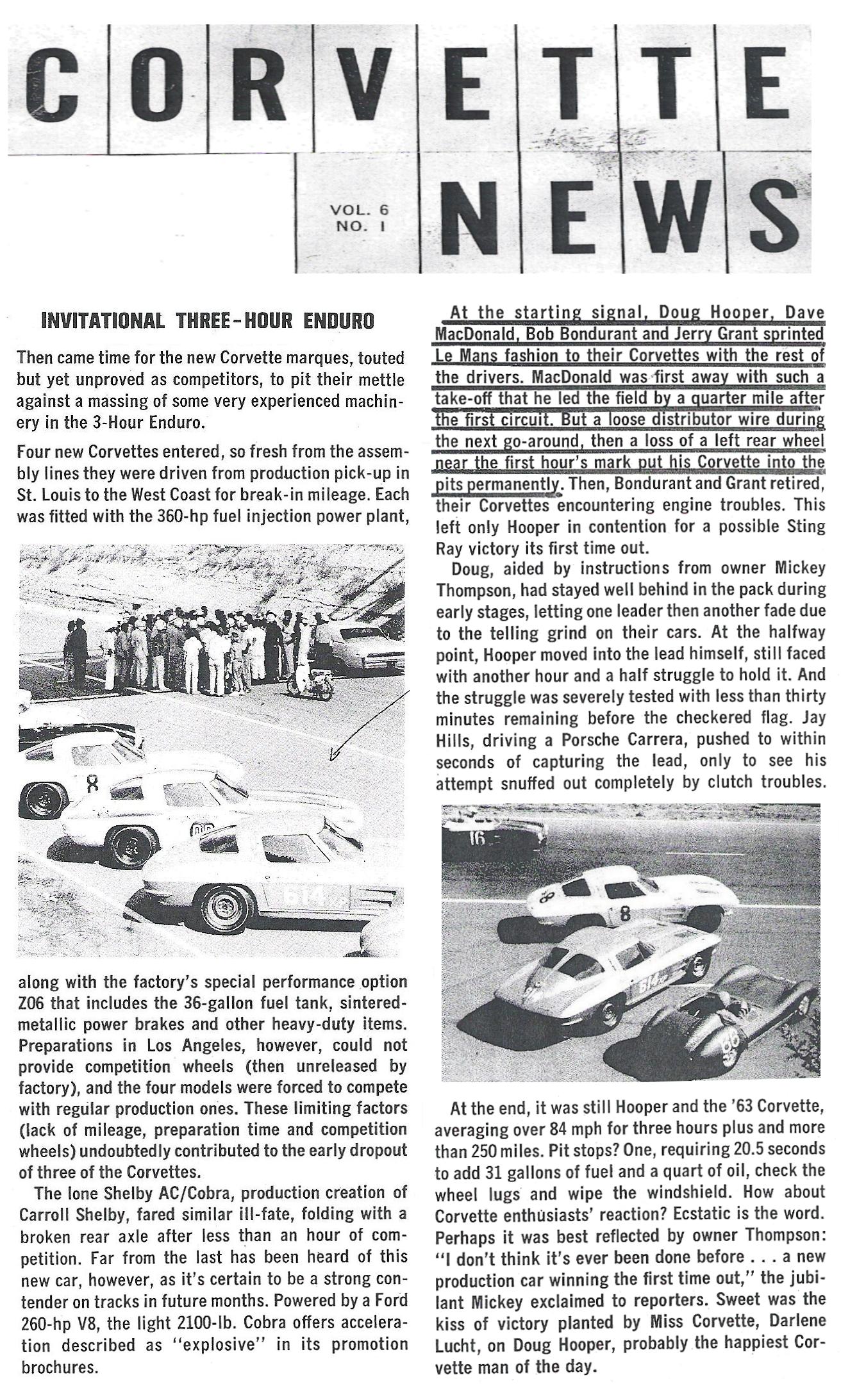 A friend of Sherry MacDonald's recognized immediately that the woman in the orange stretch pants (in the Road & Track article below) was
Sherry! Dave's favorite color was orange and he bought Sherry a pair of orange jump pants, which she wore to this & other races. (Road & Track)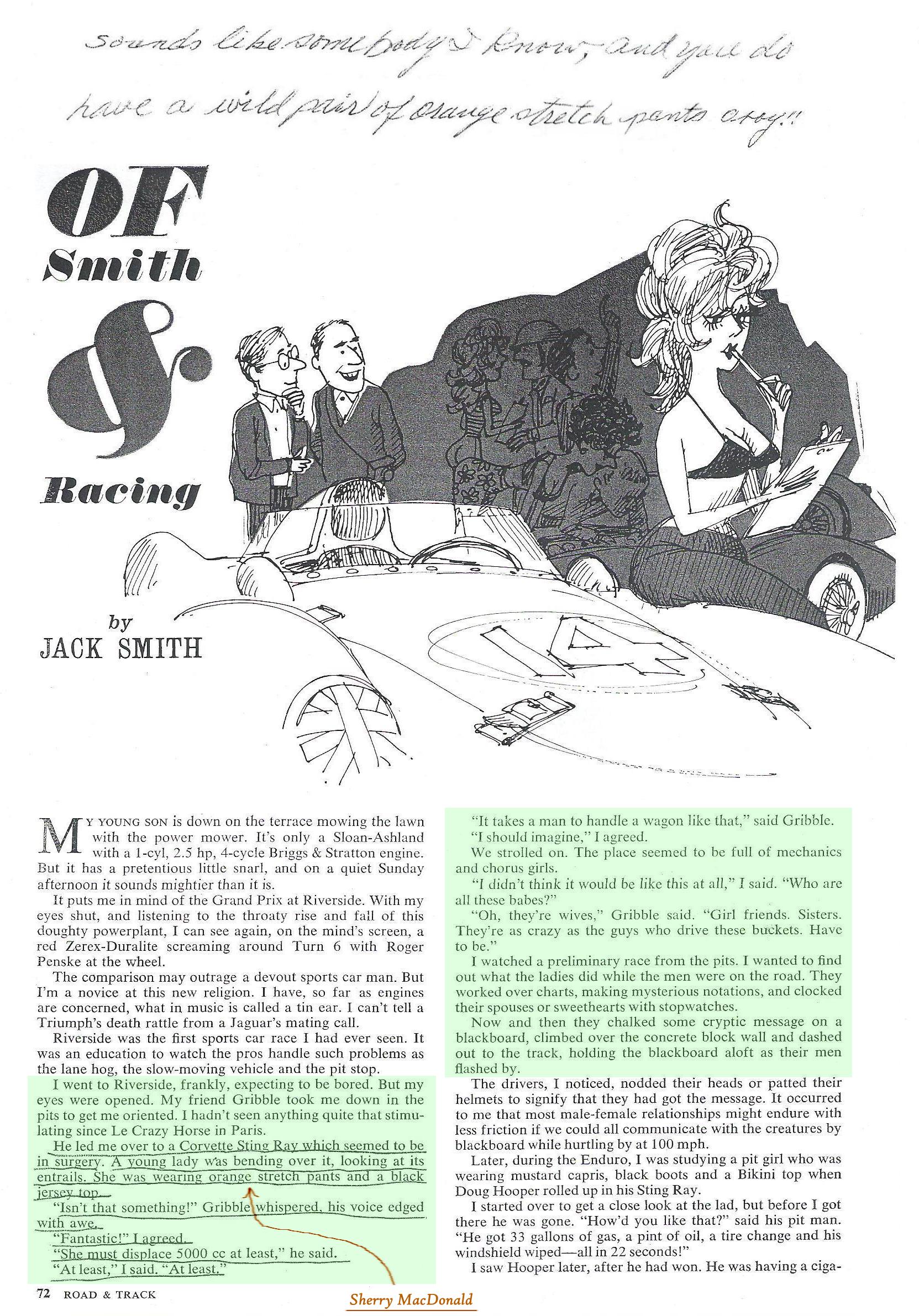 Road & Track continued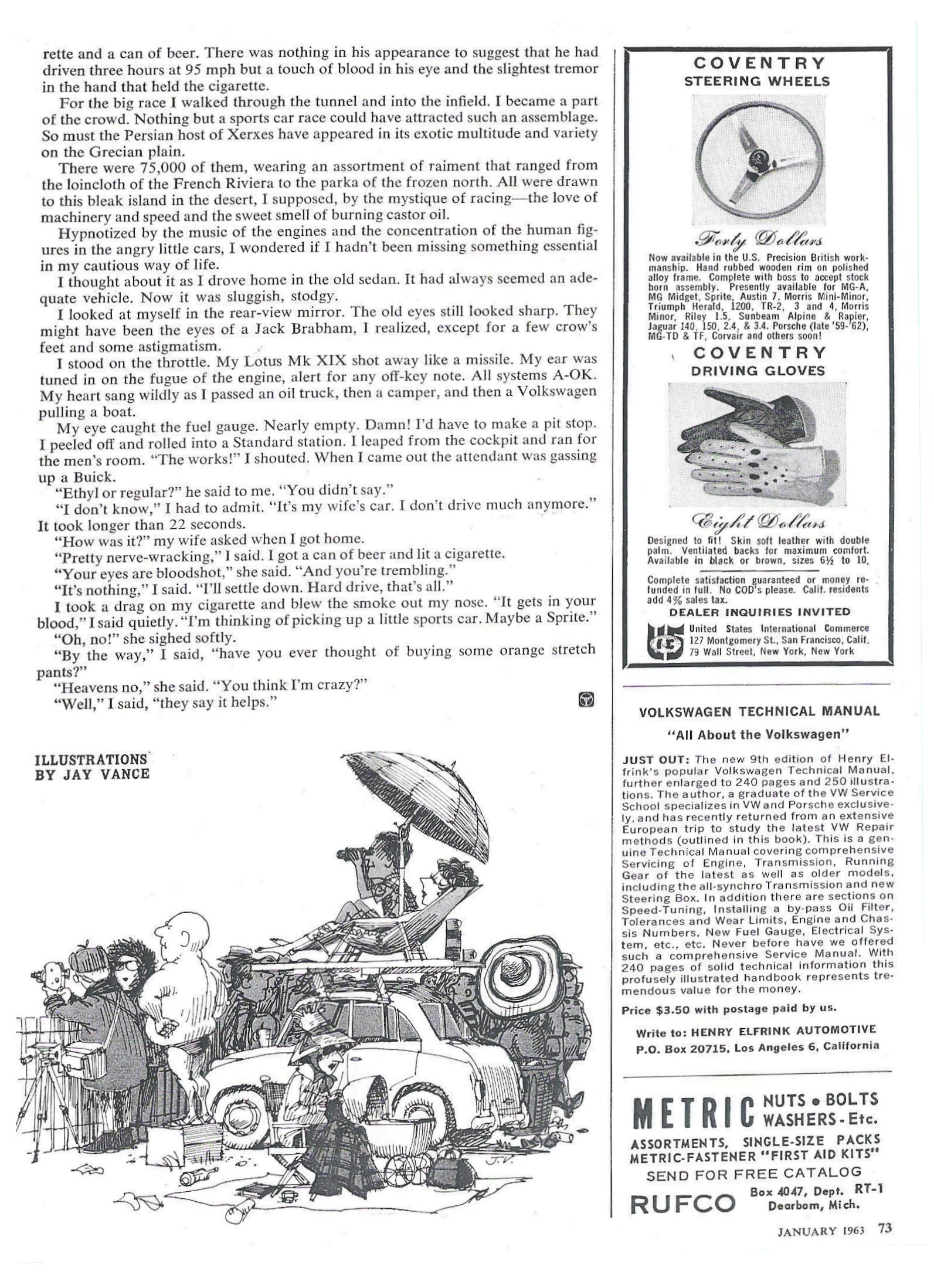 Original window sticker on the car when Dave & Sherry picked it up in St. Louis ... this is the first-ever 1963 Z06 production Stingray.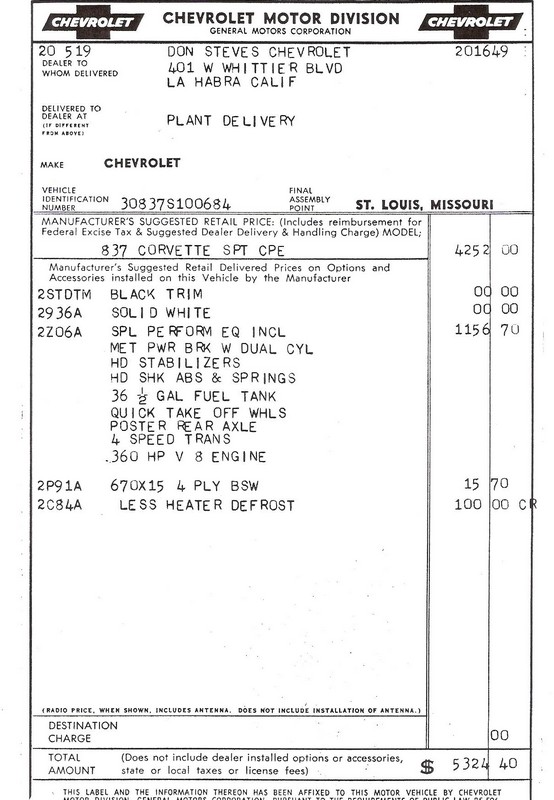 Dave's pit pass for the 1962 Riverside 3hr Enduro driving the first-ever production '63 Z06 Sting Ray - #684